Lightly charred and full of smoky flavor, grilled eggplant is a delicious side dish. Dress it up with a fresh couscous topping, or enjoy it on its own!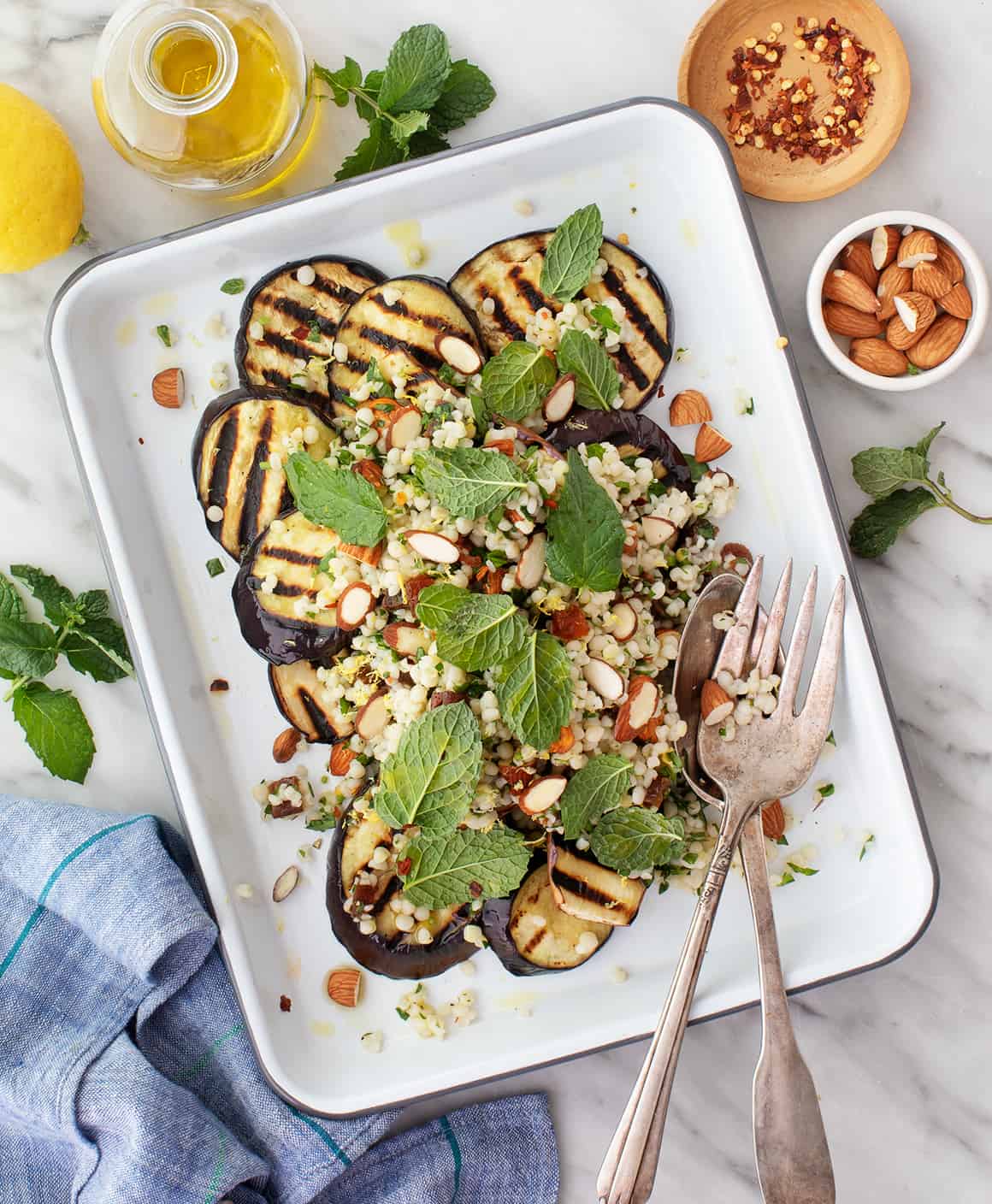 Way back before Love and Lemons began, when I was first learning about seasonal vegetable cooking, grilled eggplant was one of my favorite things to make. Jack and I would visit farms near Austin, where we lived at the time, and come home with armfuls of summer veggies like zucchini and eggplant. We'd get the grill pan nice and hot (this was before we had an outdoor grill), and cook everything until it was tender and perfectly charred. We'd drizzle on a tasty sauce, pass some crusty bread, and call it dinner.
So much has changed since then – we live in Chicago, we can grill outside(!) – but grilled eggplant is still a staple in our house in the summertime. I love how the outside of the eggplant gets nicely charred, while the inside becomes silky smooth. Below, you'll find my easy method for how to grill eggplant, along with my favorite way to serve it. A fresh couscous salad highlights the grilled eggplant's rich, smoky flavor. Make the whole recipe, salad included, or just grill up as much eggplant as you can get your hands on. Either way, grilled eggplant is a summer side dish that you don't want to miss.
How to Grill Eggplant
To salt, or not to salt? That is the question. If you eat eggplant often, you probably know that many recipes advise you to salt and drain eggplant for at least 20 minutes and up to a few hours before cooking it. Salting is said to improve the eggplant's bitter flavor and spongy texture. My two cents? It isn't necessary here. Skipping this step will save you lots of time, and your grilled eggplant will still taste great (provided you sprinkle it with salt before you eat!).
With salting out of the picture, my method for how to grill eggplant is quick and easy. Here's how it goes:
First, prepare the eggplant. Look for firm, glossy eggplants at your farmers market or grocery store. You can grill almost any eggplant variety, so choose whatever kind looks best, or use a mix. When you're ready to cook, slice the eggplant into 1/4-inch-thick rounds or slices. Drizzle or brush the eggplant slices with olive oil, and season them with salt and pepper.
Then, cook! Preheat a grill or grill pan to medium-high heat. When it's nice and hot, add the eggplant slices and grill for 2 to 3 minutes per side. Whatever you do, don't undercook them. You should be able to easily pierce the slices with a fork; they shouldn't be tough or spongy. The grilled eggplant slices are ready when they're completely tender and grill marks form on both sides.
Enjoy!
Grilled Eggplant Serving Suggestions
Grilled eggplant is tasty on its own, but I like to take it to the next level with an herbed couscous topping. I toss cooked Israeli couscous with fresh parsley, diced dried apricots, toasted almonds, garlic, lemon juice, and olive oil. Then, I finish it off with a pinch of red pepper flakes and a handful of fresh mint leaves. It's so simple, and it's a delicious complement to the grilled eggplant. The sweet dried apricots, bright lemon, and herbs play perfectly off the eggplant's smoky flavor. Add some roasted chickpeas and crumbled feta cheese to the mix, and you could enjoy it as a meal on its own.
As it is, it's a fantastic side dish. Serve it with a hearty salad like my Mediterranean Chickpea Salad, Cucumber Tomato Salad, Greek Salad, or Panzanella for a refreshing summer meal. It would also be delicious with a simple cooked protein like my lemon marinated lentils or any of these classic cookout recipes:
More Favorite Grilling Recipes
If you love this grilled eggplant recipe, try one of these easy grilling recipes next:
Grilled Eggplant
Learn how to grill eggplant perfectly every time! I top the tender, charred eggplant slices with a fresh couscous salad. To make this recipe gluten-free, substitute cooked quinoa for the couscous.
Ingredients
Couscous Salad Topping
½

cup

dry Israeli couscous

½

teaspoon

extra-virgin olive oil,

more for drizzling

1

garlic clove,

grated

1

tablespoon

lemon juice, plus 1/2 teaspoon zest

3

tablespoons

chopped dried apricots or Medjool dates

heaping 1/4

teaspoon

sea salt

Pinches

red pepper flakes

¼

cup

finely chopped parsley

3

tablespoons

chopped or sliced almonds

¼

cup

mint leaves,

for garnish
Instructions
Make the couscous salad. Cook the couscous in a pot of salted boiling water until al dente, about 7 to 8 minutes. Drain and transfer to a medium bowl. Add the olive oil, garlic, lemon juice, lemon zest, dried apricots, salt, pepper, and red pepper flakes. Stir in the parsley and almonds and season to taste.

Grill the eggplant. Heat a grill to medium-high heat. Drizzle the eggplant with olive oil and sprinkle with salt and pepper. Grill 2 to 3 minutes per side, until well-charred and tender.

Assemble the eggplant on a platter and top with the couscous salad. Garnish with fresh mint. Drizzle with olive oil and season to taste. Serves 4 as a side dish, or 2 as a main.