These grilled corn tacos are a super fresh, easy summer dinner! Lots of lime, cilantro & tomatillo salsa accent a crisp veggie medley in the yummy filling.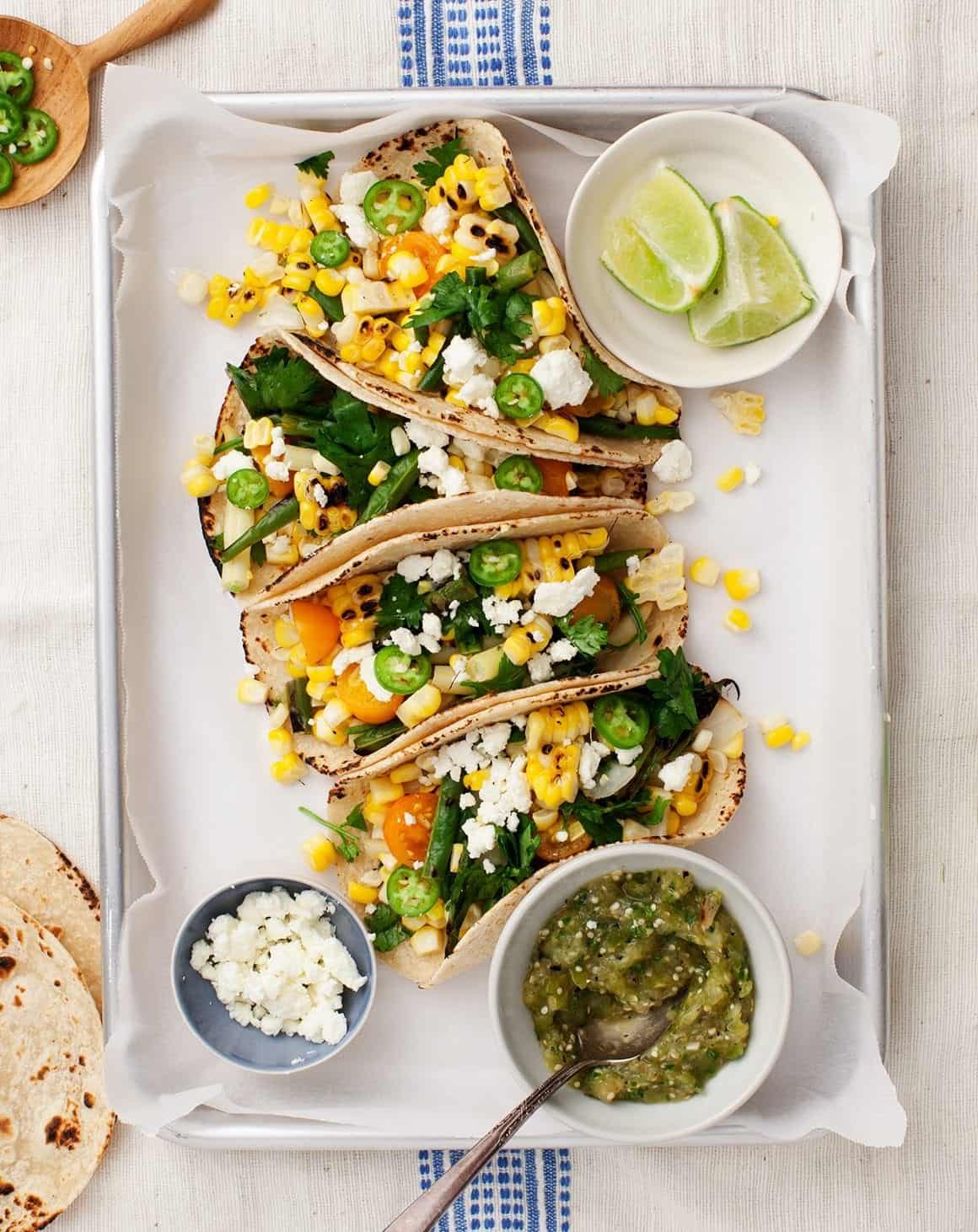 So… long story short, we came to Chicago this past spring and expected to be gone by now. Instead, we spent time with family and found a house here that we loved. Now we're here for good – or at least a few years. I grew up here, but I honestly never expected to be back. Winter isn't my thing, but I'm trying to get excited for it anyway.
There is something here you don't have to twist my arm to get excited about: midwest corn! When I realized we weren't going to be bolting town, I was excited for 2 things – we'd finally have a home of our own again, and we'd be in town for sweet corn season 🙂
Pictured above are the things I gathered a few weeks ago at the market, except the lime was from the store. The combo of corn and tortillas meant that it was time for corn tacos!
I was super surprised to find fresh tomatillos in Chicago, so I made fresh salsa with them. If you can't find tomatillos, use store-bought tomatillo salsa, or make these tacos with scoops of pico de gallo, guacamole, mango salsa, or pineapple salsa instead.
I grilled the corn and green beans and tossed them all together with cilantro, cherry tomatoes, lime juice, and a scoop of the salsa. Then, I loaded them into tortillas to make tacos!  I topped the tacos with feta or Cotija cheese, serrano peppers, and scoops of the tomatillo salsa. A super easy summer dinner!
Taco Tips
These tacos are on the messy side, so I would suggest using flour tortillas since they won't fall apart like some corn tortillas do. I used these White Corn & Wheat tortillas from La Tortilla Factory, which I found at Whole Foods. (Of course, if you're gluten-free, corn tortillas will work just fine.)
If you'd like, all of the components to this recipe can be made in advance. Prep it ahead and serve it for a summer party!
Grilled Corn Taco Variations
Not in the mood for corn tacos for dinner? Try either of these variations:
Make this recipe without the grill. Follow the directions in this post to cook the corn on the stove, then assemble the rest of the recipe ingredients as written.
Make Mexican street corn tacos. Fill the tacos with this corn salad recipe instead of the one listed below.
Make breakfast tacos. A yummy seasonal variation on these tomatillo breakfast tacos – toss generous scoops of the corn salad into 4 eggs while you're scrambling them. Divide into 4 tacos, top with cheese (if you like), and scoop on the salsa.
If you love these grilled corn tacos…
Try these veggie tacos, these jackfruit tacos, these sweet potato tacos, or these mushroom tacos next!
Grilled Corn Tacos
Make these yummy corn tacos for an easy summer dinner! You can also skip the tortillas and enjoy the filling as a salad. Or, add scrambled eggs to make breakfast tacos!
Ingredients
Handful of whole green beans, about 1 cup
3 ears of fresh corn
¼ cup chopped grilled onion
½ cup halved or quartered cherry tomatoes
1 teaspoon extra-virgin olive oil
Juice of 1 lime
½ cup chopped cilantro
Sea salt and freshly ground black pepper
8 to 10 flour tortillas*
½ cup crumbled feta cheese
1 serrano pepper, sliced, optional
Instructions
Prep the green beans by blanching them in boiling water for 3 minutes, then transfer to a bowl of ice water. Once cool, transfer to a towel to dry and set aside.
Make the Tomatillo salsa and chill until ready to use.
Make the filling. Heat a grill to medium heat and grill the blanched green beans and the whole ears of corn until charred on all sides.
Chop the green beans into 1" pieces and add them to a large bowl with the onion and tomatoes. Slice the kernels off the corn and add those to the bowl as well. Add the olive oil, lime juice, cilantro, pinches of salt and pepper, and a few spoonfuls of the tomatillo salsa and toss. Season to taste.
Grill or warm the tortillas. Assemble the tacos with the corn taco filling, feta cheese, and serrano slices, if desired. Top with salsa and serve the extra on the side.