We can't get enough of this easy grilled asparagus recipe! Lightly charred and tender, it's a delicious side dish or addition to pastas, salads, and more.
I love preparing asparagus in all sorts of ways – blanched, roasted, sautéed, raw – but grilled asparagus will always be my favorite. It's tender and juicy, with a lightly charred flavor that makes it completely irresistible.
Even if you're an asparagus skeptic, I encourage you to try this grilled asparagus recipe. It's actually what first got Jack to start liking asparagus, thanks to the veggies' crisp-tender texture and smoky depth of flavor. Who knows? You could end up loving it too!
Below, you'll find my go-to method for how to grill asparagus, along with my best grilled asparagus recipes and serving suggestions. Asparagus season is fleeting, so make sure to try it while you can. Right now, it's crisp, snappy, and flavorful – perfect for drizzling with olive oil and tossing on the grill.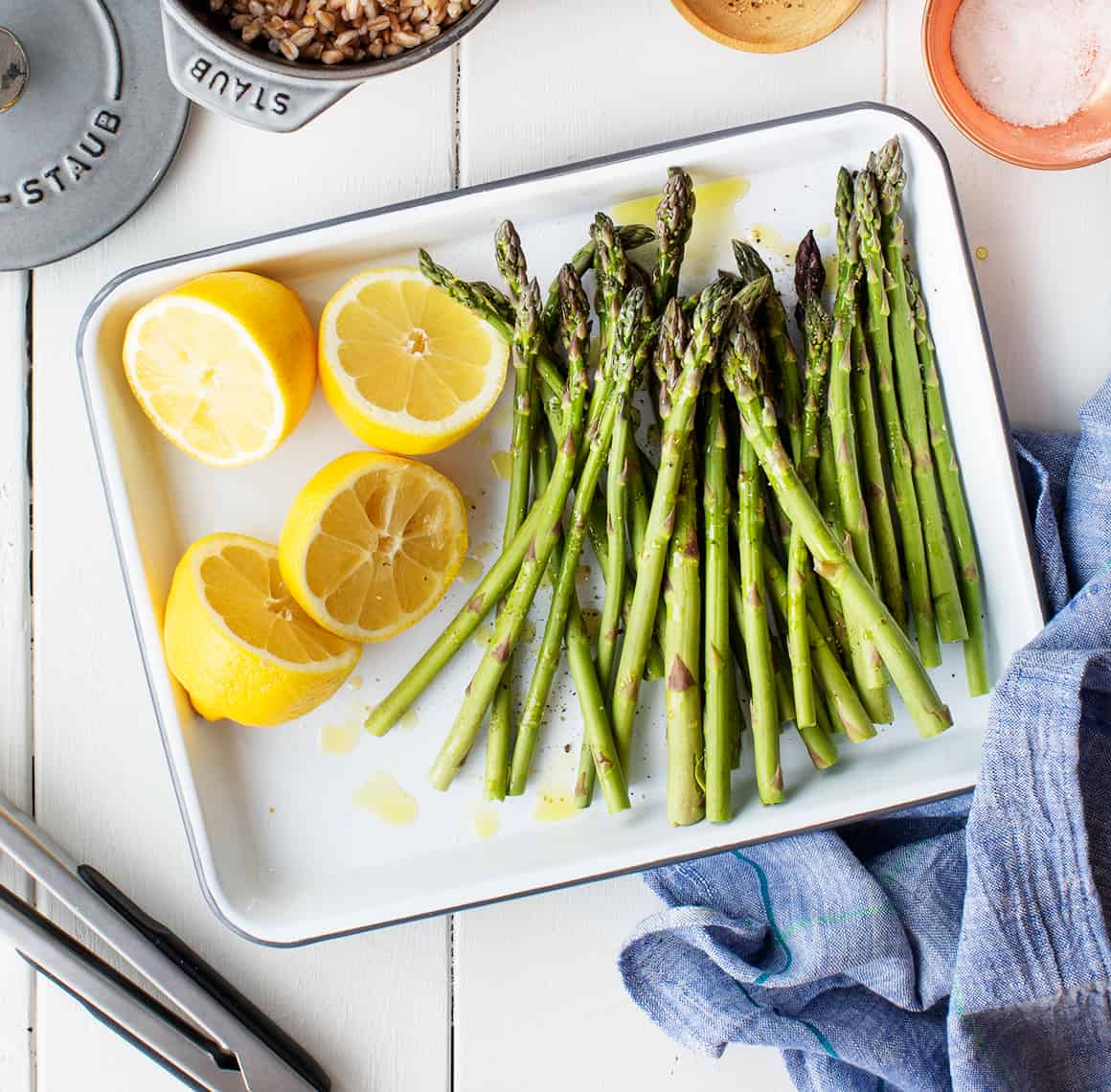 How to Grill Asparagus
Ready to learn how to grill asparagus? Here's what you need to do:
First, trim the bottom of the asparagus spears to remove the woody ends. You can trim the spears with a knife, or use your hands to break them. Hold the end of a spear in one hand, and bend the spear until it snaps. It should break in just the right spot – where the woody part ends and the tender part begins. Repeat with the remaining spears!
Then, toss the trimmed asparagus with olive oil, salt, and pepper.
Next, cook! Preheat a grill or grill pan to medium-high heat, and grill the spears for 6 to 8 minutes, flipping halfway through.
That's it! The asparagus is ready when it's fork-tender and lightly charred. Remove it from the heat, and enjoy!
For an extra boost of flavor, grill lemon halves alongside the asparagus. Drizzle the cut sides with olive oil, season them with salt and pepper, and grill the halves cut-side-down until grill marks form. When you're ready to eat, squeeze the charred lemon juice over the asparagus spears. It's so simple and delicious!
Find the complete recipe at the bottom of this post.
Grilled Asparagus Serving Suggestions
This grilled asparagus recipe is an easy side dish that goes well with just about anything! Pair it with your favorite protein or classic cookout fare like veggie burgers, portobello mushroom burgers, or BBQ jackfruit sandwiches. Serve it simply, with salt, pepper, and a squeeze of lemon juice, or dress it up with a punchy sauce like chimichurri, pesto or vegan pesto, or tahini sauce.
Grilled asparagus is also a great addition to salads, pastas, and more! Here are a few of my favorite ways to use it when I'm not serving it as a side dish:
How do you like to serve grilled asparagus? Let me know in the comments!
More Favorite Grilling Recipes
If you loved learning how to grill asparagus, try one of these easy grilling recipes next:
Grilled Asparagus
Learn how to grill asparagus perfectly every time! For an extra boost of flavor, grill lemon halves along with the veggies. When you eat, serve the grilled asparagus with a squeeze of charred lemon juice!
Ingredients
1

bunch asparagus

,

woody ends trimmed

Extra-virgin olive oil

,

for drizzling

Sea salt and freshly ground black pepper

Lemon wedges*

,

optional, for squeezing

Lemon Vinaigrette,

optional
Instructions
Preheat a grill to medium-high heat.

Toss the asparagus spears with olive oil, salt, and pepper, and grill for 6 to 8 minutes, or until charred but still bright green, flipping or rolling once.

Squeeze with lemon, or drizzle with lemon vinaigrette, and serve.
Notes
Note: I grill lemon halves cut-side down until heated through and charred, about 3 minutes. Use the charred lemons for squeezing unless you're serving the asparagus with Lemon Vinaigrette.