Celebrate summer with these easy grill recipes! With grilling ideas for starters, sides, main dishes, and more, we've got something for everyone.
It seems like it was just yesterday when Jack and I made our first grill recipes of the summer. Where does the time go? Labor Day might mark the unofficial end of grilling season, but if you're anything like us, you'll still grill as much as possible for the next few weeks. It'll stay warm for another month, right? Right?
No matter what, we're looking forward to making a bunch of grill recipes this weekend, and I hope that you are too. In case you're in need of some new grilling ideas, I'm sharing over 30 of my best grill recipes below. They include easy ideas for starters, sides, main dishes, and desserts, and they range from classic corn on the cob to inventive grill recipes like Chickpea Harissa Veggie Burgers and Mediterranean Stuffed Eggplant. Whatever you're craving, we've got you covered.
Easy Appetizer Grill Recipes
Whether you're making dinner for two or hosting a backyard cookout, these easy grilling ideas are guaranteed to get your meal off to a fun start.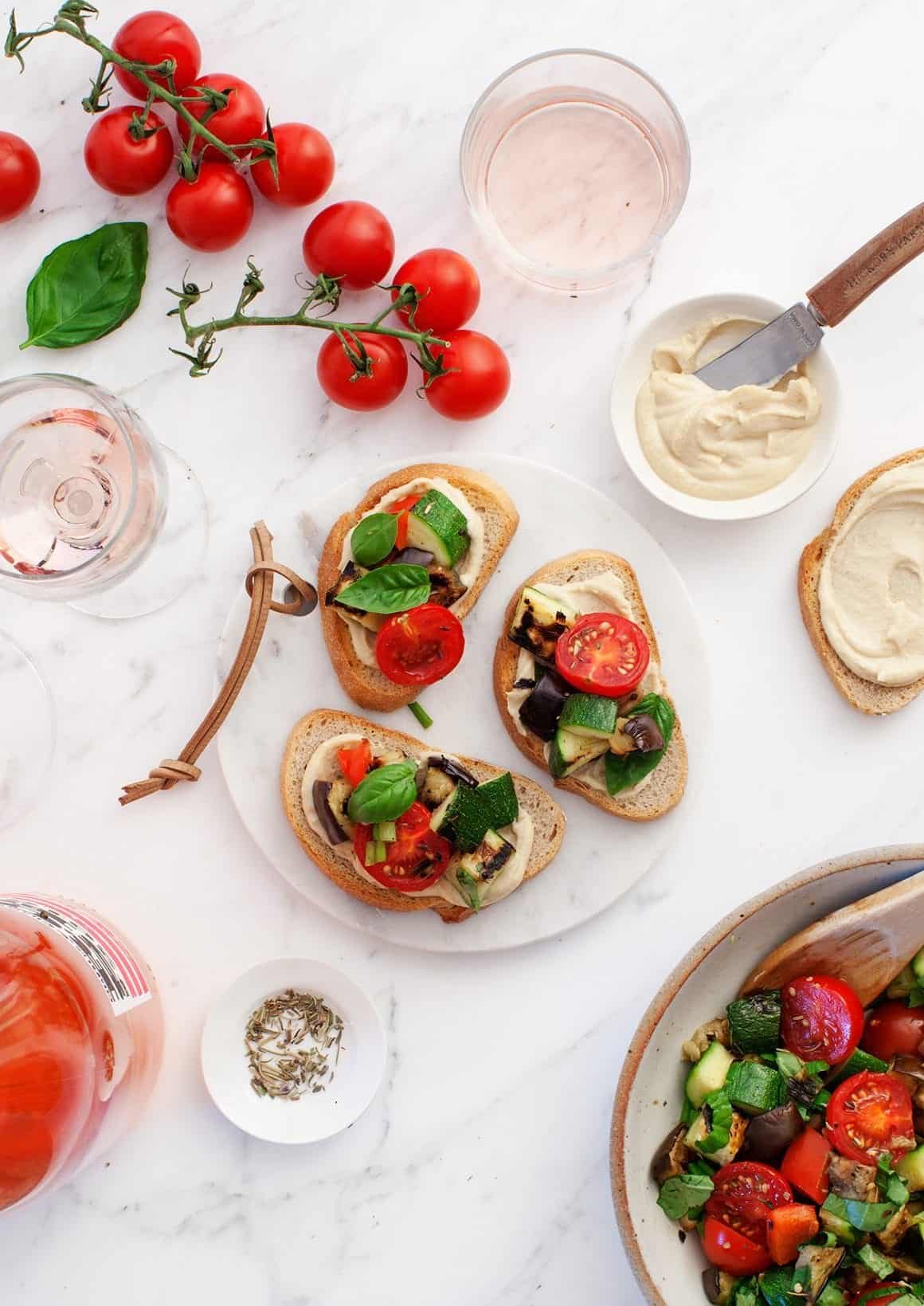 Grilled Ratatouille Tartines
I love a bowl of classic ratatouille as much as the next person, but when it's too beautiful to hole up in the kitchen, I make these grilled ratatouille tartines instead. I toss lightly charred eggplant, zucchini, peppers, and tomatoes with a zingy dressing and fresh herbs. Then, I pile them onto crusty bread with a big slather of goat cheese or hummus. Serve them as an appetizer, or enjoy them as a meal on their own.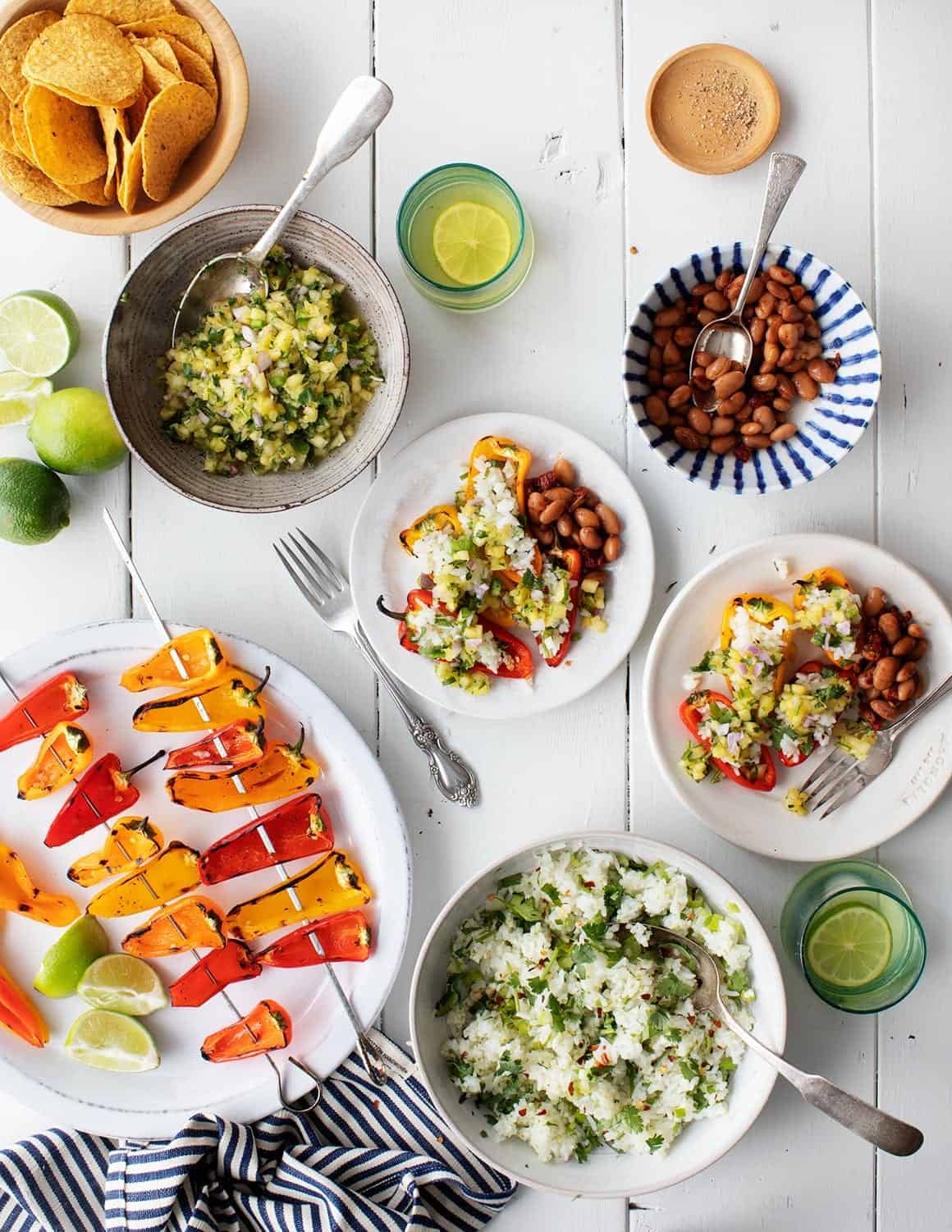 Stuffed Mini Peppers
How cute are these little peppers?! Piled with cilantro lime rice and pineapple salsa, they're the perfect bite-sized summer appetizer.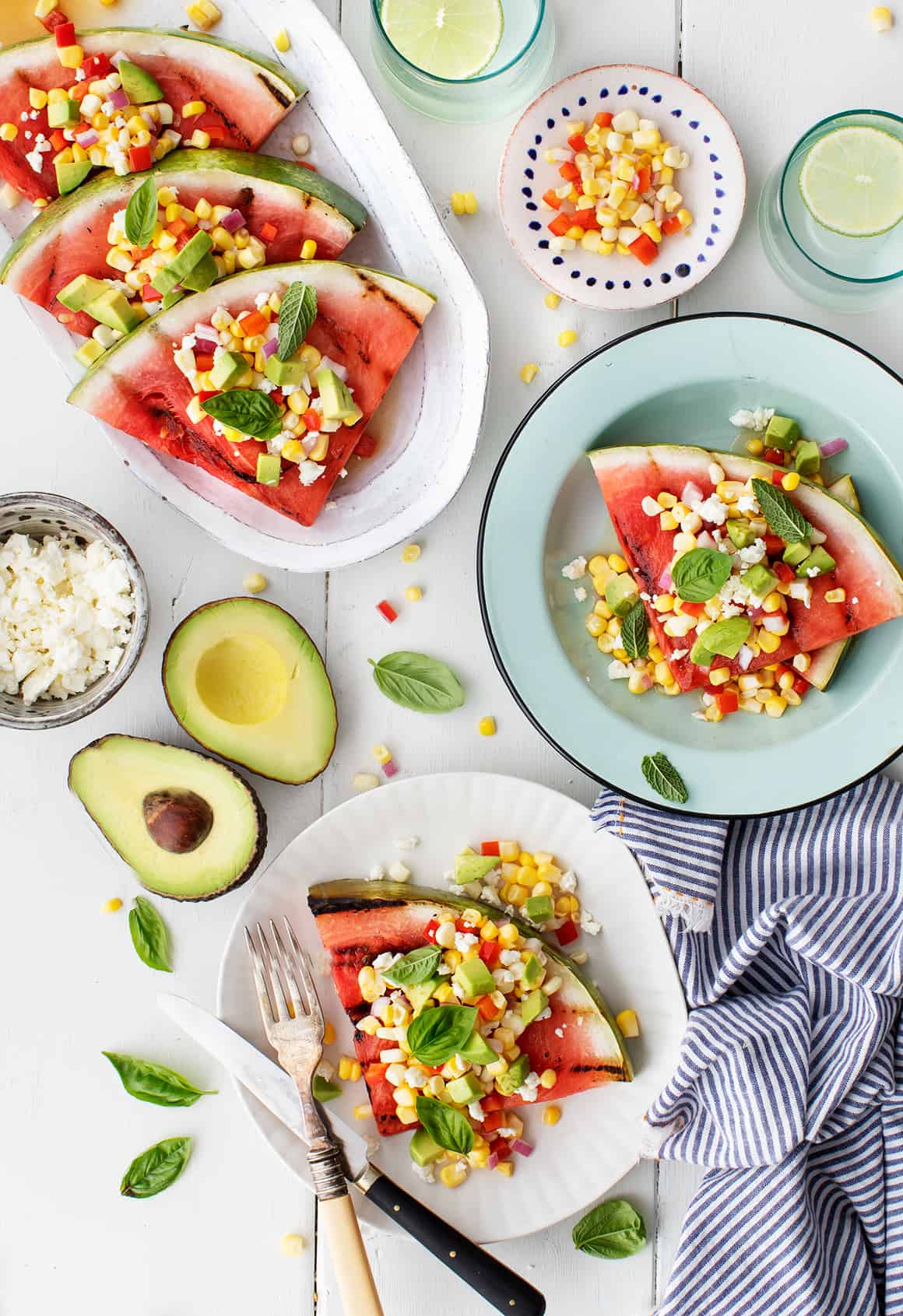 Grilled Watermelon
Nothing screams summer like this grilled watermelon recipe! A creamy/crunchy/tangy/spicy combo of fresh corn, avocado, feta, onions, peppers, and herbs tops smoky grilled watermelon wedges.
Tomato Bruschetta
Why do you need a grill to make bruschetta? For the bread! Drizzled with olive oil and rubbed with garlic, it's flavorful enough to eat on its own. Still, the juicy tomato topping only makes it better. You'll be reaching for a second slice before you know it.
Vegetable Grilling Ideas
Everyone should have these grill recipes in their back pocket! Here, you'll find classics like grilled corn and zucchini – easy, healthy grilling ideas to round out any summer dinner.
Grilled Corn on the Cob
No list of grill recipes would be complete without grilled corn! I like to serve mine with zesty cilantro lime butter and drizzles of vegan ranch.
Grilled Vegetables
When you have a myriad of summer veggies in the fridge, make these easy skewers! Toss them with Greek or Italian dressing for a stunningly simple side dish.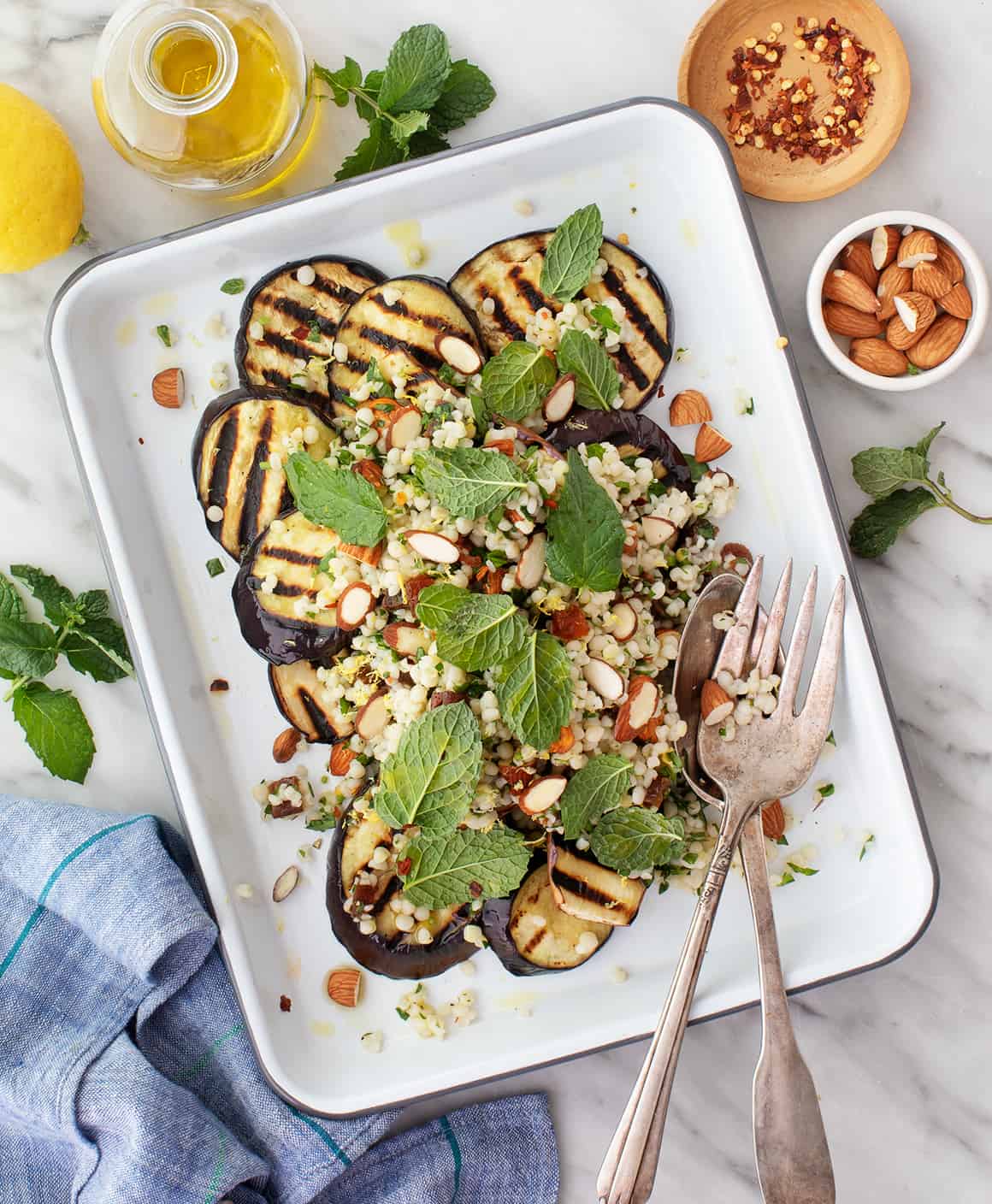 Grilled Eggplant
If there's one vegetable that's just begging to be grilled, it's eggplant. With a little char, its flavor becomes richer and its texture gets soft and silky. Eat it plain, or top it with a fresh couscous salad for a heartier side dish.
Grilled Asparagus
Hands down my favorite way to cook asparagus! I love how the spears become tender and juicy, with crispy, perfectly-charred tips. Brighten them up with drizzles of lemon vinaigrette.
Grilled Zucchini
We all look for new zucchini recipes in the summertime, but every year, I come back to this simple grilled zucchini. Enjoy the juicy, crisp-tender spears on their own, or serve them over lemony yogurt with feta and mint leaves for garnish.
Grilled Potatoes
Hot take: French fries have nothing on grilled potatoes. They're crispy on the outside, creamy in the middle, and filled with smoky flavor.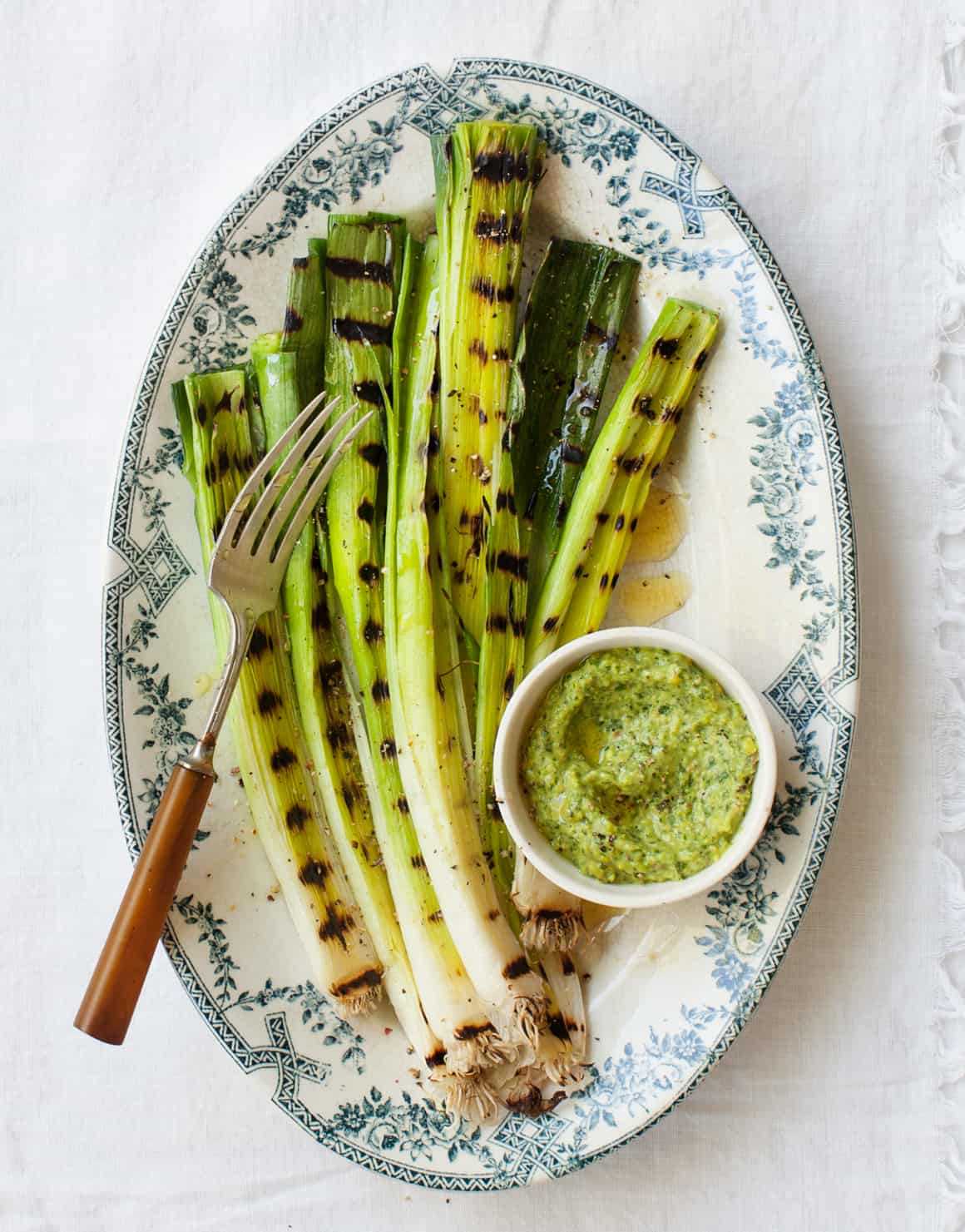 Grilled Leeks with Mint Pesto, page 179 of The Love & Lemons Cookbook
If you ask me, we should all be grilling alliums like onions, scallions, and leeks more often. The grill infuses them with smoky flavor, but it also highlights their natural sweetness. I love pairing them with mint pesto in the springtime, but they're also delicious with basil pesto or romesco sauce.
Salad Grill Recipes
Adding grilled veggies to a summer salad will only make it better! Have fun making your own, or get started with one of the recipes below.
Grilled Romaine Vegan Caesar Wedges, page 111 of Love & Lemons Every Day
Grilled lettuce? You betcha. The char adds richness and complexity to this elevated (and vegan) take on a classic Caesar salad.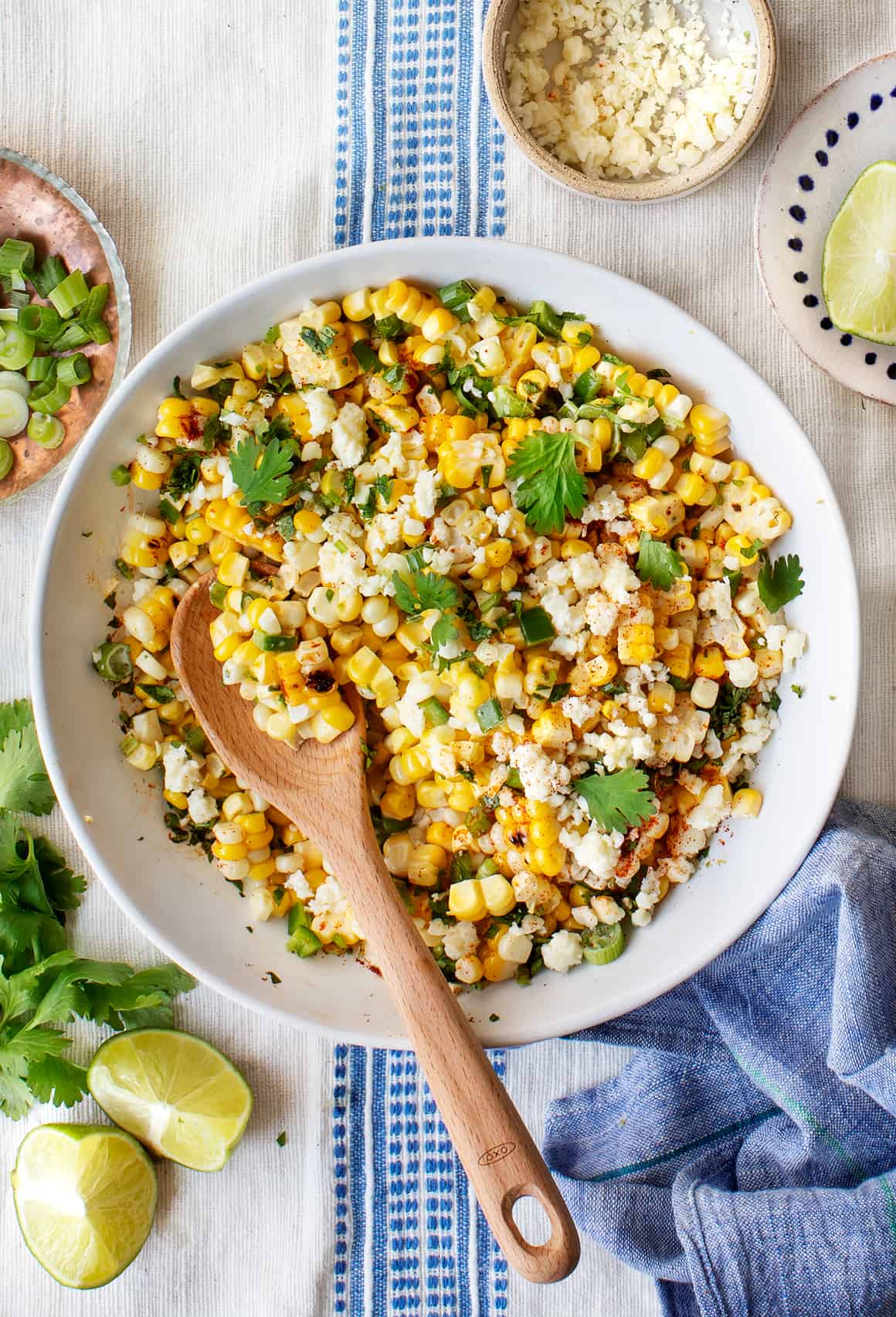 Mexican Street Corn Salad
Creamy, spicy, and bright with lime juice, this Mexican street corn salad is easy to make and sure to please.
Cucumber Tomato Salad
Tip: When you eat this salad, try to get a little of everything in each bite. The combination of juicy cherry tomatoes, crisp cucumbers, grilled croutons, and halloumi cheese is a tough one to beat.
Farro Salad with Grilled Asparagus
Grilled lemon adds bright depth of flavor to this fresh farro salad. Substitute quinoa for the farro to make it gluten-free.
Grilled Pepper & Quinoa Taco Salad, page 209 of The Love & Lemons Cookbook
If you can, use a mix of pepper varieties in this hearty quinoa salad. Pick some spicy ones, some sweet ones, and as many colors as you can find!
Grilled Corn Salad
Grilled corn, fresh peaches, creamy avocado, and chile lime dressing…what's not to love? 
Corn, Tomato & Mozzarella Salad, page 119 of The Love & Lemons Cookbook
This recipe combines two of the best parts of summer: Caprese salad and sweet corn. It's super simple and incredibly versatile – serve it with whatever else you're grilling!
Grilled Peach Salad with Toasted Pistachios, page 241 of The Love & Lemons Cookbook
This salad feels fancy, but it's deceptively simple to make. The peaches will be ready after 2 minutes on the grill. Then, layer them with creamy mozzarella, fresh watercress, and toasted pistachios, and dig in!
Veggie Burgers
My family loves grilling hot dogs and burgers in the summer, so I often make a veggie alternative when we get together. In theory, the veggie option is just for me, but these veggie burgers are so hearty and flavorful that I'm never the only one who eats them. Even among my meat-loving family, they disappear in no time!
Best Veggie Burger
The name says it all. Mushrooms, walnuts, and sticky brown rice give these patties an amazing meaty texture and savory flavor. Pile them with classic fixings like ketchup, mustard, and pickles, or get creative with toppings like guacamole, chipotle sauce, and pickled red onions.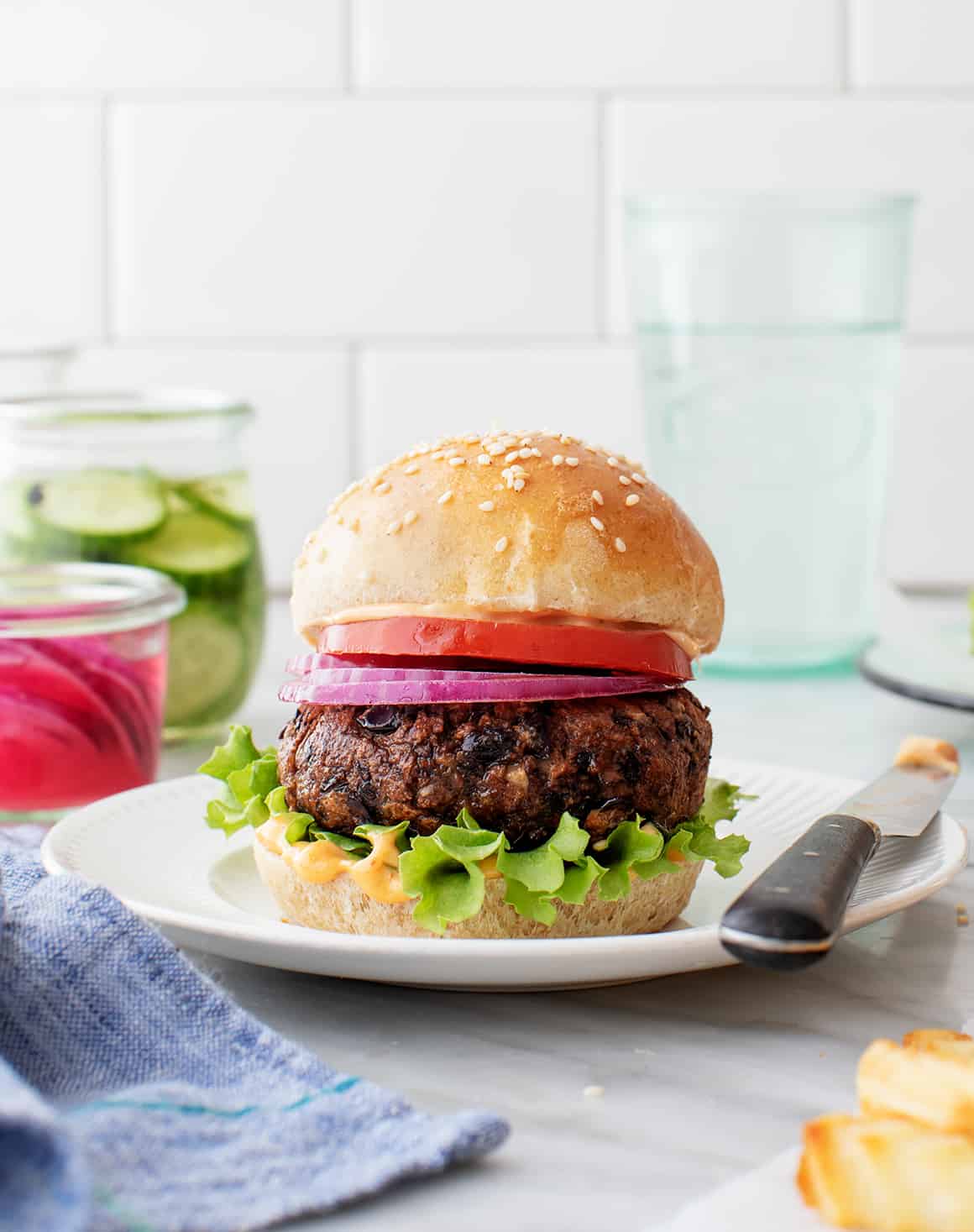 Easy Black Bean Burger
There's no need to haul out the food processor to make these chipotle black bean burgers! They come together in one bowl in under 30 minutes, cooking time included.
Chickpea Harissa Veggie Burgers, page 173 of Love & Lemons Every Day
Harissa, a North African chili paste, gives these veggie burgers their bold, smoky flavor. Skip the ketchup and mustard here – a creamy cilantro sauce is the perfect fresh, zesty complement for the spicy patties.
Portobello Mushroom Burger
Veggie burgers don't get simpler than this! I douse portobello mushroom caps in balsamic vinegar and tamari to highlight their umami flavor. Then, I grill them until they're tender, juicy, and nicely charred. Pile them onto buns with your favorite fixings, and you won't miss the meat one bit.
Pasta Grill Recipes
Toss cooked pasta with grilled veggies, and you have a perfect easy summer dinner! These healthy grilling ideas are flexible – feel free to swap in whatever seasonal vegetables or herbs you have on hand.
Zucchini Lemon Orzo
In the summertime, I love to make simple pastas like this one. First, I grill up big rounds of eggplant and zucchini. When they're nicely charred, I toss them with hot pasta, lemon juice, fresh herbs, and tangy feta cheese. Dinner's served!
Grilled Eggplant and Summer Veggie Pasta, page 139 of The Love & Lemons Cookbook
Cheese lovers (re: Jack) will shower this pasta with Parmesan, but if you ask me, it's not necessary. Charred veggies, tangy pickled onions, fresh basil, and smoked paprika fill it with plenty flavor on their own.
More Grilled Dinner Ideas
Calling all veggie lovers! Grilled dinner ideas extend way beyond grilled fish, grilled chicken, and steak. Here are a few of my favorite vegetarian grilling ideas for nights when I'm craving something besides pasta or a veggie burger.
Mediterranean Stuffed Eggplant, page 179 of Love & Lemons Every Day
Serve this stuffed eggplant for dinner, and no one will leave the table hungry. French green lentils and bulgur make the filling nice and hearty, while sun-dried tomatoes, arugula, and fresh basil pack it with flavor.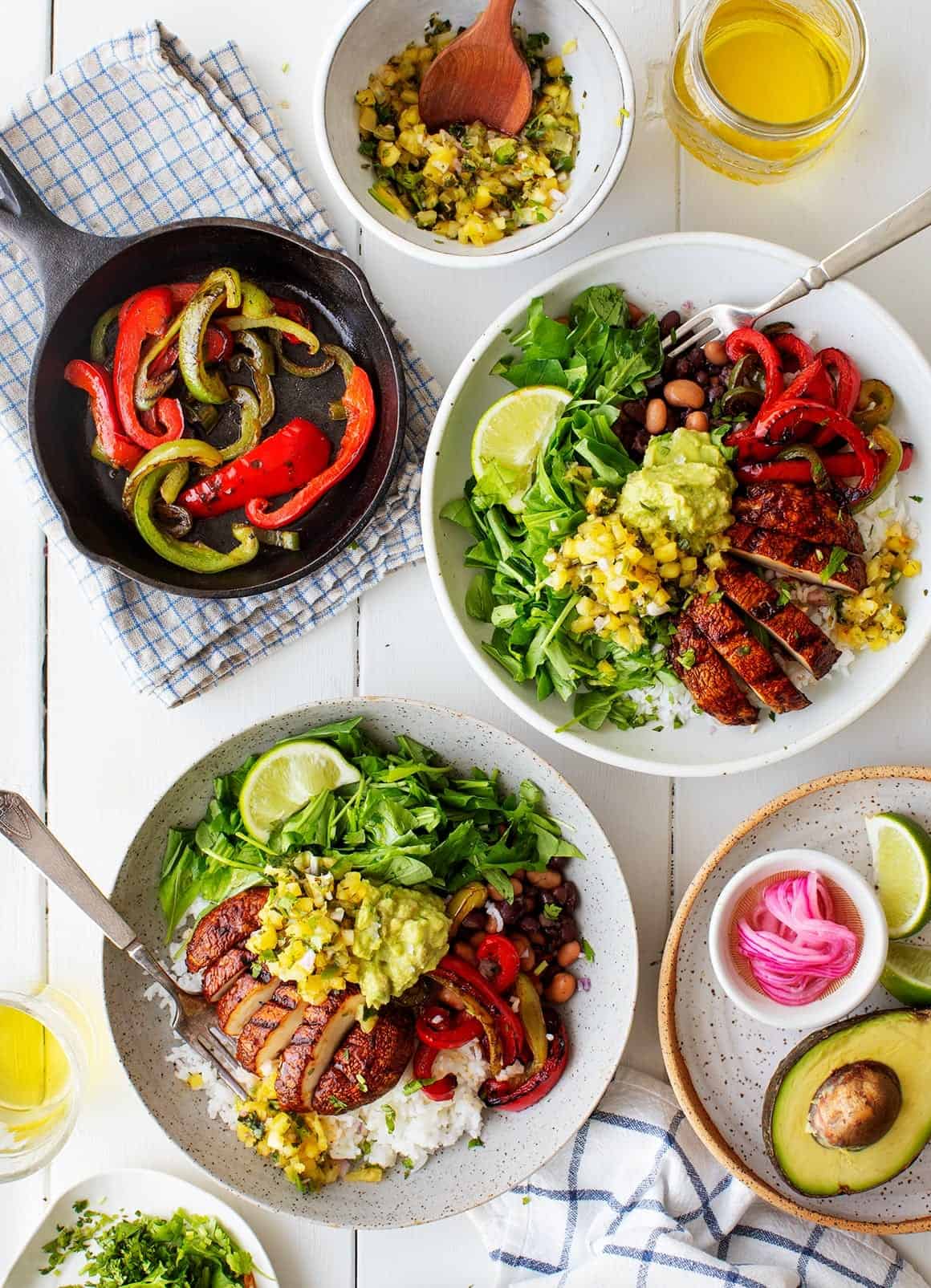 Vegan Burrito Bowl
Move over, Chipotle! This homemade burrito bowl will knock the socks off any bowl you'd get out to eat. Pineapple salsa offers a delicious sweet contrast to the spicy grilled mushrooms and peppers. If you don't have pineapple on hand, mango salsa or fresh tomato salsa would be great here too.
Spicy Black Bean & Mango Stuffed Peppers, page 165 of Love & Lemons Every Day
I make stuffed peppers in the oven in the fall, but in the summer, I always throw them on the grill. It gives the peppers a nice char, which adds extra dimension to the bright mango, black bean, and corn filling here.
Fajita Veggies
Grilled red onion, multicolored peppers, and meaty portobellos create a fun mix of textures and flavors in this fajitas recipe. Stuff them into tortillas with guac, pico de gallo, and pickled jalapeños for a fresh, flavorful summer dinner.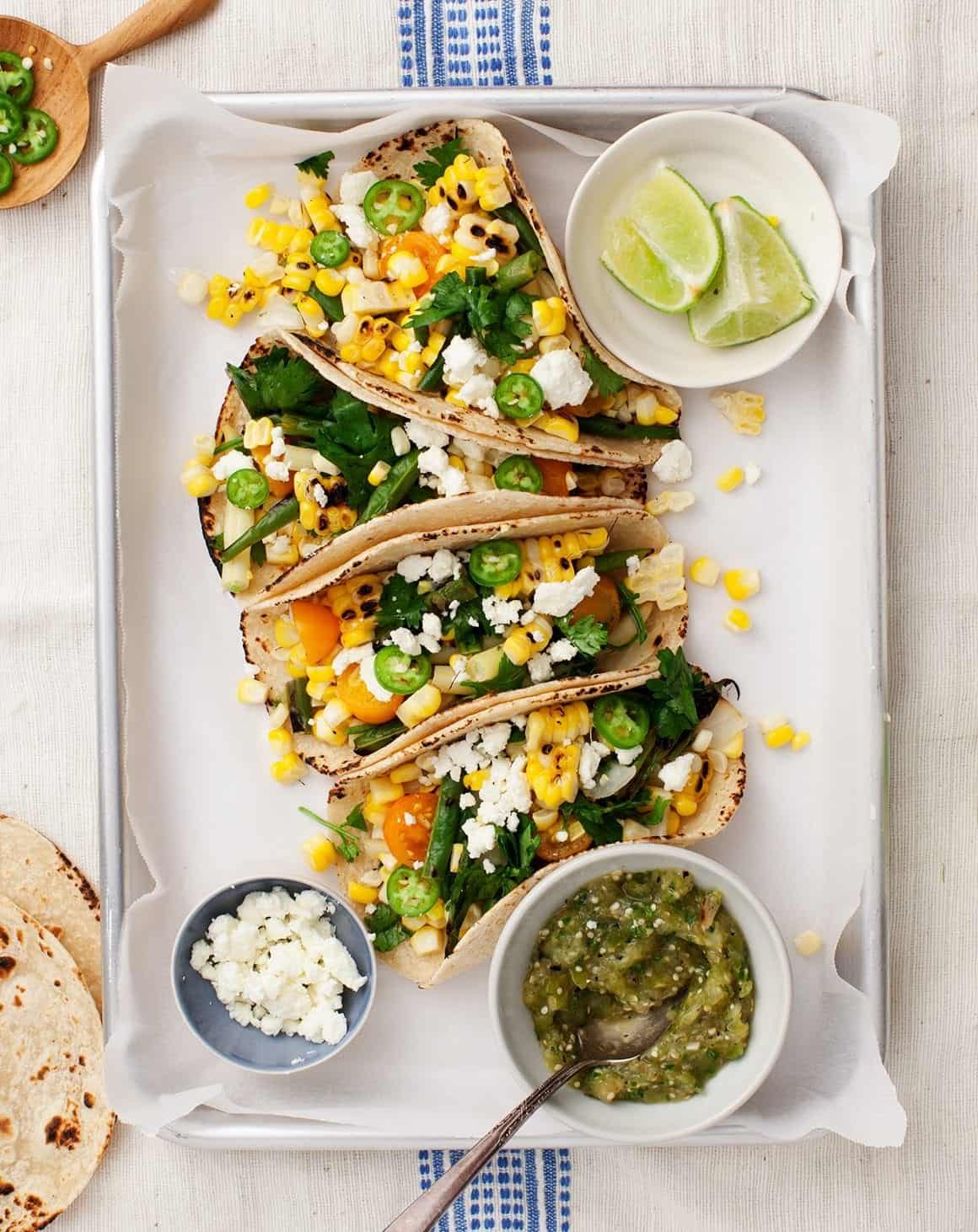 Grilled Corn Tacos
I bill this as a taco recipe, but the filling here is so tasty that I'd be happy eating it as a salad, too! It's a zesty mix of feta cheese, tomatillo salsa verde, and summer bounty like cherry tomatoes, grilled green beans, and corn.
Grill Recipes for Dessert
If you're firing up the grill for dinner, why not keep it going for dessert?
Grilled Peaches
Grilled peaches are a classic summer dessert, and once you try them, you'll see why. The grill gives them a lightly smoky flavor, but it makes them extra-sweet and juicy at the same time. I love to eat them with vanilla ice cream and homemade granola, but they'd also be wonderful with a dusting of brown sugar or a dollop of coconut whipped cream.
More Favorite Summer Recipes
If you love these healthy grill recipes, check out these summer recipes next:
Favorite Grill Recipes: Grilled Veggies
These grilled veggies are one of our favorite grill recipes!
Ingredients
1

yellow squash

1

zucchini

8

ounces

cremini mushrooms

,

stemmed

1

small red onion

1

red bell pepper

1

green bell pepper

1

ear fresh corn

,

cut into 1-inch rounds

Extra virgin olive oil,

for drizzling

Sea salt and freshly ground black pepper

tzatziki, pesto, or Greek dressing

,

for drizzling/serving
Instructions
Heat a grill to medium-high and spray with nonstick cooking spray. Cut the vegetables into similar sized chunks and thread onto 4 metal skewers. Drizzle with olive oil and season with salt and pepper.

Grill the skewers for 8 minutes per side or until the vegetables are tender and lightly charred. Remove from the grill, season to taste, and serve with desired sauce or dressing.