The only green bean casserole recipe you'll ever need! Fresh green beans, crispy baked onions & a creamy mushroom sauce make it a guaranteed hit.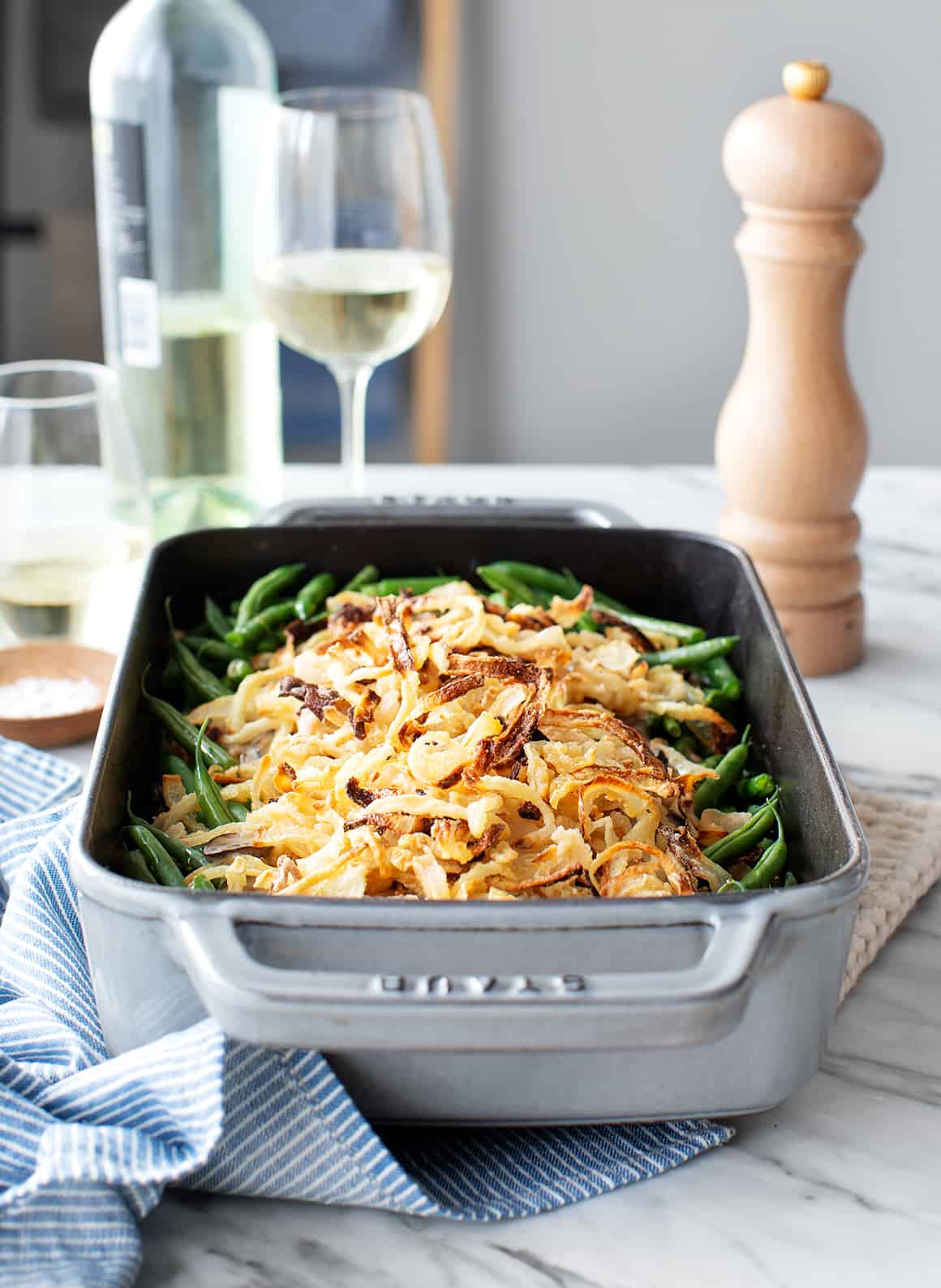 I've had a green bean casserole recipe on my list to make for years. It's a staple at my family's Thanksgiving, and in theory, it's a dish that's all about veggies: it features a creamy mushroom sauce and loads of crispy onions, and green beans are the star of the show!
Like sweet potato casserole, it was a natural candidate for a Love and Lemons recipe made with whole foods ingredients.  For so long, one thing or another would bump it off my list – a Brussels sprouts kick, my favorite Butternut Squash Stuffed Shells, or even just really good green beans on their own. But this year, I finally got down to working on my own green bean casserole recipe, and I have to say that the results are pretty fantastic!
Green Bean Casserole Recipe Components
Jack and I both adore mushrooms, so I swap the traditional cream of mushroom soup for a tangy, creamy homemade mushroom sauce. Mushrooms, thyme, and Dijon mustard are one of my all-time favorite combinations, so of course, I use them here, along with tamari to enhance the mushroom flavor and Parmesan cheese for an umami punch. I think you'll love this sauce – it's so good I could eat it straight off a spoon!
Then, instead of canned or frozen green beans, I use fresh ones. I blanch them before baking them in the casserole, and they come out vibrant green with a nice al dente bite. Yum!
And last but not least, I replace the usual canned French fried onions with a big pile of crispy baked onions. With a delectable oniony flavor and crisp texture, these guys are the perfect finishing touch for this healthy green bean casserole. Tip: Make sure you get a little of everything in each bite!
How to Make Green Bean Casserole
This green bean casserole recipe has three components: the crispy onions, the green beans, and the mushroom sauce.
Start with the onions. Slice the onions into thin half-moons and toss them with olive oil, flour, salt, and panko. Spread them in an even layer on two large baking sheets and roast until they're golden brown and beginning to crisp up, tossing them every 10 minutes.
Then, blanch the green beans. Bring a large pot of salted water to a boil and add the green beans. Cook for 4 minutes, stirring occasionally, until the beans are slightly tender and vibrant green. Drain them, and transfer them to a large bowl of ice water to stop the cooking process. After they've cooled, spread them on a kitchen towel to dry.
Next, make the sauce. Sauté the mushrooms until they're soft, and stir in tamari, garlic, and thyme for flavor. Sprinkle in some flour, and add almond milk and Dijon mustard. Simmer until thickened, around 20 minutes. Then, stir in Parmesan cheese and black pepper.
Finally, layer everything together, and bake! Cover the bottom of a greased baking dish with a thin layer of the sauce. Pile in the green beans, and spread the rest of the sauce on top. Sprinkle the crispy onions on top, and bake, covered, for 10 minutes. Uncover the baking dish, and bake for 10 minutes more.
Enjoy!
Best Green Bean Casserole Recipe Tips
Look for haricots verts. Any type of fresh green beans will work in this recipe, but we had the best results with thin haricots verts. They're slimmer than regular green beans, which helps them integrate with the sauce and onion topping. Plus, they have a delicious snappy texture!
Watch the onions as they cook, and rotate the pans. When you toss the onions every 10 minutes as they cook, rotate their baking sheets. This will help ensure even cooking – you don't want one pan to burn before the other gets crispy! Watch them closely near the end of the cooking time, as they can quickly go from just right to burned.
Make sure your green beans are dry. No one likes a watery green bean casserole, so make sure to dry the green beans thoroughly after you blanch them!
Make it ahead! You can make this green bean casserole up to a day in advance. Bake the crispy onions, blanch the green beans, and make the sauce. Then, assemble the casserole with the sauce and the green beans, cover, and refrigerate until just before serving. Store the crispy onions separately at room temperature. When you're ready to eat, layer on the crispy onions, and proceed with the recipe, baking the casserole until it's heated through. Enjoy!
More Favorite Thanksgiving Recipes
If you love this green bean casserole recipe, try one of these delicious side dish recipes next:
Green Bean Casserole
The only green bean recipe you'll ever need! Made with crispy baked onions, a creamy mushroom sauce, and fresh green beans, it's healthy and delicious.
Instructions
Make the crispy onions: Preheat the oven to 450°F. Line 2 large baking sheets with parchment paper and lightly grease a 9x13-inch baking dish.

In a large bowl, toss the onions with the oil, flour, panko, and salt. Spread evenly onto the baking sheets and bake for 25 to 35 minutes, tossing every 10 minutes (rotating the pans in the oven as necessary), until lightly browned and crispy. Remove from the oven and lower the oven temperature to 400°F.

Prepare the filling: Bring a large pot of salted water to a boil and set a large bowl of ice water nearby. Drop the green beans into the boiling water and blanch for 4 minutes. Drain, and immediately immerse in the ice water to stop the cooking process. Drain, and transfer to a towel to dry.

Heat the olive oil in a large skillet, add the mushrooms, and cook until soft, 8 to 10 minutes. Stir in the tamari, garlic, and thyme. Sprinkle the flour over the mushrooms and stir again. Add the almond milk and mustard and stir to combine. Simmer until thickened, whisking often, for 20 minutes. Stir in the Parmesan cheese and pepper.

Spread ⅓ of the sauce into the baking dish. Layer with green beans and top with the remaining sauce. Sprinkle the onions on top and bake, covered, for 10 minutes. Uncover and bake 10 more minutes. If the onions start to brown too much, cover the dish for the remainder of the baking time. Garnish with sprinkles of panko and Parmesan, if desired. Serve hot.
Notes
Make this vegan by omitting the cheese and adding a few extra pinches of salt to the mushroom sauce.
Crispy onion method inspired by Ambitious Kitchen and Alton Brown.