I love this grain bowl for a quick dinner or healthy lunch. Save leftover components for bowls the next day or the recipes in our 5-day meal plan!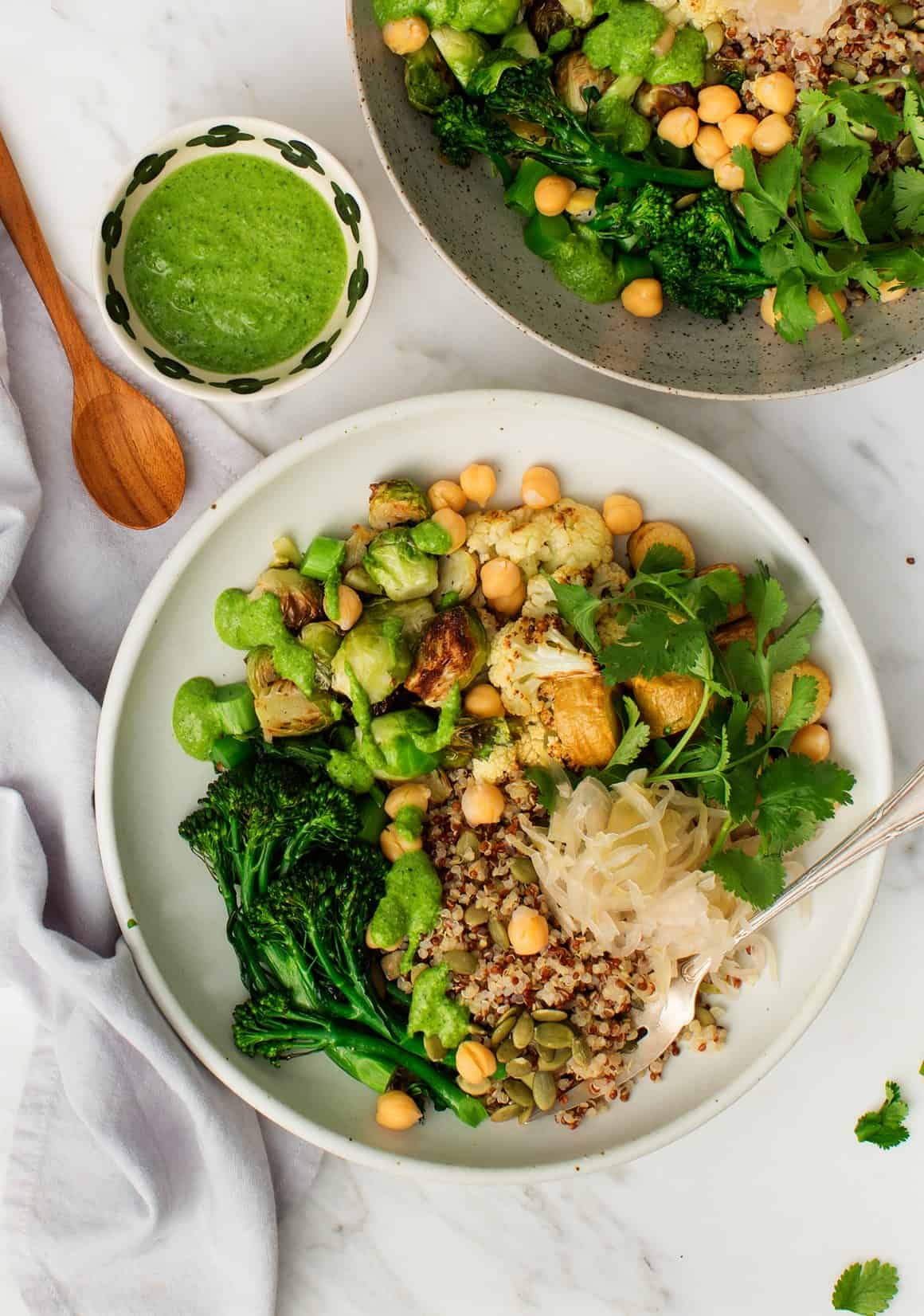 This week, we're talking (er… I'm talking) about meal prep! Why? Well first and foremost, it's because our meal planning journal, The Love & Lemons Meal Record and Market List, is out today! If you missed my post last week, click here to read all about it. If you haven't pre-ordered one, click here to get one now! (And P.S. it'll make a great Mother's Day gift!)
I know, meal preparedness is ALL the rage on the internet lately, and maybe you don't need new ideas – but here's the thing: I do. We've been super busy lately, and although our work is all food-related, you might be surprised to know that as a food blogger, things tend to be "feast or famine" around here. There's way too much food in the fridge or there's no food in the fridge, depending on what we're working on.
I often talk about cooking components on Sundays when you may have extra time to make big batches of things. I like this approach, but this week I'm doing something a little bit different. Starting with one meal – this yummy, easy Mean Green Grain Bowl that we ate for dinner last night – I'm going to transform the same components into a new dinner every night for 5 nights so that each new meal builds off of the previous one.
Grain Bowl Components
A good grain bowl requires multiple components, which is part of what makes grain bowl recipes great choices for meal prep. Here's what you need:
A grain: I use tri-colored quinoa here, but some other good options are farro, millet, and brown rice.
A protein: Think baked tofu, black beans, or even boiled eggs. In this recipe, I use chickpeas, one of my go-tos. You could also roast them for extra crunch.
A yummy sauce: This recipe uses a delicious kale pepita pesto sauce, but if you want to make a DIY bowl, peanut sauce, chipotle sauce, cilantro lime dressing, basil pesto, or miso dressing would all be fun starting points.
Lots of veggies: Here, I roast cauliflower, broccolini, and parsnips, but really, any roasted or raw fresh vegetable is at home in a grain bowl. Mix and match veggies according to the flavor profile you're going for. Experiment with grilled corn, sweet potato, bell pepper, cabbage, cherry tomatoes, and more.
A pickle: This quinoa bowl uses sauerkraut, but try playing with pickled onions or jalapeños in other combinations.
Something for crunch: I almost always choose a nut or seed. Here, I use pepitas.
Try this grain bowl recipe, and then use these categories as a template to create your own bowl combinations!
With these components, I made 2 servings of this grain bowl and saved the leftovers for the next meal. Find the recap for the whole week here, and head over to this post for more of my best meal prep tips.
In the meantime, you can record your own meal plans here in our pretty (and pretty useful) new meal planning journal 🙂
If you love this grain bowl recipe…
Try this quinoa bowl, this rice bowl, or these soba noodles next!
Mean Green Grain Bowl
This Mean Green Grain Bowl can be easily prepped ahead of time for packed lunches or easy weeknight dinners. Don't skip the sauce here! It adds a wonderful freshness to this hearty bowl.
Ingredients
Grain (makes extra):
1 cup raw quinoa, rinsed
1¾ cups water
Creamy Kale Pepita Pesto (makes extra):
½ cup pepitas (or shelled raw pistachios)
2 small garlic cloves
1 packed cup chopped kale
1 packed cup cilantro, more for garnish
¼ cup fresh lemon juice
½ teaspoon sea salt
freshly ground black pepper
½ cup extra-virgin olive oil
½ cup water
½ teaspoon maple syrup or honey
Roasted Vegetables:
2 parsnips, chopped into ½ inch pieces
florets from ½ cauliflower
½ bunch broccolini
1½ cups halved Brussels sprouts
Protein:
1 (14-ounce) can chickpeas, drained & rinse, use ¼ cup per bowl, save the extra
Pickle:
scoop of sauerkraut (I like Bubbies)
Extras:
sprinkle of toasted pepitas
Instructions
Preheat the oven to 425°F and line 2 baking sheets with parchment paper.
First, make the quinoa. Add the rinsed quinoa and water to a medium pot. Bring it to a boil, cover, reduce the heat, and simmer for 15 minutes. Remove from the heat and let it sit, covered, for 10 more minutes. Fluff with a fork. This will yield about 3 cups; I used a heaping ½ cup per bowl.
Next, make the sauce. Combine the pepitas, garlic, kale, cilantro lemon juice, sea salt, pepper, olive oil, water, and maple syrup or honey in a blender and blend until smooth.
Then, roast the vegetables. Place the parsnips, Brussels sprouts, and cauliflower on one large baking sheet. Place the broccolini on the second baking sheet. Drizzle the vegetables with olive oil and pinches of salt and pepper, toss to coat, then spread evenly onto the sheets. Roast the parsnips/Brussels sprouts/cauliflower 20 to 25 minutes or until golden brown around the edges. Roast the broccolini for 10 to 12 minute or until tender. When cool to the touch, chop up the broccolini stems.
Assemble bowls with a scoop of quinoa, the roasted vegetables, about ¼ cup chickpeas, and a scoop of sauerkraut and top with pepitas. Drizzle with the sauce. Season to taste with additional salt and pepper, if desired, and serve. I assembled these components into 2 bowls (although the whole recipe will make 4) and saved the leftovers for tomorrow's dinner - stay tuned!
Store the extra sauce, quinoa, and remaining chickpeas in the fridge.