These gluten-free pancakes are our favorite weekend breakfast. Made with oat & almond flour, they're light, fluffy, and filled with warm vanilla flavor.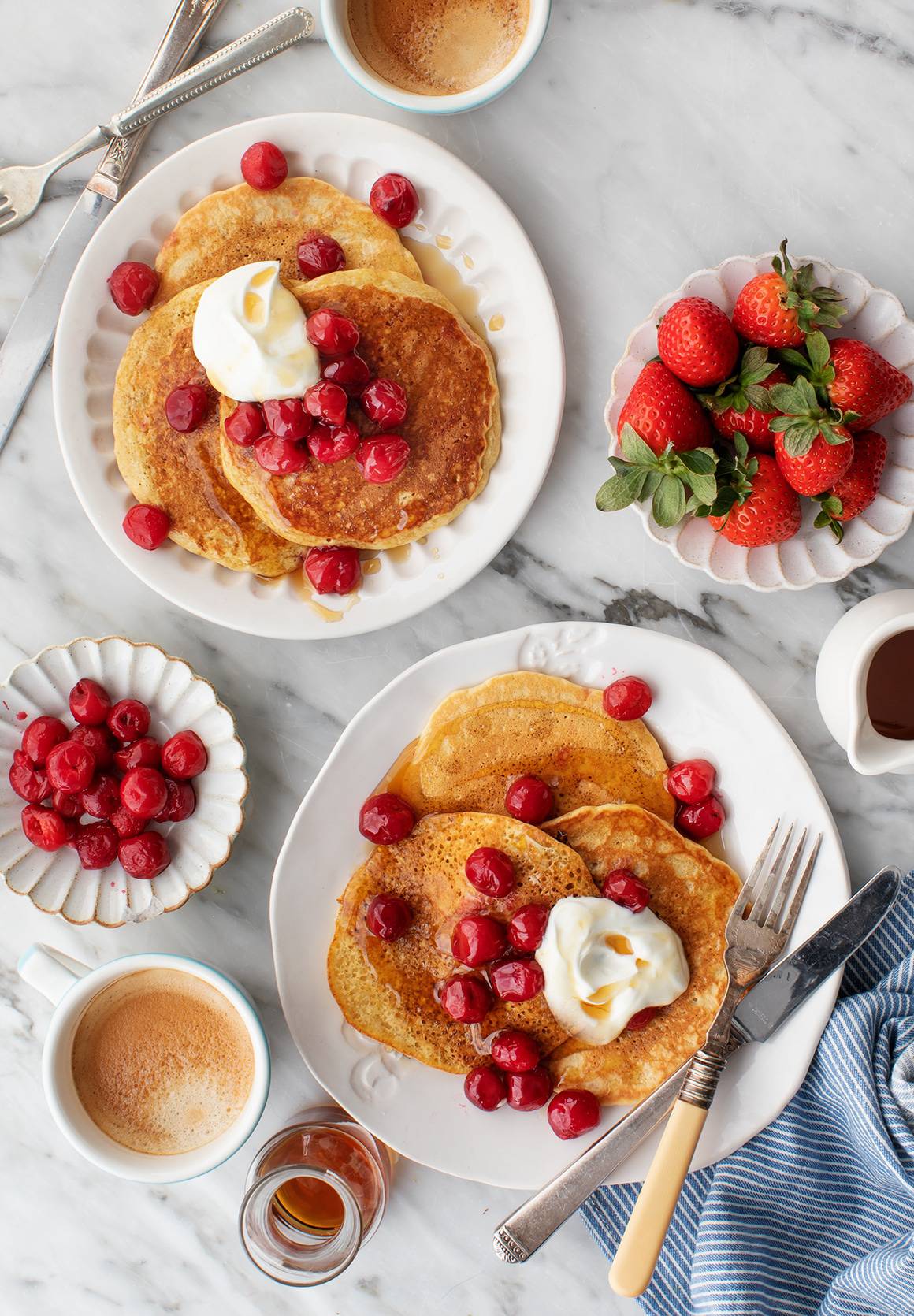 In the last few weeks, making this recipe for gluten-free pancakes has become our Saturday morning routine. Jack beats the egg whites into soft peaks while I whisk together the batter. Then, he gently folds in the egg whites, and I stand over the hot stove, flipping pancakes until we've used up every last drop of batter in the bowl.
I typically do the cooking in our house, but these gluten-free pancakes are one of the few recipes we actually make together. This couldn't be more fitting, as they come from Aran Goyoaga's new book Cannelle et Vanille. A true celebration of cooking and sharing food with others, the book is packed with beautiful photos and wholesome, gluten-free recipes "for every meal and mood."
I've been a fan of Aran's gorgeous work for years, and her book is equally stunning. It's a must-have resource for any gluten-free baker, with recipes for breads, cakes, pizza dough, and more. And if you're not gluten-free, you're still going to want Cannelle et Vanille in your kitchen. It contains crave-worthy recipes for every type of meal, from quick breakfasts to special occasion dinners. While it's not entirely vegetarian, most of the recipes are meat-free. I can't wait to try the Roasted Carrot and Cashew Soup and Squash Blossom and Ricotta Pizza next!
Gluten-Free Pancakes Ingredients
Now, back to these gluten-free pancakes! Unlike many gluten-free pancake recipes, this one doesn't require any hard-to-find ingredients like xanthan gum or a specific gluten-free flour blend. Instead, it uses two types of gluten-free flour that I always have on hand: almond flour and oat flour. You can find both of these flours at the store (I like Bob's Red Mill), but most often, I make them at home in the food processor. Read more about how to make them here and here. Aside from the flours, Aran's recipe calls for these ingredients:
Tapioca starch, to help the gluten-free flours rise.
Baking powder, to make them light and puffy.
Almond milk, to add moisture. Whole milk would work here too!
Maple syrup, to sweeten them. Of course, you'll need more for serving!
Eggs, to add richness and lift.
Vanilla extract, to give these gluten-free pancakes a rich, warm vanilla flavor.

Easy Gluten-Free Pancake Recipe Tips
Let the batter rest for 5 minutes before you fold in the egg whites. Do not skip this step! It gives the dry ingredients a chance to absorb the milk, egg yolks, and maple syrup, thickening the batter before you fold in the egg whites. If you fold them in right away, your pancake batter will be too thin.
But don't let the egg whites sit. Fold the egg whites into the pancake batter as soon as you whip them into soft peaks. Otherwise, they will separate and deflate, which results in a runnier batter and flatter pancakes.
Adjust the cooking time based on the heat of your stovetop. Whether you cook these gf pancakes on an electric griddle or in a nonstick skillet on the stove, make sure to adjust the cooking time in accordance with your equipment. Aran's original recipe calls for 2-3 minutes per side. However, on my stove, 1 minute and 30 seconds  per side yielded the best puffy texture and golden brown color. They burn easily, so make sure to watch them closely!
Dress them up! Like any pancakes, these are delicious with maple syrup. I also like to top them with fresh fruit like berries or tart cherries and a dollop of yogurt or coconut cream. You could sprinkle them with homemade granola for a nutty, crunchy finish as well. On special occasions, we serve these pancakes with mimosas, but otherwise, they're wonderful with a glass of chilled vanilla oat milk.
More Favorite Brunch Recipes
If you love this gluten-free pancake recipe, find more of my favorite brunch recipes here or check out this post for 60+ healthy breakfast ideas. Alternatively, make one of these favorite brunch recipes next:
Gluten Free Pancakes
The BEST gluten-free pancakes! They're light, puffy, and filled with rich vanilla flavor. Recipe from Cannelle et Vanille by Aran Goyoaga.
Ingredients
2/3

cup

gluten-free oat flour

2/3

cup

almond flour

1/4

cup

tapioca starch

1

tablespoon

baking powder

1/2

teaspoon

sea salt

1/2

cup

whole milk or almond milk

2

tablespoons

maple syrup

2

eggs

,

separated

1

tablespoon

vanilla extract

extra-virgin olive oil or butter

,

for the pan

maple syrup

,

fruit and/or yogurt, for serving
Instructions
In a medium bowl, whisk together the flours, tapioca starch, baking powder, and salt. Whisk in the milk, maple syrup, egg yolks, and vanilla. Let the batter sit for 5 minutes.

Meanwhile, in a clean bowl, whip the egg whites to soft peaks. Fold them into the batter, being careful not to deflate it too much.

Heat a non-stick skillet over medium-low heat. Add a dab of butter or a drizzle of olive oil to the pan and pour in 1/3 cup of the batter. Cook until a few bubbles appear on the surface, about 1 1/2 to 2 minutes, then flip the pancakes over and continue cooking for another 1 1/2 to 2 minutes or until set. Watch the pancakes closely to make sure they don't burn, adjusting the heat and the cooking time as needed. Repeat with the remaining batter, adding a dab of butter or more oil each time.

Serve the pancakes with maple syrup, fruit, and/or yogurt for serving.