This noodle bowl is filled with a warm gingery broth & fresh herbs, sautéed shiitakes, kale, garlic & scallions. A healthy dinner in fall or spring. Vegan.
Our vacation was filled with two weeks of unapologetic amounts of cheese, bread, wine, and pastries… so coming home, this is the kind of comforting meal I look forward to… healing Asian foods… shiitake mushrooms, ginger, sesame (and kale just for kale's sake).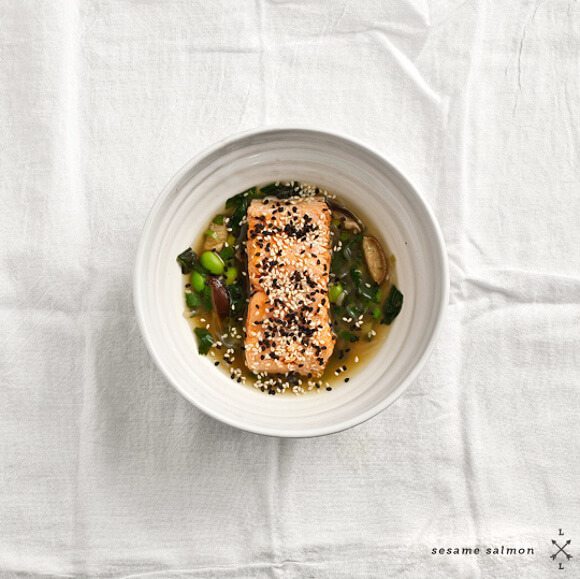 This is inspired by a recipe of Heidi's that I've made countless times in a variety of ways. I just love the basic flavor idea – simmering ginger broth kicked up with lime juice, basil, mint, and crushed red pepper flakes. Just because vacation is over doesn't mean it's time to eat boring food.
I kicked up the health-factor a notch by using shiratake noodles. (If you've never heard of them here's the wikipedia description). The have no carbs or calories. I know… I was scared too. I had some rice noodles waiting in the wings in case these didn't work out, but they were delicious. The key is to use them in the right application. They won't replace al-dente pasta, so I would not recommend using them in any kind of Italian dish. But they work well in Asian soups where you're after a more slurpy noodle anyhow.
I seared some salmon to go on top, but this would be a delicious by itself as a vegetarian meal. If you'd like some more veggie protein, add some extra edamame or seared tofu.
broth inspired by 101 Cookbooks
Ginger Noodles with Kale & Shiitakes
Ingredients
2 (7 oz) packages Miracle shirataki noodles (or kelp, soba, or noodle of your choice)
½ -1 cup sliced shiitake mushrooms, cleaned gently with a towel
1 cup thinly chopped kale (about ½ bunch)
1-2 teaspoons minced ginger
1 garlic clove, minced
2-3 scallions, white and green parts, chopped
2-3 cups low sodium vegetable broth
½ cup edamame, shelled and thawed
1 – 2 tablespoons soy sauce or tamari
Handful chopped basil
Handful chopped mint
Squeeze lime juice
Drizzle toasted sesame oil
Sesame seeds, for garnish
Extra-virgin olive oil
Crushed red pepper flakes or a splash of sriracha (optional)
Salmon (optional)
Instructions
Prepare your noodles – if you're using the shiratake noodles, they don't need to be cooked, but drain and rinse them. They have sort of a funky smell, so I recommend shocking them in boiling water for 30 seconds. Then drain and rinse (again) in cold water. Set aside until you're ready to use them.
In a large skillet (I used a stainless one where the sides of it are 4 or so inches high), splash a bit of olive oil. When it's hot, add the mushrooms and a pinch of salt. Cook, stirring occasionally, until they have wilted down, 5 or so minutes. Toss in the kale, ginger, garlic, and scallions. Sauté for a few minutes until the kale starts to wilt down but the garlic is not burning. Turn the heat down if garlic and ginger are starting to burn.
Add the broth, edamame, and noodles and simmer for a few minutes. If your veggies are soaking up all your broth, add more.
Turn off the heat and stir in the soy sauce, basil, mint, lime juice, and red pepper flakes, if using. Taste and adjust seasonings.
Ladle in to bowls and finish with a drizzle of toasted sesame oil and a sprinkle of sesame seeds. Top with cooked salmon, if using.
To cook the salmon: Season the fish with salt, pepper, and olive oil and press some sesame seeds on top. In a hot skillet, place the salmon, sesame seed side down, and sear so a light crust forms – 2 or so minutes. Some sesame seeds will fall off, that's ok. Flip the salmon and continue cooking until it's more (but not completely) opaque in the middle, about 4-6 more minutes. Serve on top of bowls of ginger noodles. Sprinkle with more sesame seeds if some have fallen off.