Made with Yukon gold potatoes and lots of roasted garlic, these garlic mashed potatoes are creamy, rich, and flavorful. An easy, delicious side dish!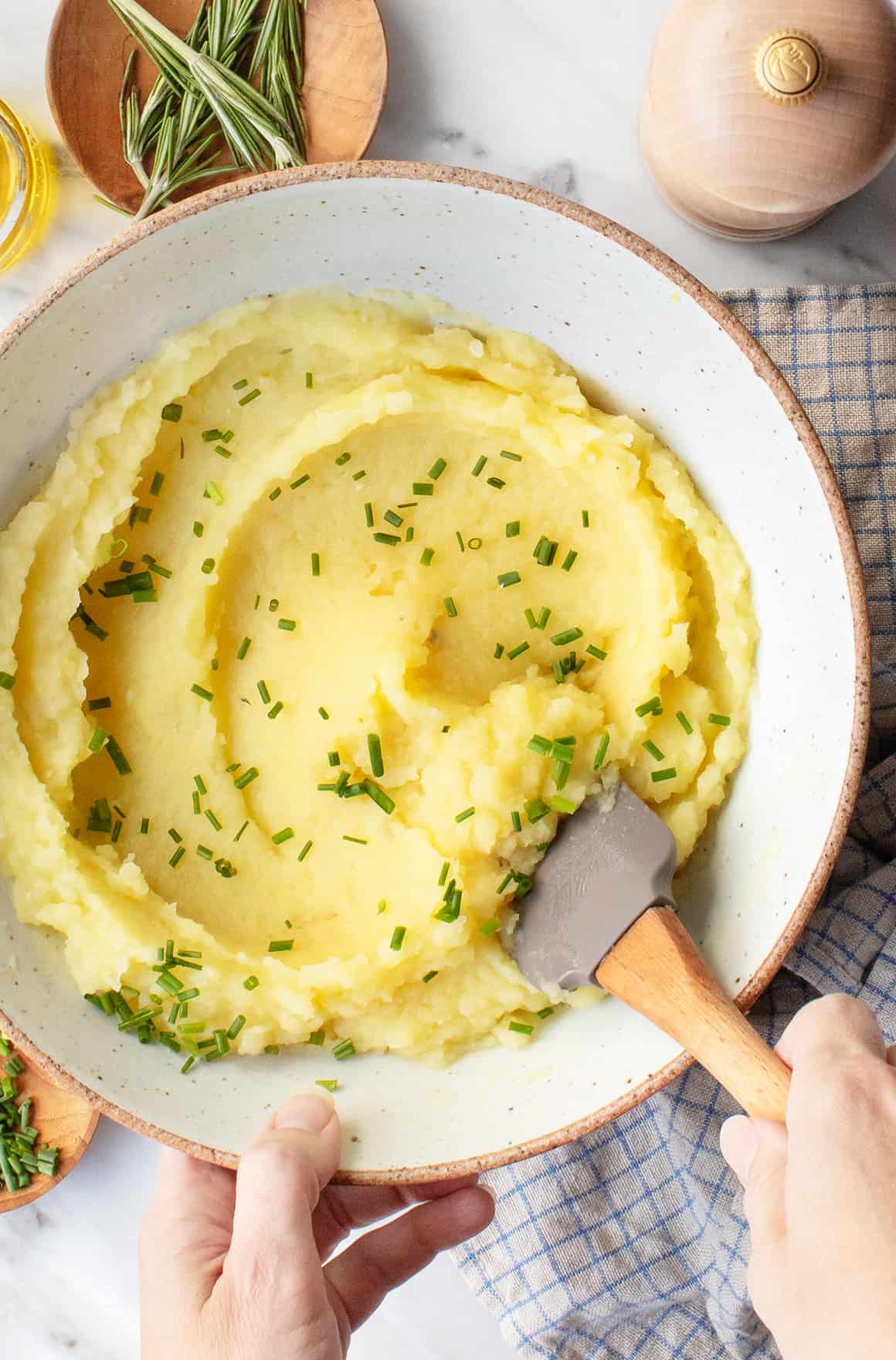 The first time I made these garlic mashed potatoes, I didn't know what my husband Jack would think of them. See, Jack grew up eating his Uncle Billy's mashed potatoes, and he still reminisces about them. They were creamy, fluffy, and rich with (lots of) melted butter and (lots of) sour cream. 
These garlic mashed potatoes aren't exactly like Uncle Billy's. Instead of dairy, olive oil and starchy potato cooking water give them an amazing creamy texture, and roasted garlic fills them with rich, nutty depth of flavor. When I tried them, I thought they were delicious, but Jack's opinion would be the real test.
His verdict? "These mashed potatoes are SO good!" This recipe has been a favorite in our house ever since. I hope you enjoy it too!
Garlic Mashed Potatoes Ingredients
You only need a few ingredients to make this garlic mashed potatoes recipe:
Potatoes – I like to use Yukon Gold potatoes here, and German butterballs work well too. They have a rich golden color, and they give these mashed potatoes an AMAZING creamy texture. I personally prefer them to fluffy russet potatoes or waxy red potatoes in this recipe.
Roasted garlic – The secret ingredient! I mix in a whole head of roasted garlic to pack these guys with garlic flavor.
Olive oil – I love the rich taste of olive oil in this recipe, and, along with starchy potato cooking water, it makes these mashed potatoes just as creamy as any I've had with butter, milk, or sour cream.
Salt and pepper – Absolute essentials! For optimum flavor, I salt the potato cooking water as well as mixing salt and pepper into the potatoes.
Find the complete recipe with measurements below.
How to Make Garlic Mashed Potatoes
You can find the complete garlic mashed potato recipe at the bottom of this post. For now, here's an overview of how it goes:
First, roast the garlic in a 350°F oven until the cloves are deeply brown and tender. This could take up to 60 minutes! Tip: You can easily do this step ahead of time. Wrapped in foil, the roasted garlic will keep for 3 days in the fridge.
Then, peel the potatoes. If you love creamy mashed potatoes, peeling is a must. Once they're peeled, there's no need to cut the potatoes before cooking. Just put them in a large pot, and cover them with 1 inch of cold water.
Next, boil them. Add a teaspoon of salt to the pot, and boil until the potatoes are easily pierced with a fork. Before you drain the potatoes, don't forget to reserve 1 cup of the starchy cooking water.
Then, it's time to mash! For the best creamy texture, I rice the potatoes first. Then, I use a regular potato masher to break up any chunks. If you don't have a potato ricer, that's ok! Just be sure to mash them thoroughly.
Finally, fold everything together. Remove the tender garlic cloves from their paper and mash them into a paste with a fork or small masher. Fold the garlic into the potatoes, along with olive oil, reserved potato cooking water, salt, and pepper. Season to taste and add more cooking water, as needed, to reach your desired consistency.
Top with your favorite fixings, and enjoy!
Tips for Making Garlic Mashed Potatoes
Pick the right potatoes. Yellow potatoes like Yukon Golds or German butterballs are fantastic here. They give these garlic mashed potatoes a perfect creamy texture. For this recipe, I'd always pick them over red potatoes or russets!
Roast the garlic in advance so that these garlic mashed potatoes are quick and easy to make! The roasted garlic keeps well wrapped in foil or in an airtight container in the refrigerator for up to 3 days. It also freezes well for up to 3 months.
Load them up. These potatoes are delicious on their own…but they're even better with toppings! We love them with fresh herbs like rosemary or chives, a pat of butter, and salt and pepper. You can't go wrong with mushroom gravy either.
How to Store
These garlic mashed potatoes keep well in an airtight container in the refrigerator for up to 3 days.
To reheat, warm them in the microwave, stirring every 2 minutes, until heated through.
More Potato Recipes to Try
If you love these roasted garlic mashed potatoes, try one of these easy potato recipes next:
Looking for more holiday recipes? Check out these 50 Thanksgiving Side Dishes!
Garlic Mashed Potatoes
These garlic mashed potatoes are creamy, rich, and flavorful! Made with just 5 ingredients, they're an easy, delicious side dish for the holidays or any meal.
Ingredients
Mashed Potatoes
2

pounds

Yukon gold or butterball potatoes

,

peeled

2

teaspoons

sea salt,

divided

⅓

cup

extra-virgin olive oil
Butter,

optional for serving

Chopped chives and/or rosemary

,

optional for sprinkling
Instructions
Preheat the oven to 350°F.

Make the roasted garlic: Trim the top ¼ inch off the top of the garlic bulb. Place cut-side up on a piece of foil, drizzle with olive oil, and sprinkle with salt. Wrap the garlic in the foil and roast for 40 to 60 minutes or until the cloves are deeply golden brown and tender. Remove from the oven and let cool slightly. Use the back of a chef's knife or a small masher to mash the garlic into a paste before incorporating into the mashed potatoes. Set aside.

Make the mashed potatoes: Place the potatoes and 1 teaspoon of salt in a large pot and fill with enough water to cover the potatoes by 1 inch. Bring to a boil and cook until fork tender, about 20 minutes. Drain, reserving 1 cup of the cooking liquid.

Use a ricer or a potato masher to mash the potatoes into a large bowl. Use a rubber spatula to fold in the roasted garlic, olive oil, ½ cup of the reserved cooking liquid, 1 teaspoon salt, and several pinches of pepper. Continue folding until creamy, adding up to ½ cup more cooking liquid if desired for creamier potatoes. Serve hot with butter, rosemary, and chives, if desired.
Notes
*Note: the roasted garlic can be made up to 3 days in advance and stored in the fridge until ready to use.