We love to make this garlic knots recipe when we're entertaining. The soft, fluffy knots always impress guests, but, secretly, they're super easy to make!
I'm trying to think of something more delicious than warm garlic knots fresh out of the oven. …And I'm giving up. It's just not possible. Garlic knots deliver everything you love about dinner rolls – soft! fluffy! – plus an extra kick of rich, savory garlic flavor. And because they can pass as an appetizer, snack, or even a side dish with the right meal, there's never an occasion where they're out of place. If you want to be the life of the party at any gathering you're attending this season, my advice to you is simple: make this garlic knots recipe.
Garlic Knots Recipe Ingredients
Another great thing about garlic knots? They come together with a few basic ingredients:
Garlic, of course! It gives these garlic knots their irresistible garlicky flavor.
All-purpose and whole wheat flour – My #1 tip for making this recipe is to weigh your flour. That way, you'll know you're using the correct amount. If you don't have a kitchen scale, use the spoon-and-level method to avoid packing too much flour into your measuring cups. Read more about it here!
Active dry yeast – It helps the knots rise.
Maple syrup – It adds a slight sweetness to the dough and helps activate the yeast.
Warm water – For moisture.
Extra-virgin olive oil – You'll add some to the dough and brush the rest on top with the garlic.
And salt – To round out the knots' rich, savory flavor.
Find the complete recipe with measurements below.
How to Make Garlic Knots
This garlic knots recipe is really simple (and fun!) to make. Here's how it goes:
First, make the dough. I use a stand mixer fitted with a dough hook to make this process super easy. When the dough forms a ball around the hook, turn it out onto a lightly floured surface. Knead it a few times, dusting it with a bit more flour if it's still sticky.
Form the dough into a ball and place it in a large bowl brushed with olive oil. Cover the bowl with plastic wrap and let the dough rise until it doubles in size.
Next, shape the knots. When the dough has risen, punch it down and turn it out onto a lightly floured surface. Cut it into 8 equal pieces.
Roll each piece into a 9-inch rope…
…and tie it into a knot.
Once you create the knot, tuck the loose ends under it to form a neat roll.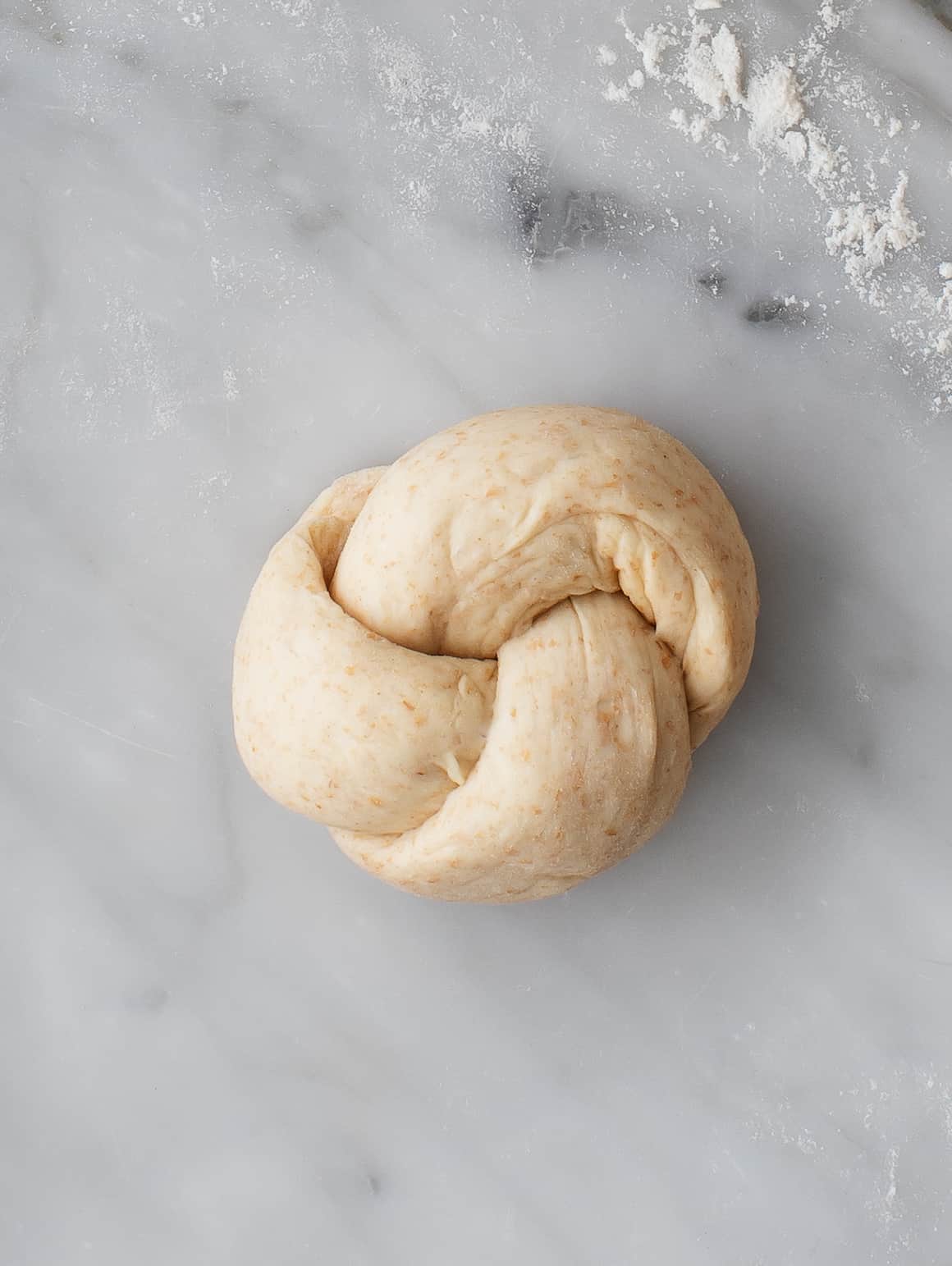 Voila! And don't worry – if it doesn't look perfect, it'll still taste great. (I speak from experience.)
Repeat the shaping process with the remaining dough.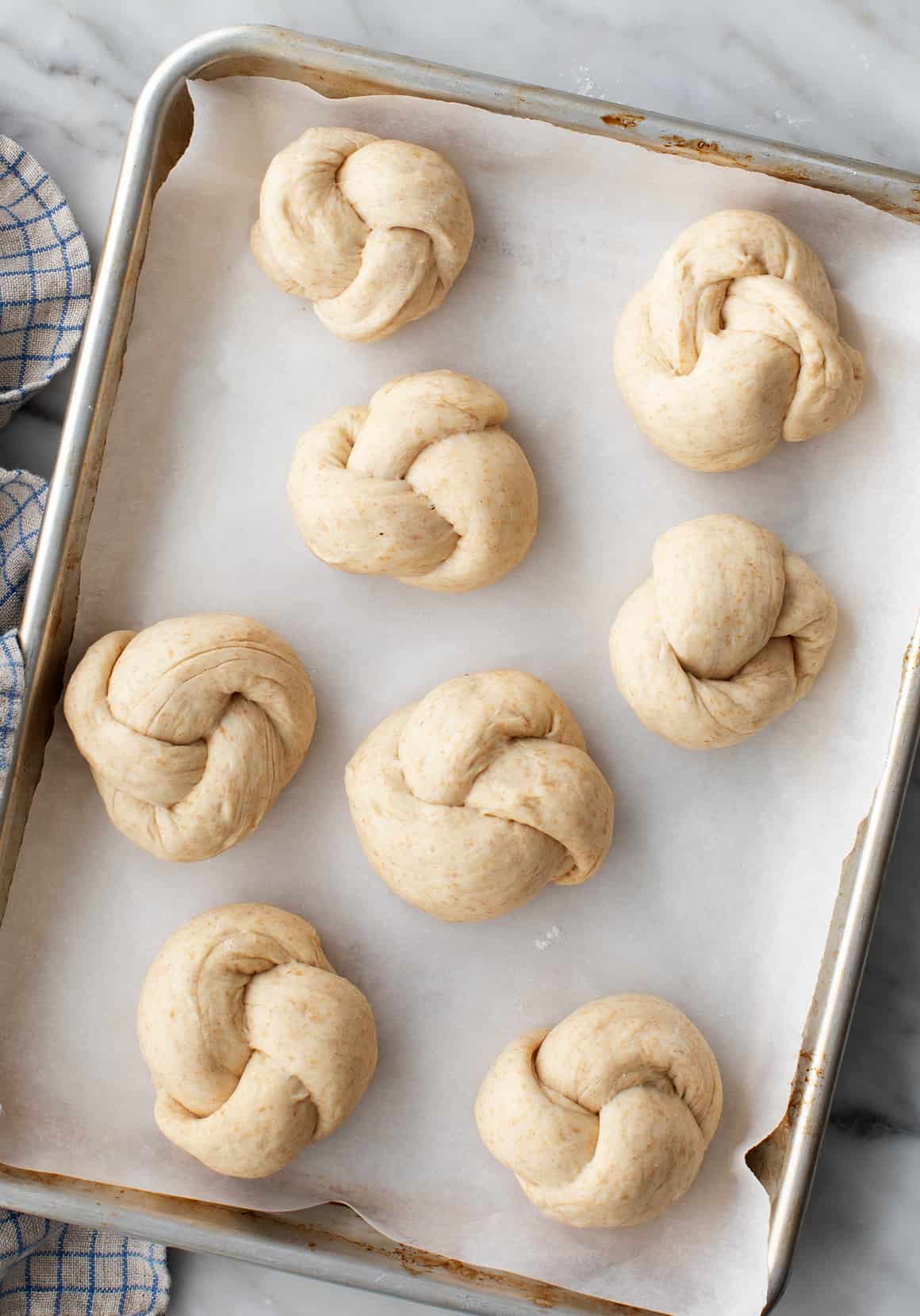 And bake! Arrange the garlic knots on a large baking sheet lined with parchment paper. Bake at 450° for 11 to 13 minutes, or until deeply golden brown. While the knots bake, mix the remaining olive oil with the grated garlic. Brush this garlic oil over the knots as soon as they come out of the oven.
If you like, you can garnish them with other toppings, too. I love parsley, red pepper flakes, flaky salt, and Parmesan cheese. My vegan Parmesan would also be great.
Enjoy!
More Favorite Baking Recipes
If you love these homemade garlic knots, try making one of these yummy baking recipes next:
Garlic Knots
These garlic knots are soft, fluffy, and filled with rich, savory garlic flavor. Enjoy them as a snack or appetizer, or serve them as a side dish with pizza, pasta, or a holiday dinner.
Instructions
In a small bowl, combine ¼ cup of the water and the maple syrup and sprinkle with the yeast. Stir and set aside for 5 minutes, until the yeast is foamy.

In the bowl of a stand mixer fitted with a dough hook, combine the flours and sea salt. Add the yeast mixture, 2 tablespoons of olive oil, and the remaining ½ cup of water. Mix on medium-low speed until the dough forms into a ball around the hook, 5 to 6 minutes.

Turn the dough out onto a lightly-floured surface and knead several times, sprinkling with more flour if the dough is still sticky. Brush the inside of a large bowl with olive oil. Form the dough into a ball and place it in the bowl. Cover with plastic wrap and put it in a warm place. Allow the dough to rise until doubled in size, 40 to 60 minutes.

Preheat the oven to 450°F and line a baking sheet with parchment paper. Uncover the dough, punch it down a few times, and transfer to a lightly-floured surface. Cut the dough into 8 equal sections and roll each section into a 9-inch long rope. Grab the ends of each dough rope, tie into a knot shape, and tuck in the ends. Arrange the knots on the prepared baking sheet.

In a small bowl, combine the remaining 2 tablespoons of olive oil and the garlic. Set aside.

Bake the knots for 11 to 13 minutes or until golden brown on the outside. Brush the garlic oil on top and sprinkle with desired toppings.