A non-traditional menu for Thanksgiving with friends (a.k.a Friendsgiving)
Thanksgiving is next week, which means this weekend is for Friendsgiving! What I love about Friendsgiving is that it's more than ok to change up T-giving traditions – to keep the ones you like and ditch the ones you don't (bye bye canned green bean casserole!). To celebrate, I've put together a menu of some of my personal favorite recipes that I think will be perfect for the occasion.
But before we get there, we should always remember that you can't have a "Friendsgiving" without "giving." To that end, and to help bring more food to more people this holiday, we're partnering with ALDI who is teaming up with Venmo, and Feeding America to add a new tradition of giving to your Friendsgiving celebration. See that cute turkey hand emoji up there? Every time the Turkey Hand is shared on Venmo this November, ALDI will donate 10 meals to Feeding America to help people in need, up to one million meals(!!!).
The emoji, inspired by the nostalgic childhood craft, symbolizes the essence of Friendsgiving: sharing and giving. To activate an ALDI donation with your Venmo payment, use the Turkey Hand emoji in your payment note. You can select the Turkey Hand emoji from the emoji picker or type in the word "Friendsgiving" and the Turkey Hand emoji will autocomplete.
Now for the menu!
(Click on each image to go to the recipes)
I love this little appetizer – it's like mini avocado toasts but on sweet potato rounds.
Shredded Brussels Sprout Apple Salad (pictured at the top of the post)
Every Love & Lemons menu needs a salad, and this is my favorite one to bring and share. Skip the apples (or slice and add them at the last minute) and it can be made the morning before your event.
I shared this one a few weeks ago and it's been a hit at my fall gatherings ever since – you just can't go wrong with butternut squash, pomegranates and goat cheese during this time of year!
Twice Baked Sweet Potatoes with Broccoli
Not your traditional marshmallow sweet potato casserole – this one is delicious AND happens to be good for you.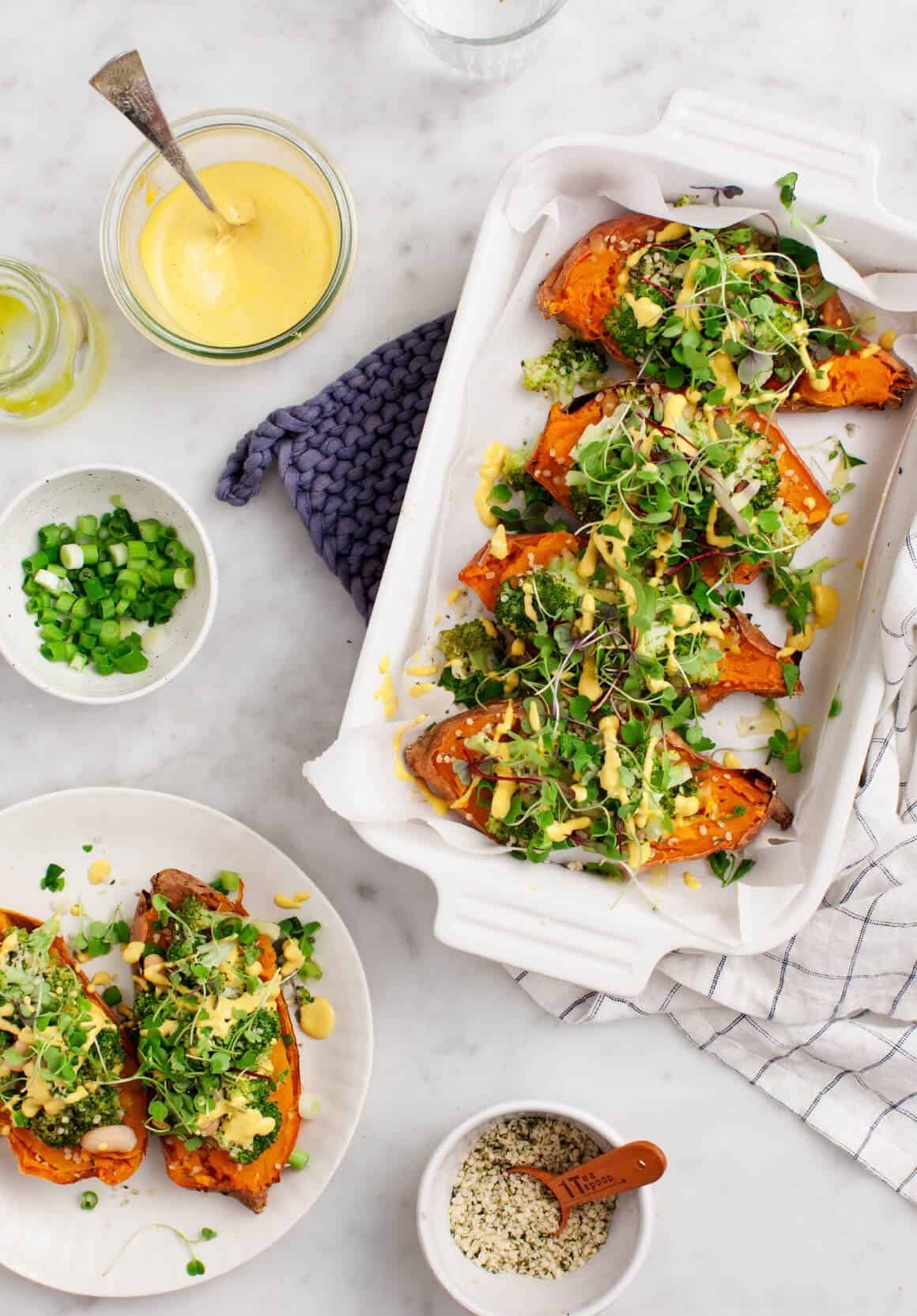 Butternut Squash Black Bean Enchiladas
Because it's my party, I can have Thanksgiving Enchiladas if I want to. 🙂 So can you!
Balsamic Roasted Brussels Sprouts
This is my favorite way to prepare Brussels sprouts. A touch of maple, tangy balsamic, cranberries, pecans, and roasted red onions for pop.
These are like pumpkin pie, but require only a fraction of the work! Plus they're ADORABLE.
Happy Friendsgiving everyone!
And sincerest thanks to the sponsor of this post, ALDI, both for allowing us to take part in this great act of generosity and for creating such a fun, great way to give! Don't forget to use that turkey hand emoji!