Show off your peak-season tomatoes with these fresh tomato recipes! We've got salads, soups, pasta, and more - you're bound to find something you love.
When I made our grocery list this week, one thing was clear: Jack and I were going to be eating a lot of tomato recipes. I needed cherry tomatoes, heirloom tomatoes, and tomatoes on the vine. But at this time of year, I think that's how it should be.
As a rule, I don't buy tomatoes out of season. They're often picked while they're still unripe, so they never become really flavorful. Instead, they're bland, watery, and mushy. So when summer rolls around, I have just a few months to make every tomato salad, sandwich, pasta, and pizza I've imagined throughout the year. In short, I have fresh tomato recipes on repeat.
I hope you're also cooking with tomatoes like crazy right now, while they're tangy, juicy, and sweet. In case you're looking for some new tomato recipes, I'm sharing 50 of my favorites below. They include appetizers, side dishes, hearty mains, and even breakfasts! With all this variety, you're bound to find something you love.
Basic Tomato Recipes
Use these basic tomato recipes as building blocks for pastas, pizzas, and more!
Roasted Tomatoes
Of all the tomato recipes out there, this one might be my favorite. It's super simple to make, but the payoff is enormous. After a few hours in the oven, cherry tomatoes take on a delicious chewy texture and rich umami flavor. Pile them onto homemade pizza, toss them with pasta, or eat them all straight off the sheet pan. 🙂
Simple Fresh Tomato Sauce, page 251 of The Love & Lemons Cookbook
I make marinara sauce with canned tomatoes in the winter, but when summer is here, I can't get enough of this sweet, tangy fresh tomato sauce. Before I crush the tomatoes, I char them in a cast-iron skillet to give the sauce smoky depth of flavor.
Fresh Tomato Recipes for Breakfast
When tomatoes are in season, I eat them at every meal I can…breakfast included.

Best Breakfast Burrito
This mega breakfast burrito has it all: spicy roasted potatoes, avocado, scrambled eggs, roasted red peppers, spinach, black beans, and pico de gallo. If that's not enough for you, serve creamy chipotle sauce or cilantro lime dressing on the side for dipping.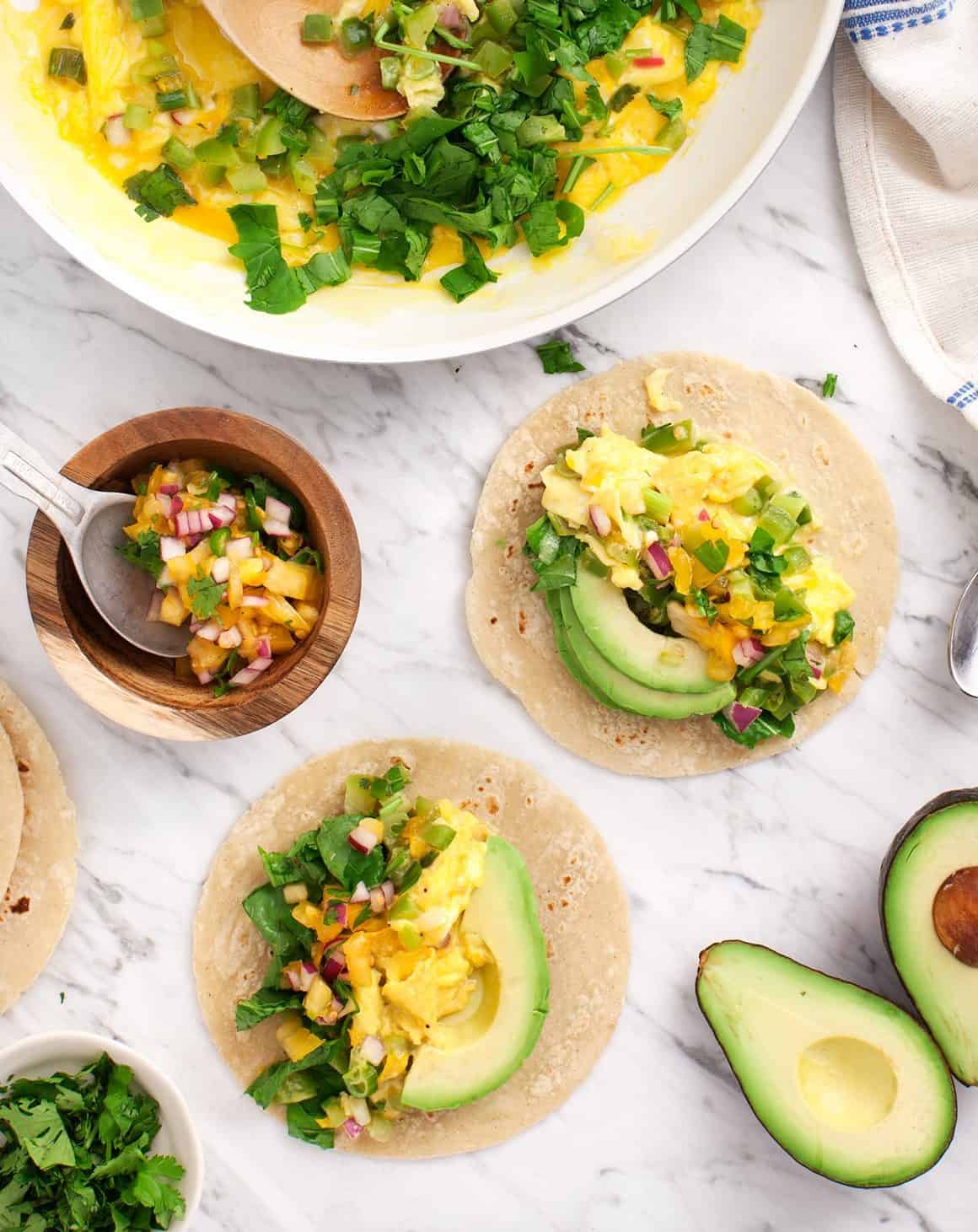 Healthy Breakfast Tacos
I fell in love with breakfast tacos in Austin, and now, this super-fresh recipe is one of my favorite breakfasts to make at home! I like to make the fresh salsa with yellow tomatoes, but feel free to swap in whatever color you have on hand.
Mini Frittata Muffins
Cherry tomatoes fill these little frittatas with sweet, juicy pockets of flavor. Grab one for a quick weekday breakfast, or make a full-sized frittata for a laid-back weekend brunch.
Farmers Market Breakfast Bowl
When I have a market haul of veggies in the fridge, I can't help but eat them for breakfast! This all-veggie bowl features heirloom tomatoes, greens, radishes, and spiced beet and carrot "rice." Soft-boiled eggs and an herbed yogurt sauce give it enough staying power to keep you full till lunch.
Breakfast Panzanella
A sunny-side-up egg is all it takes to turn last night's panzanella salad into this morning's breakfast bowl!

Caprese Eggs Benedict with Healthier Hollandaise, page 41 of Love & Lemons Every Day
Fresh basil leaves and juicy tomato slices are divine in this lightened-up eggs Benedict. But the homemade sauce is what takes it over the top. Made with a cashew base, it's creamy, tangy, and bright. You won't be able to get enough.
Appetizer Tomato Recipes
I almost always reach for tomatoes when I'm making a simple summer appetizer. At this time of year, they're so juicy and flavorful on their own that they do most of the work for you!
Tomato Bruschetta
Puttanesca bruschetta, anyone?! Capers and olives add complexity to the classic combination of juicy tomatoes and crisp grilled bread.
Charred Cherry Tomatoes
Make sure you have extra crusty bread on hand when you make this recipe. You'll want plenty for scooping up the hot, juicy cherry tomatoes and lemony yogurt underneath.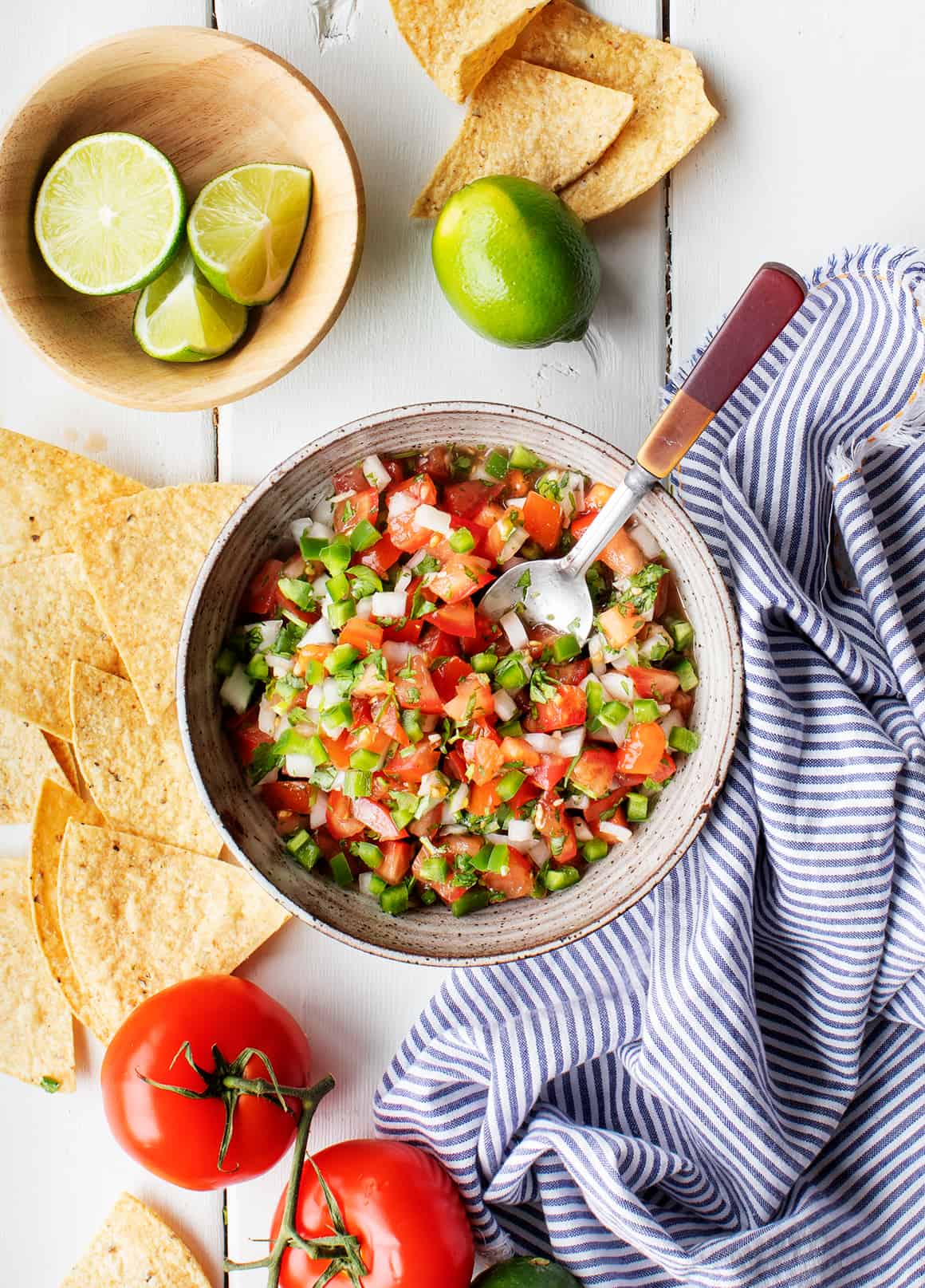 Pico de Gallo
Serve it on its own with tortilla chips, or sprinkle it over nachos or homemade taquitos for a crowd-pleasing summer appetizer.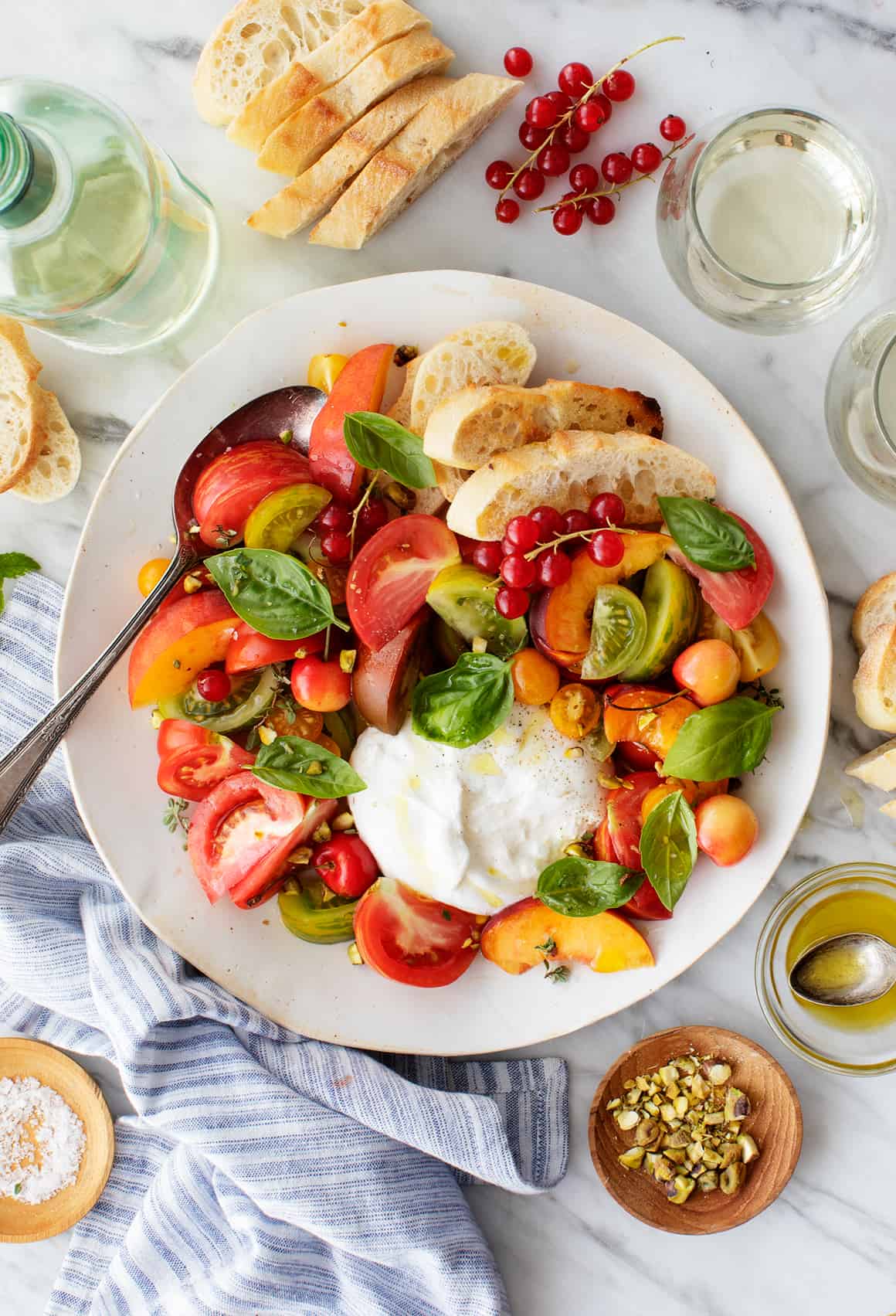 Burrata with Heirloom Tomatoes
This bountiful burrata platter is a mouthwatering appetizer, but it could just as easily pass as dessert.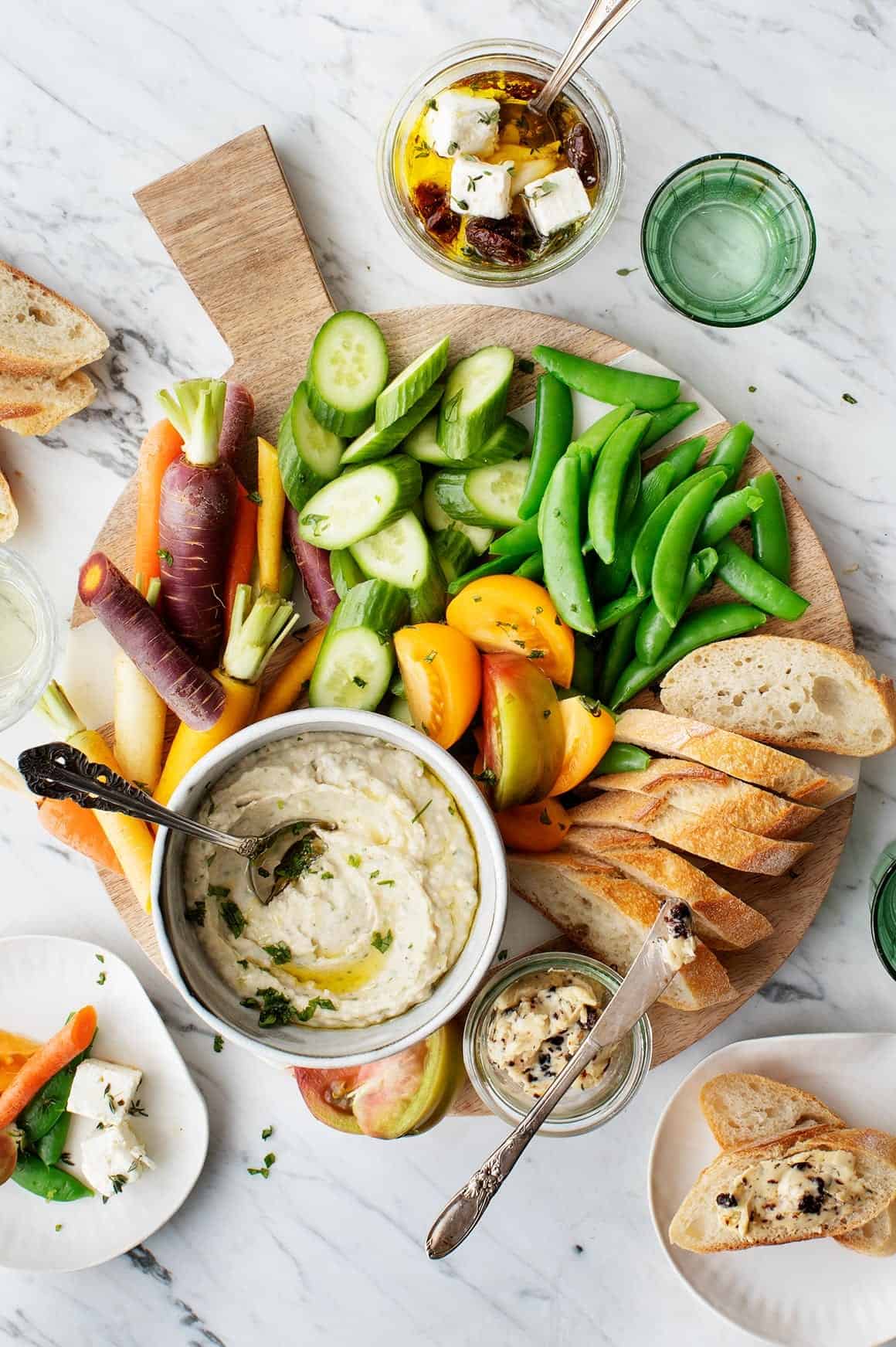 Ultimate Crudité Platter
When summer tomatoes are in top form, it doesn't take much to turn them into a delicious appetizer. Serve them on a crudité platter with green goddess dressing, baba ganoush, or creamy white bean dip, and they'll disappear in a snap.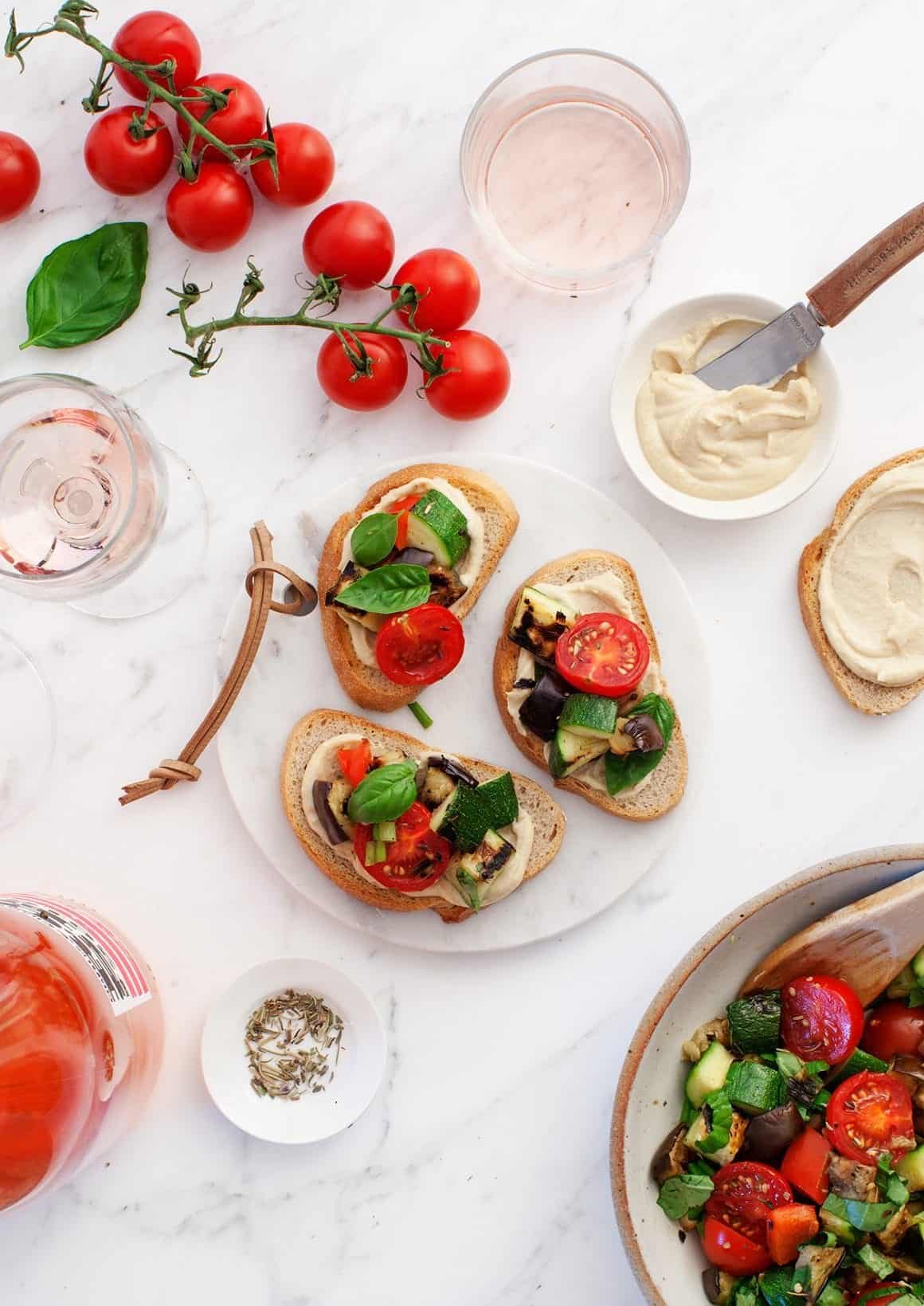 Grilled Ratatouille Tartines
The Provençal stew ratatouille is one of my favorite tomato recipes, but when it's too hot to stand over the stove, I make these little crostini instead! I pile grilled ratatouille veggies onto toasted bread topped with a slather of hummus or goat cheese.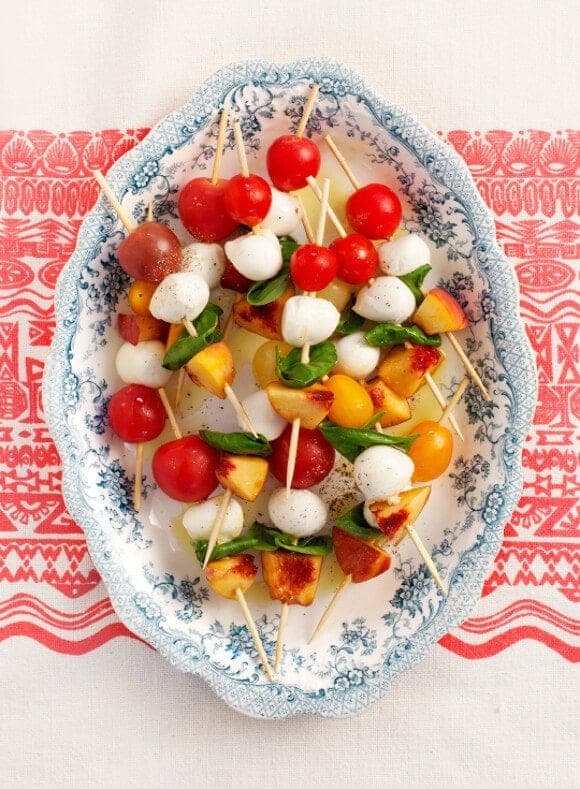 Caprese Skewers
Peaches add a surprising sweet twist to these simple Caprese skewers.
Tomato Salads
Salads are hands down my favorite fresh tomato recipes, because they're so simple, vibrant, and flavorful. And they don't just showcase tomatoes – other peak-season fruits, herbs, and veggies also shine in the recipes below.
Classic Caprese Salad
If there's one thing that will make you fall for Caprese salad, it's good tomatoes. Make this recipe with the best ones you can find.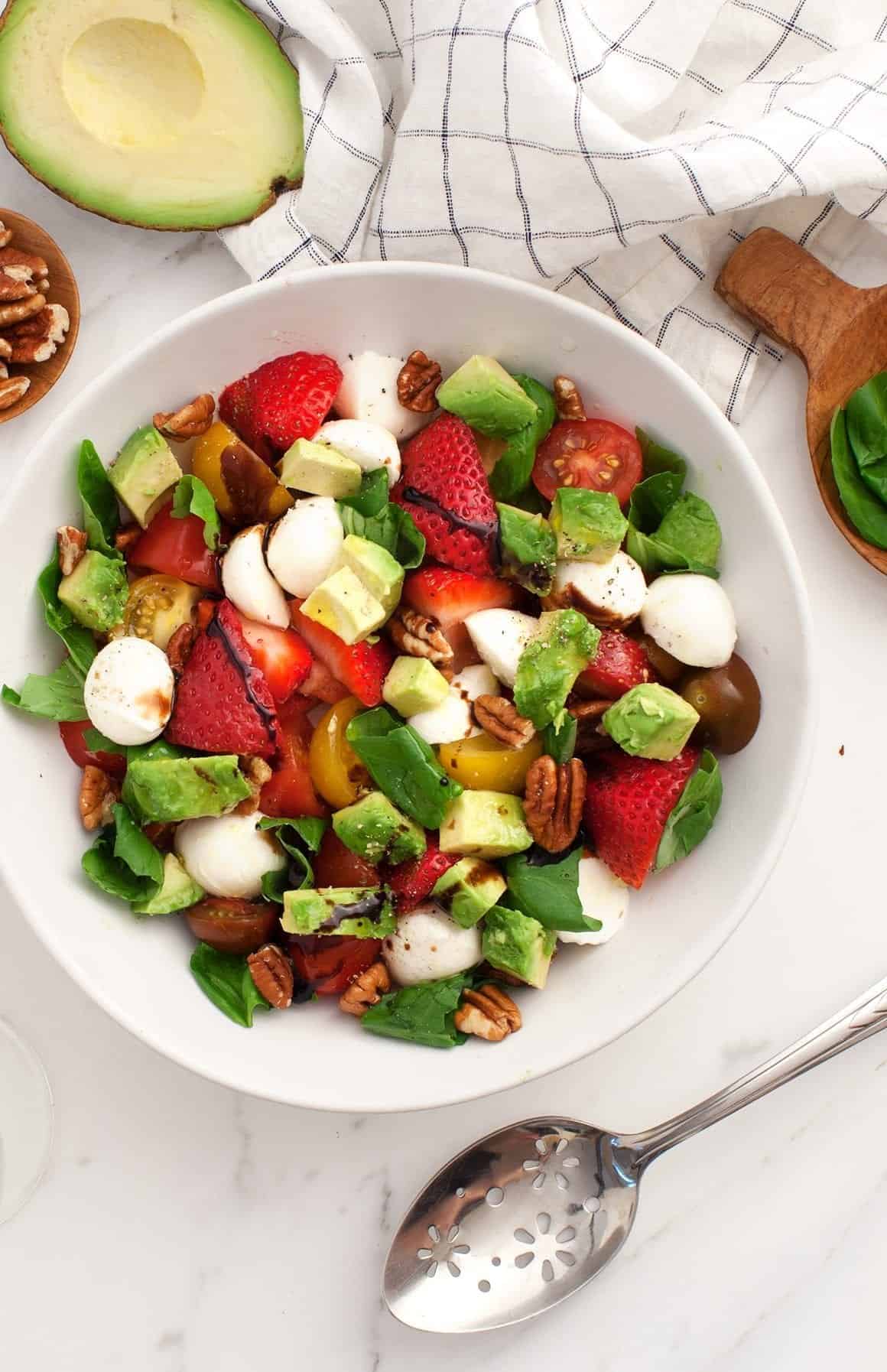 Strawberry Salad with Balsamic
This sweeter riff on Caprese salad features fresh strawberries, avocado, and toasted pecans as well as the traditional tomatoes, basil, and fresh mozzarella.
Panzanella Salad
I make different variations of the Italian bread salad panzanella every summer, but this one will always be my favorite. In addition to heirloom tomatoes, it features sweet peaches, crisp corn, fresh basil, and roasted chickpeas for crunch.
Mediterranean Chickpea Salad
Cherry tomatoes, cucumbers, and mint make this recipe flavorful and fresh, but Medjool dates are really the star of the show. They add a delightful sweetness to this hearty summer salad.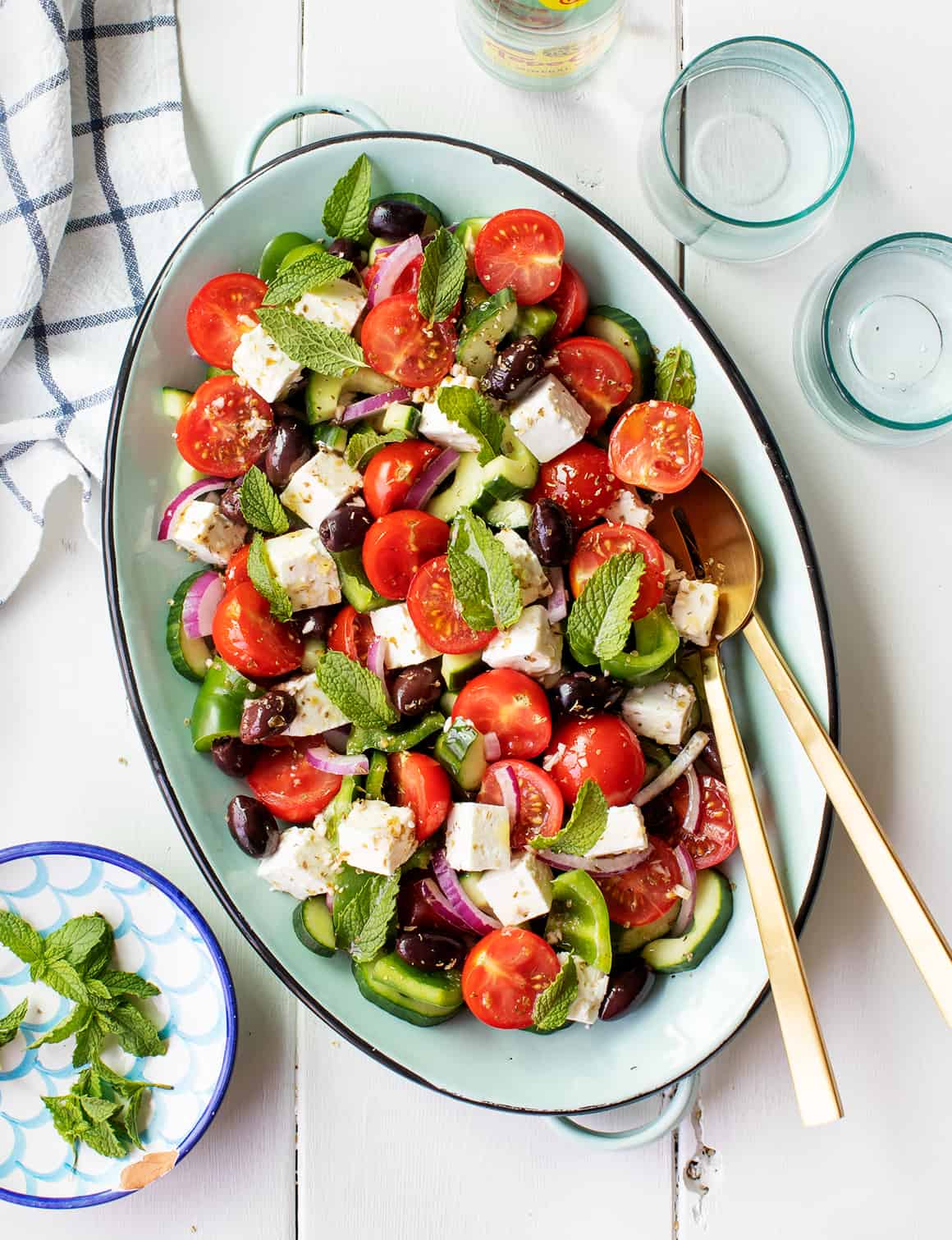 Greek Salad
When my mom adds a recipe to her regular rotation, I know it's a good one. This Greek salad made the cut! It's easy to make, you can prep it in advance, and it tastes so darn good.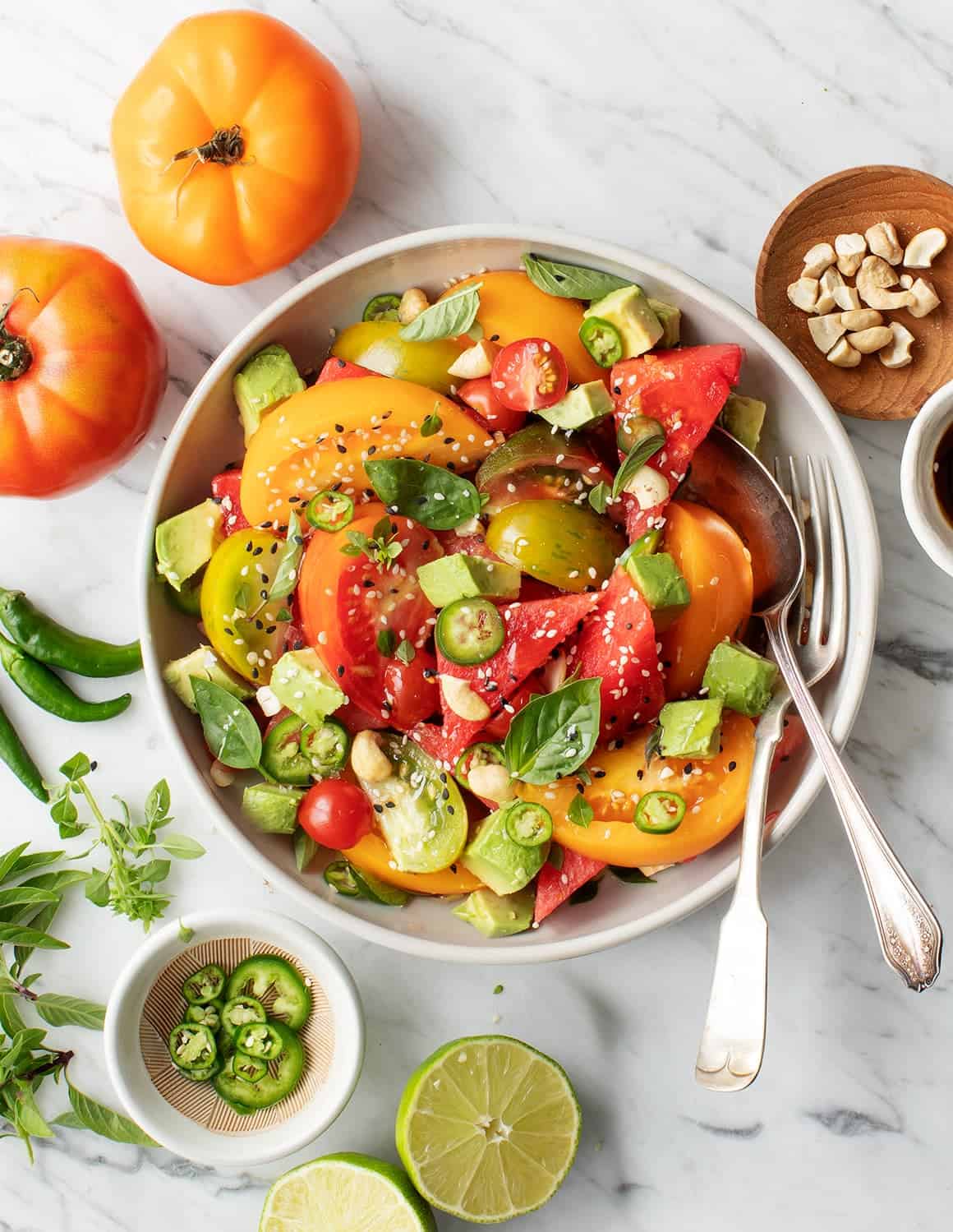 Watermelon Tomato Salad
Tomatoes, avocado, watermelon, and tamari are an unconventional combo, but once you try this heirloom tomato salad, you'll be hooked. The salty tamari plays perfectly off the sweet tomatoes and watermelon, and the avocado offers a rich, creamy contrast to the refreshing fruit.
Healthy Taco Salad
Crispy tortilla strips, shiitake taco "meat," and creamy cilantro lime dressing make this wholesome salad flavorful and fun to eat.
Niçoise Salad
When Jack and I visited Nice, I ordered a Niçoise salad everywhere we went. I love how the savory, briny elements like olives and capers contrast with the fresh veggies and bright lemon vinaigrette.
Italian Chopped Salad
The best thing about chopped salad is that you can get a little of everything in each bite – crisp lettuce, creamy cheese, onion, pepperoncini, chickpeas, and tomatoes. Yum!
Pasta Salads
To me, tomatoes and pasta salad both scream summer. Combine the two, and you have a quintessential summer dish.
Easy Pasta Salad
This easy pasta salad is my go-to summer picnic dish. It's chock-full of fresh ingredients like cherry tomatoes, cucumbers, arugula, and basil, and it still tastes great if you make it a day in advance.
Broccoli Pasta Salad
Make this recipe if you like your pasta salad like I do – heavier on the veggies, lighter on the pasta. In addition to fresh cherry tomatoes, I add sun-dried tomatoes for a burst of umami flavor.
Vegan Pasta Salad
I make this creamy vegan pasta salad with a mix of yellow squash noodles and regular pasta. It feels like you're filling up on pasta, but really, it's mostly veggies!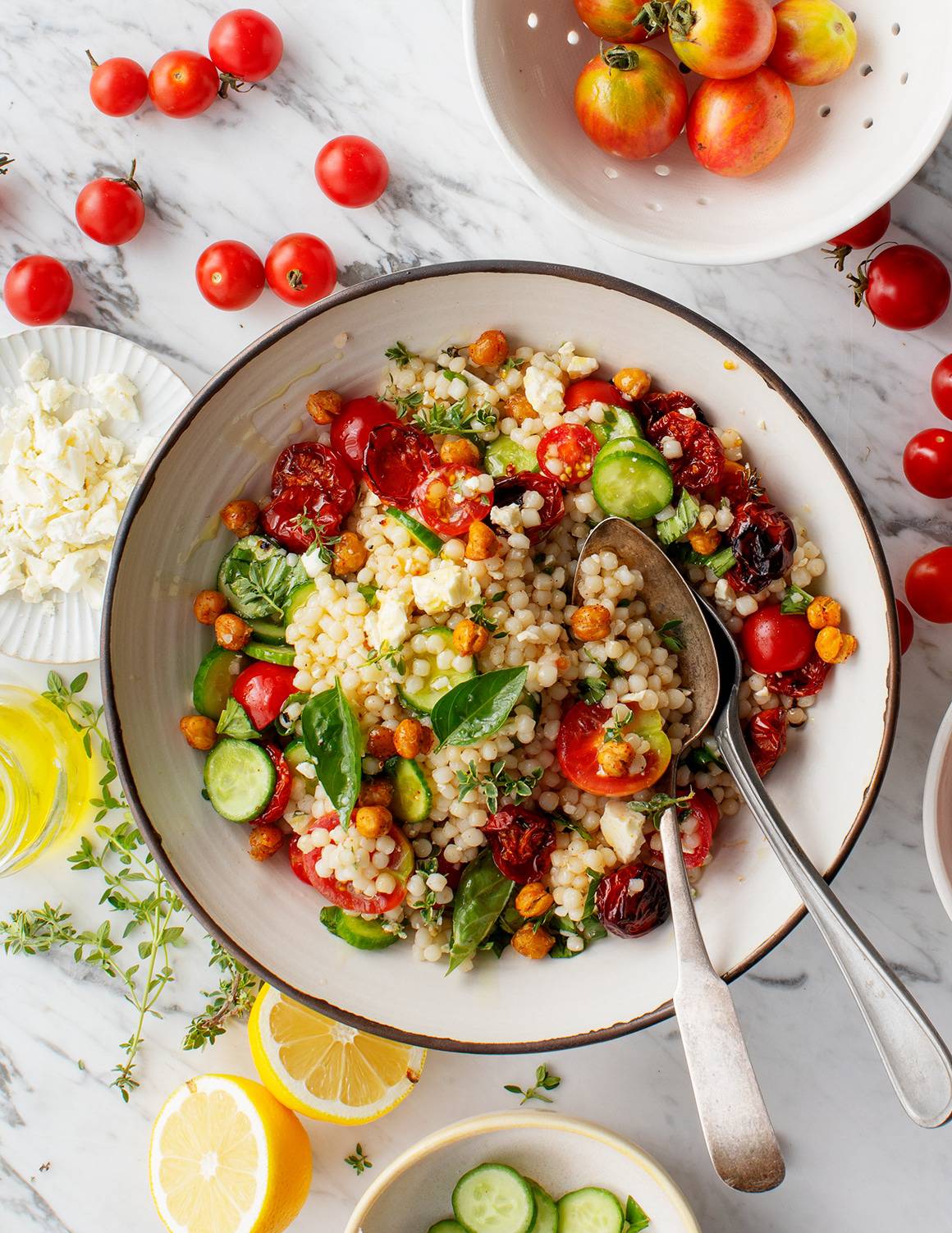 Cherry Tomato Couscous Salad
Here, you'll find chewy, savory roasted tomatoes in addition to sweet, juicy raw ones. The contrast between the two makes this recipe one of my favorite summer salads. Of course, lots of fresh basil and thyme don't hurt either!
Fresh Tomato Soup Recipes
No list of tomato recipes would be complete without tomato soup! Here, you'll find cool summer soups like gazpacho as well as warming, comforting recipes for when the temperatures start to drop.
Watermelon Gazpacho
Don't be fooled – the watermelon in this gazpacho doesn't make it sweet. Instead, it offsets the sharp vinegar, onion, and jalapeño, creating a refreshing, balanced soup.
Green Gazpacho, page 129 of The Love & Lemons Cookbook
This soup's green color comes from cucumber, cilantro, and yellow tomatoes. If you can't find yellow tomatoes, feel free to swap in red ones. The soup won't be green, but it'll still taste delicious.
Creamy Tomato Soup
I use a combination of roasted fresh tomatoes and diced canned ones to give this soup a rich, concentrated tomato flavor. It's yummy on its own, but it's even better with toasty grilled cheese croutons on top!
Tomato Chickpea Tortilla Soup, page 245 of The Love & Lemons Cookbook
Charred tomatoes and adobo sauce create the smoky, savory broth of this vegan tortilla soup. Serve it with grilled corn kernels and crispy tortilla strips for crunch!
Many-Veggie Vegetable Soup
I like to make this recipe right before a big farmers market trip. It works with nearly any veggies, so it's a great way to clear out whatever odds and ends you have in the fridge. Green beans? Toss them in. Zucchini? Go for it! Fresh tomatoes? Absolutely.
Pasta Tomato Recipes
If marinara sauce teaches us anything, it's that pasta and tomatoes go together like two peas in a pod. But the uses for tomatoes in pasta recipes extend way beyond sauce. Try roasting them, sautéing them, or baking them into your next lasagna.

Linguine with Lemon and Tomatoes
You won't just find roasted tomatoes in this summer pasta…there's roasted lemon too! They add chewy texture and savory flavor to this simple, elegant dish.
Creamy Pasta Pomodoro
I could eat this creamy vegan pasta every night of the week! A luscious tomato sauce coats floppy noodles, sautéed veggies, and bursty cherry tomatoes.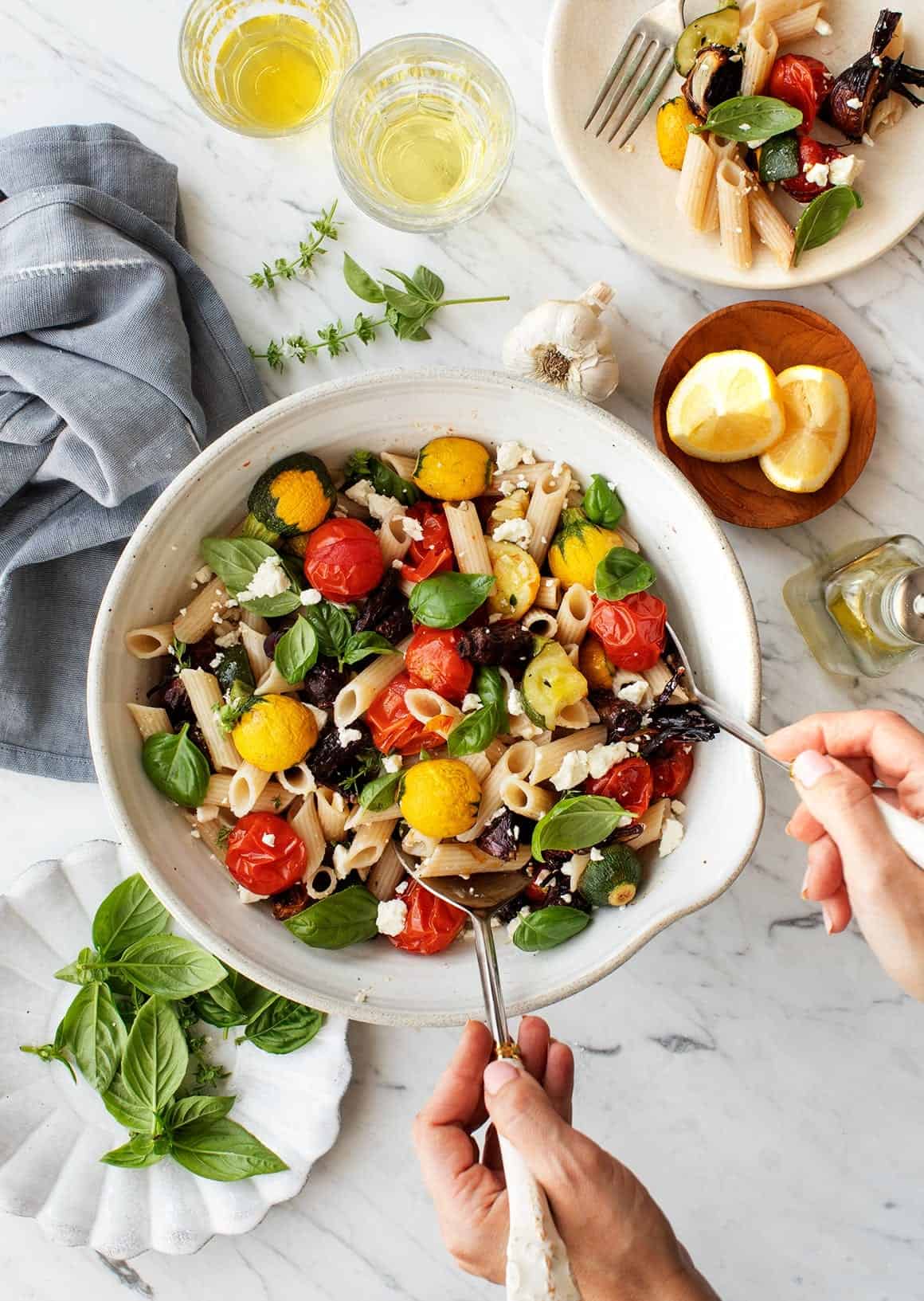 Roasted Vegetable Pasta
You can make this recipe no matter what veggies you brought home from the farmers market! Roast them until they're fragrant and tender, toss them with pasta, herbs, and feta cheese, and season to taste. No measuring spoons required!
Zucchini Noodle Puttanesca, page 177 of Love & Lemons Every Day
Made with a 50/50 mix of regular pasta and zucchini noodles, this recipe is light and healthy. But that doesn't mean it skimps on flavor! Sun-dried tomatoes, capers, olives, lemon zest, and white wine make it irresistibly briny and bright.
Best Vegetarian Lasagna
Of course, I layer this lasagna with lots of tomato sauce, but I also add bursty cherry tomatoes to the roasted veggie filling.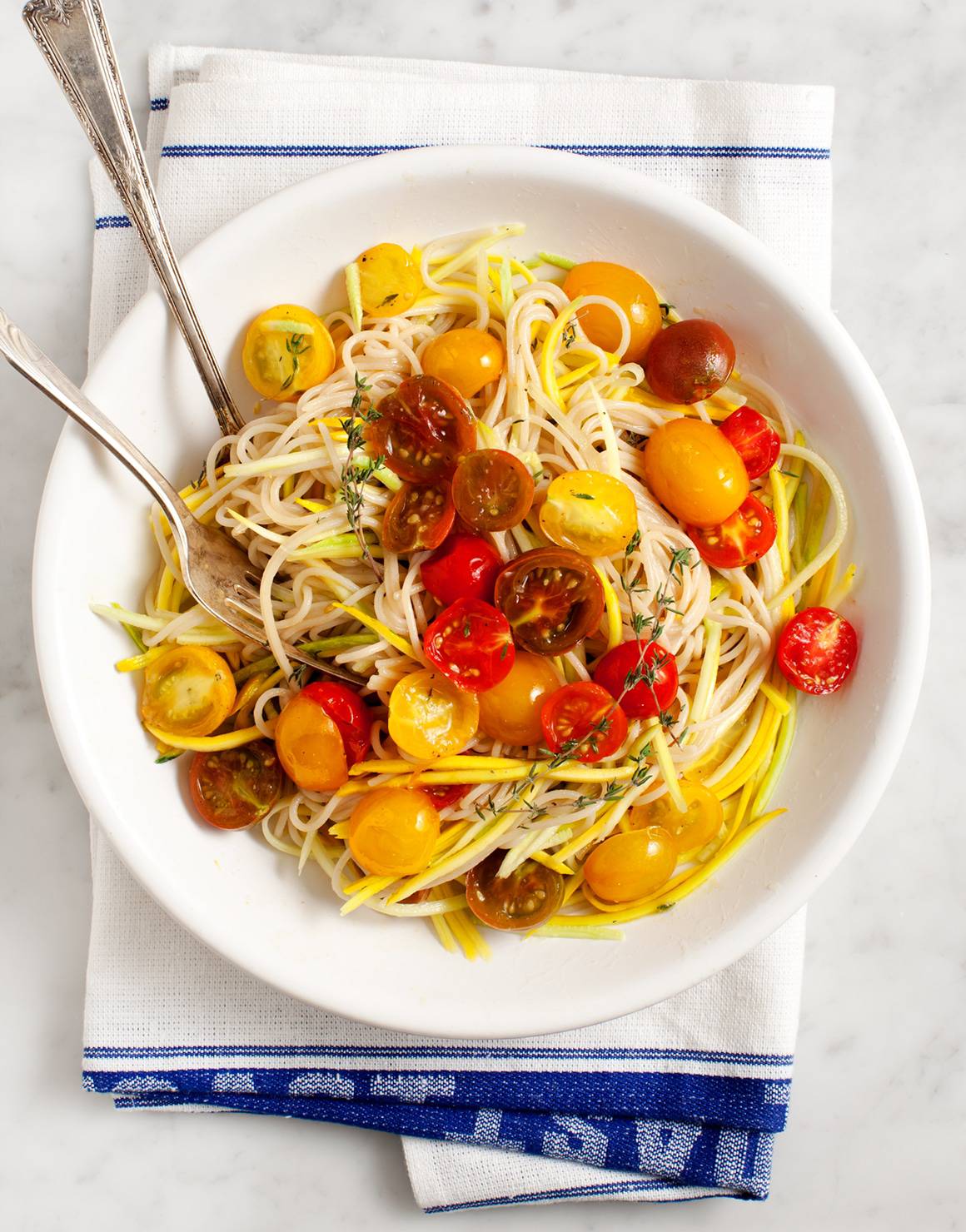 Summer Squash and Cherry Tomato Pasta, page 271 of The Love & Lemons Cookbook
Jack loves to top this simple pasta with shaved Parmesan or fresh mozzarella cheese, and I garnish my bowl with vegan Parmesan or vegan pesto. What topping sounds best to you? You really can't go wrong – fresh herbs, red pepper flakes, any pesto, or pine nuts would all be delicious!
Sandwiches and Wraps
Tomato slices are at home on almost any sandwich, but the recipes here put them front and center.
Crispy Shiitake BLT, page 171 of The Love & Lemons Cookbook
This plant-based riff on everyone's favorite tomato sandwich is as close to the real thing as you can get. The shiitake "bacon" is so good that I have a hard time not eating it all as it comes out of the oven! Trust me, you won't miss the meat one bit.
Heirloom Tomato Sandwich
A creamy, tangy white bean spread and a sprinkle of smoked paprika fill this vegan "Bean-LT" with savory, smoky flavor.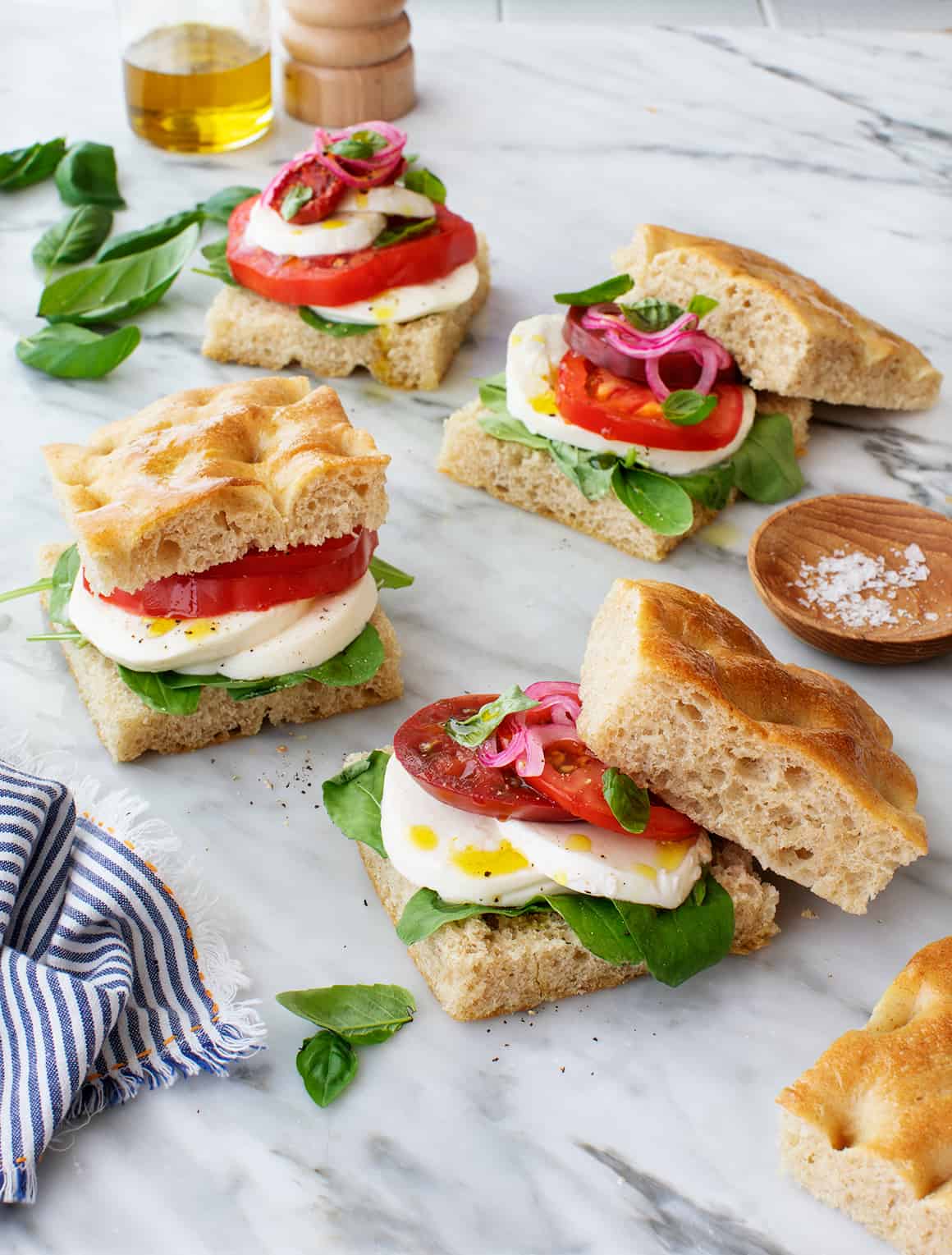 Caprese Sandwich
Roasted cherry tomatoes and pickled red onions give this classic Caprese sandwich a pop of bright flavor. Take it to the next level by serving it on homemade focaccia bread.
Chickpea Shawarma Wraps
These shawarma-inspired wraps features spiced roasted chickpeas instead of meat! Along with fresh veggies and herbs, a trio of sauces packs them with flavor.
Romesco Cauliflower Sandwiches
You haven't made romesco sauce yet this summer? What are you waiting for?! Blend up this sweet and smoky sauce and slather it onto sandwiches with roasted cauliflower, fresh parsley, and, of course, sliced tomatoes.
Tomato, Basil, and Artichoke Picnic Sandwich
This hearty sandwich is the ultimate picnic food. It tastes best when the tomato and artichoke juices have a chance to mingle, so plan to make it a few hours before you eat.
Pizza and Flatbread Tomato Recipes
We all love tomato sauce on pizza, but fresh tomatoes are great toppings too! Pile them onto any homemade pizza, or try one of the recipes below.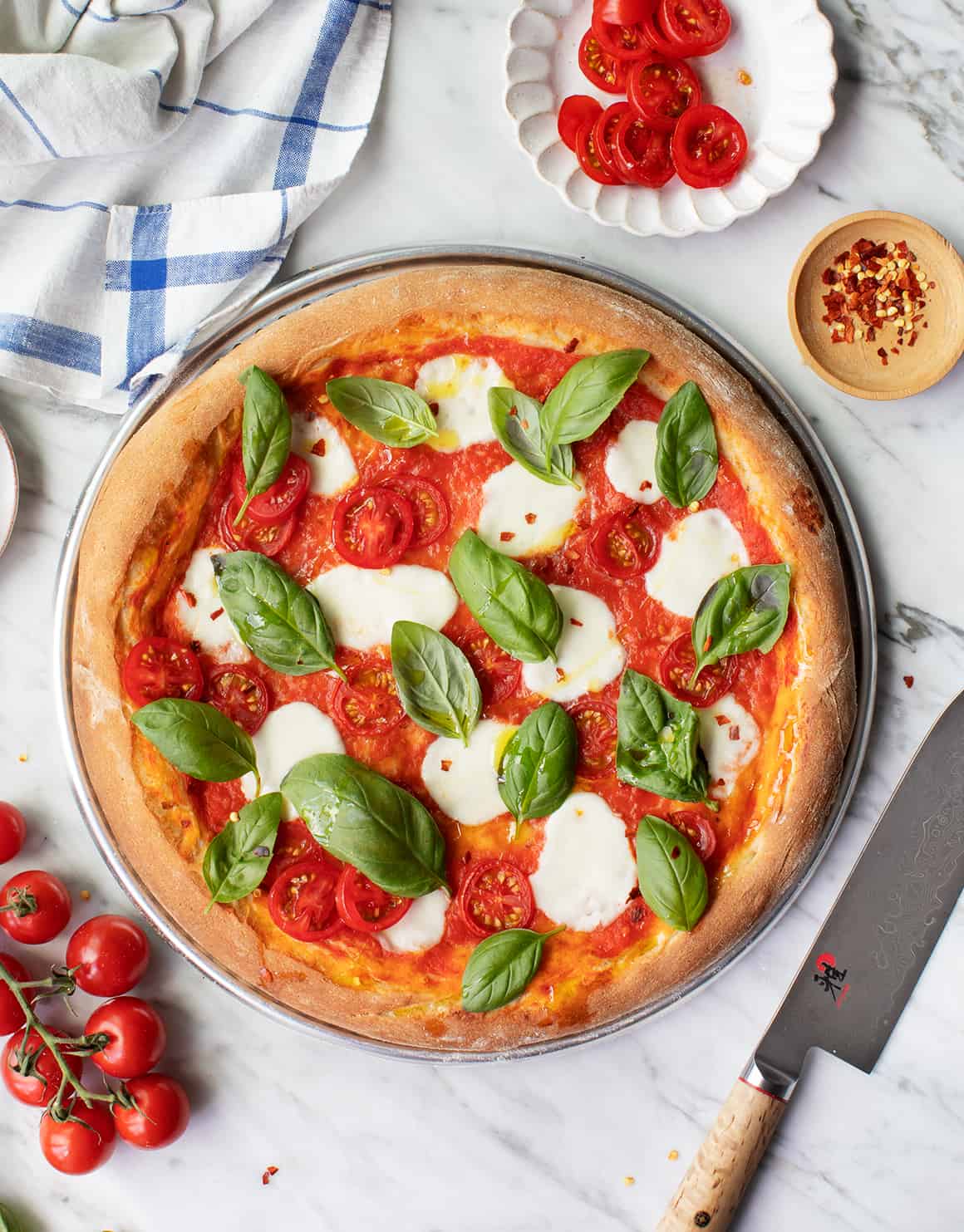 Margherita Pizza
Essentially Caprese salad on pizza. What's not to love?
Falafel Flatbread
This falafel-inspired flatbread is made with chickpea flour, so it's totally gluten-free! Pile it with lemony yogurt sauce, cucumber ribbons, fresh mint, and juicy tomatoes for a tasty, nutritious weeknight dinner.
Best Vegan Pizza
Even the biggest cheese lovers (re: Jack) will fall for this vegan pizza! It's loaded with a myriad of veggies and tangy cashew cream, so every bite packs a big punch of flavor.
Farmstand Peach Pizzas, page 239 of The Love & Lemons Cookbook
I make these little pizzas on pita bread, so they're an adorable summer appetizer. But they're piled with so much summer bounty – peaches, tomatoes, zucchini and its blossoms (!!) – that you might want to make them the main event. If you're anything like me, you'll definitely be back for seconds. Erm…thirds.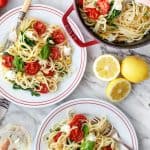 Tomato Recipes: Roasted Tomato Linguine
This roasted tomato linguine is one of our favorite fresh tomato recipes!
Ingredients
4

very thin lemon slices

1

tablespoon

extra-virgin olive oil

1

garlic clove

,

minced

1

tablespoon

lemon juice

6

ounces

linguine pasta

1 1/2

cups

arugula

1

tablespoon

fresh thyme

1

cup

Roasted Tomatoes

3

ounces

fresh mozzarella

,

torn

¼

cup

toasted pine nuts

½

cup

fresh basil

, or dollops of pesto

Sea salt and freshly ground black pepper
Instructions
Preheat the oven to 350°F and line a small baking sheet with parchment paper.

Place the lemon slices on the baking sheet. Drizzle with olive oil and sprinkle with salt. Roast for for 15 to 20 minutes or until they're golden brown around the edges. Finely mince the lemons and set aside.

In the bottom of a medium-sized (cold) pot, combine the olive oil, garlic, lemon juice, and ¼ teaspoon sea salt.

Prepare the pasta according to the package directions, cooking until al dente. Reserve ¼ cup of the pasta cooking water. Scoop the hot pasta into the pot, along with the reserved pasta water, the arugula, and toss. If necessary, gently heat until the arugula wilts and the pasta is warmed through. Add the thyme, tomatoes, lemons, and toss again. Top with the mozzarella, pine nuts, and basil. Gently toss, season to taste and serve.