Learn how to make French toast perfectly every time! Custardy, lightly sweet, and golden brown, it's a delicious breakfast or brunch.
This classic French toast recipe is one of my favorite things to make for brunch. It doesn't matter whether it's a holiday or a regular old lazy weekend morning: just thinking about French toast makes my stomach start growling. What could be more crave-worthy than thick slices of bread with custardy middles, crisp edges, and a mound of fresh fruit on top?
This French toast recipe is delightfully quick and easy, so Jack and I make it whenever we have day-old bread in the house. Still, it has the flavor of a special occasion treat. The eggs make it nice and rich, and cinnamon and cardamom fill it with warm, spiced flavor. Top it with a drizzle of maple syrup and whatever fresh fruit happens to be in season. Then, dig in!
How to Make French Toast
If you're learning how to make French toast for the first time, you'll be shocked by how simple it is! To start, you'll need these basic ingredients:
Eggs and almond milk  – They create the custardy base. If you don't have almond milk on hand, any milk will work. My homemade oat milk or whole milk would be great.
Ground cinnamon and cardamom – They add warm, spiced flavor.
A pinch of sea salt – It accents the sweetness of the maple syrup.
Good bread – I like challah bread for French toast because it's lightly sweet and tender. If you can't find challah, ciabatta is just as good (plus it's dairy-free).
And fresh fruit – Use whatever's in season! The extra color and flavor take this recipe over the top.
Find the complete recipe with measurements below.
After you assemble your ingredients, mix up the custard. In a large bowl or shallow dish, beat together the eggs, milk, and spices with a pinch of salt. Then, dip in each slice of bread, making sure both sides are fully coated.
While you preheat a griddle or nonstick pan, set aside the dipped bread on a plate or baking sheet. This way, the batter has a chance to soak all the way through each slice!
Finally, cook! Cook the French toast for 1 to 3 minutes per side over medium-low heat. Slices are ready when they're nicely golden brown.
Top with fresh fruit and a drizzle of pure maple syrup, and enjoy! Yep, it's that easy.

Best French Toast Recipe Tips
Better bread = better French toast. Whatever you do, don't use pre-sliced sandwich bread for this recipe. It quickly becomes soggy, and its edges don't crisp up as they cook. Instead, opt for a high-quality loaf of bread that you can cut into thick slices. I often make this recipe with challah, but there are other good types of bread for French toast, too. Brioche, ciabatta, and sourdough all work nicely.
Day-old bread is best. Slightly dry, stale bread guzzles up the egg mixture like a sponge, making for really flavorful French toast.
Give the custard time to soak in. No one likes to cut into a slice of French toast and find that it's just plain bread inside! After you dip the bread slices in the egg mixture, set them aside for a few minutes while you preheat your pan. This small step gives the custard a little more time to hydrate the bread, so it's soft and spiced the whole way through.
Easy French Toast Recipe Variations
Spice it how you like it. I call for cinnamon and cardamom here, but other warming spices like ginger or nutmeg would be equally delicious. A dash of vanilla extract would also be a nice addition!
Zest it up! Add 1 teaspoon orange or lemon zest to the batter.
Vary the fruit with the seasons. I call for macerated strawberries and raspberries in this recipe, but you could easily use other fresh berries, cherries, or peaches in their place. In the fall, these cinnamon apples would be delicious, and pomegranate seeds are my #1 choice in the winter. This compote, made from fresh or frozen blueberries, is a fantastic topping year-round.
Or try another topping. Not in the mood for maple or fruit? Dust your French toast with powdered sugar instead. A drizzle of peanut butter or a slather of honey butter would be tasty too!
Make it vegan! Try this yummy pumpkin version in the fall, or make this classic vegan French toast recipe any time of year.
More Favorite Brunch Recipes
If you love this recipe, check out this post for more of my best brunch recipes and this one for 60+ healthy breakfast ideas. Alternatively, make one of these delicious brunch recipes next:
Don't forget the mimosas to drink!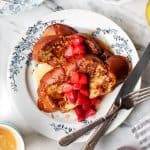 Classic French Toast
Lightly sweet and golden brown, this easy French toast recipe is the perfect weekend brunch! I love serving it with macerated berries in the spring and summer, but feel free to substitute whatever fresh fruit is in season.
Ingredients
Macerated Berries
2

cups

diced strawberries

½

cup

frozen raspberries

,

thawed, with their juices

Pinches

of cane sugar
French Toast
4

eggs

1

cup

almond milk,

or any milk

1

teaspoon

cinnamon

¼

teaspoon

cardamom

Pinch

of sea salt

8

1-inch slices challah bread* (see note)

Coconut oil

,

for brushing

Maple syrup,

for serving
Instructions
Make the macerated berries: In a medium bowl, combine the strawberries, raspberries, and a few pinches of sugar. Set aside for 10 minutes for the berries to soften. Stir before serving.

Make the French toast: In a large bowl, whisk together the eggs, milk, cinnamon, cardamom, and salt. Dip each slice of bread into the mixture and set the soaked bread aside on a large tray or plate.

Heat a non-stick skillet over medium heat and brush with coconut oil. Add the bread slices and cook until golden brown, about 2 minutes per side. Reduce the heat to low as needed to cook thoroughly without burning. Serve with maple syrup and the macerated berries.
Notes
*To make dairy-free french toast, use ciabatta bread.