This homemade French onion dip puts the store bought kind to shame! Creamy, tangy, and packed with umami flavor, it's sure to vanish in minutes.
For me, there's almost nothing more nostalgic than French onion dip and ridged potato chips. They take me right back to the holiday parties of my childhood, where store bought tubs of French onion dip had a permanent spot on the snack table. When my sister and I were growing up, my mom always served us healthy, homemade food, so that French onion dip was a real treat. I'd shovel down as much of it as I could, relishing every bite of the creamy dip with the salty chips.
This year, I finally got around to developing my own French onion dip recipe. It's far healthier than the dip I adored as a kid, but it's just as addictive and even more delicious. The first time I made it, I found Jack standing in front of the fridge, devouring it as a late night snack. When I made it again a few days later, I had to tell him it was off-limits. It's creamy, tangy, and packed with rich umami flavor. I wasn't about to let him have it all to himself!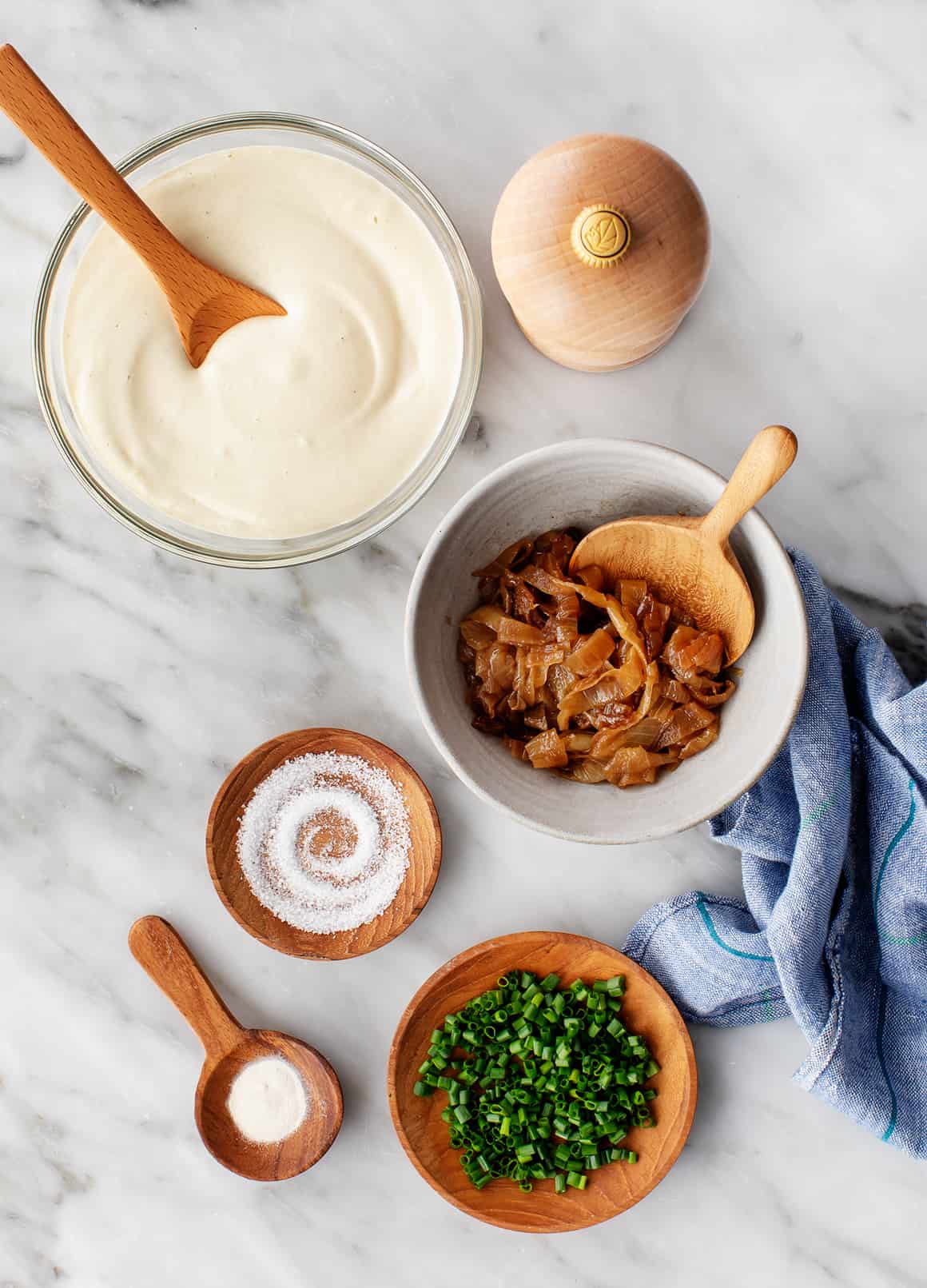 French Onion Dip Recipe Ingredients
Unlike most homemade French onion dip recipes, this one is completely vegan and dairy-free! Instead of making the base with sour cream, mayonnaise, and/or cream cheese, I use my go-to cashew sour cream recipe. The cashews give it a luscious creamy texture, and Dijon mustard, lemon juice, white wine vinegar, and onion powder make it tangy and savory. Note that it's best made in a high-speed blender, such as a Vitamix. If you don't have a high-speed blender, be sure to soak your cashews at least 4 hours in advance.
Once you make the cashew cream, you'll add these ingredients to make the dip:
Caramelized onions – For rich, sweet, and savory onion flavor! You'll only need 1 onion to make this dip, but I recommend caramelizing extra onions and storing them in the fridge or freezer. You can add them to pasta, pizzas, egg dishes, or more dip down the road!
Onion powder – It gives the dip a bold, concentrated onion flavor.
Fresh chives – For garnish! Their fresh flavor contrasts nicely with the rich caramelized onions and umami onion powder.
And sea salt – To make all the flavors pop!
Find the complete recipe with measurements below.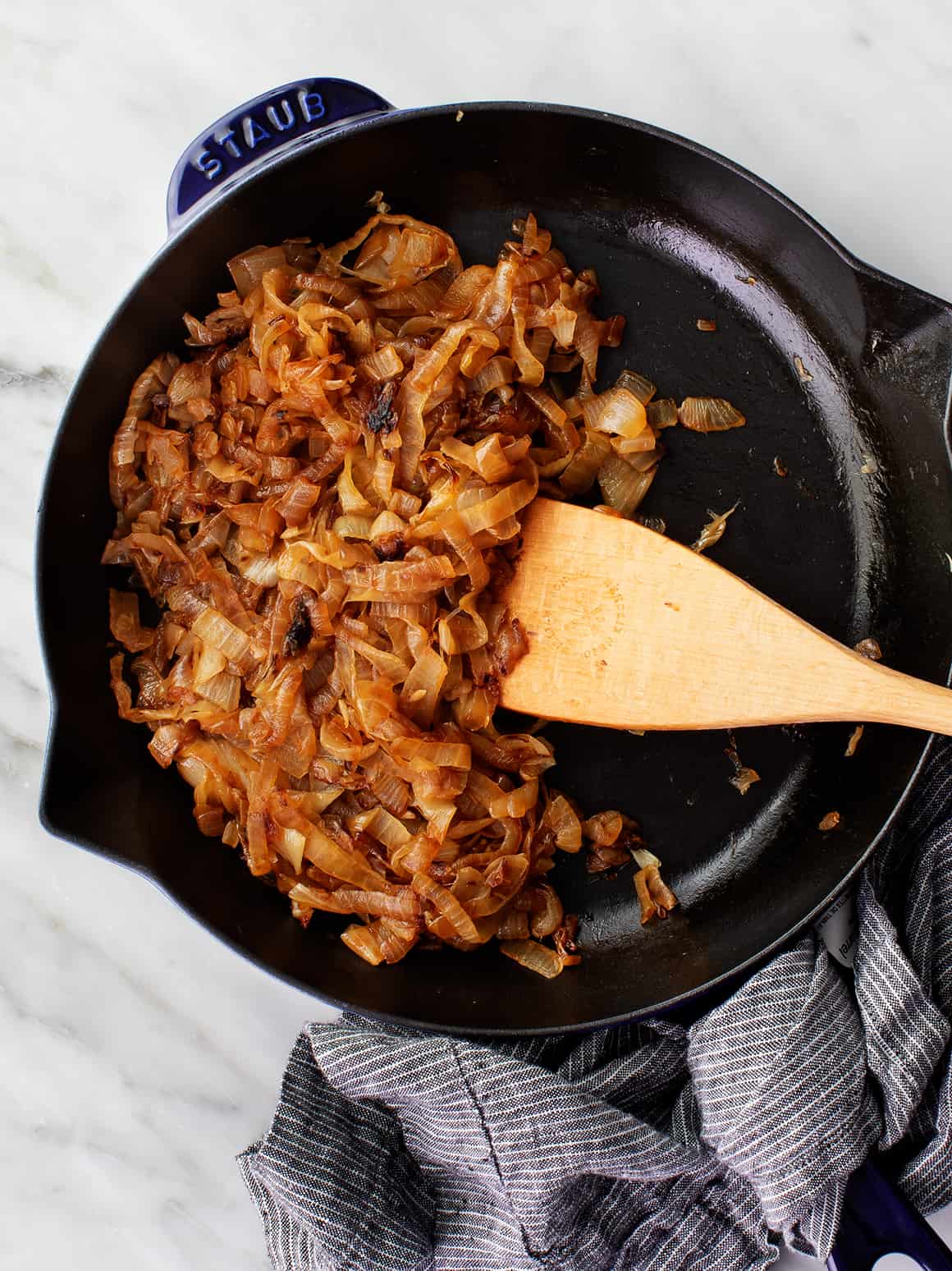 How to Make French Onion Dip
This French onion dip recipe is easy to make, but it does require that you plan ahead. If you don't already have caramelized onions on hand, you'll need to cook them first. Caramelizing onions is simple (all it requires is cooking them over low heat, stirring occasionally), but it does take time. Be sure to set aside at least an hour to cook the onions before you make the dip, as well as time for them to cool.
When the onions are at room temperature (they can also be fridge-cold if you already have them on hand), blend up the cashew cream. As I mentioned above, you'll need to soak the cashews ahead of time if you don't have a high-speed blender.
Then, mix up the dip! Chop up the caramelized onions, and add them to a bowl with the cashew cream. Stir in the onion powder, salt, and pepper, and season to taste. Pop the dip in the fridge for an hour to chill to before you eat.
When you're ready to serve, garnish the dip with the chives, and dig in! I will always recommend serving this French onion dip with ridged potato chips, but if you don't have them on hand, plain potato chips or fresh veggies will work too.
Store any leftover dip in the fridge for up to 4 days. It'll thicken as it chills, so you may want to thin it with water, a teaspoon at a time, before you serve it. Enjoy!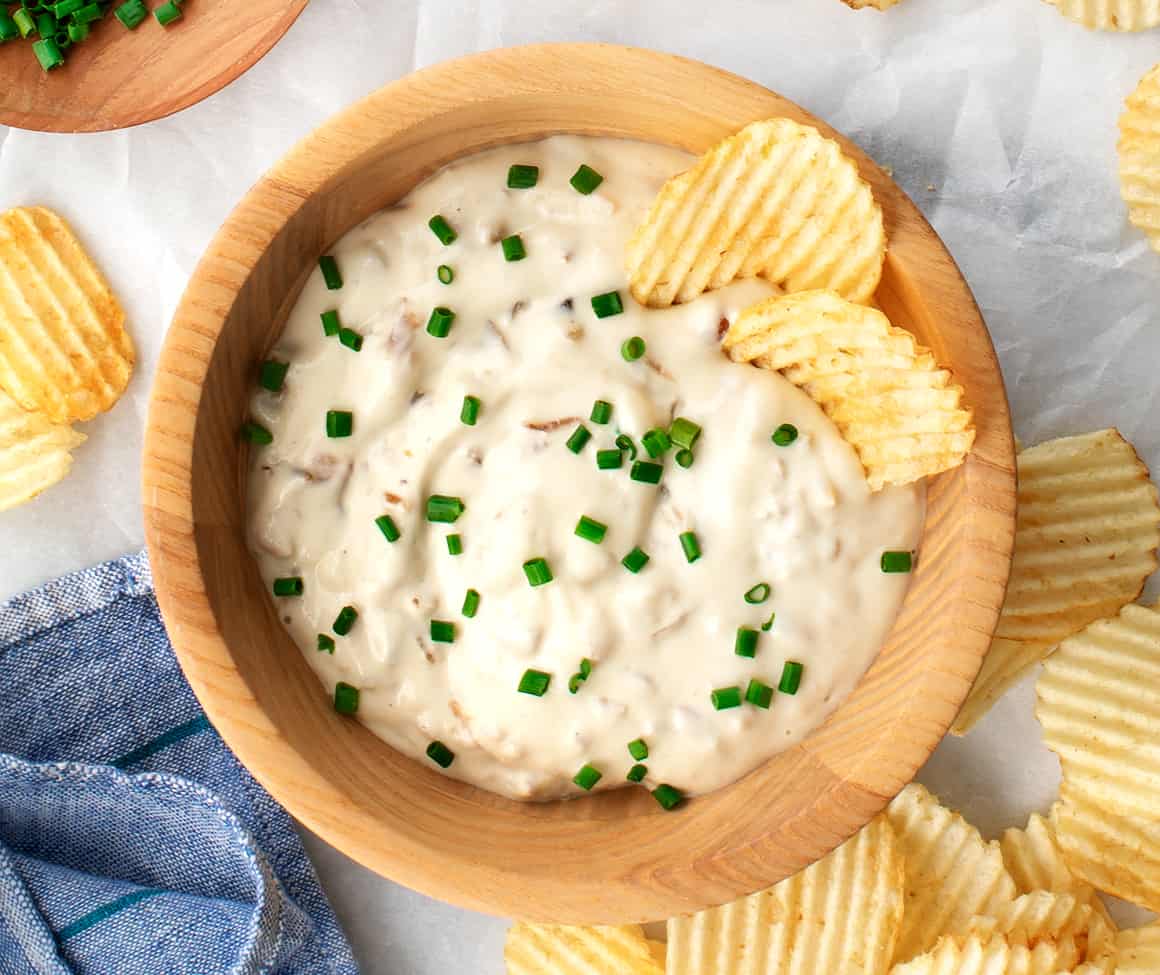 More Favorite Appetizer Recipes
If you love this French onion dip recipe, try one of these tasty appetizers next: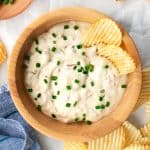 French Onion Dip
This French onion dip is creamy, tangy, and packed with umami flavor! Served with potato chips or veggies, it's a fantastic appetizer or snack. If you don't already have caramelized onions on hand, note that you'll need to budget around 90 minutes to make them and allow them to cool before mixing up the dip.
Ingredients
1

recipe

Cashew Sour Cream

1/2

packed cup chopped

Caramelized Onions*,

chilled or at room temperature

1/4

teaspoon

onion powder

1/2

teaspoon

sea salt

Freshly ground black pepper

2

tablespoons

chopped chives

Potato chips

,

for serving
Instructions
In a small bowl, stir together the cashew sour cream, caramelized onions, onion powder, salt, and several grinds of pepper. Cover, and chill for one hour.

Top the chilled dip with the chives and serve with potato chips.
Notes
*From about 1 onion. It's easier to make the whole batch and have extra than to cook just 1 onion. Caramelized onions will keep in an airtight container in the fridge for up to a week. You can also freeze them for up to 2 months.