You won't believe how easy it is to make great focaccia bread at home! Topped with rosemary and roasted garlic, it's rich, savory, soft, and chewy.
Nine times out of ten, if we're making bread at home, we're making focaccia. When Jack first started baking bread, he made lots of rustic ciabatta loaves. The ingredients were simple, and the bread came out delicious, but it required hours of rising and kneading. So when we discovered how easy it is to make really good focaccia bread at home, we didn't look back.
Since then, this focaccia recipe has become our go-to. It comes together in just 2 hours, rising time included, and the bread is rich and savory, with a yummy chewy texture. Because rosemary and focaccia are a classic combination (and because fresh herbs make everything better!), I sprinkle it generously with rosemary. Then, I dot it with roasted garlic and finish it off with flaky sea salt and red pepper flakes.
Flecked with red and green, this focaccia bread is a simple, yet impressive, holiday side dish. But luckily, it's easy enough to make even when you're not cooking for a special occasion. I hope you love it as much as much as we do!
How to Make Focaccia Bread
If you're new to bread baking, don't let focaccia intimidate you! In fact, it's a lot like making homemade pizza dough. Here's what you'll need:
Active dry yeast, sugar, and warm water: The sugar and warm water activate the yeast to make the bread rise, giving it its soft, chewy texture.
Flour: I like to use a mix of all-purpose flour and whole wheat flour, but you can use entirely all-purpose flour if you prefer.
Salt: Don't skip the salt here! It gives this focaccia bread its wonderful savory flavor.
And olive oil: A focaccia essential! Along with the salt, olive oil is what gives this bread its rich flavor and golden brown color. You'll mix it into the dough as well as spreading it over the bread's surface.
The hardest part of this recipe is waiting for the dough to rise! Once it does, brush a large rimmed sheet pan with olive oil and firmly press the dough to its edges. Don't be shy here! If the dough tears, patch it together and continue pressing out from the center. You're going to poke holes in it on purpose later, so any holes at this stage aren't a big deal.
Once you've pressed the dough to the edges of the pan, flip it over and press it to the edges again. Use your fingers to dimple the dough, dotting it with indentations every few inches apart. Then, cover it with plastic wrap, and let it rise again!
When the focaccia has doubled in size, scatter on the rosemary, roasted garlic, and flaky sea salt, and bake until it's golden brown!
Focaccia Recipe Tips
Let the dough rise somewhere warm. Because yeast responds to warmth, letting your dough rise in a warm place will yield the best results. We like to put ours on a sunny windowsill!
Freeze extras. This bread freezes really well! Slice the baked focaccia into squares and freeze them in an airtight container for up to a few months. I like to keep a stash on hand to serve as an easy side with salads or soups.
Change the seasonings! We love this simple roasted garlic and rosemary focaccia bread, but other toppings would be delicious here as well. Try swapping the rosemary for sage or thyme leaves, or use olives, sun dried or roasted tomatoes, or thinly sliced Meyer lemon in place of or in addition to the roasted garlic.
Focaccia Bread Serving Suggestions
This focaccia recipe would be an excellent addition to any holiday menu – the flecks of rosemary and red pepper flakes make it so pretty and festive! Head to this post to find more holiday side dishes to serve with it.
As I said above, this recipe is also simple enough to put together when it's not a special occasion. Enjoy it as a snack, slice it to make sandwiches, or serve it with a hot bowl of soup any night of the week. We especially love it with my butternut squash soup, cauliflower soup, carrot ginger soup, and lentil soup, but it'd be yummy with any of these favorite soup recipes too.
This focaccia recipe also pairs well with all things Italian. Serve it with spaghetti aglio e olio, fettuccine Alfredo, baked ziti, or any of these easy pasta recipes. It'd be a fantastic side dish with my creamy mushroom polenta too.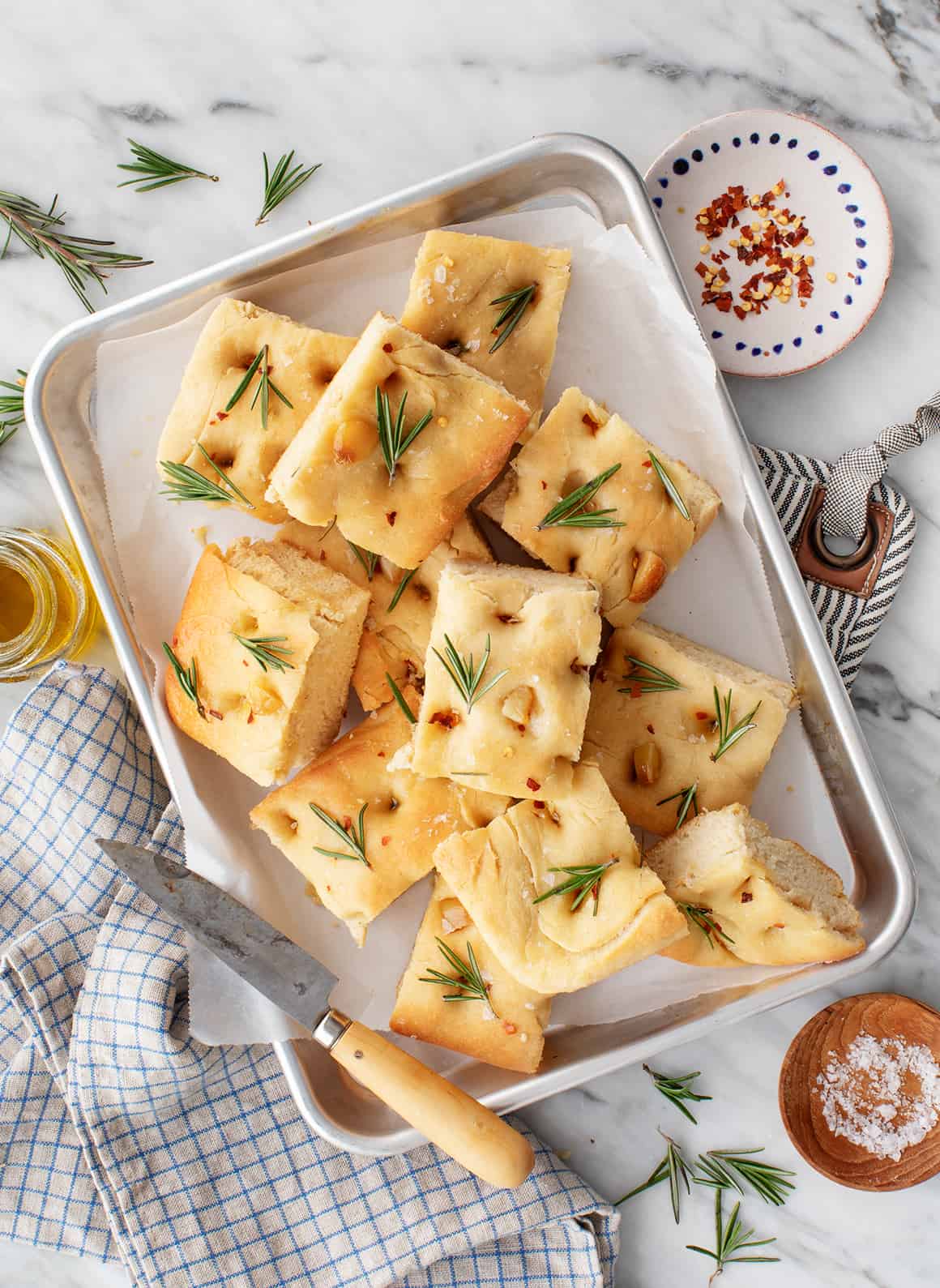 More Favorite Baking Recipes
If you love this focaccia recipe, try one of these baking recipes next:
Or check out this post to find 25 more Super Fun Baking Recipes!
Rosemary Focaccia Bread
Rosemary, roasted garlic, olive oil, and sea salt infuse this focaccia bread with rich, savory flavor.
Ingredients
1¾

cups

warm water

,

105° to 115°F

1

(¼-ounce) package active dry yeast

,

(2¼ teaspoons)

1

tablespoon

cane sugar

3½

cups

all-purpose flour

,

plus more for kneading

1½

cups

whole wheat flour

1

tablespoon

sea salt

½

cup

extra-virgin olive oil

,

plus more for brushing

1

bulb Roasted Garlic,

optional

2

tablespoons

chopped rosemary

½

teaspoon

red pepper flakes

,

optional
Instructions
In a medium bowl, stir together the water, yeast, and sugar. Set aside for 5 minutes, until the yeast is foamy.

In the bowl of a stand mixer fitted with a dough hook attachment, place the flours, salt, ¼ cup of the olive oil, and the yeast mixture and mix on medium speed until the dough forms a ball around the hook, 5 to 6 minutes.

Transfer the dough to a lightly floured surface and knead several times, sprinkling with more flour, as needed, and form into a ball. Brush a large bowl with olive oil, and place the dough inside. Cover with plastic wrap and set aside to rise until doubled in size, 40 to 50 minutes.

Coat a 10 × 15-inch rimmed baking sheet with the remaining ¼ cup olive oil. Punch the dough down, transfer to a lightly floured surface, and knead several times. Place the dough in the pan and press to spread it out to the pan's edges. Flip the dough over and spread it to the edges again. Make indentations with your fingers, every few inches apart, all over the dough. Cover the baking sheet with plastic wrap and allow the dough to rise until it has doubled in size, about 40 minutes.

Preheat the oven to 425°F. Remove the plastic wrap. Cut the roasted garlic cloves in half and push them into the surface of the dough. Sprinkle with the rosemary, and red pepper flakes, and bake for 20 minutes, until golden brown.