These healthy fall recipes will satisfy any autumn craving! They include quick dinner ideas, cozy desserts, side dishes, salads, and more.
I'm always sad to see summer go, but as I compiled this list of fall recipes over the weekend, I couldn't help but look forward to the new season. It's a chance for a fresh start, to dive headfirst into a new routine and new activities. Of course, I'll miss our summer picnics and the nights when the sun didn't set till 9, but I'm also excited for change – for hot bowls of soup, weekend baking, and long walks on crisp afternoons.
To celebrate the start of the season, I'm sharing over 60 of my favorite fall recipes below. They include cozy soups, fresh salads, decadent desserts, and everything in between. So whether you're looking for quick fall dinner ideas, a healthy lunch, or a cooking project for an afternoon at home, you're in the right place. Happy first day of fall!
Soup Fall Recipes
My favorite fall ritual is making soup on Sunday afternoons. For me, the process is soothing. It might be chilly outside, but there's a hot pot of soup bubbling away on the stove, and the kitchen is filled with the comforting scent of aromatic veggies and herbs.
Butternut Squash Soup
No collection of fall recipes would be complete without butternut squash soup! Sage, rosemary, and fresh ginger fill this easy one-pot soup with cozy autumn flavor.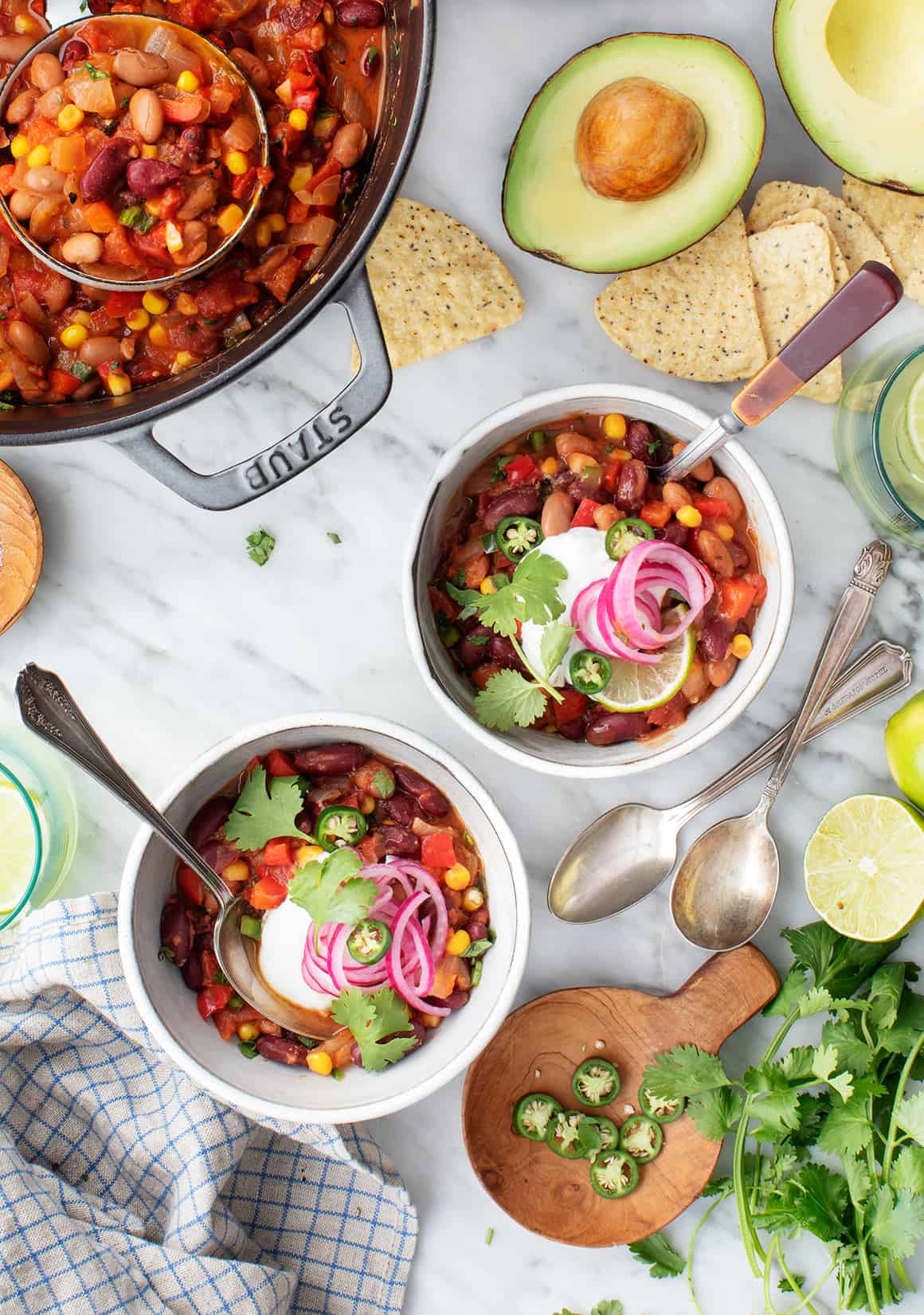 Easy Vegetarian Chili
On cool fall nights, all I want to do is curl up on the couch with a bowl of chili. Luckily for me, this recipe is super easy to make! Once I start cooking, a smoky bowl of veggie chili and a cozy blanket are just 30 minutes away.
Cream of Mushroom Soup
Don't even think about hiding this cream of mushroom soup in your next green bean casserole. It's so savory, creamy, and rich that you'll want to enjoy a whole bowl (or two) on its own!
Many-Veggie Vegetable Soup
I've made this brothy, warming soup with a million combinations of vegetables, and it always comes out great. Feel free to toss in whatever veggies you have on hand!
Carrot Ginger Soup
This energizing carrot ginger soup tastes fantastic on its own, but it's even better with a swirl of pesto on top. Bonus points if you blend carrot tops into the pesto. Waste not, want not!
Creamy Wild Rice Soup
Fall in a bowl! A lightly creamy miso broth surrounds savory autumn veggies, white beans, and nutty wild rice.
Creamy Potato Soup
This creamy soup looks decadent, but it's secretly healthy. Blended potatoes and white beans make up its velvety base, and lemon, vinegar, and smoked paprika create its tangy, smoky flavor.
Best Lentil Soup
As soon as my mom tried this lentil soup, she asked for the recipe. After a few months (and a lot of reminders), I finally got it to her. Luckily, you don't need to wait for me to send it your way. It's already up on the blog, ready to be made time and time again.
Yellow Split Pea Soup
Yellow split peas add plant-based protein to this vegan riff on corn chowder. Garnish your bowl with extra corn kernels and crispy coconut bacon to take it over the top!
Creamy Cauliflower Soup
This simple recipe has two basic steps: roast and blend! It's flavorful, nourishing, and easy to make – perfect for a busy weeknight.
Salad Fall Recipes
As we approach Thanksgiving every year, I feel like food gets more and more brown. Turkey, gravy, stuffing… This fall, I challenge you to embrace the colors of the season by making one (or more!) of the vibrant fall salads below. Packed with shades of red, orange, pink, and green, they're a feast for the eyes as well as the tastebuds.
Sweet Potato Salad
This recipe combines so many of my favorite ingredients: roasted sweet potatoes, tender arugula, avocado, feta cheese, and creamy tahini dressing. Serve it as a side dish, or enjoy it on its own for a hearty, healthy lunch.
Kale Salad with Carrot-Ginger Dressing
This colorful salad is one of my favorite fall recipes to make for lunch. Thanks to crispy roasted chickpeas, toasted seeds, avocado, and a rainbow of veggies, it always keeps me full till dinnertime.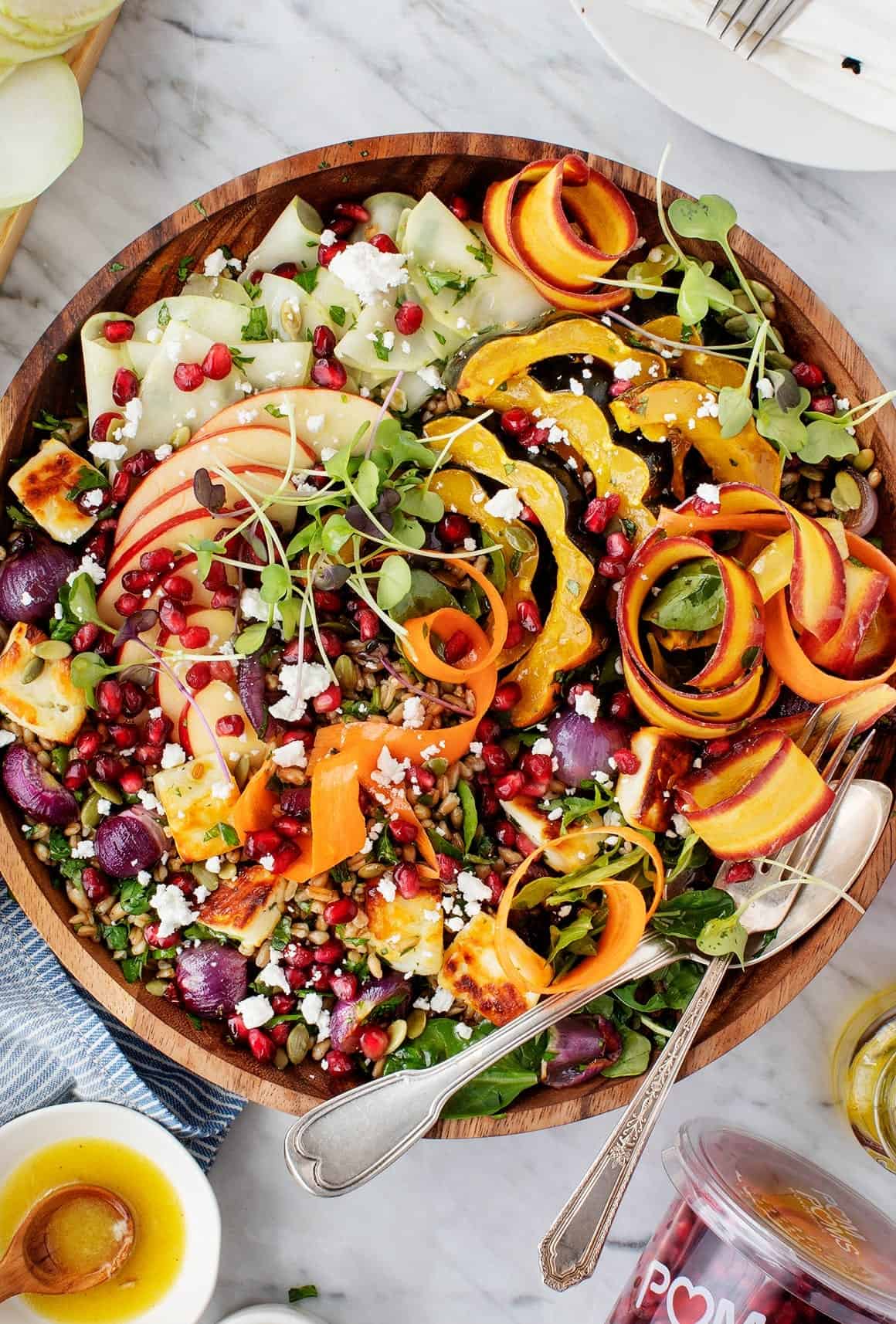 Pomegranate Salad with Cider Dressing
This bountiful salad is a wonderful addition to a Thanksgiving menu, but it's so delicious that you'll want to make it all season long.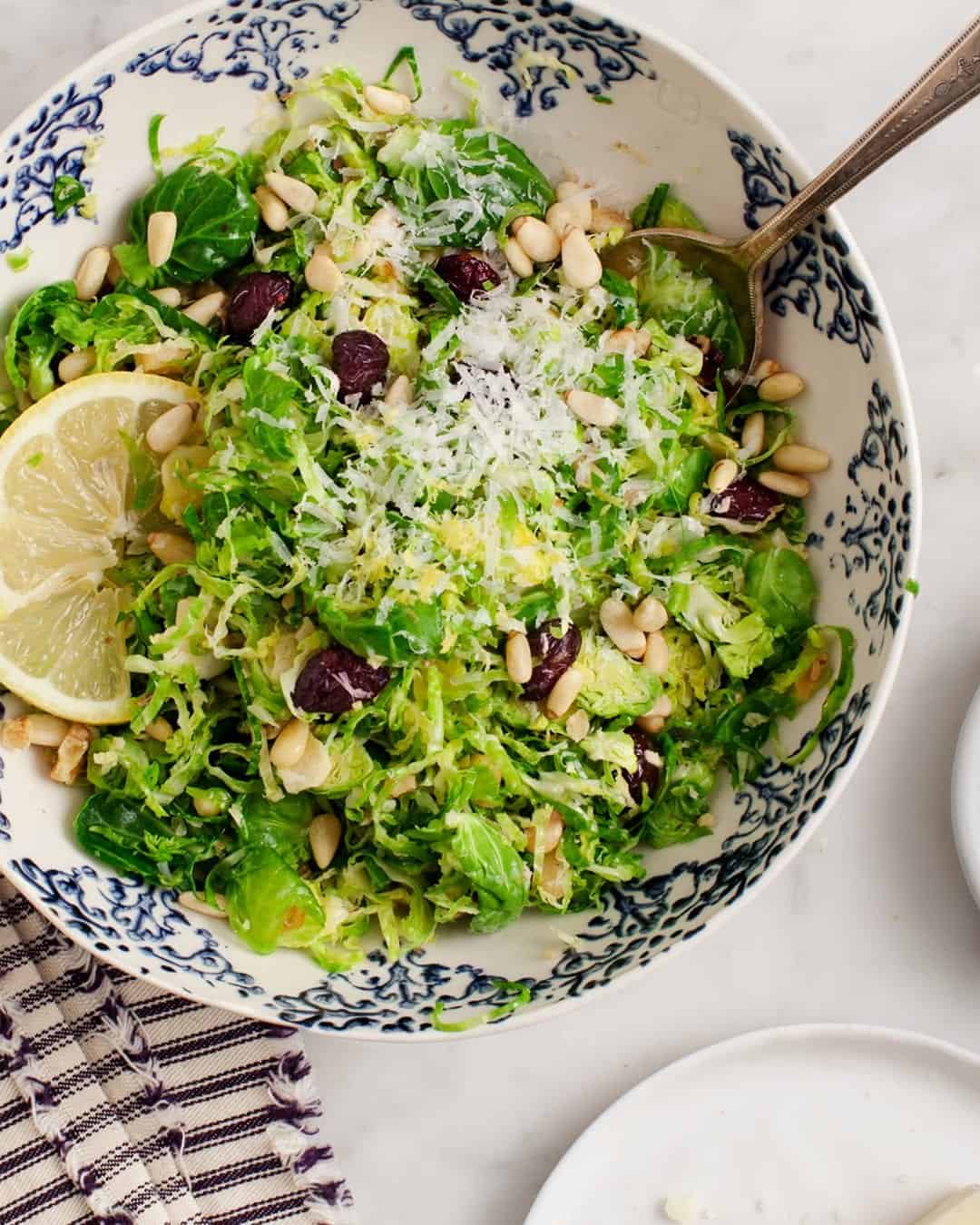 Shredded Brussels Sprouts Salad
Just 7 ingredients fill this bright, refreshing salad with a mouthwatering mix of textures and flavors.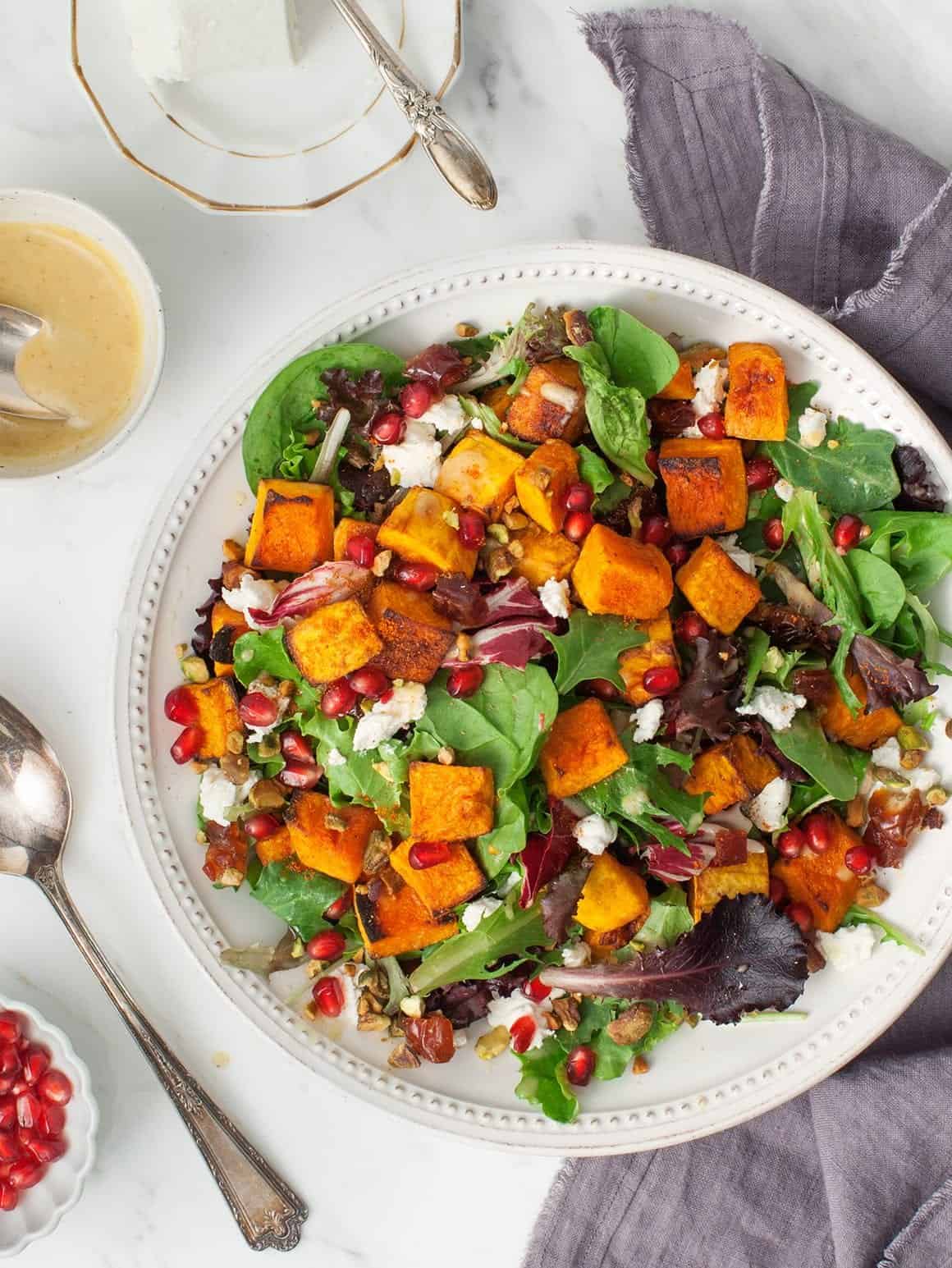 Butternut Squash Salad
Earthy goat cheese balances sweet pomegranate arils, Medjool dates, and caramelized butternut squash in this spiced-up fall salad. An aromatic cider-date dressing ties it all together.
Farmhouse Farro Salad
I love using nutty farro in fall recipes like this one, but if you're gluten-free, you can still enjoy this salad. It'd be just as yummy with cooked quinoa or wild rice.
Moroccan-Spiced Carrot Salad with Lentils, page 121 of Love & Lemons Every Day
This hearty salad features carrots 2 ways: roasted and raw! The raw ones give it a nice crunch, while the roasted carrots add a delicious caramelized sweetness. For even more contrasting textures and flavors, I toss them both with pickled red onions, earthy lentils, and fresh mint.
Vegetable Side Dishes
Showcase the season's best produce in these fresh, inventive side dish recipes!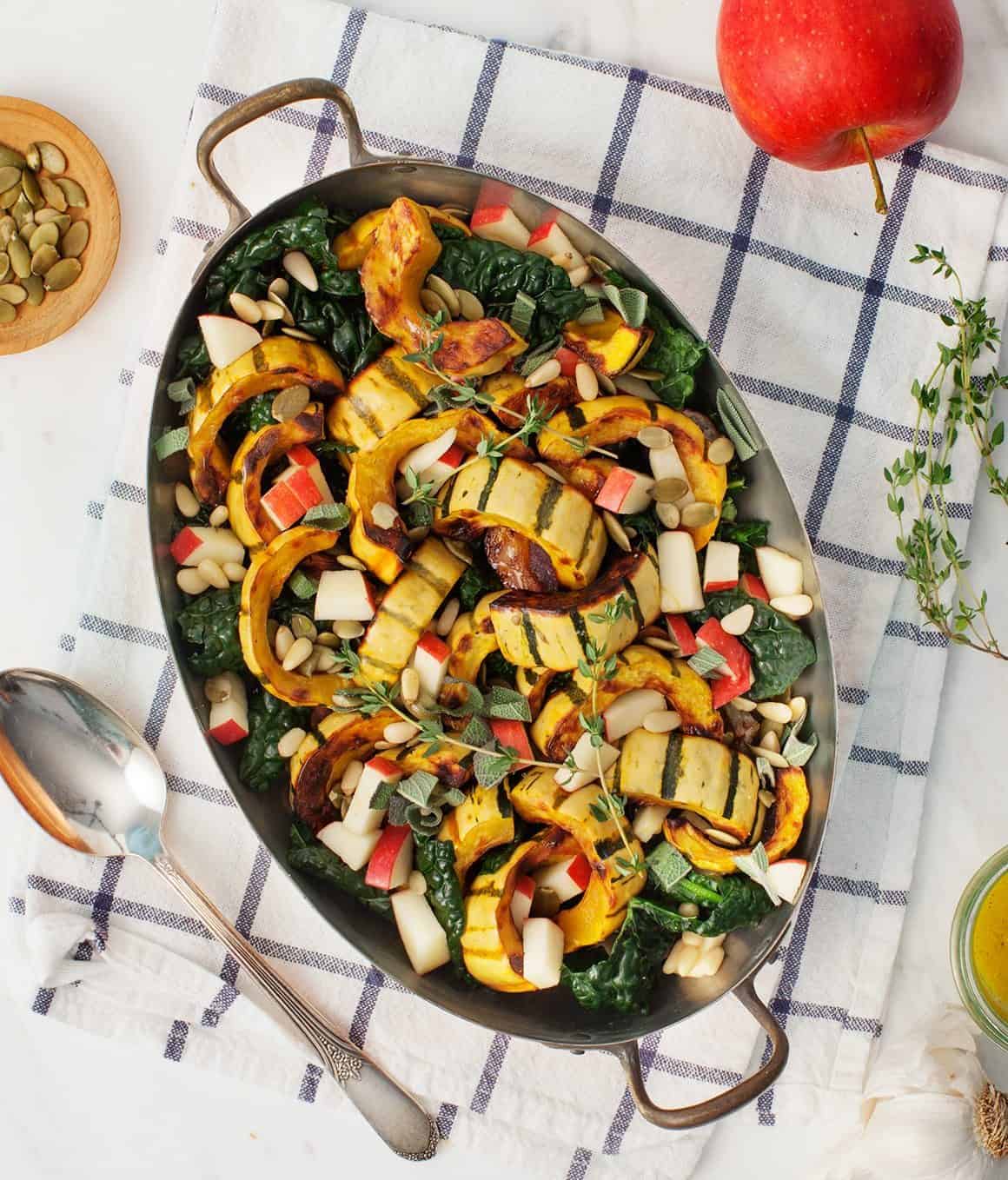 Roasted Delicata Squash with Apples
If you've never tried delicata squash, get ready to fall in love! With sweet, creamy flesh and thin, edible skin, it's both delicious and easy to cook (no peeling necessary!). I especially love it in this simple preparation with kale, apples, and sage.
Roasted Beets with Citrus
Citrus juices infuse humble roasted beets with bright flavor. Enjoy them plain, or dress them up with toasted nuts, tender greens, and crumbled feta cheese.
Vegan Cauliflower Gratin, page 227 of Love and Lemons Every Day
Instead of using dairy in this homey gratin, I bake the cauliflower florets in a creamy, savory sauce made from (more) cauliflower, cashews, and miso paste.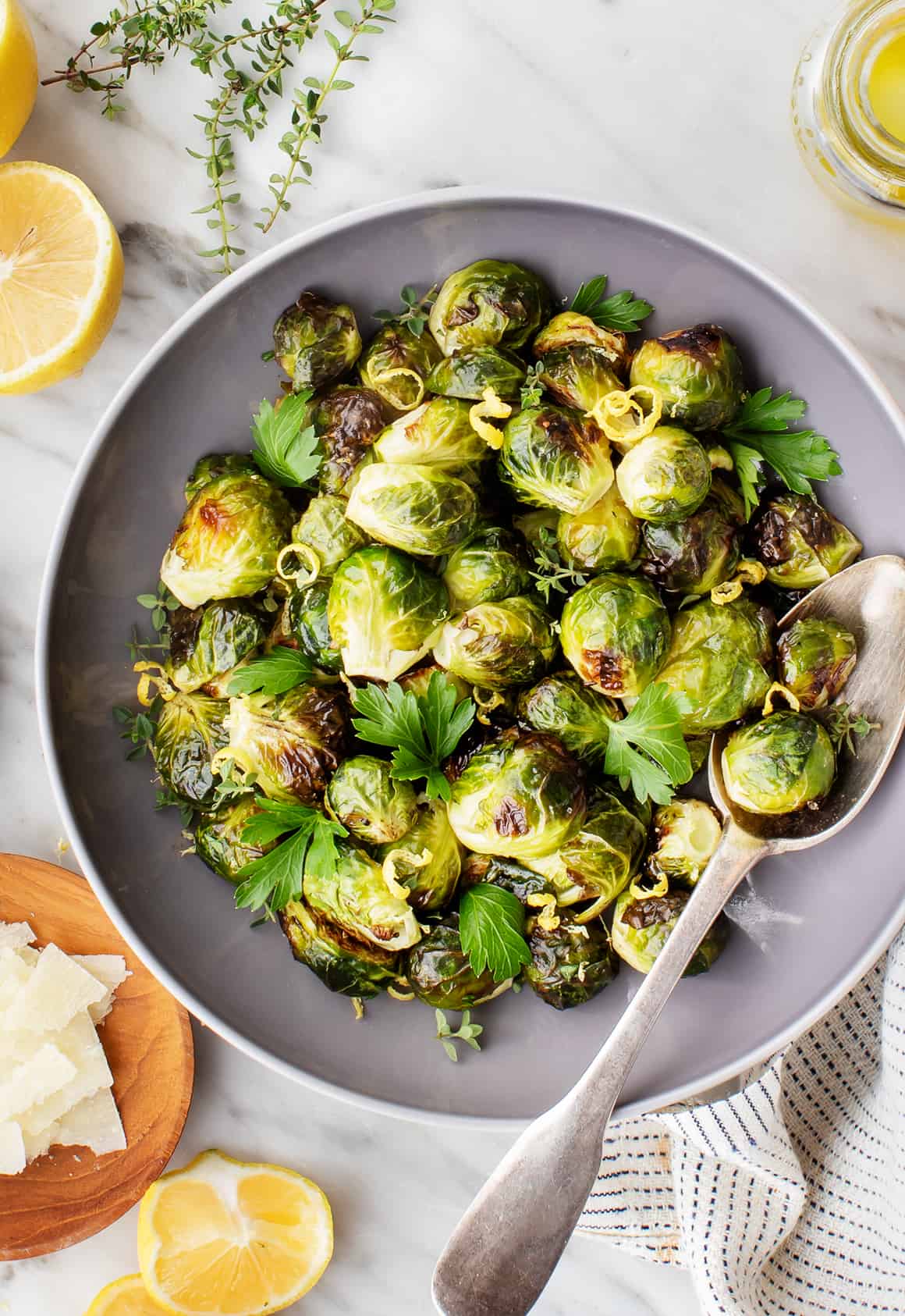 Roasted Brussels Sprouts
A lemon Parmesan dressing makes these crispy roasted Brussels sprouts bright, zingy, and addictive. Even Brussels sprouts skeptics will love them!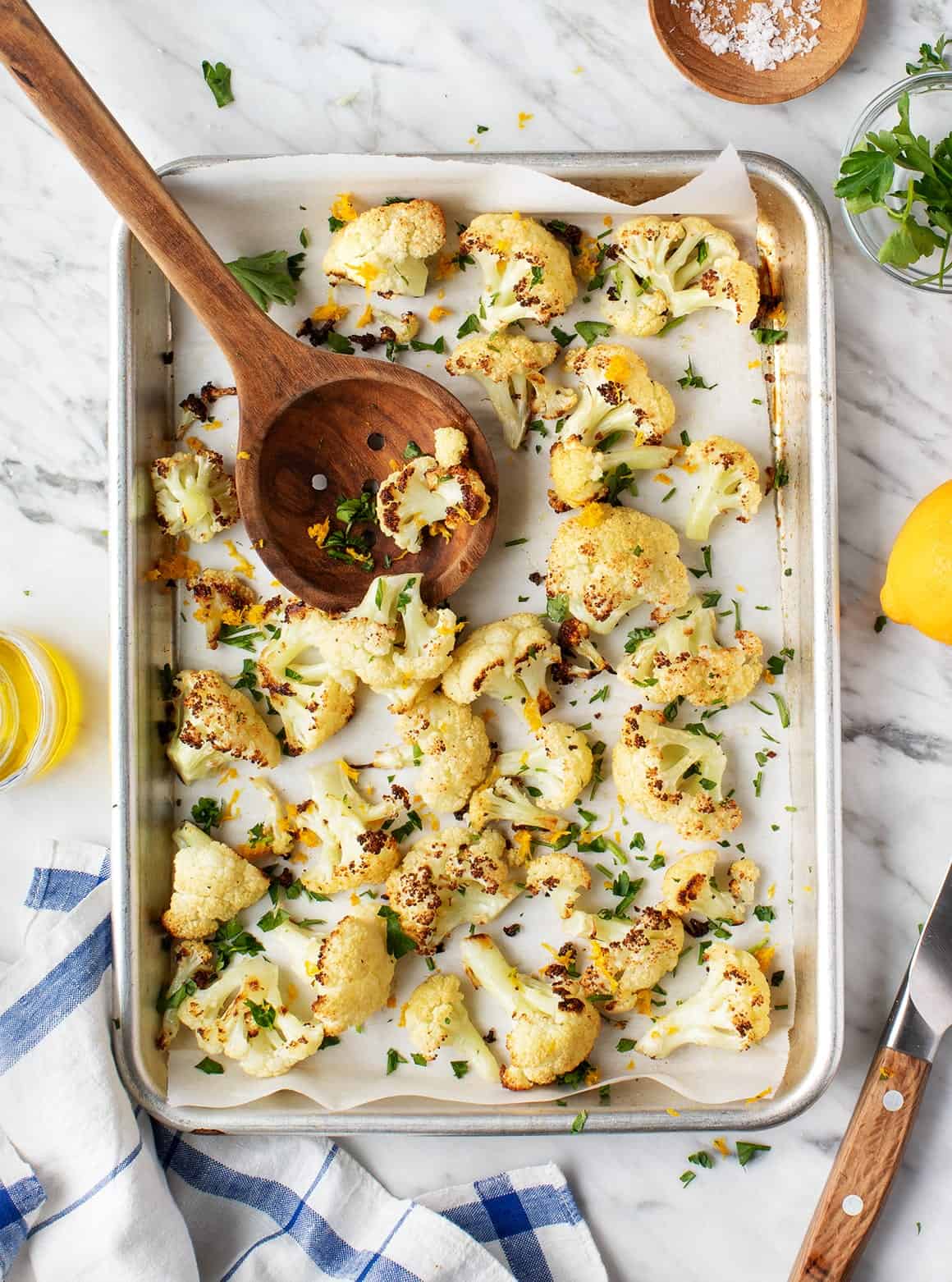 Roasted Cauliflower with Lemon Zest
This roasted cauliflower is what I make when I need a quick, easy side dish to round out a fall dinner. Most of the time, I serve it simply, with herbs and lemon zest, but it's also fantastic with romesco or tahini sauce on top.
Creamed Spinach
This vibrant side dish comes together in 15 minutes flat! A lighter take on classic creamed spinach, it calls for fresh spinach instead of frozen, and coconut milk steps in for the traditional butter and cream cheese.
Roasted Carrots with Carrot Top Tzatziki, page 229 of Love and Lemons Every Day
Don't toss those tops! Here, I swirl minced carrot greens into an unconventional, but delicious, take on tzatziki and pile spiced roasted carrots on top.
Pass the Potatoes!
Save the Sweet Potato Casserole for Thanksgiving! In the meantime, these fall recipes will satisfy any potato craving.
Roasted Garlic Mashed Potatoes
When Jack (aka the world's #1 mashed potato lover) gave this recipe the stamp of approval, I knew I had to share it! These potatoes are totally vegan, but you'd never guess it from their luscious texture and rich taste.
Stuffed Sweet Potatoes
One of my go-to fall dinner ideas! Stuff a tender, puffy baked sweet potato with a flavorful filling for a quick and healthy meal. Have fun devising your own filling, or try my suggestions. (The Fall Harvest variation is my favorite!)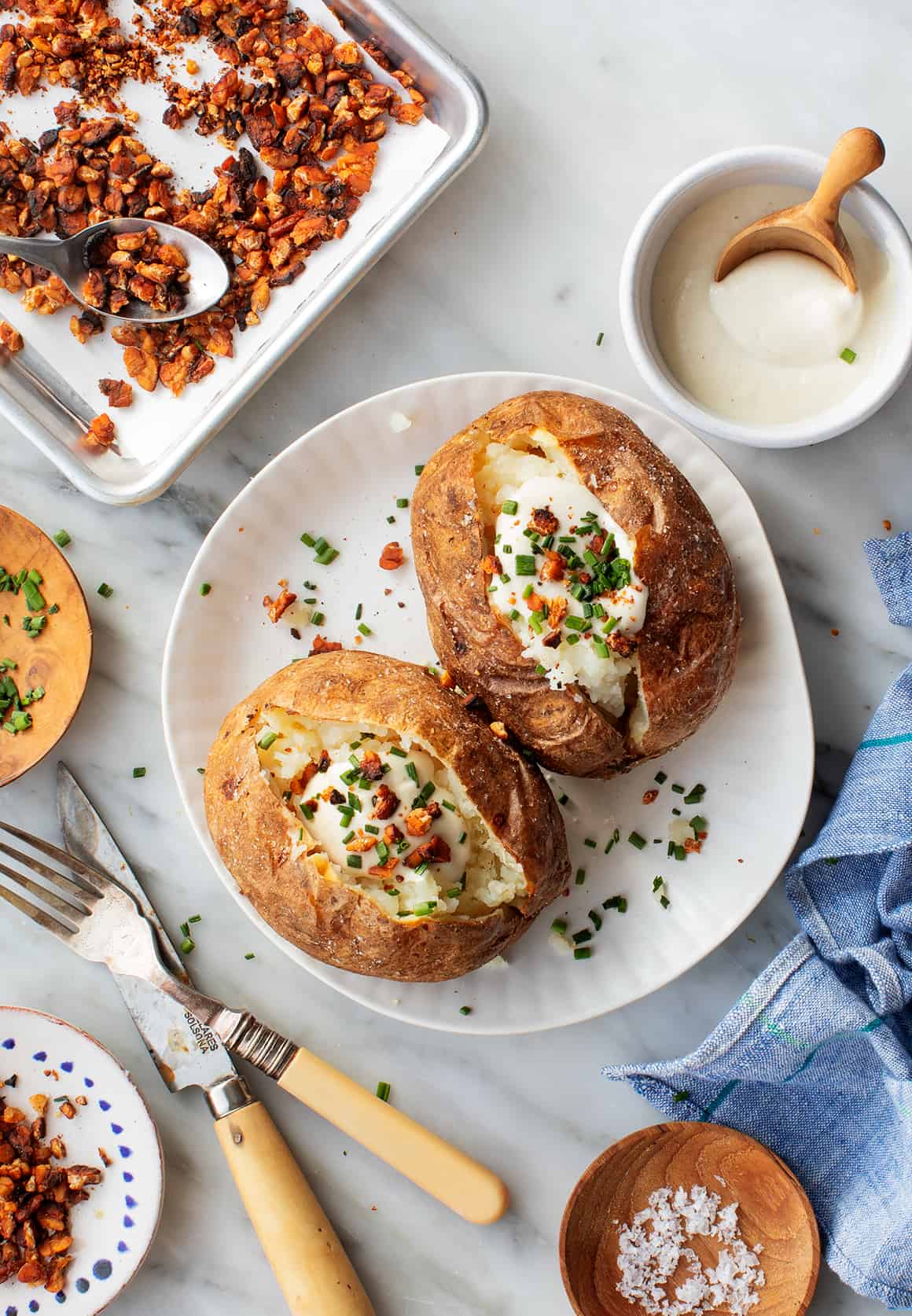 Baked Potato
Say goodbye to soggy skin and chalky interiors! This salt-crusted baked potato recipe yields perfect crispy skin and fluffy insides every time. Load yours up with cashew sour cream and smoky vegan bacon, or serve it with a good ol' pat of butter.
Roasted Potatoes
You'd be hard pressed to find potatoes that are tastier than these. They're crispy on the outside, creamy in the middle, and doused in a zingy Parmesan-herb dressing.
Twice Baked Sweet Potatoes
Top these potatoes with cheddar cheese if you like, but if you ask me, it's really not necessary. A creamy vegan sweet potato and rosemary sauce supplies plenty of rich flavor on its own.
Parsnip Puree
Ok, ok, so technically this parsnip and cauliflower puree is totally potato-free. However, its creamy consistency makes it pretty darn potato-like. Serve it as a lighter, more complex alternative to mashed potatoes at any fall dinner!
Bread Recipes for Fall
When it's chilly outside, there's a good chance you'll find Jack in the kitchen, kneading, shaping, or baking bread. He's experimented with pita, bagels, and even hamburger buns, but these two bread recipes are the ones he comes back to time and time again.
No Knead Bread
This no knead bread will make any novice baker look like a pro! It comes out of the oven with a gorgeous golden brown crust and delicious chewy interior.
Rosemary Focaccia
Like the no knead bread above, this focaccia recipe is a great one for first-time bakers. It's simple and forgiving, and it tastes fantastic, too. Roasted garlic, rosemary, and olive oil infuse it with rich, savory flavor.
Pasta Fall Dinner Recipes
When I think of fall recipes, I think of comfort food. A grilled cheese sandwich and tomato soup, big slices of pizza, and pasta. Pasta, more than anything.
Creamy Vegan Pumpkin Penne
What's more fall than creamy pasta + pumpkin?! Sage, onion, and garlic create a delicious savory contrast to the sweet squash in this recipe.
Homemade Mac and Cheese
This easy, breezy, cheesy pasta comes together in 20 minutes flat, so it's perfect for a quick fall dinner! Don't eat cheese? Make this vegan mac and cheese instead.
Butternut Squash Pasta with Chili Oil, Feta, and Mint
Fall dinner ideas don't get simpler than this. Roast a bunch of butternut squash until it's tender and caramelized, toss it with pasta, feta, and a quick chili oil, and dig in! I like to finish my bowl with fresh mint leaves and toasted hazelnuts for extra texture and flavor.
Fettuccine Alfredo
Shhhh! There's a secret ingredient hiding inside this luscious homemade Alfredo sauce. It's not cream….it's cauliflower! It makes this recipe lighter than classic fettuccine Alfredo, but no less creamy and comforting.
Creamy Vegan Pasta
Speaking of secret ingredients, this super creamy (and totally vegan) pasta sauce gets its rich, velvety texture from blended white beans! I like to make this pasta with steamed broccoli, but roasted broccoli would be great here too.
Garlic Herb Mushroom Pasta
We all go crazy for fall recipes featuring pumpkin, apples, and squash, but if you ask me, mushrooms deserve just as much love at this time of year. Take this pasta recipe – it's quick enough for an easy weeknight dinner, but the mushrooms make it so savory and delicious that it'd be perfect for a special occasion, too.
Lasagna and Baked Pasta Fall Dinner Ideas
Did someone say comfort food?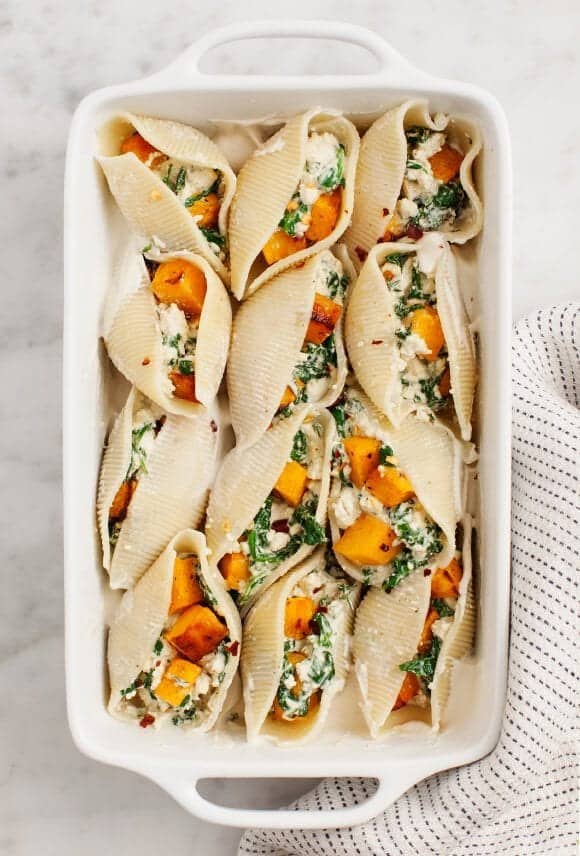 Butternut Squash Stuffed Shells
This recipe is an all-time reader favorite, and for good reason! Roasted butternut squash, creamy spinach "ricotta," and a luscious cashew cream sauce make it rich, flavorful, and comforting, all without any dairy.
Best Vegetarian Lasagna
Because there's nothing better than a piping hot slice of lasagna on a crisp fall night.
Sweet Potato Lasagna
No pasta? No problem! This hearty lasagna features thin layers of sweet potato instead of regular lasagna noodles.
Kale and Sweet Potato Lasagna Roll-Ups, page 197 of Love & Lemons Every Day
How do we make lasagna more fun? Roll it up! Roasted sweet potatoes, fresh sage, and a zesty tofu "ricotta" make this vegan pasta super cozy and delicious.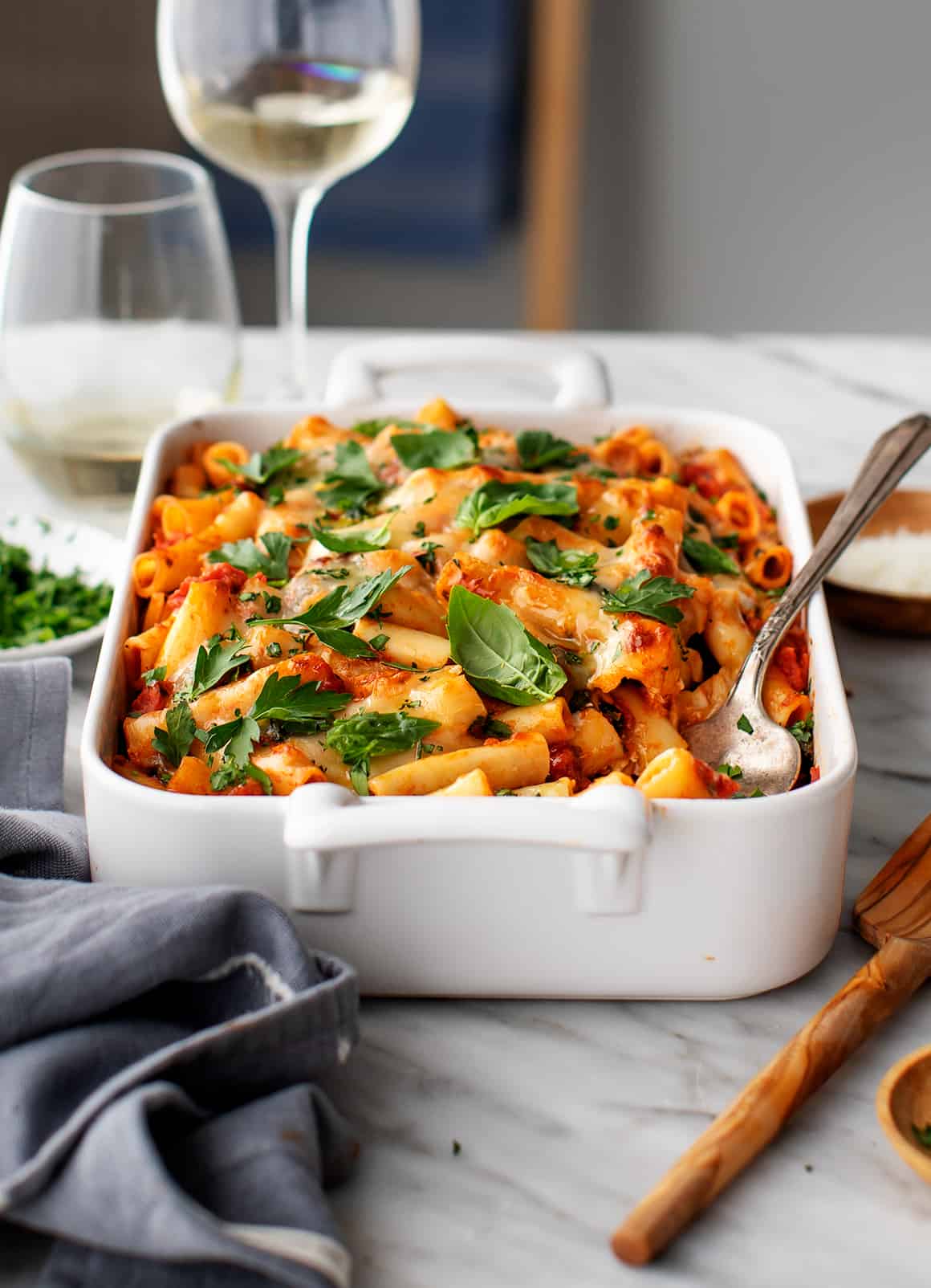 Easy Baked Ziti
I don't know about you, but some nights, I need my saucy, cheesy pasta fix, and I need it now. Enter: this baked ziti recipe. It takes 35 minutes from start to finish, and it's just as tasty as a labor-intensive lasagna.
More Fall Dinner Ideas
Not in the mood for pasta or a bowl of soup? This is the section for you. Here, you'll find classic fall dinner recipes like stuffed squash and potpie as well as fun ideas for tacos and pizzas starring autumn produce.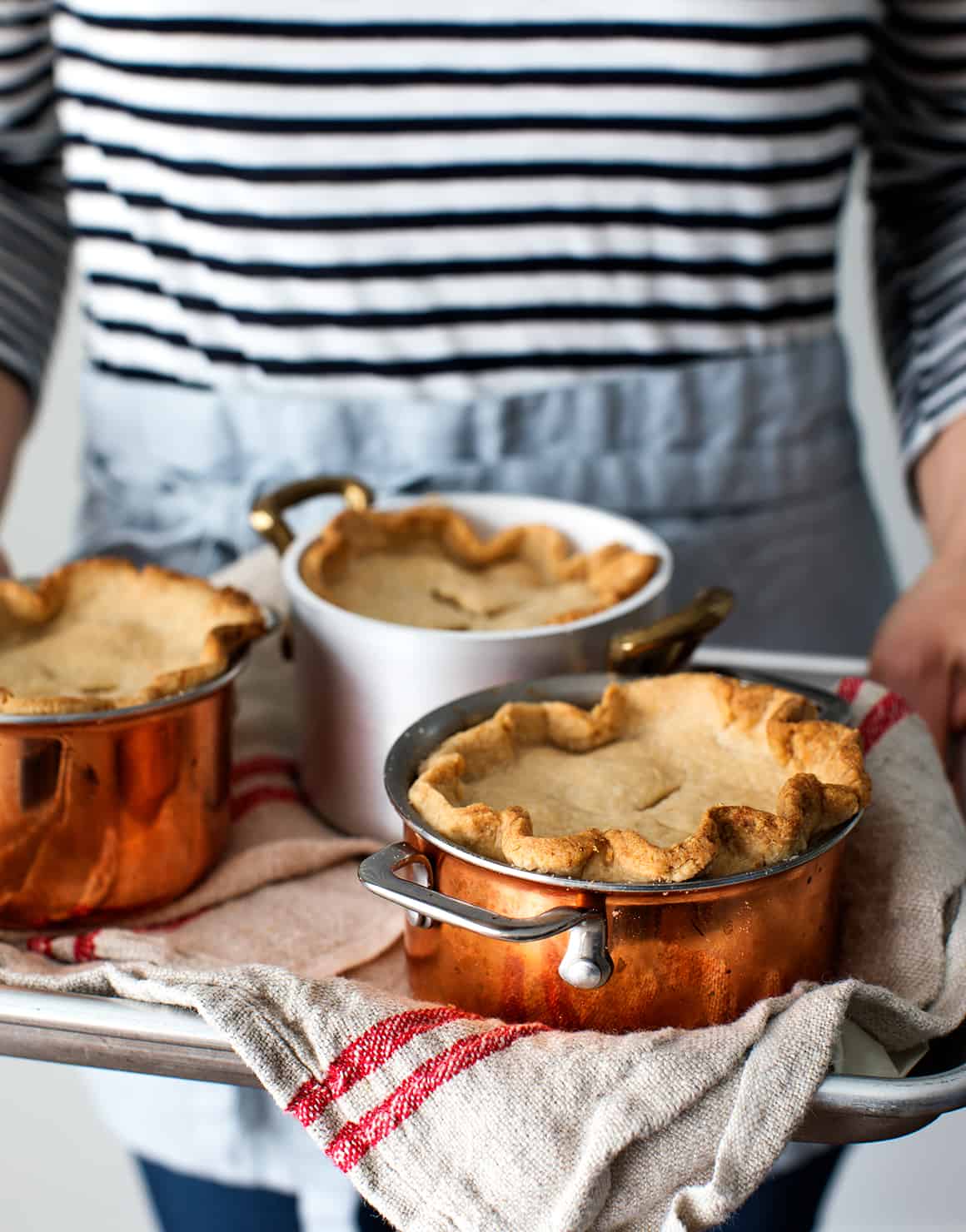 Cozy Vegan Mushroom & White Bean Potpie, page 141 of Love & Lemons Every Day
I had a vegan potpie on my list to make for years before I finally developed this recipe. I have to say, it was worth the wait! The savory mushroom and white bean filling is so flavorful that I'd be happy eating it on its own. Add flaky pie crust into the picture, and I'm already lining up for seconds.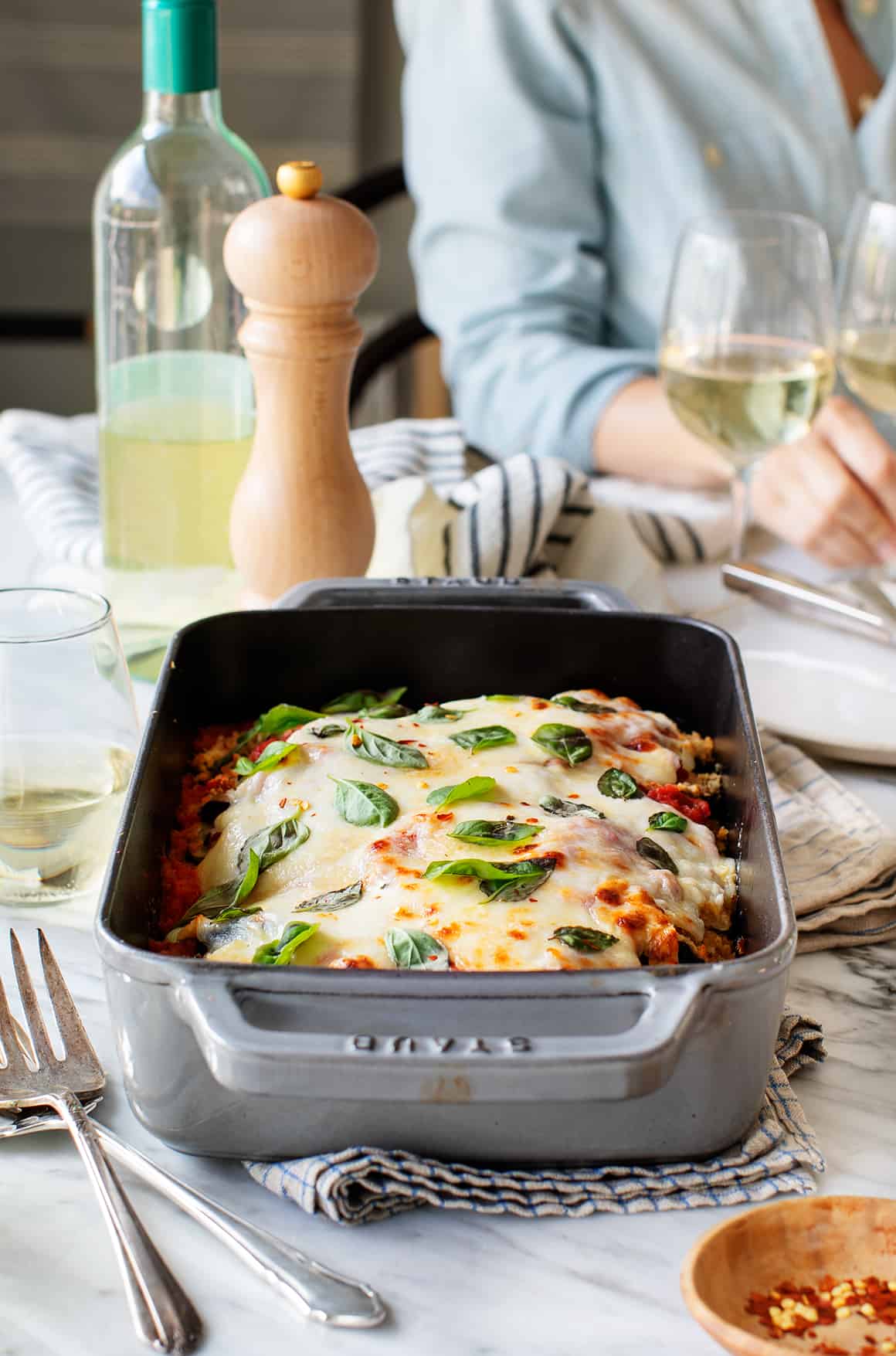 Eggplant Parmesan
Saucy, cheesy comfort food at its best! Melty mozzarella cheese and homemade marinara sauce coat thick slices of crispy baked eggplant.
Stuffed Peppers
Top these zesty stuffed peppers with cheese, or serve them with chipotle sauce or cilantro lime dressing for a vegan variation.
Spaghetti Squash with Chickpeas and Kale
If readers had to pick their favorite fall recipes on Love and Lemons, this veggie-packed dinner would undoubtedly make this list! Rosemary, shallots, and sun-dried tomatoes add rich flavor to the mix of spaghetti squash, chickpeas, and kale.
Creamy Mushroom Polenta
This recipe is my favorite kind of comfort food. Thanks to the creamy polenta and savory sautéed mushrooms, it's nice and hearty, but the zingy chimichurri makes it feel fresh and bright.
Pizza with Apples, Leeks & Lemon Zest Labneh, page 183 of Love & Lemons Every Day
No matter the toppings, homemade pizza is always one of our favorite fall dinner ideas. But this unexpected combination of sweet apples, savory leeks, and creamy, lemony labneh is especially suited to this time of year.
Easy Coconut Curry
This quick curry is everything I want on a fall weeknight. It cooks up in 30 minutes, it's chock-full of veggies, and fragrant spices like turmeric, ginger, and cardamom fill it with rich flavor. Serve with rice, and enjoy!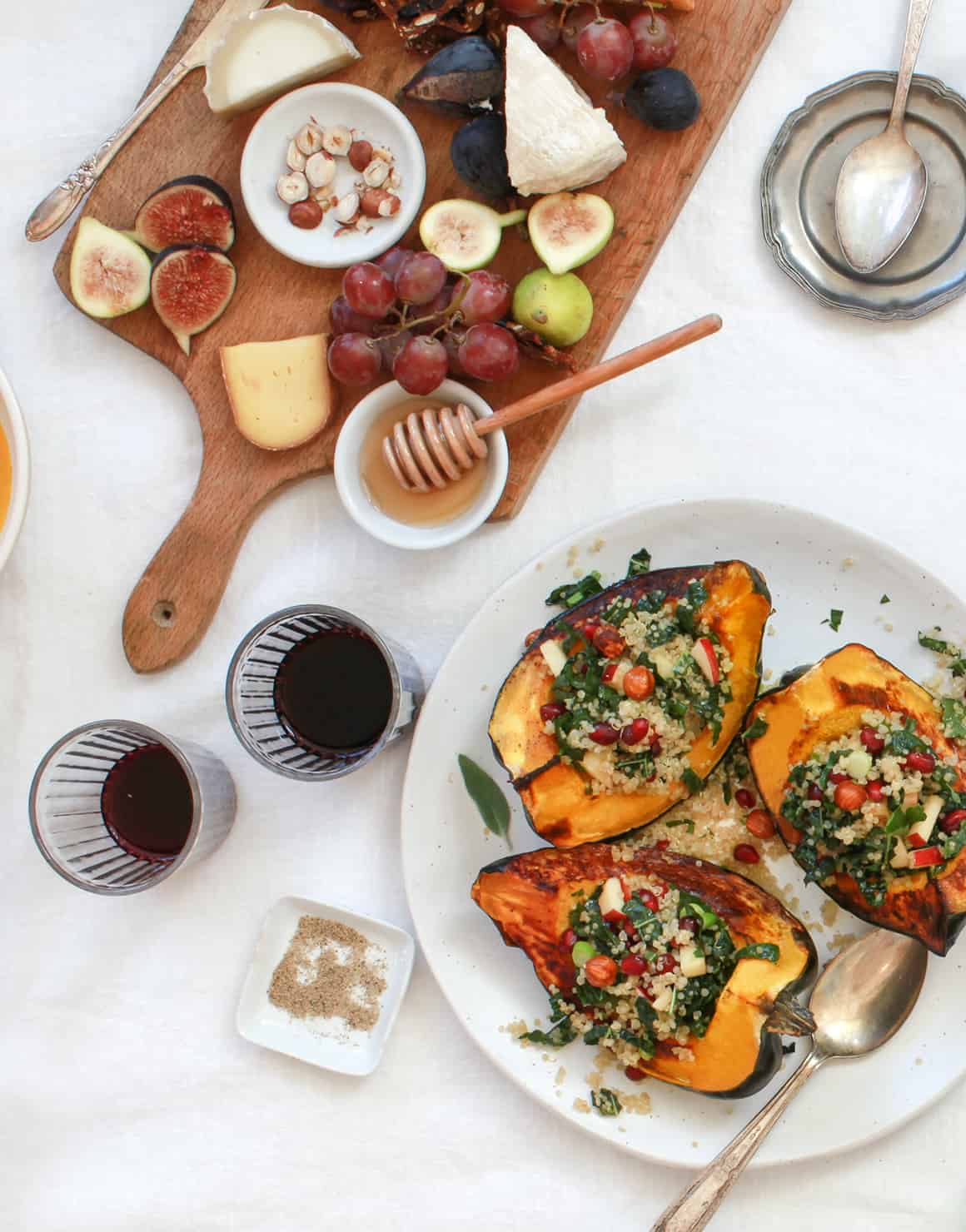 Quinoa, Apple & Sage Stuffed Acorn Squash, page 191 of Love & Lemons Every Day
When the air gets crisp in the fall, stuffed acorn squash is one of the first things I crave. A sweet and tangy dressing made from apple cider vinegar, sage, maple syrup, and cinnamon fills this recipe with the flavors of the season.
Vegetarian Black Bean Enchiladas
Roasted butternut squash and adobo sauce create an irresistible sweet and smoky combination in this hearty vegetarian enchilada recipe.
Avocado Sweet Potato Tacos
These tacos are flavorful and filling, the ingredient list is short, and the steps are easy – what's not to love?
Crispy Butternut Squash and Poblano Tacos
Tip: When you take these crispy cubes of squash out of the oven, do your best not to eat them all straight off the sheet pan. Sure, they're great on their own, but they're even better stuffed into tacos with creamy poblano sauce on top.
Fall Recipes for Dessert
If we're talking fall recipes, treats have to come up sometime. The recipes below are twofers. They'll satisfy your sweet tooth, and they'll make your kitchen smell amazing in the process!
Pumpkin Bread
This easy pumpkin bread is moist, wholesome, and filled with pumpkin spice flavor. Eat one slice, and you'll be reaching for a second before you know it!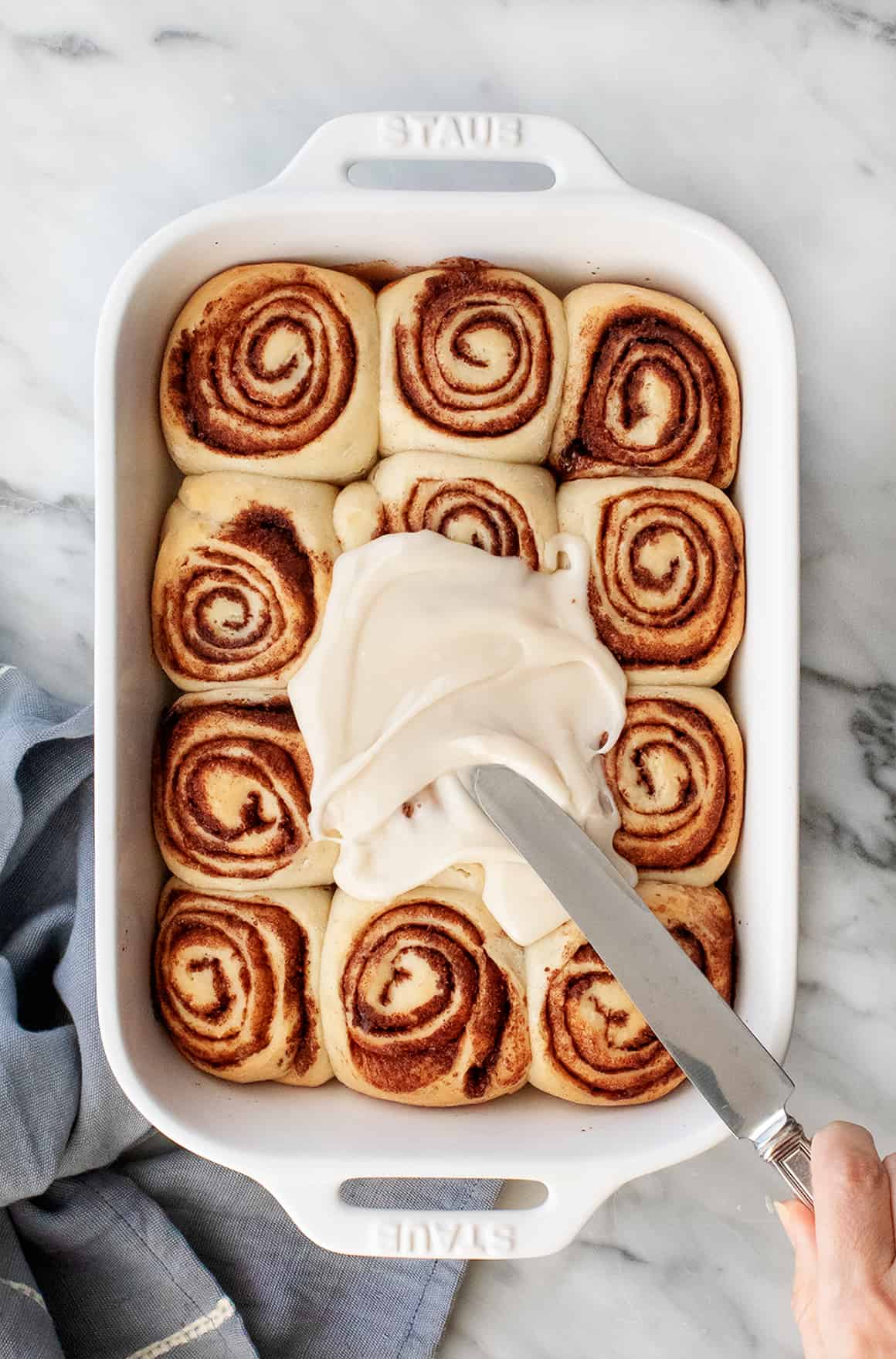 Cinnamon Rolls
These soft, gooey rolls would be a welcome addition to any brunch, but they're just as good for dessert. If you can, eat them when they're still warm from the oven, so that the sweet vanilla glaze gets nice and melty on top.
Cinnamon Apple Crumble
Pie has its place, but for my money, this oat-y, nutty crumble is just as good. Top it with a scoop of vanilla ice cream or coconut whipped cream, and you won't miss the crust one bit.
Pumpkin Bars
A 50/50 mix of almond flour and all-purpose flour gives these little pumpkin squares an amazing moist texture. Left plain, they're a yummy snack, but (vegan) cream cheese frosting and mini chocolate chips transform them into a decadent dessert.
Apple Crumble Pie
Are you team apple pie or apple crisp? Gotcha! It's a trick question – with this Apple Crumble Pie in the picture, you don't have to pick.
Pumpkin Pie
Growing up, I always ate the pumpkin pie filling and pushed aside the crust. But this recipe changed everything for me. Instead of a traditional pie crust, it features a gluten-free pecan crust that's rich, nutty, and warmly spiced. Two slices for me, please!
Fall Recipes: Easy Butternut Squash Soup
This butternut squash soup is one of our favorite fall recipes!
Ingredients
for serving:
Chopped parsley

Crusty bread
Instructions
Heat the oil in a large pot over medium heat. Add the onion, salt, and several grinds of fresh pepper and sauté until soft, 5 to 8 minutes. Add the squash and cook until it begins to soften, stirring occasionally, for 8 to 10 minutes.

Add the garlic, sage, rosemary, and ginger. Stir and cook 30 seconds to 1 minute, until fragrant, then add 3 cups of the broth. Bring to a boil, cover, and reduce heat to a simmer. Cook until the squash is tender, 20 to 30 minutes.

Let cool slightly and pour the soup into a blender, working in batches if necessary, and blend until smooth. If your soup is too thick, add up to 1 cup more broth and blend. Season to taste and serve with parsley, pepitas, and crusty bread.