This veggie-packed falafel burger is a simple, healthy dinner. Slather yours with yogurt dill sauce, and you're guaranteed to want seconds!
This falafel burger recipe comes from our friends Sonja and Alex's new book Pretty Simple Cooking, and we're completely obsessed with it! Unlike many veggie burger or falafel recipes, this one uses simple ingredients that you'll be able to find in nearly any grocery store. It's easy to put together, and it's absolutely delicious.
The patties have a nice hearty texture and a robust, aromatic flavor, thanks to a slew of spices and fresh herbs. They're the kind of thing I'd be happy to eat for dinner any night of the week, as they're fresh and healthy, but flavorful and satisfying at the same time. My advice? Try this falafel burger recipe (and check out the book) ASAP!
Falafel Burger Recipe Ingredients
I LOVE that this easy falafel burger recipe uses simple ingredients! Here's what you'll need to make it:
Chickpeas – Use canned, or cook your own dried chickpeas.
Sesame seeds – They add crunch and a tasty sesame flavor.
Garlic and onion – This recipe uses a whole lotta garlic. Don't skimp on it! It really amps up the savory flavor in this falafel burger recipe.
Carrots – They give the burgers a nice golden color and an extra veggie punch.
Cilantro – It makes this falafel burger recipe super flavorful and fresh! You'll pulse everything together in the food processor, so feel free to use the cilantro stems as well as the leaves.
Whole wheat flour – It binds these patties together.
Cumin, coriander, and cayenne – They perfect the patties' bold falafel flavor.
And salt and pepper – To make all the flavors pop!
Find the complete recipe with measurements below.
This falafel burger recipe is super easy to make. Pulse the ingredients in a food processor, fold them together, and use your hands to form them into patties. Give them a quick sear in a stainless steel or cast iron skillet over medium-high heat, cooking just until golden brown. When you're done pan frying the patties, transfer them to the oven to finish cooking. That's it!
Falafel Burger Serving Suggestions
Sonja and Alex finish this falafel burger recipe with a delicious yogurt-dill sauce. Similar to tzatziki, it's creamy, bright, and fresh, and it's fantastic with the hearty patties. I highly recommend making it, but if you're vegan, hummus or tahini sauce would be a great substitute.
Slather on the sauce, and load up your falafel burger with your favorite fixings! I chose pickled red onions and extra cilantro, but sliced tomato, cucumber, avocado, or regular pickles would also be delicious. To take these burgers to the next level, serve them on homemade buns.
Enjoy the burgers on their own, or pair them with sweet potato fries, dressed greens, or any of these veggie side dishes: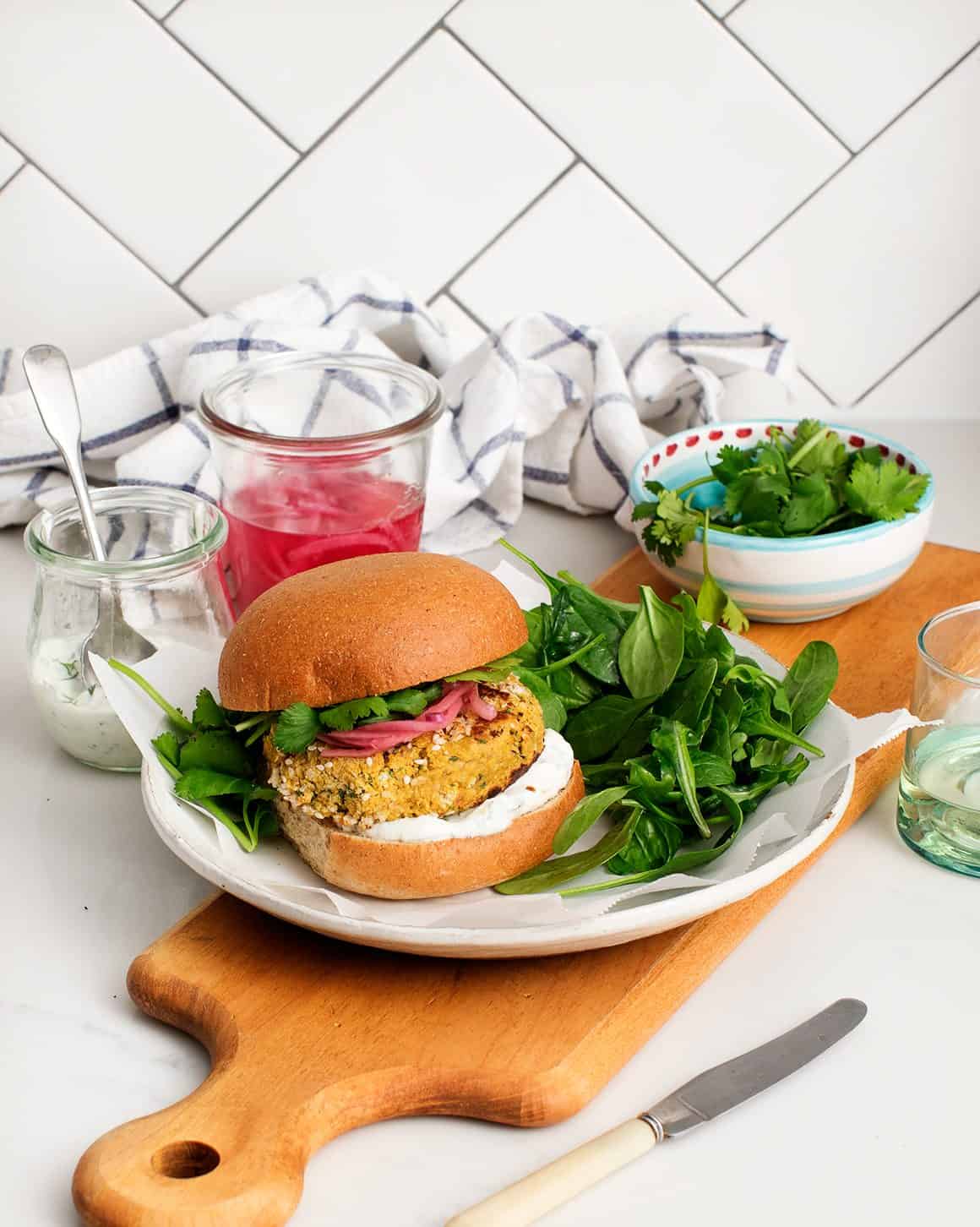 More Favorite Patties and Burgers
If you love this falafel burger recipe, check out Pretty Simple Cooking! This book is for anyone who feels intimidated to step into the kitchen, because Sonja has such encouraging lessons about life, love, and food. It's also for food lovers of any level looking for creative recipes to up their veggie game.
In the meantime, try one of these veggie burger, patty, or sandwich recipes next:
Falafel Burgers
Author:
Sonja and Alex Overhiser
Ingredients
For the Falafel:
2 15-ounce cans chickpeas (3 cups cooked)
¼ cup sesame seeds
6 medium garlic cloves
1 medium red onion
2 large carrots
1 cup packed cilantro leaves and tender stems
¾ cup whole wheat flour
4 teaspoons cumin
4 teaspoons coriander
¼ teaspoon cayenne
1½ teaspoons kosher salt
1 teaspoon freshly ground black pepper
2 tablespoons extra-virgin olive oil
For the Dill Yogurt Sauce:
2 small garlic cloves
2 tablespoons chopped fresh dill
¼ cup lemon juice (1 large lemon)
2 cups whole milk plain Greek yogurt
2 tablespoons extra-virgin olive oil
½ teaspoon kosher salt
For Serving:
pickles or pickled onions
cilantro, lettuce or sliced cucumber
8 toasted hamburger buns
Instructions
Preheat the oven to 375°F.
Make the burgers: Drain and rinse the chickpeas. Blot them with a paper towel or clean dish towel to remove any extra moisture, then place them in the bowl of a large food processor. Add the sesame seeds and process for a minute or so until a paste-like consistency is formed (if necessary, stop and scrape the sides of the bowl, and process again). Scrape the mixture into a large bowl.
Peel the garlic, red onion, and carrots. Chop the onion and carrot in rough chunks. Add the garlic to the food processor and process until finely chopped. Add the carrot and onion and pulse several times until finely chopped. Add the cilantro to the processor and pulse a few more times until chopped.
Scrape the vegetables into the bowl with the chickpeas. Stir in the flour, cumin, coriander, cayenne, kosher salt, and black pepper. Mix with a spoon or with your hands until fully combined, then form 8 round patties and place them on a baking sheet.
In a large skillet, heat 1 tablespoon olive oil over medium-high heat. Add 4 of the burgers and fry them for 1 to 2 minutes per side, until golden brown. Remove the cooked burgers and place them back on the baking sheet. Wipe out the pan, add an additional drizzle of oil, and fry the remaining 4 burgers, keeping in mind that the pan will be hotter and the cooking time slightly quicker for the second batch.
Once all burgers are browned, place them in the oven on the baking sheet and bake 15 minutes on one side, then flip and bake another 15 minutes. Remove from the oven and place on a wire rack to cool for at least 10 minutes.
Make the sauce: Peel and finely mince the garlic. Chop the dill. Juice the lemon. In a small bowl, stir together the garlic, dill, lemon juice, Greek yogurt, olive oil, kosher salt, and 2 tablespoons water. Store leftovers in a sealed container in the refrigerator for to 2 weeks.
Assemble the burgers with the yogurt sauce and desired fixings.
Notes
Store leftover burgers refrigerated for up to 5 days, or frozen in an airtight container or plastic bag. To reheat, heat straight from the refrigerator or freezer in a 375°F oven until crispy and heated through; about 8 minutes for refrigerated burgers and about 15 minutes for frozen burgers.