This baked eggplant Parmesan recipe will become one of your family favorites! Crispy eggplant is layered with herbs, tomato sauce, and cheese.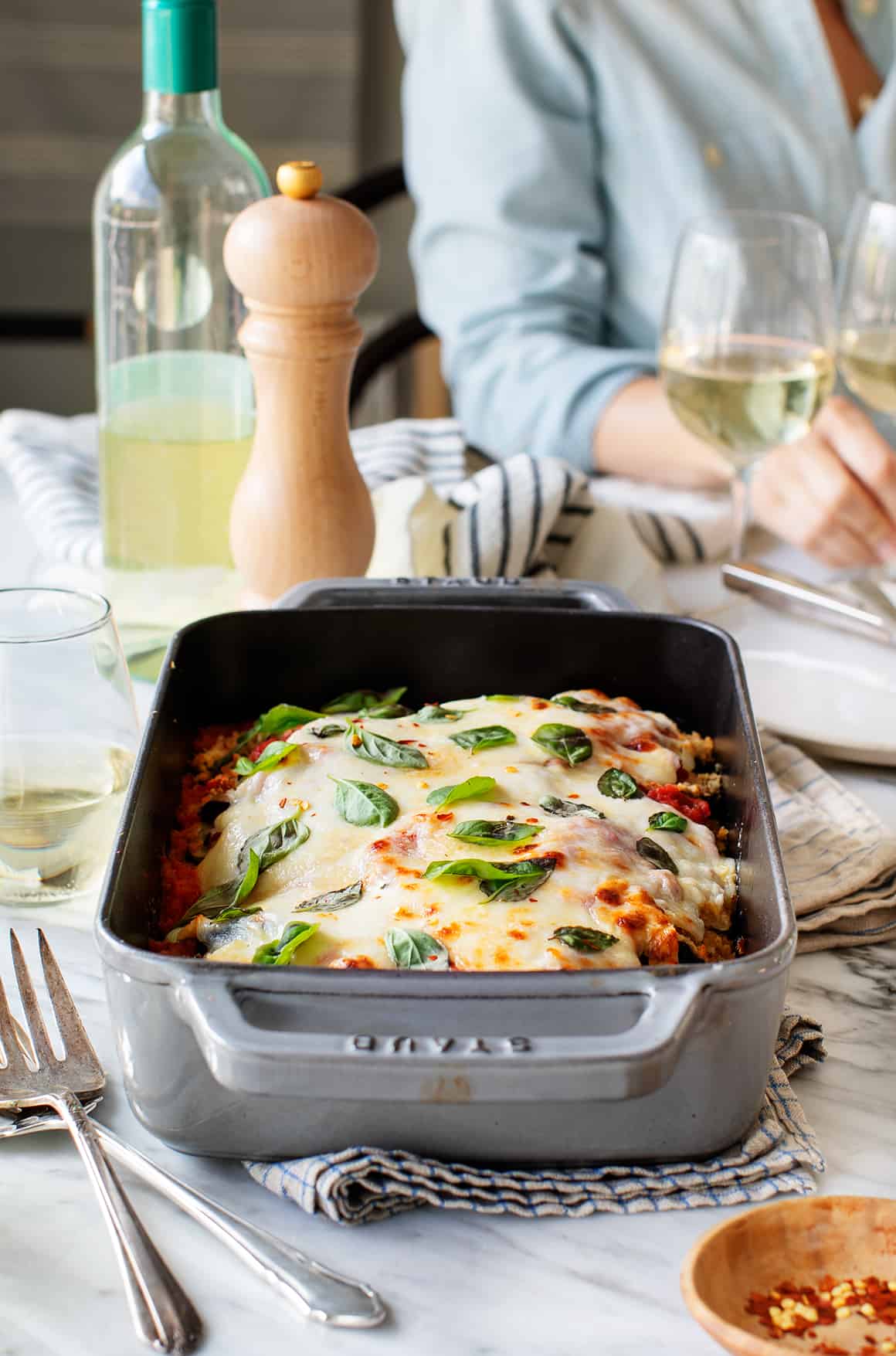 Growing up, my mom's eggplant Parmesan recipe was one of my favorite things to eat. My family ate dinner together every night, and my mom always cooked it from scratch. Tomato sauce never came from a jar, and cheese was never pre-shredded because convenience foods like that were simply not worth the extra expense. Dinnertime was a sound routine for all of us… unless it was summer.
Then, my sister and I had more important matters at hand. We had to keep lookout for the ice cream man, hold swing set jumping contests, and run relays in our jelly shoes. When my mom called us in for dinner, we rushed in and ate as fast as we could so that we could get back outside to play. Food was fine, but play was life. That is, unless the meal she was cooking was eggplant Parmesan. The amazing waft of saucy, cheesy goodness coming out of the oven was something to really get excited about… even if it meant coming in and savoring it for a few extra minutes before heading back out to play.
My Eggplant Parmesan Recipe
When Sub Zero, Wolf, and Cove asked me what living deliciously means to me, my mom's eggplant Parmesan and those warm summer family memories immediately came to mind. Because eggplant's in peak season, I thought it was the perfect time to develop an eggplant Parmesan recipe of my own. It's a delicious, lighter ode to my mom's classic recipe.
Just like my mom, I make my own marinara sauce by simmering crushed tomatoes over my Wolf cooktop for about 20 minutes. Then, for fresh, herbaceous flavor, I add generous pinches of oregano and thyme to the eggplant's Parmesan and panko coating. Instead of frying the breaded eggplant slices, I bake them until nicely crisp and golden brown. Finally, I layer them with the homemade marinara sauce and slices of fresh mozzarella. And of course, I can't resist topping the whole thing with big leaves of basil from our garden once it's out of the oven!
How to Make Eggplant Parmesan
Ready to make eggplant parm? Here's what you need to do:
Bread the eggplant. Mix together the herb, Parmesan, and panko coating in one shallow bowl, and whisk 2 eggs with a dash of almond milk in another. Dip each eggplant slice into the egg mixture before tossing it in the panko. Make sure the eggplant is well-coated on all sides!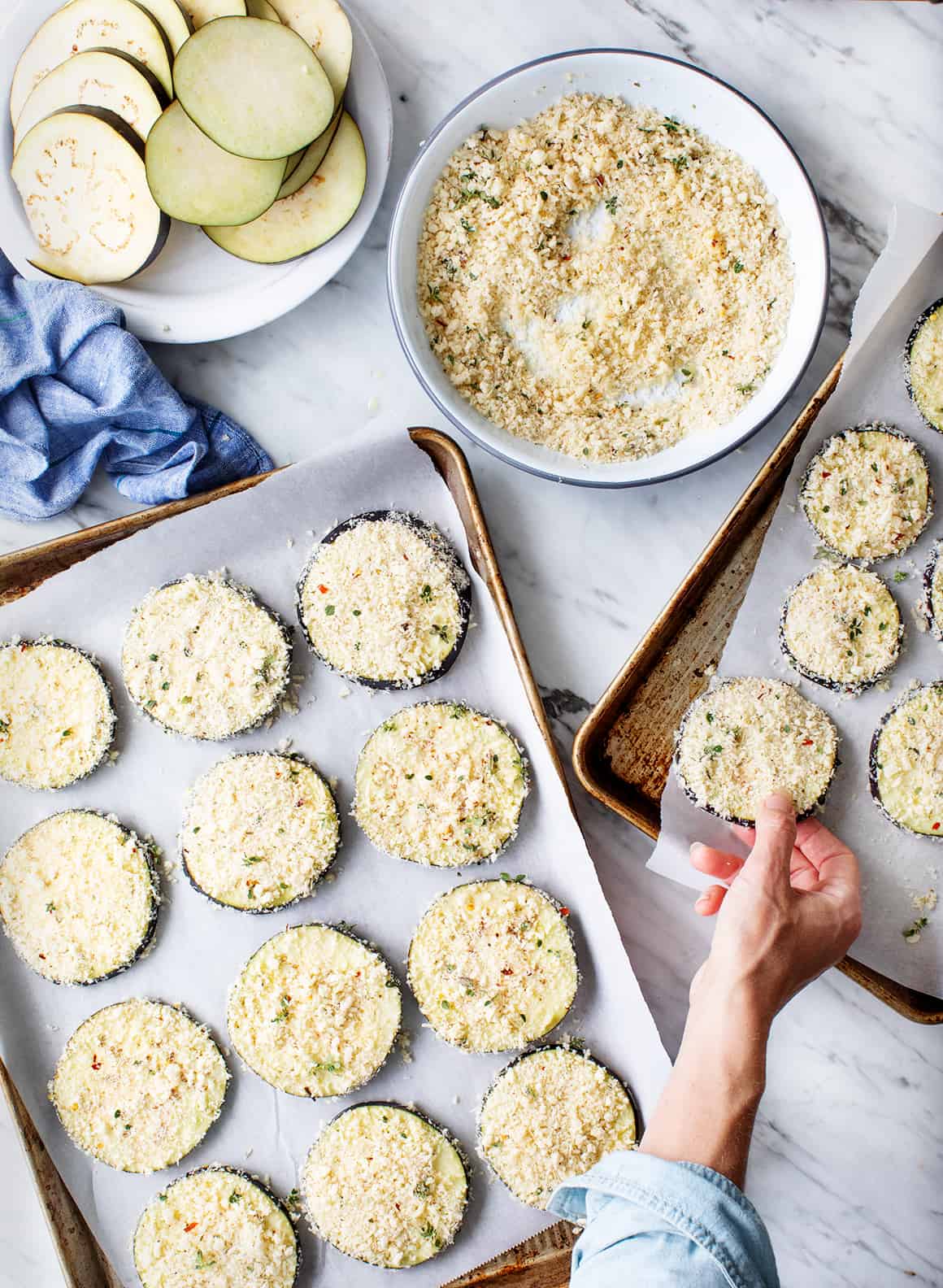 Bake the eggplant. Arrange the breaded eggplant slices in a single layer on 2 parchment-lined rimmed baking sheets. Drizzle with olive oil and bake at 400° until tender and golden brown. If you have a convection setting on your oven, I highly recommend using it here. When I use convection bake on our Wolf oven, the panko gets deliciously browned and crisp. I don't miss the traditional fried eggplant at all!
Layer it up! Spread some tomato sauce in the bottom of a large casserole dish. Add a layer of eggplant slices, more marinara, and half the sliced mozzarella. Repeat the layers, finishing it off with any remaining mozzarella and Parmesan cheeses.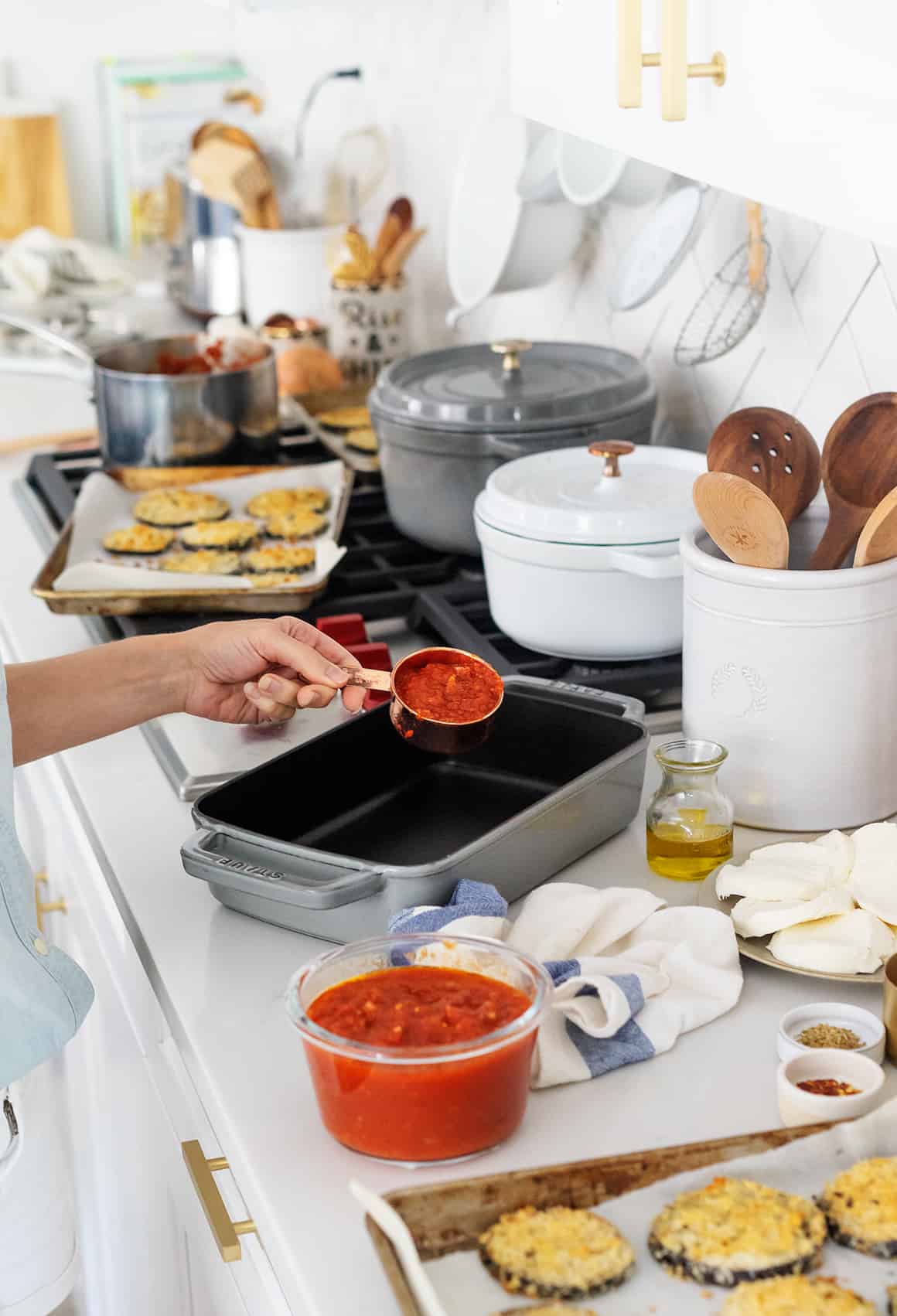 Bake! Bake at 400° for about 20 minutes, or until the cheese is starting to bubble. Then, turn on the broiler for a couple of minutes, so the cheese starts to brown in places.
Garnish and serve. Let the hot eggplant Parmesan rest for a few minutes before slicing and serving. Then, top it with fresh basil leaves and dig in!
Baked Eggplant Parmesan Recipe Tips
Slice the eggplant as evenly as you can. Even slices mean even cooking, so try to cut your eggplant slices to a consistent width. You don't want some pieces to overcook before others get tender! The same goes for the fresh mozzarella – cut it to a consistent thickness to get even melting and browning.
Freshly grate the Parmesan cheese. Your eggplant Parmesan will have more flavor if you get a nice chunk of Parmigiano Reggiano (or even pecorino cheese) and grate it yourself.
Get a nice, thick panko coating on the eggplant slices. In this recipe, some of the best texture and flavor come from the mix of panko, Parmesan, herbs, and red pepper flakes, so don't skimp on that yummy crispy coating!
Don't forget the olive oil! Make sure to drizzle the breaded eggplant slices with oil before they go in the oven. It's essential for getting the panko nicely golden brown and crisp.
Season between the layers. The overall seasoning of your eggplant Parmesan will depend on what marinara and Parmesan cheese you use. With my homemade marinara sauce, I like to add a sprinkle of salt and a few grinds of pepper between the layers of eggplant and cheese so that the final dish comes out well-seasoned.
Serving Suggestions
This eggplant Parmesan recipe is hearty enough to be a meal on its own, but if you're looking for something to go with it, you can't go wrong with pasta (or spaghetti squash or zucchini noodles!) or good crusty bread. When I make it for friends or family, I also like to pair it with a simple veggie side dish like roasted broccoli, cauliflower, or tomatoes, grilled zucchini, or any of these salad recipes:
For more salad ideas, check out this post!
More Favorite Dinner Recipes
If you love this baked eggplant Parmesan recipe, try one of these delicious dinner recipes next:
Love eggplant? Find more of my favorite eggplant recipes here.
Eggplant Parmesan
Learn how to make eggplant Parmesan with this delicious, lighter baked Eggplant Parmesan Recipe. It's perfect for serving a crowd, so make it for your next gathering or family dinner!
Instructions
In another medium-sized shallow dish, combine the panko, 1 cup Parmesan cheese, oregano, thyme, red pepper flakes, salt, and several grinds of pepper.

Dip the eggplant slices into the egg mixture and then into the panko mixture. Place onto the baking sheets, drizzle with olive oil, and bake for 18 minutes or until tender and golden brown.

In an 8x12 or 9x13-inch baking dish, spread ½ cup marinara, layer half the eggplant, and top with 1 cup of marinara and half the mozzarella. Repeat with the remaining eggplant, the remaining marinara, and the remaining mozzarella. Sprinkle with the remaining ¼ cup Parmesan cheese, drizzle with olive oil, and sprinkle with a few more pinches of sea salt. Bake for 20 minutes or until the cheese is nicely melted. Turn the oven to broil and broil for 2 to 4 or until the cheese is browned and bubbling.

Remove from the oven and top with fresh basil.
Special thanks to Sub Zero, Wolf, and Cove for partnering on this post!