cold cucumber soba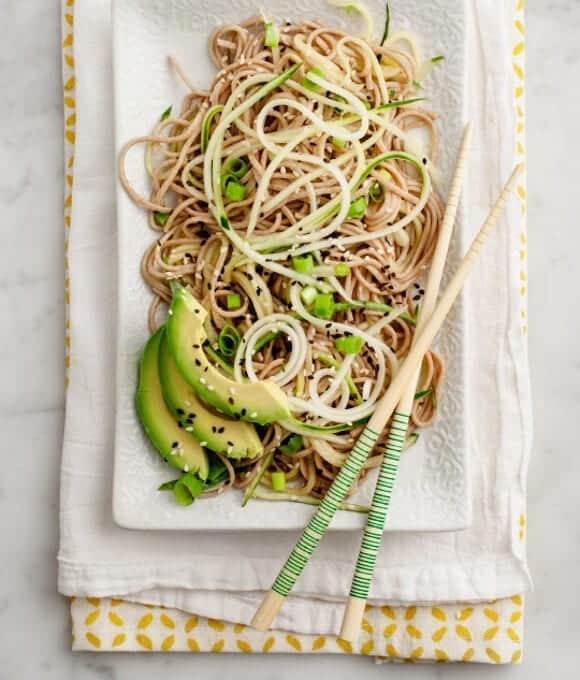 4-6 ounces soba noodles
1-2 tablespoons toasted sesame oil
2 medium cucumbers (or 1 large seedless cucumber)
¼ cup chopped scallions
1 tablespoon tamari or soy sauce
2 tablespoons rice vinegar
1-2 tablespoons ponzu sauce (or extra tamari & rice vin with a squeeze of lime)
avocado slices
sesame seeds
optional additions: tofu or a protein of your choice
optional: sriracha or chile flakes
Boil the soba noodles in salty water until al dente. Blanch them for 30 seconds in a bowl of cold ice water, then drain. Return them to the (empty) bowl and gently toss with a splash of sesame oil so they won't stick together while you finish everything else.
Thinly slice the cucumbers using a julienne peeler. (you could also use a mandolin or veggie spiraler). Discard the first peel (it will be all skin) and carefully make your slices around the seeded part in the middle.
Toss the cucumber slices and scallions with the soba noodles. And tamari, rice vinegar, and ponzu and toss again. Taste and adjust seasonings. Top with sliced avocado and sesame seeds. Serve cold.