spring salad & arugula hummus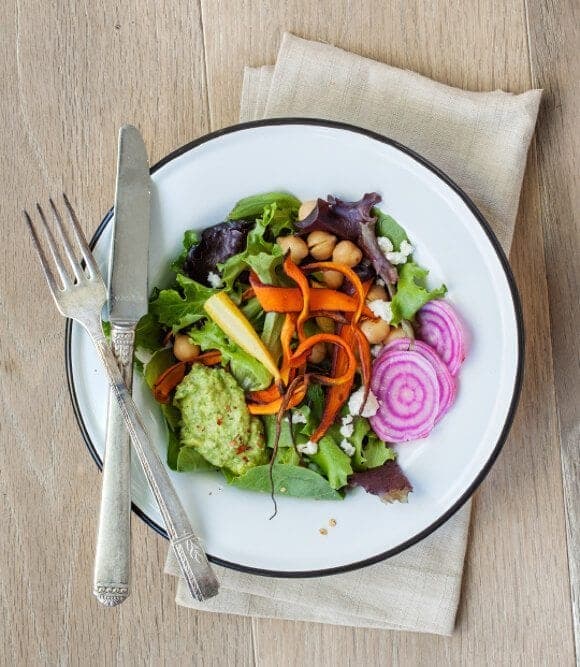 Serves:
salad serves 2, hummus makes about 1.5 cups
approx. 8 small carrots
olive oil
splash of balsamic vinegar
a few handfuls of baby spring greens
a few squeezes of lemon juice
½ cup cooked chickpeas
¼ cup crumbled feta cheese (omit if vegan)
1 beet, sliced thin
pinches of red pepper flakes
salt & pepper
dollop of arugula hummus, per plate
1 cup chickpeas, cooked and drained
¼ cup toasted pine nuts
2 handfuls of arugula leaves
juice of one lemon
3-4 tablespoons olive oil
salt & pepper
Preheat your oven to 400 degrees.
Roast the carrots: Using a vegetable peeler, peel 4 of the carrots into ribbons. Slice the other 4 in half, lengthwise, and chop into approx. 3-4 inch pieces. Place them separately on a baking sheet and toss with olive oil, a splash of balsamic vinegar, salt and pepper. Remove the ribbons from the oven after 8-10 minutes until they're slightly crispy and browned on the edges. Continue to roast the others until golden brown on the outside, about 15 more minutes.
Make the hummus:Place all ingredients in a food processor and blend. Taste and adjust seasonings to your liking.
Make the salad: Toss the spring greens with a little olive oil, lemon juice, salt & pepper. Add the chickpeas, feta, sliced beets and roasted carrots to the salad. Top with a spoonful of hummus and serve.
Recipe by
Love and Lemons
at https://www.loveandlemons.com/farmers-market-salad-arugula-hummus/