creamy leek & almond pasta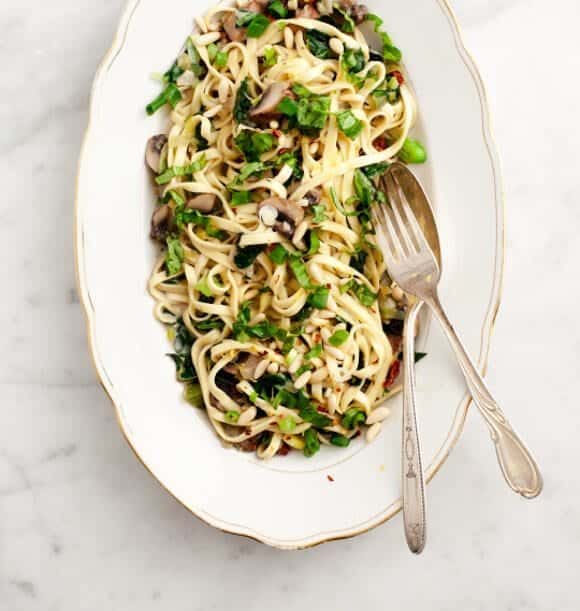 1-2 tablespoons olive oil
1 cup chopped leeks (white and light green parts)
1 cup chopped cremini mushrooms
1 large garlic clove, minced
¼ cup white wine
1 cup original unsweetened Almond Breeze Almond Milk
1 teaspoon corn starch
¼ cup grated pecorino cheese (vegan: sub nutritional yeast)
pinches of red pepper flakes (optional)
salt & pepper
8 oz. linguine pasta (reserve some of the pasta water)
2 cups chopped dandelion greens (or spinach)
juice of 1 small lemon + some zest
¼ cup chopped sun dried tomatoes
2 scallions, chopped
¼ cup pine nuts
handful of chopped fresh basil
salt & pepper
In a very small bowl, whisk together the corn starch with a few tablespoons of the almond milk until there are no lumps. Set aside.
Make your sauce. In a small saucepan, heat olive oil, leeks, mushrooms, garlic, salt & pepper. Cook until soft, 5-8 minutes.
Add the white wine to deglaze the pan. Stir once or twice and let the wine cook down for about 1 minute.
Add the almond milk, and some more salt. Bring to a gentle boil, then reduce to a simmer. Slowly pour in the corn starch mixture, stirring as you pour. Add the pecorino cheese. Let simmer, stirring often, until the milk reduces a bit. About 10-15 minutes.
Meanwhile start cooking your pasta.
When your pasta has about 1 minute left, heat a large skillet, add a bit of olive oil. Add your greens, scallions, sun dried tomatoes, and a pinch of salt. Cook until just barely wilted. Add a big squeeze of lemon. Add the pasta and the sauce to the pan and toss to mix it all together. Add some pasta water as needed to create desired consistency. Taste and adjust seasonings. Remove from heat and add another squeeze of lemon, pine nuts, lemon zest and fresh basil.
Fresh pasta was especially good here (find it in the refrigerated section of most gourmet markets). Or sub gluten free pasta, if necessary.


Recipe by
Love and Lemons
at https://www.loveandlemons.com/creamy-almond-pasta/