chocolate chip carrot cookies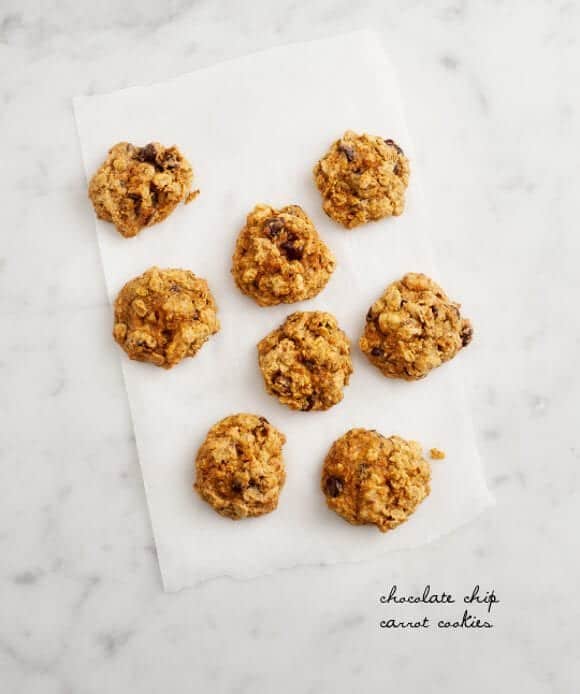 Serves:
about 12 small cookies
6 tablespoons flour (I used half spelt, half millet, but half white/wheat would work)
¼ teaspoon baking soda
¼ teaspoon salt
⅛ teaspoon freshly ground nutmeg
⅛ teaspoon cinnamon
½ tablespoon ground flax seeds plus 1.5 tablespoons warm water
½ cup grated carrots
¼ cup butter (or vegan butter or melted coconut oil)
3 tablespoons brown sugar
½ teaspoon vanilla
¼ cup oats
¼ cup chocolate chips
¼ cup walnuts
In a medium bowl, sift together the flour(s), baking soda, nutmeg, cinnamon and salt.
In a small bowl, mix the ground flax seeds with the warm water. Let that sit for a bit and then stir it after a few minutes until the mixture becomes a bit thick.
In a small food processor*, pulse the carrots until they're "grated" consistency (i.e., not pureed). Add in the butter, brown sugar, vanilla, and the flax seed mixture. Pulse until combined, scraping the edges a few times as you go. Gradually add the flour mixture into the food processor. Pulse until just combined, don't over mix.
Scrape your batter into a bowl (i.e., the one you just used for the flour). Refrigerate for 30 minutes.** Preheat your oven to 375 degrees and line a baking sheet with parchment paper.
Remove from the refrigerator and stir in oats, walnuts and chocolate chips. Using a tablespoon, scoop batter into balls and place on cookie sheet at least a few inches apart.
Bake for 10-12 minutes until golden brown and the edges become slightly crisp.
*If you don't want to use a food processor, grate the carrots by hand and whisk the wet ingredients together in a medium sized bowl.

*these are on the crumbly side, and I've found that chilling the batter before baking helps them to set.

Recipe by
Love and Lemons
at https://www.loveandlemons.com/chocolate-chip-carrot-cookies/