Sweet Potato & Brussels Skillet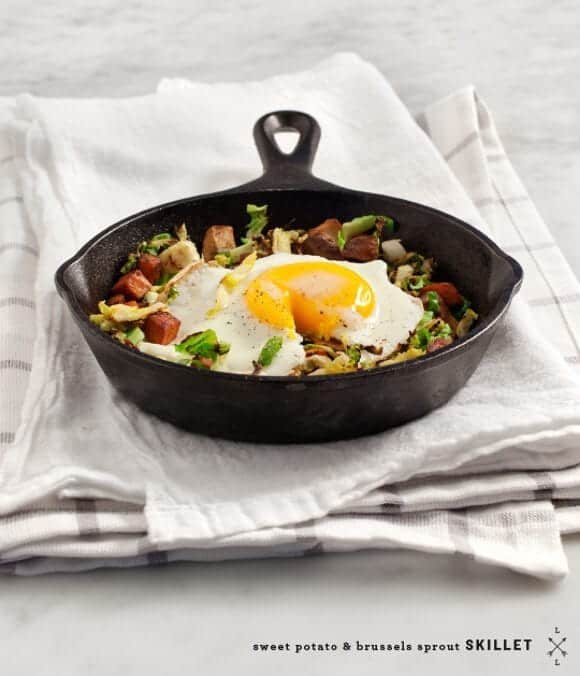 8 brussels sprouts, thinly sliced
Extra-virgin olive oil
Butter or olive oil
½ a medium sweet potato, diced small
Balsamic vinegar
1 cup chopped mushrooms (optional)
1 garlic clove, minced
2-3 chopped scallions, white and green parts
2-4 eggs (depends on how many you want per person)
Pinch of red pepper flakes (optional)
Sea salt and fresh black pepper
Optional on the side: toast, dollop of greek yogurt with lemon
Preheat oven to 400 degrees.
Heat a large skillet (cast iron or just a regular skillet), over medium heat. Coat the bottom with a little butter. Add brussels sprout slices and a pinch of salt. Let them cook on each side for about 2-3 minutes per side, or until they start to become golden brown on both sides (it's ok if a few of the loose pieces char a little). Remove them from the pan and just set them aside on a plate.
Add some olive oil to the pan, followed by the sweet potato cubes and another few pinches of salt & pepper. Leave them alone for a few minutes to develop a char on one side (about 5-8 minutes). Stir them and splash with balsamic vinegar. Add the garlic and mushrooms (if using) and continue cooking for another 5-10 minutes or so (if they're burning turn the heat down). Add approx. ¼ cup water to the pan and pop it in the oven until the potatoes are finished cooking (10-15 minutes, taste test a piece to check).
Remove from oven, toss the brussels sprouts on top. Stir in the scallions and a few red pepper flakes. Taste & adjust seasonings.
In a separate pan, cook your sunny side up eggs.
Plate the potato/brussels sprouts on individual plates (I served mine in individual mini-skillets) and top with an egg, a pinch of salt & pepper.
Recipe by
Love and Lemons
at https://www.loveandlemons.com/sweet-potato-brussels-sprout-skillet/