Cauliflower Puree with Chickpeas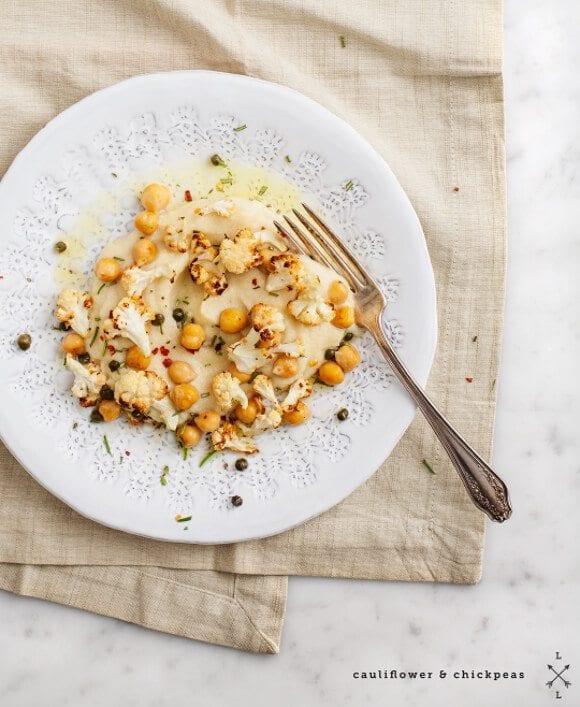 Serves:
2-3, scale accordingly
1 large cauliflower, broken into florets
3 garlic cloves
¼ cup vegan butter (or regular butter)
½ cup chickpeas, cooked & drained
1 tablespoon chopped rosemary
Squeeze of ½ to 1 whole lemon, plus some zest (to taste)
Sea salt and fresh black pepper
Milk or water to thin, or more chickpeas if necessary to thicken
1½ cups cauliflower, broken into small florets
1½ cups cooked (or canned) chickpeas, drained
Extra-virgin olive oil
Minced garlic
Sea salt and fresh black pepper
A few pinches chopped rosemary
A sprinkle of capers
An extra drizzle of olive oil
A few pinches of red pepper flakes
Preheat your oven to 400 degrees.
Meanwhile, bring a large pot of salted water to boil, boil 3 cups of the cauliflower florets until tender, about 10-20 minutes.
While the cauliflower is boiling, start roasting the rest of the cauliflower and the chickpeas. Prep 2 baking sheets with foil. Separately toss the chickpeas and cauliflower with olive oil, garlic, rosemary, salt & pepper. (I do this right on the baking sheet). Roast both in the oven until golden brown, about 25-35 minutes, checking halfway through.
Make the cauliflower puree: Drain the boiled cauliflower, and transfer to a high speed blender. Add the garlic, butter, ½ cup chickpeas, rosemary, lemon juice, salt, and pepper, and blend to form a smooth puree. Taste and adjust, adding more salt, pepper, and/or lemon as necessary. If yours is too thick, add some water or milk. If it's too thin, add some more chickpeas. The consistency should be thinner and lighter than hummus. (*note that I used a Vitamix. If you're using a regular blender yours might not be as smooth).
Plate with a generous scoop of the puree and top it with the roasted cauliflower, chickpeas, a drizzle of olive oil, capers, a few small pinches of red pepper flakes, and another pinch of rosemary. And an extra squeeze of lemon if necessary.
You can make the cauliflower puree up to one day in advance. The texture might change overnight in the fridge, and you might want to blend it again just before serving.
Recipe by
Love and Lemons
at https://www.loveandlemons.com/cauliflower-puree-roasted-chickpeas/