walnut-mushroom veggie burgers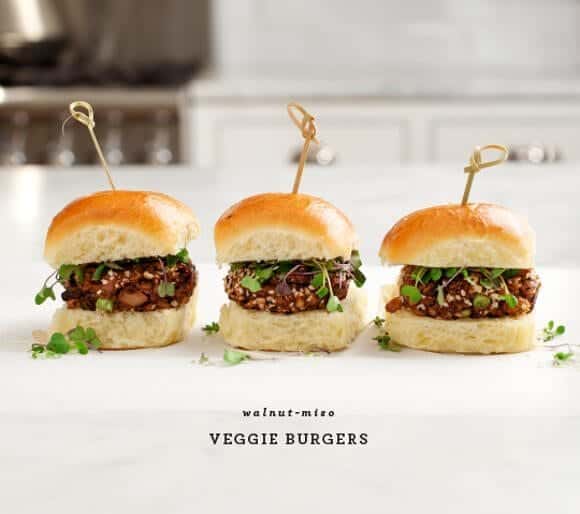 Serves:
makes about 6 mini-sliders (serves 2 people)
¼ cup walnuts, toasted and chopped
1 teaspoon miso paste
Extra-virgin olive oil, for drizzling
2 shallots, chopped
6 ounces mushrooms (mix of cremini & shiitake), chopped small
Splash of tamari sauce
½ teaspoon garlic powder
½ teaspoon onion powder
½ teaspoon Chinese five-spice powder
Splash of mirin (or rice vinegar)
¼ teaspoon honey
1 large egg, lightly beaten
½ cup panko bread crumbs, divided
2 to 3 teaspoons sesame seeds
6 soft mini slider buns
Chopped scallions
Sprouts
Sliced avocado
Mayo
Sriracha and/or ketchup
Crush the walnuts and miso together to form a chunky paste. Use a mortar & pestle if you have one.
In a medium pan, heat a drizzle of olive oil over medium heat. Add the shallots and let them cook down for about one minute. Add the mushrooms, tamari, garlic powder, onion powder and five-spice powder and stir. Cook until the mushrooms are cooked down, 5 to 8 minutes. Add a splash of mirin to deglaze the pan, then add in the walnut/miso paste mixture and drizzle with the honey. Stir everything together then remove from the heat and transfer to a medium bowl. Set it aside to cool for several minutes before adding the egg.
Stir in the egg and ¼ cup of the panko, and let the mixture chill in the fridge for 15 minutes.
Meanwhile, combine the remaining ¼ cup of panko and the sesame seeds on a shallow plate.
Remove the mixture from fridge and form into 6 small 3-inch patties. Lay each patty in the breadcrumbs, then spoon more over the tops to cover. Use your hands to firmly press them into shape. It's ok if they fall apart a little, but if they're falling apart too much, let the patties firm up in the fridge for another 10 minutes before you cook them.
Wipe out the pan you were using before and drizzle in a few tablespoons of olive oil over medium heat. Cook the patties for 2 to 3 minutes per side. Serve on buns with desired toppings.
I prefer these as mini's because they hold together better if they're small.

Optional: For a heartier burger mix in ¼ cup of pre-cooked brown rice before forming into patties.
Recipe by
Love and Lemons
at https://www.loveandlemons.com/walnut-mushroom-veggie-burgers/