chickpea & saffron stew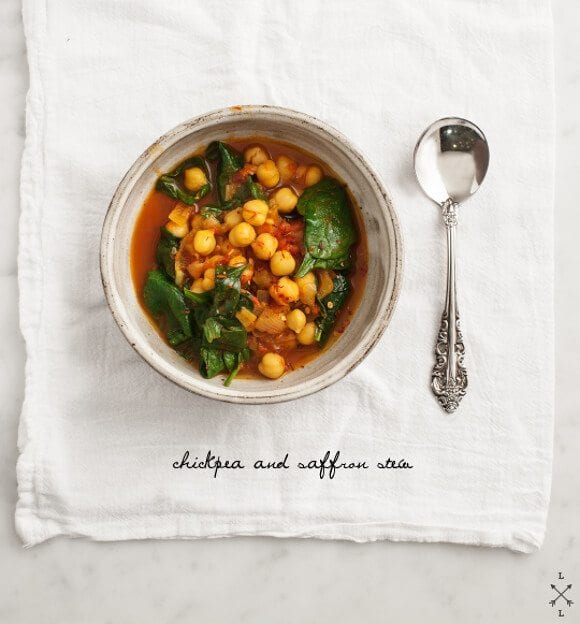 4 tablespoons olive oil
3 shallots (or 1 small onion), chopped
3-4 cloves of garlic
2 teaspoon cumin
3 teaspoons paprika (I used a combo of sweet & smoked, but use what you have)
2-4 tablespoons sherry vinegar (depending on how much tang you like)
1 28-oz can whole peeled tomatoes, use the tomatoes only, not the juice
2 or so teaspoons saffron
pinches of red pepper flakes
2-3 cups fresh chickpeas (or 2 cans, rinsed and drained)
2 cups veggie broth
4 cups baby spinach
salt & pepper
Drain tomatoes (save the juice they were in for something else). Place the whole tomatoes in a small bowl and gently break them apart with your hands. Set aside.
In a large pot, heat the olive oil and add the onions and a few pinches of salt. Let the onions cook on low to medium heat until translucent. About 5 minutes.
Add garlic, cumin & paprika, and cook for about 30 seconds more (don't let them burn).
Add 2 tablespoons of sherry vinegar and stir, getting off any small bits that are sticking to the bottom of the pot. Add tomatoes and cook (they should be bubbling) for another minute or so. Add the saffron, red pepper flakes, chickpeas & broth. Reduce heat and simmer for 20 minutes or so.
Stir in the spinach and let it wilt down for a few minutes. Taste and adjust seasonings. I usually add another tablespoon or two of sherry vinegar for more zing, but if zing isn't your thing, you can leave it be.
Serve with crusty bread and a glass of wine.
Refrigerate or freeze the leftovers - this is one that tastes better the next day.