miso-citrus cod en papillote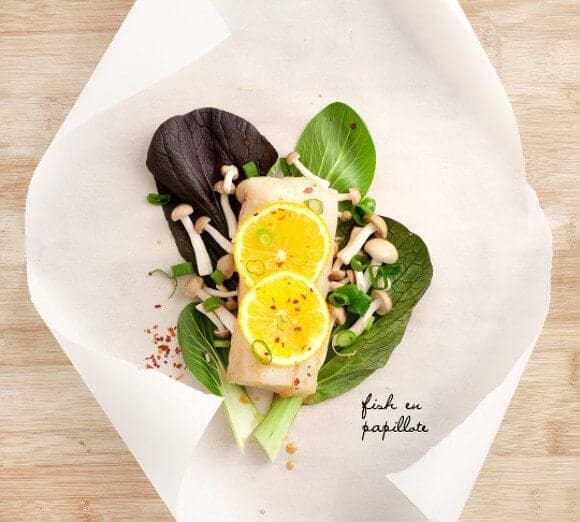 2 pieces of cod, about 5-6 oz each
5 or so leaves of bok choy, per serving
a few handfuls of mushrooms (hon shimeji or enoki)
small handful of chopped scallions
2-3 orange slices per serving
salt & pepper
2 large pieces of parchment paper. (about 18 inches wide – the larger the easier)
a few red pepper flakes (optional)
2 cloves garlic, minced
1 tablespoon miso paste
1 tablespoon soy sauce or tamari
1 tablespoon agave
2 tablespoons rice vinegar
1 tablespoon sesame oil
juice of ½ an orange (about 3 tablespoons)
splash of chile-garlic sauce (optional)
Preheat oven to 375 degrees.
Whisk all sauce ingredients together. Taste and adjust seasonings. Set aside.
Season fish with a little salt & pepper on both sides.
Place bok choy, mushrooms, fish, scallions and pour on about ONE QUARTER of the sauce. Top with orange slices, set aside and prepare your second piece of fish the same way.
Wrap up your parchment by folding the left and right of the paper toward the center, creasing the edges shut as tightly as you can. Next fold and crease the top and bottom edges toward the center. (The first fold will want to fall apart until you get the top and bottom folded).
Bake for about 10 minutes. Remove from the oven and Let it sit for 30 seconds to 1 minute. Open it and check for done-ness. It should be opaque on the outside and still slightly translucent in the center. If your fish is not all the way cooked, fold the paper shut again and let it sit and steam for another minute or two. (no need to put it back in the oven unless it's extremely underdone).
When your fish is done, pour the rest of the sauce over the top and serve.
*alternatively, you can bake everything in glass baking dish and cover it with foil. Note: don't wrap your fish in foil because the citrus will react with the foil and affect the taste.
Recipe by
Love and Lemons
at https://www.loveandlemons.com/miso-citrus-cod-en-papillote/