sesame & orange kale salad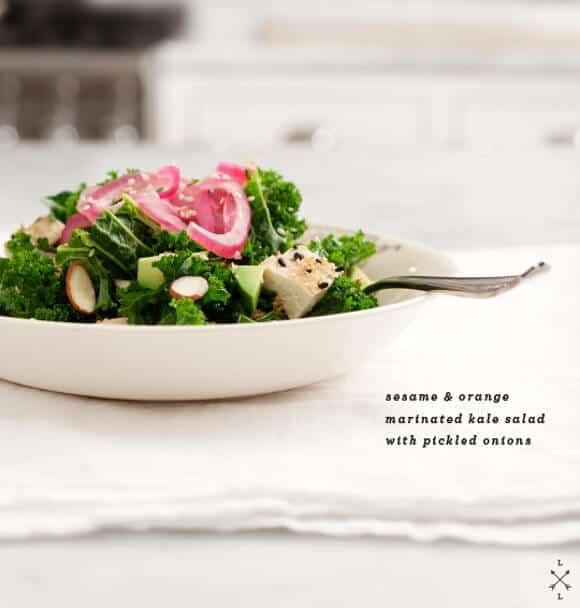 1 bunch raw kale, chopped into small pieces (about 5-6 loose cups)
¼ cup toasted slivered almonds
½ an avocado, chopped
miso-citrus dressing (below)
pickled red onions (below)
sesame tofu (below)
juice of 1 small orange (around 3-4 tablespoons)
1 tablespoon white miso paste
2 tablespoons rice vinegar
1 tablespoon agave (or honey or maple syrup)
3 tablespoons sesame oil
splash of sriracha
squeeze of lime
½ red onion
splash of rice vinegar
squeeze of lime
a few pinches of salt
1 block of tofu, sliced into about 8 slices
splash of soy sauce (tamari if gluten free)
splash of rice vinegar
splash of toasted sesame oil
sesame seeds & panko bread crumbs to coat
Pickled red onions: (make at least a few hours in advance) Thinly slice onions (on a mandoline if possible). Blanch in boiling water for 30-60 seconds. Remove and add vinegar, lime and salt. Chill for a few hours in the fridge (or pop them in the freezer to speed the process along, just don't forget about them).
Dressing: Whisk together the dressing ingredients, set aside.
Kale Salad: Place chopped kale leaves in a large bowl. Pour the dressing on top and (using your hands), massage the dressing into the kale for a minute or so. (This will help take away the bitterness of the leaves). Put the bowl in the fridge for at least 30 minutes -- this salad tastes better the longer you let it sit (up to a day).
Sesame Tofu: Slice your tofu and gently pat it with a clean towel to dab up some of the excess water. In an 8×8 square baking pan (with edges), mix together the soy sauce, rice vinegar, and sesame oil. Place the tofu slabs into the pan and flip them so you coat both sides. Set aside and let it marinate while you finish everything else (15-20 minutes or so). After it's marinated, sprinkle both sides of each with some sesame seeds and some panko bread crumbs. Heat a large skillet with some olive oil. When the oil is hot, cook tofu for 2-3 minutes per side. Let cool to room temp and chop into small cubes for the salad.
To serve, remove the salad from the fridge and taste and adjust seasonings. Add the avocado, tofu, sliced almonds, and some of the pickled onions.
Recipe by
Love and Lemons
at https://www.loveandlemons.com/sesame-orang-kale-salad/