Roasted Cauliflower Pasta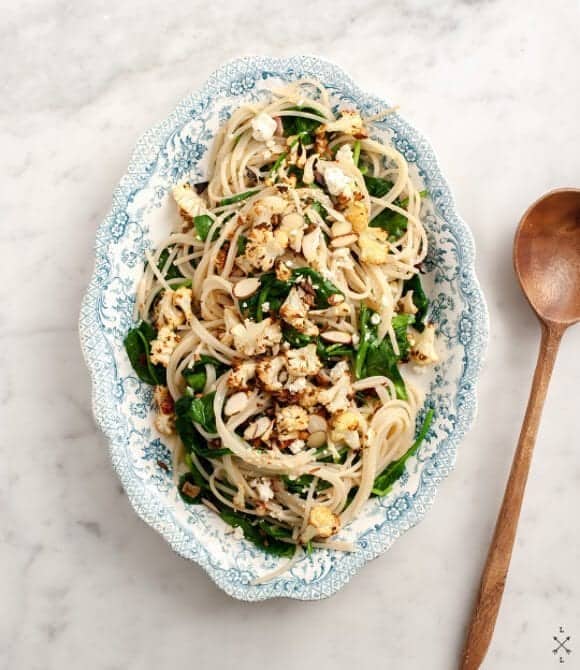 2-3 cups cauliflower florets
2 shallots, coarsely chopped
2 garlic cloves, very coarsely chopped
Extra-virgin olive oil
Sea salt and fresh black pepper
6 ounces spaghetti noodles (I like Jovial's brown rice noodles)
A handful or two of baby spinach
Hot pasta water (about ½ cup)
Extra-virgin olive oil
Squeezes of lemon & some lemon zest
¼ cup chopped sun dried tomatoes (or perhaps olives)
¼ cup crumbled feta (optional)
¼ cup chopped fresh basil (or herbs of your choice)
2 tablespoons sliced almonds, toasted
¼ cup bread crumbs, toasted (optional)
Pinch of salt
Pinch of red pepper flakes
Poached egg (optional)
Roast cauliflower, shallots, and garlic in a 450 degree oven for 20-30 minutes. Be sure not to chop your garlic too small or it will burn before the cauliflower is done. Once it's golden brown, remove from the oven. Mix it all together and taste a piece, it should taste nutty and delicious. If it doesn't, add a small drizzle of olive oil, a teeny bit more garlic, and a pinch of salt if necessary. Set aside.
Cook your pasta for about 8 minutes or until it's done but al dente. Place spinach in a large bowl, and scoop your pasta noodles into the bowl with the spinach and toss so the spinach begins to wilt. Add some pasta water to help that along.
Next add half the roasted veggies, another drizzle of olive oil, a good squeeze of lemon, some lemon zest, sun-dried tomatoes, feta, and basil, and toss everything together. Taste and adjust seasonings. Top with the rest of the roasted cauliflower and the toasted bread crumbs & almonds. (Serve with poached eggs if you like).
Recipe by
Love and Lemons
at https://www.loveandlemons.com/cauliflower-pasta/