asian clementine & cabbage salad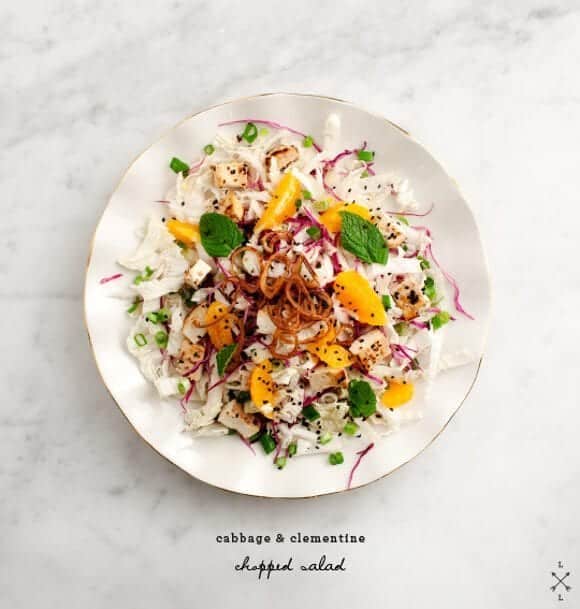 Serves:
serves 2-3 as a meal, 4 as a side dish
1 small napa cabbage, chopped thin (about 2 cups)
1 cup thinly sliced red cabbage
3-4 scallions, chopped
3-4 clementines, segmented (squeeze excess juice into the dressing)
a few sprigs of mint
sesame seeds, for garnish
3 tablespoons freshly squeezed clementine juice
2 tablespoons white miso paste
2 tablespoons rice vinegar
1 tablespoons honey (or agave, if vegan)
1 tablespoon sesame oil
splash of sriracha
1 block of tofu, sliced into about 8 slices
splash of soy sauce
splash of rice vinegar
splash of toasted sesame oil
sesame seeds & panko bread crumbs to coat
2-3 medium shallots, thinly sliced
vegetable oil
flour, for coating
Make the dressing: whisk together, taste and adjust seasonings.
Make the tofu: Slice your tofu and gently pat it with a clean towel to dab up some of the excess water.
In an 8x8 square baking pan (with edges), mix together the soy sauce, rice vinegar, and sesame oil. Place the tofu slabs into the pan and flip them so you coat both sides. Set aside and let it marinate while you finish everything else (15-20 minutes or so). After it's marinated, sprinkle both sides of each with some sesame seeds and some panko bread crumbs. Heat a large skillet with some olive oil. When the oil is hot, cook tofu for 2-3 minutes per side. Let cool to room temp and chop into small cubes for the salad.
Fry the shallots: After you slice your shallots, pat them dry with a clean towel. Toss shallots in a bit of flour. Heat a medium skillet with about ½ inch of oil. When the oil is hot, drop one slice in. If it bubbles you're ready to toss in the rest. If it burns, turn the heat down on your oil and test another. Fry the shallots for about 7-8 seconds each, remove and place on a plate with a paper towel to dry.
Assemble the salad: Toss everything (except the fried shallots and tofu) together with most of the dressing. This one is best if you let it sit in the fridge for 10 minutes or so before serving. Taste & adjust, adding more dressing and adjusting seasonings to your liking. Top with the chopped tofu and crispy fried shallots.
Recipe by
Love and Lemons
at https://www.loveandlemons.com/asian-clementine-cabbage-salad/