Ginger Miso Noodles with Eggplant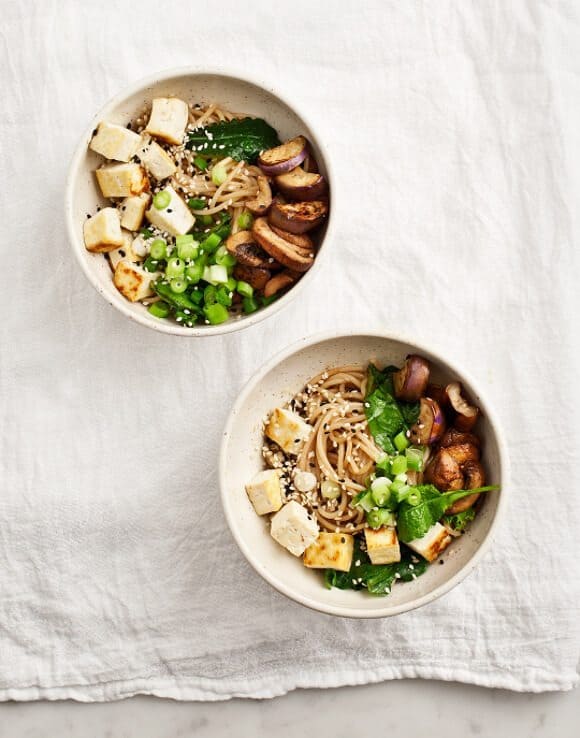 10 oz brown rice noodles (or soba noodles)
A few tablespoons extra-virgin olive oil, for the pan
1 (14 oz) package extra firm tofu, cubed
1½ cup sliced mushrooms (any kind)
1½ cup sliced (Japanese or Chinese) eggplants
A few handfuls greens, (ie, spinach, kale)
½ cup chopped scallions
Sesame oil, for drizzling
Sesame seeds, for garnish
Sea salt and fresh black pepper
2 tablespoons miso paste
2 tablespoons honey
2 tablespoons mirin (or sake, or rice vinegar)
1 teaspoon minced garlic
1 teaspoon minced ginger
⅔ cup low sodium veggie broth
Cook the noodles according to package directions, or until al dente. Set aside. If the noodles are done before the rest of your components are ready, toss them with a little oil while you drain them so they don't stick together while they sit to the side.
Make the sauce: Whisk together the miso, honey, mirin, garlic, ginger, and broth. Taste and adjust seasonings. Set aside.
Prepare your tofu by slicing and draining it on some paper towels. Dab the tofu to remove excess water.
Cook the tofu: Heat oil in a large skillet. Get your pan screaming hot and add the tofu. Leave it for 30 seconds or a minute, then toss it around, stir frying for a few more minutes until it is nice and golden. Remove the tofu from the pan and set aside.
Cook the mushrooms and eggplant: Using the same pan as the tofu (wipe out any burnt parts), add some more oil, heat the pan up again and add in the mushrooms and eggplant. Add just a little splash of the sauce (you'll add the rest at the end). Stir fry until browned and the mushrooms are soft. The time will vary depending on the heat of your stove, I cooked mine for a total of 8-10 minutes.
Turn the heat to low, add the noodles to the pan, and drizzle in more of the sauce. You might not use all of it (and it's on the sweet side), so start with about half, adding more later as you taste. Add the tofu back into the pan along with a few handfuls of greens and the scallions and toss everything together. Taste and add more of the sauce, or salt and pepper if you wish.
Remove from heat and serve, finishing with a drizzle of sesame oil and a sprinkle of sesame seeds.
Recipe by
Love and Lemons
at https://www.loveandlemons.com/ginger-miso-noodles-eggplant/