Baked Feta with Chickpeas & Kale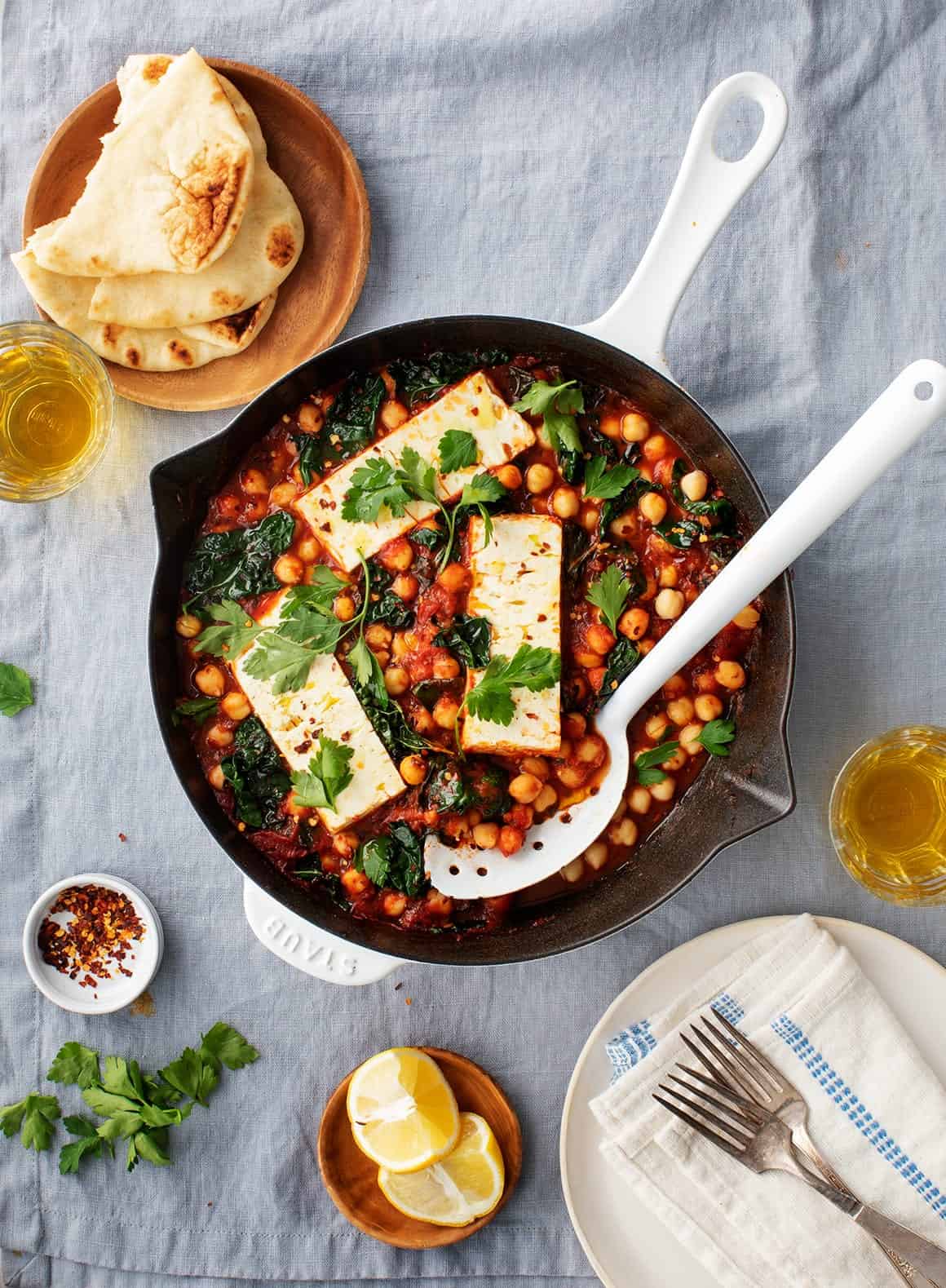 2 tablespoons extra-virgin olive oil, more for drizzling
1 teaspoon cumin seeds* (see note)
1 bunch lacinato kale, stems removed and torn into bite sized pieces
2 cups tomato sauce (this recipe is in the book)
1½ cups cooked chickpeas, drained and rinsed
1 tablespoon fresh lemon juice, plus wedges for serving
1 (12-ounce) block of feta, cut into ½-inch planks
freshly ground black pepper
pinch of red pepper flakes
warm pita or baguette, for serving
Preheat the oven to 350°F.
Heat a 10 or 12-inch oven-safe skillet over medium heat and add the oil. Add the cumin seeds and let them sizzle gently for a minute or two. Add the kale in batches, letting each handful shrink and wilt before adding the next.
When the last of the kale has wilted, add the tomato sauce, chickpeas, lemon juice, and ½ cup water. Stir and let it come to a simmer.
Nestle the feta slices into the sauce and sprinkle with freshly ground black pepper. Slide the skillet into the oven and bake until the feta has softened, about 15 minutes. Drizzle with olive oil and a pinch of red pepper flakes and serve with warm pita and lemon wedges.
Note: the original recipe called for 3 cups tomato sauce, which I thought was too saucy, so I ended up using 2 in my final version.

*If you use ground cumin, I recommend starting with ½ teaspoon and adding it in step 3 with the tomato sauce because it'll burn quicker than whole cumin seeds.
Recipe by
Love and Lemons
at https://www.loveandlemons.com/baked-feta-with-chickpeas-kale/