Vegan Meyer Lemon Chia Muffins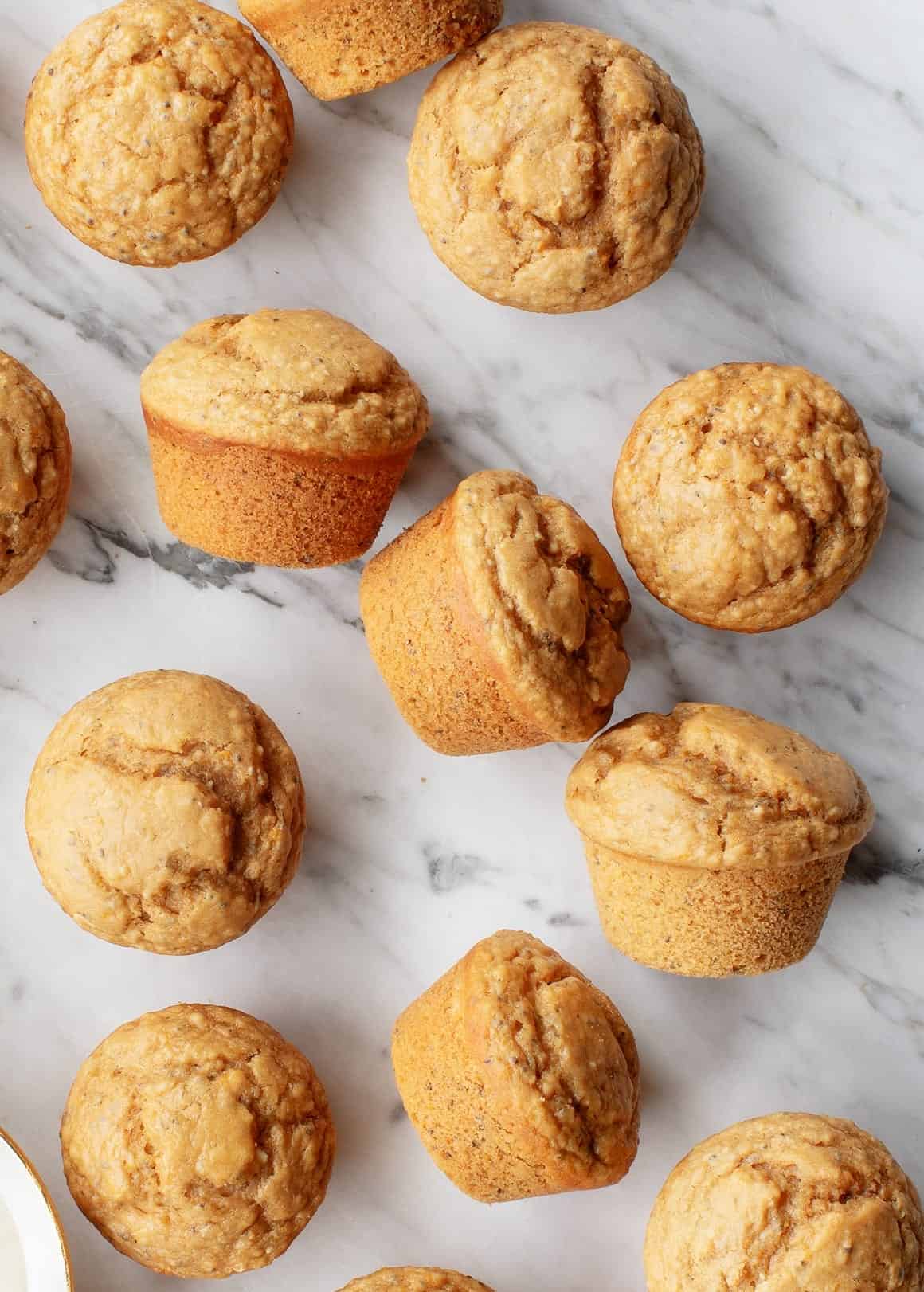 Recipe type:
Breakfast, snack
1 cup Friendly Farms AlmondMilk, Original
1 teaspoon Simply Nature Organic Apple Cider Vinegar
1¾ cups Baker's Corner All Purpose Flour
½ cup almond flour*
2½ teaspoons Baker's Corner Baking Powder
¼ teaspoon Baker's Corner Baking Soda
½ teaspoon Stonemill Sea Salt
½ cup + 2 tablespoons Simply Nature Organic Coconut Sugar
⅓ cup Specially Selected Premium Extra-Virgin Olive Oil
2 tablespoons Meyer lemon zest
3 tablespoons Meyer lemon juice
1 teaspoon Stonemill Pure Vanilla Extract
1 tablespoon Simply Nature Chia Seeds, more for garnish
½ cup Earth Grown Vegan Cream Cheese
2 tablespoons Meyer lemon juice
2 tablespoons Specially Selected Pure Maple Syrup
1 teaspoon Meyer lemon zest, more for garnish
Preheat the oven to 375°F and lightly oil a 12-cup non-stick muffin tin.
In a small bowl, combine the almond milk and apple cider vinegar. Set aside.
In a large bowl, whisk together the flours, baking powder, baking soda, and salt.
In a medium bowl, whisk together the sugar, olive oil, lemon zest, lemon juice, and vanilla. Stir in the almond milk mixture. Combine the wet ingredients with the dry ingredients and mix until just combined. Fold in the chia seeds and use a ⅓-cup measuring cup to scoop the batter into the muffin tins. Bake for 16 to 17 minutes, or until a toothpick inserted in the middle comes out clean. Let cool for 10 minutes in the pan, then transfer to a wire rack to finish cooling.
Make the glaze. Using a hand mixer or a food processor, mix the cream cheese, lemon juice, maple syrup, and lemon zest until smooth. Dollop onto the cooled muffins and garnish with chia seeds and lemon zest.
*Make your own almond flour by blending slivered almonds in a blender until they become a fine meal.
Recipe by
Love and Lemons
at https://www.loveandlemons.com/meyer-lemon-chia-muffins/