Baked Cheesy Cauliflower Dip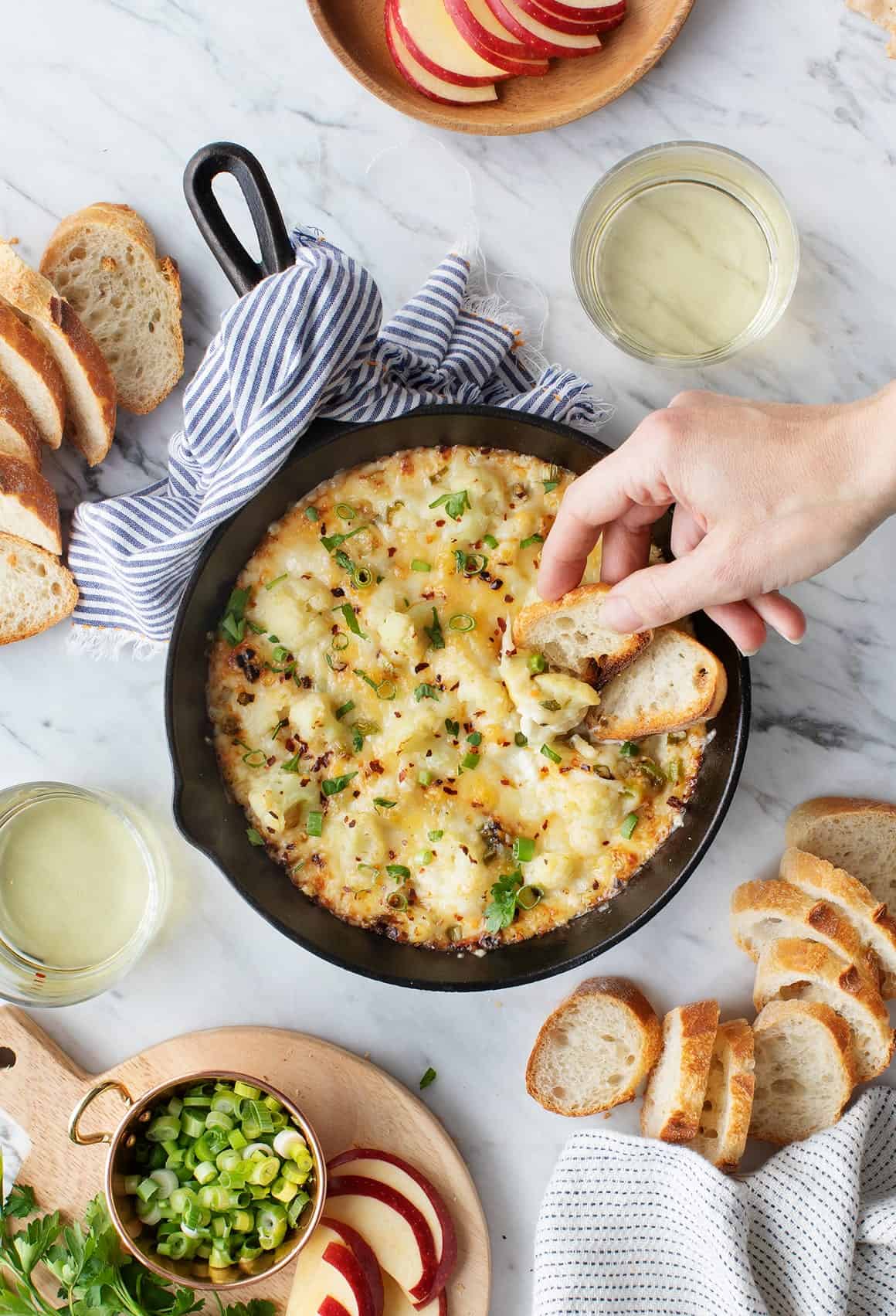 3½ cups small cauliflower florets (¾-inch pieces)
2 small garlic cloves
½ cup whole milk Greek yogurt
1½ tablespoons extra-virgin olive oil, more for brushing
Heaping ½ teaspoon Dijon mustard
Scant ½ teaspoon sea salt
⅓ cup chopped scallions
¾ cup grated Roth Grand Cru
Pinches of red pepper flakes
Toasted or warmed baguette, crackers, and/or apple slices, for serving
Chopped parsley for garnish, optional
Bring a large pot of salted water to a boil. Add the cauliflower and garlic and boil until the cauliflower is fork tender, about 8 minutes. Use a slotted spoon to scoop ¾ of the cauliflower and the garlic into a blender (set the remaining florets aside). Let cool completely before adding the remaining ingredients to the blender. Meanwhile, preheat the oven to 450°F and brush an 8-inch cast iron skillet lightly with olive oil.
Add the yogurt, olive oil, mustard, and salt to the blender and blend until creamy.
Spread the cauliflower mixture into the skillet and top with half the scallions, half the reserved cauliflower florets, the cheese, remaining cauliflower florets, remaining scallions, and pinches of red pepper flakes. Bake 15 to 18 minutes, or until the cheese on top is browned and bubbling.
Serve with baguette, crackers, and/or apple slices.
Recipe by
Love and Lemons
at https://www.loveandlemons.com/cauliflower-dip/