Kale & Olive Oil Vegan Mashed Potatoes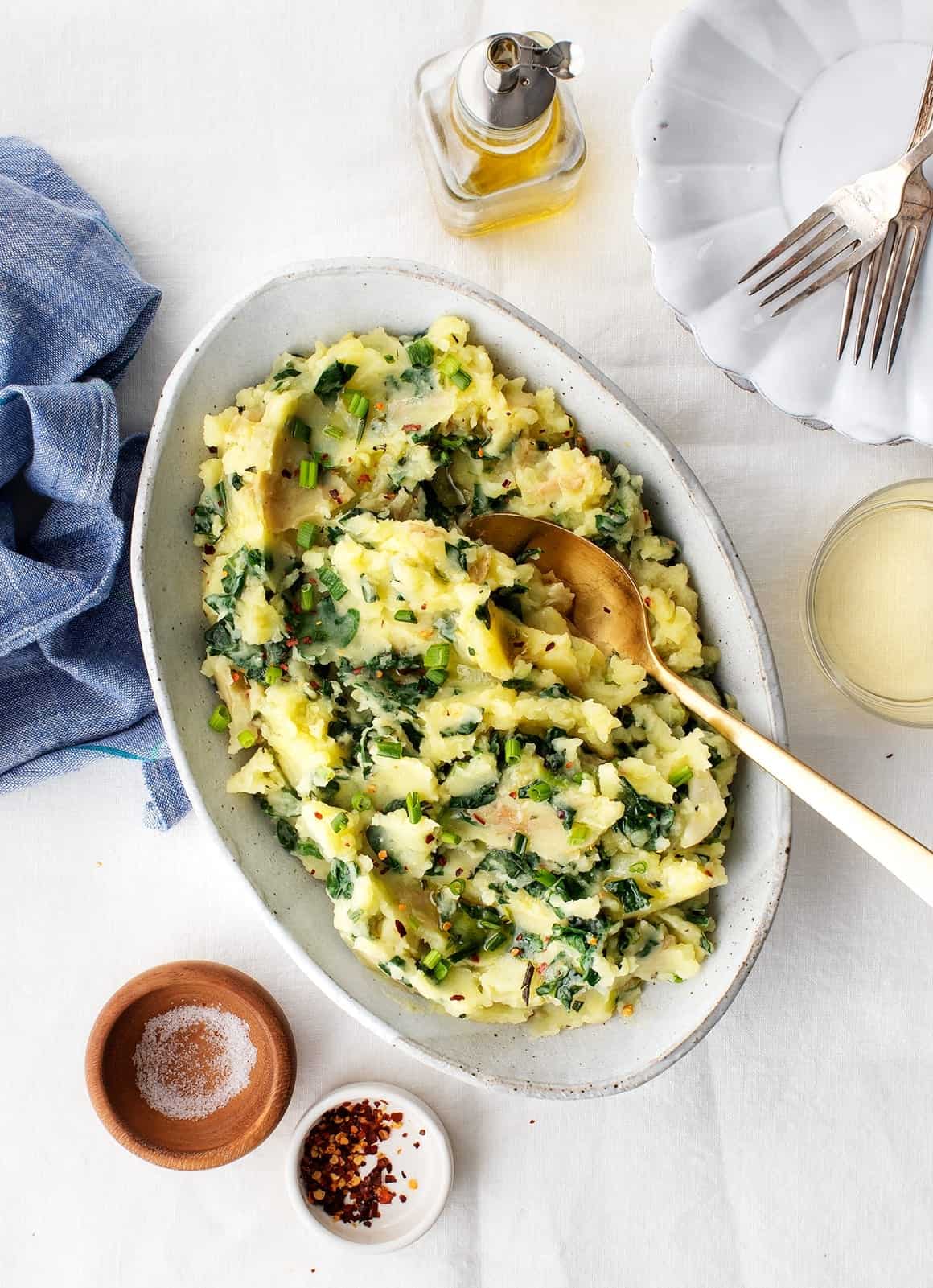 2 pounds unpeeled yellow potatoes (or Yukon Gold), cut into 1 inch pieces
4 garlic cloves, peeled
⅓ cup extra-virgin olive oil, more for drizzling
¼ cup chopped scallions
4 cups finely chopped kale (1 small bunch)
2 tablespoons minced fresh rosemary
Sea salt and freshly ground black pepper
Pinches of red pepper flakes (optional)
Place the potatoes, garlic, and 1 teaspoon salt in a large pot and fill with enough water to cover the potatoes by 1 inch. Bring to a boil and cook until fork tender, about 15 minutes. Drain, reserving 1 cup of the cooking liquid.
Heat ½ teaspoon olive oil in a medium skillet. Add the scallions and kale, and cook until wilted, 1 to 2 minutes. Set aside.
Use a potato masher to coarsely mash the potatoes and garlic. Use a rubber spatula to fold in the ⅓ cup olive oil, ½ cup of the reserved cooking liquid, the kale, scallions, rosemary, ½ teaspoon salt and freshly ground black pepper. Continue folding until creamy, adding up to ½ cup more cooking liquid and additional drizzles of olive oil, if desired. Season to taste with up to ½ teaspoon more salt, and pinches of red pepper flakes, if desired. Serve hot.
Recipe by
Love and Lemons
at https://www.loveandlemons.com/kale-olive-oil-vegan-mashed-potatoes/