Butternut Squash Pasta with Chili Oil, Feta & Mint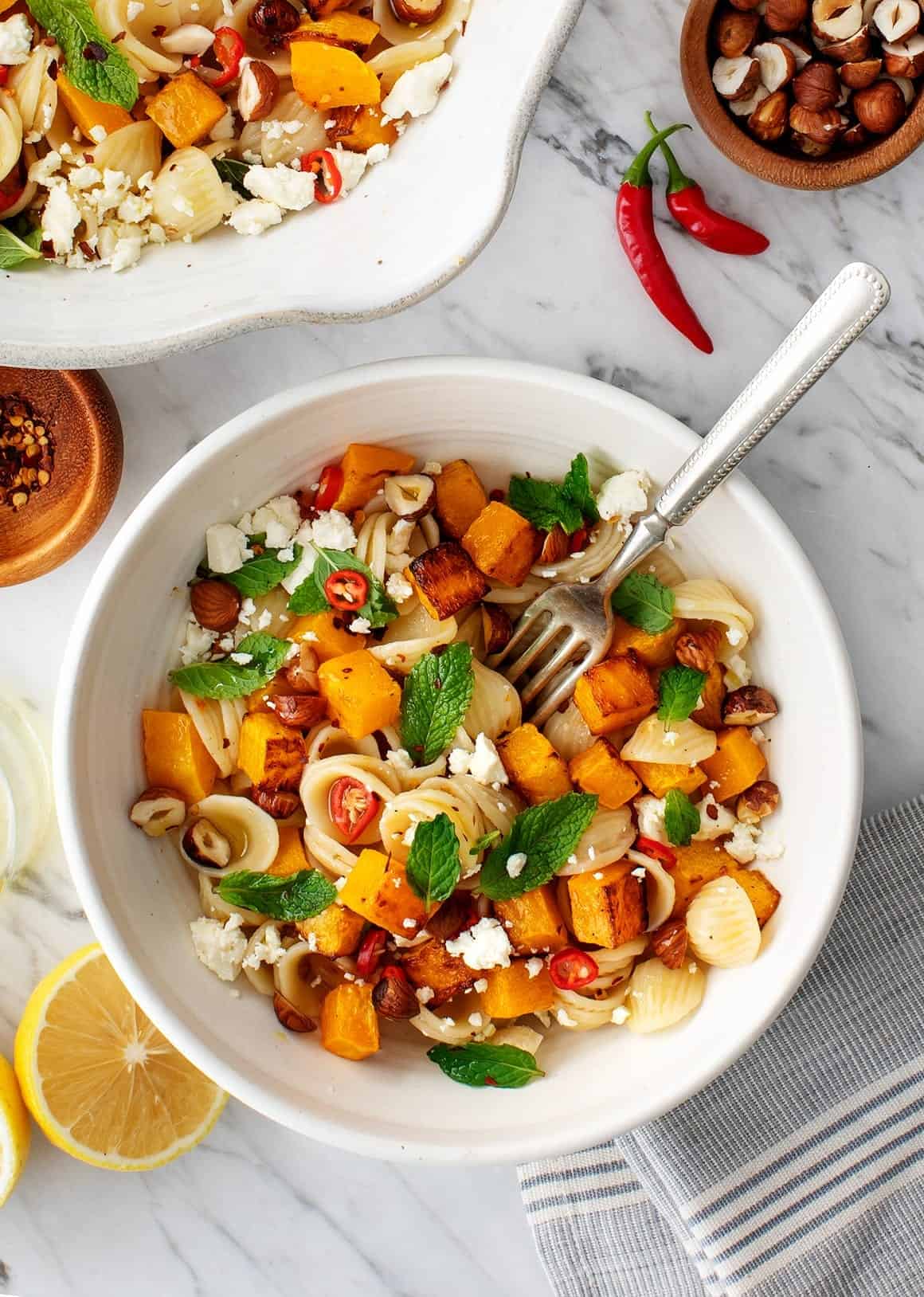 3 cups cubed butternut squash
2 tablespoons extra-virgin olive oil, divided, plus more for drizzling
12 ounces orecchiette pasta
2 garlic cloves, thinly sliced
2 small red Thai chili peppers*
Pinches of red pepper flakes
¼ cup fresh lemon juice
½ cup crumbled feta cheese
⅓ cup chopped hazelnuts, toasted
⅓ cup fresh mint leaves
½ teaspoon sea salt, more for sprinkling
Freshly ground black pepper
Preheat the oven to 425°F and line a large baking sheet with parchment paper. Place the squash on the sheet and drizzle with olive oil and pinches of salt and pepper. Roast for 22 to 25 minutes or until the squash is tender and golden brown around the edges.
Cook the pasta according to the package directions, or until al dente. Drain and transfer to a large bowl.
Heat 1 tablespoon of the oil in a small skillet over low heat. Add the garlic, chiles, and red pepper flakes. Stir and cook for 1 minute, or until the garlic is cooked but not burned. Remove from the heat and drizzle the chili oil over the cooked pasta. Add the lemon juice, ½ teaspoon salt and freshly ground black pepper and toss. Add the butternut squash, feta, hazelnuts, mint, and the remaining 1 tablespoon olive oil, and toss again. Season to taste and serve. Drizzle with more olive oil, if desired.
*If you don't have Thai red chiles increase the red pepper flakes to ¼ to ½ teaspoon, depending on your spice preference.

Make this gluten free by using gluten free pasta.
Recipe by
Love and Lemons
at https://www.loveandlemons.com/butternut-squash-pasta-with-chili-oil-feta-mint/