Guacamole Beyond Burgers w/ Spicy Sweet Potato Wedges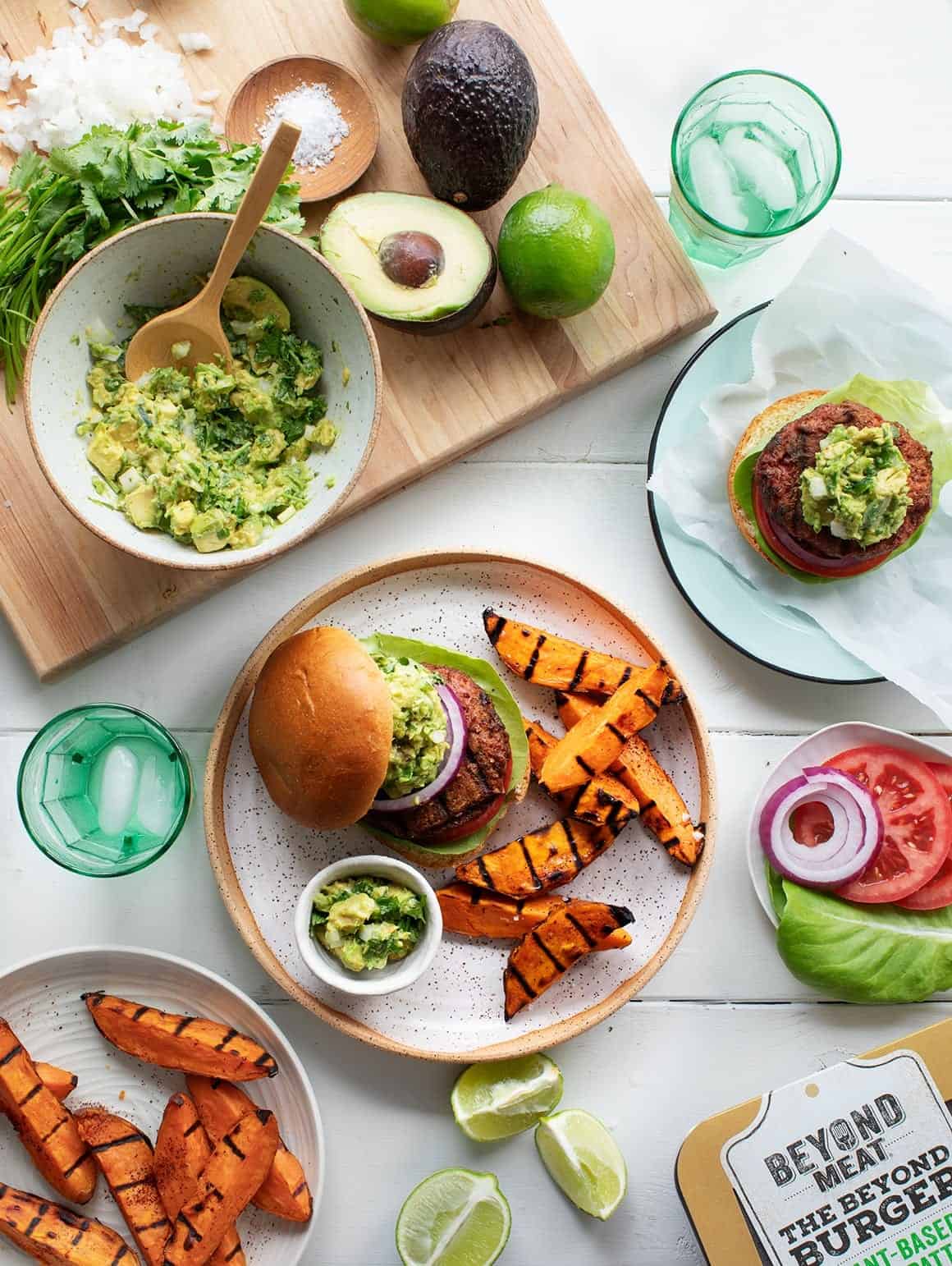 3 small sweet potatoes
Extra-virgin olive oil, for drizzling
Pinches of chili powder
Pinches of smoked paprika
Pinches of cayenne pepper, optional
Sea salt and freshly ground black pepper
2 ripe avocados
Juice of 1 lime, more if desired
¼ cup diced white onion
⅓ cup chopped cilantro, including stems
½ to 1 jalapeño, diced
Pinch of cumin
Sea salt (I prefer coarse sea salt for guacamole)
4 to 6 Beyond Burgers
4 to 6 hamburger buns
Sliced red onion
Sliced tomato
Butter lettuce
Bring a large pot of water to a boil and parboil the sweet potatoes until they're barely fork tender. Remove from the water. When cool to the touch, slice into wedges.
Make the guacamole: In a medium bowl, combine the avocados, lime juice, onion, cilantro, jalapeno, cumin, and pinches of sea salt. Mash until combined. Season to taste.
Preheat a grill to medium heat. Drizzle the sweet potatoes with olive oil and pinches of salt and pepper. Place on the hot grill and grill 5 to 6 minutes per side, or until well charred. Grill the Beyond Burgers according to the package directions, about 3 minutes per side.
After removing the sweet potatoes from the grill, sprinkle with the chili powder, smoked paprika, cayenne, and more salt to taste.
Serve the Beyond Burgers with the guacamole, desired fixings, and sweet potato wedges.
Note: To bake the sweet potato wedges in the oven: Skip the parboiling process. Preheat the oven to 400°F and line a baking sheet with parchment paper. Drizzle the potatoes with olive oil, salt, and pepper, and bake 35 minutes or until browned around the edges. Sprinkle with the spices and season to taste.
Recipe by
Love and Lemons
at https://www.loveandlemons.com/guacamole-beyond-burgers-w-spicy-sweet-potato-wedges/