Cucumber Gazpacho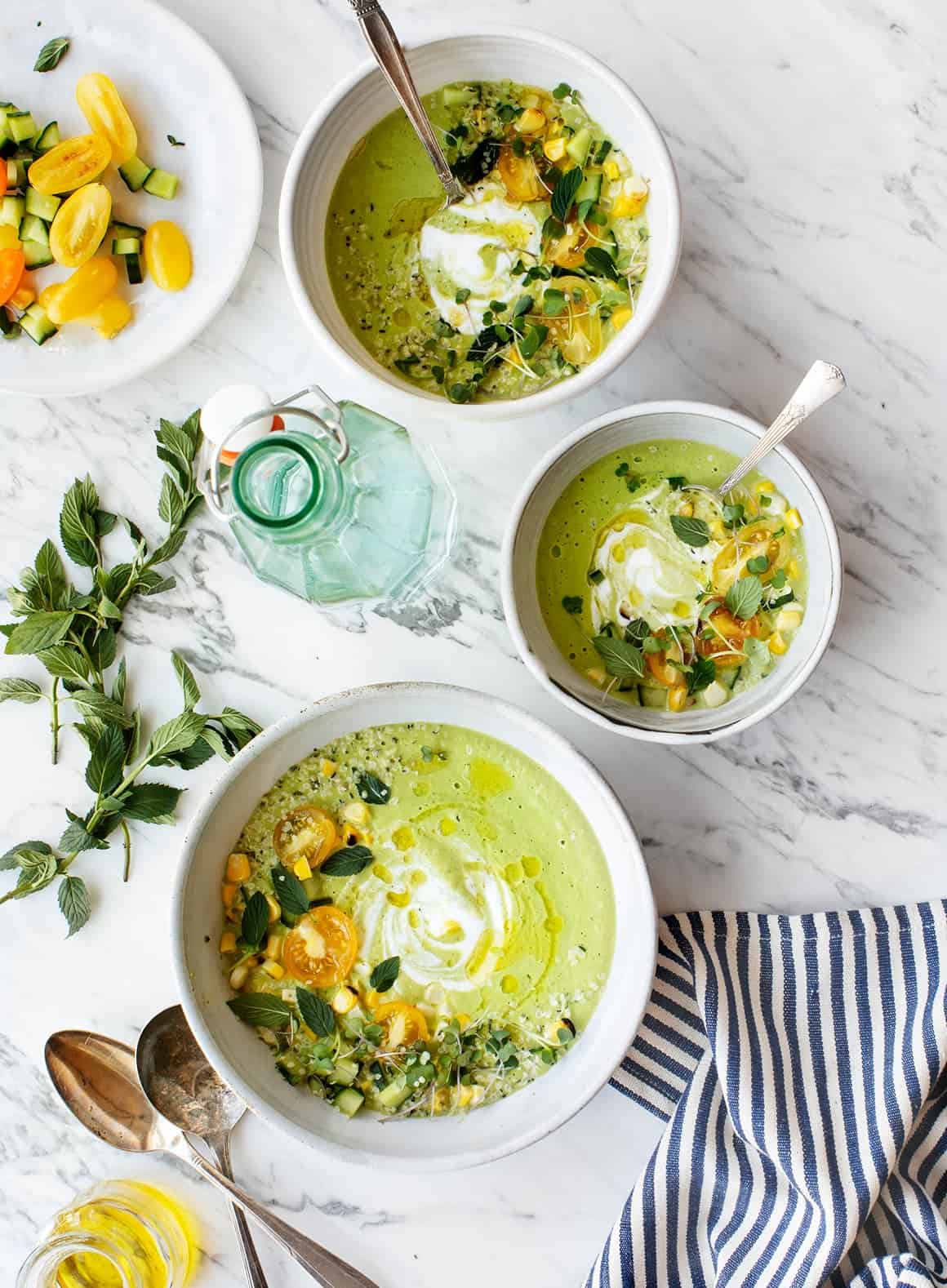 1 pound tomatillos (8 medium)
¼ white onion
2 whole unwrapped garlic cloves
¼ to ½ jalapeño pepper
¼ cup Arbequina extra-virgin olive oil from Spain, more for drizzling
½ English cucumber, chopped
½ cup packed cilantro
2 tablespoons lime juice
½ to 1 teaspoon sea salt
½ teaspoon honey or pure maple syrup
¼ cup plain whole milk Greek yogurt
¼ cup plain whole milk Greek yogurt
1 teaspoon lime juice
2 teaspoons water
pinch of sea salt
extra-virgin olive oil, for drizzling
kernels from 1 ear of corn, lightly charred
1 cup finely diced cucumber
½ cup yellow cherry tomatoes, sliced in half
fresh herbs (mint or cilantro)
microgreens
1 tablespoon hemp seeds
Preheat a grill to medium-high heat. On a plate or small baking sheet, toss the tomatillos, onion, garlic, and jalapeño with drizzles of olive oil and a few pinches of sea salt. Wrap the garlic cloves in a piece of foil and place all the vegetables directly on the grill. Grill 4 to 5 minutes per side, or until the tomatillos are soft, charred, and just starting to burst, and the onion and jalapeño are charred and soft. Remove from the grill and unwrap the garlic. Let cool, then chill completely. (This step can be done in advance.)
In a blender, combine the chilled tomatillos, onion, garlic, ¼ of the jalapeño pepper, ¼ cup of olive oil, cucumber, cilantro, lime juice, ½ teaspoon salt, honey, and the yogurt. Blend until smooth. Season with more salt, if desired (I add ½ teaspoon). Taste and add the remaining jalapeño, if desired, for more spice. Chill the soup until ready to serve.
Make the yogurt drizzle: In a small bowl, mix the yogurt, lime juice, water, and a pinch of sea salt.
Serve the soup with the yogurt drizzle and any desired garnishes.