Asparagus Ribbon Mint Pesto Toasts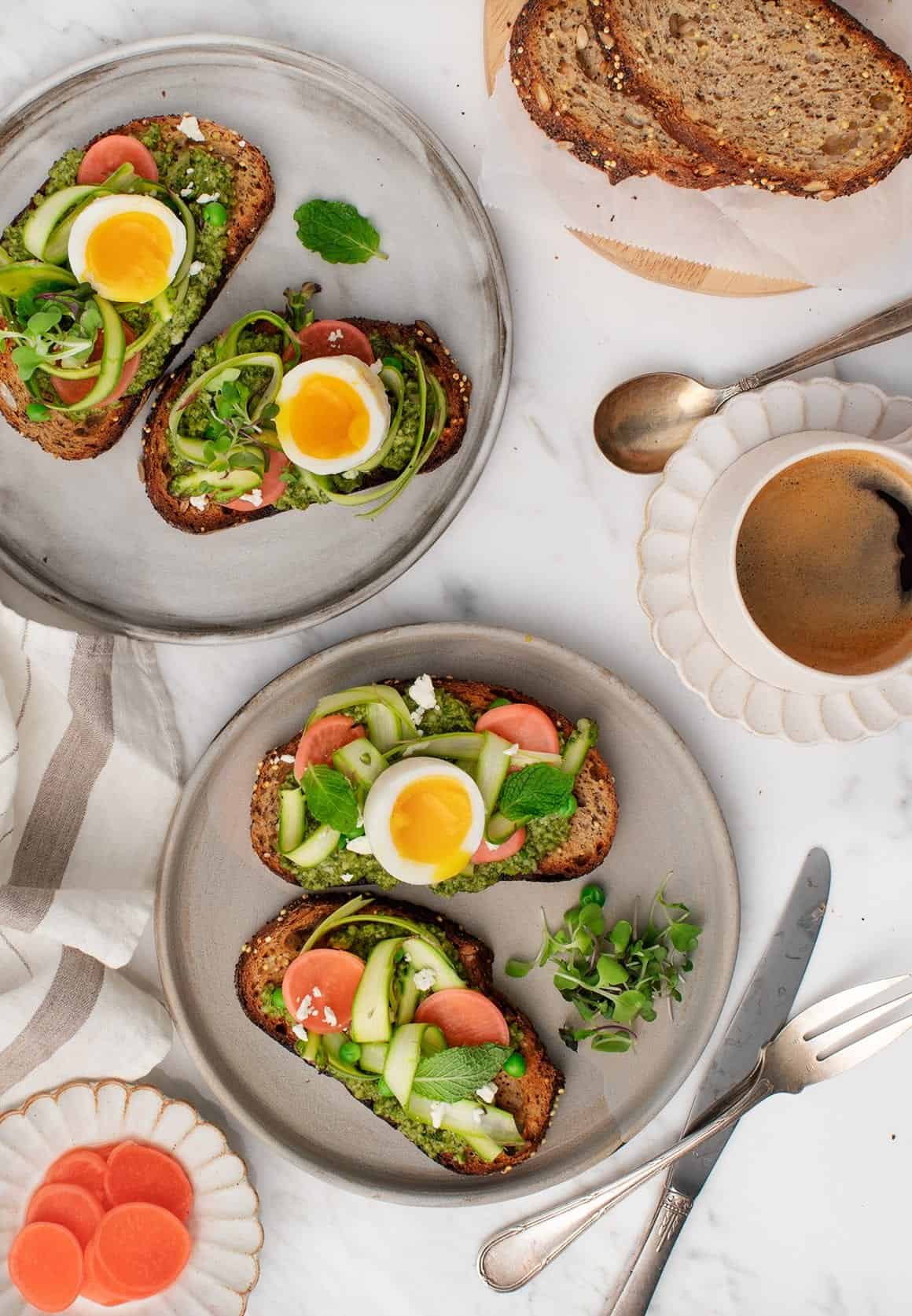 Recipe type:
Main dish, snack
½ cup pepitas
½ cup mint, more for garnish
½ cup parsley
½ cup thawed frozen peas, more for garnish
1 small garlic clove
2 tablespoons lemon juice
¼ teaspoon salt
¼ cup extra-virgin olive oil, more as desired
4 slices whole grain bread, toasted
6 to 8 thick asparagus spears, peeled into ribbons
thinly sliced raw or pickled radishes
a sprinkle of crumbled feta cheese
2 soft boiled eggs, optional*
microgreens, optional
Make the pesto. In a food processor, combine the pepitas, mint, parsley, peas, garlic, lemon juice, and salt and process to a coarse puree. With the blade running, pour in the olive oil and process until combined.
In a medium bowl, toss the asparagus ribbons with a small drizzle of olive oil, a squeeze of lemon and a few pinches of salt and pepper.
Assemble the toasts with the mint pesto, asparagus ribbons, radishes, peas, mint and feta cheese. Top with micro greens and soft boiled eggs, if desired.
*To make soft-boiled eggs: Fill a medium pot with water and heat to a gentle simmer, just below boiling. Using a slotted spoon, carefully lower the eggs into the water and let simmer for 7 minutes. Remove and chill immediately in a bowl of ice water for about 3 minutes. Once the eggs are cool, tap the bottom of each egg to crack a little bit of the shell. Take a small spoon and carefully slide it in and around the egg to loosen and remove it from the shell. Set the peeled eggs aside.
Recipe by
Love and Lemons
at https://www.loveandlemons.com/asparagus-ribbon-mint-pea-pesto-toasts/