Strawberry Shortcake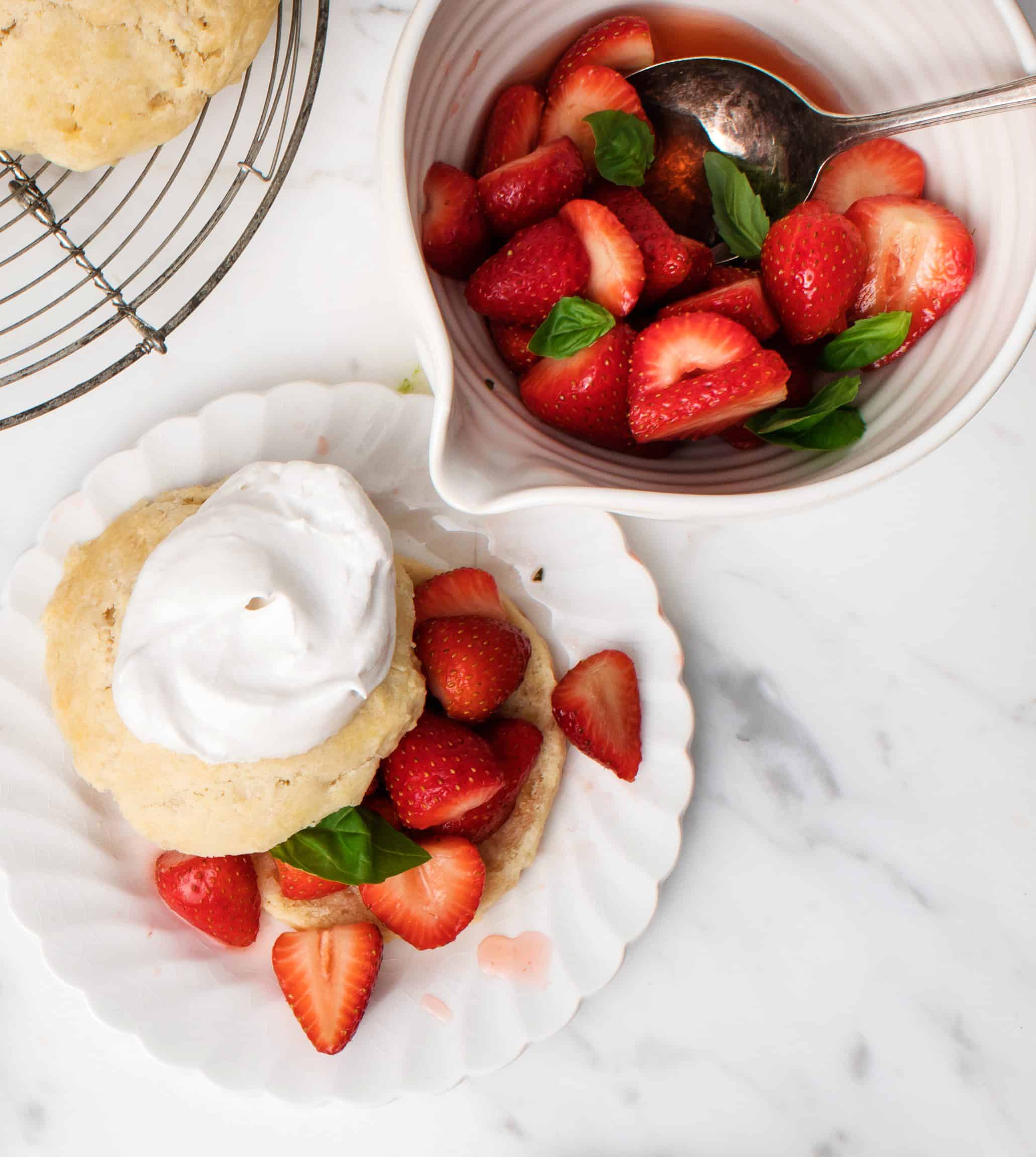 1 pound fresh strawberries, hulled and sliced
⅓ cup granulated sugar
optional addition: ¼ cup sliced basil
3 cups (375 g) all-purpose flour
2 teaspoons lemon zest
3 tablespoons granulated sugar
1½ tablespoons baking powder
1 teaspoon salt
¾ cup (1½ sticks) cold, unsalted butter, cut into small pieces
1½ cups heavy cream
1½ teaspoons vanilla extract
2 cups heavy cream
⅔ cup powdered sugar
seeds of 1 vanilla bean
To make the strawberries: Combine the strawberries and sugar in a large bowl and toss to coat. Refrigerate for at least 2 hours, or overnight if time allows, until juicy. Just before serving, stir in the basil.
To make the biscuits: In a food processor, combine the flour, lemon zest, sugar, baking powder, and salt. Pulse for 30 seconds, or until the ingredients are evenly combined. Add the butter and pulse for 20 to 30 seconds, until the butter is cut into pea-sized chunks. Add the cream and vanilla to the food processor and process for 30 seconds, or until you have a dough. Remove the dough from the food processor and divide it into 9 equal portions about 3 ounces each. Form each portion of dough into a biscuit about ¾ inch thick. Transfer the biscuits to a baking sheet lined with parchment paper and chill for 20 minutes in the fridge.
While the biscuits chill, preheat the oven to 400°F.
Place the baking sheet in the oven and bake until the biscuits are medium golden brown, about 25 minutes. Remove from the oven and transfer to a cooling rack to cool.
To make the cream: Combine the cream, powdered sugar, and vanilla bean seeds in a large stand mixer and whip until medium stiff peaks form.
To assemble: Slice the biscuits in half. Top the bottoms of each biscuit with a large spoonful of the strawberries. Place the top half of the biscuit on top of each and finish with a large dollop of the cream. Serve immediately.