Vegan Seven Layer Dip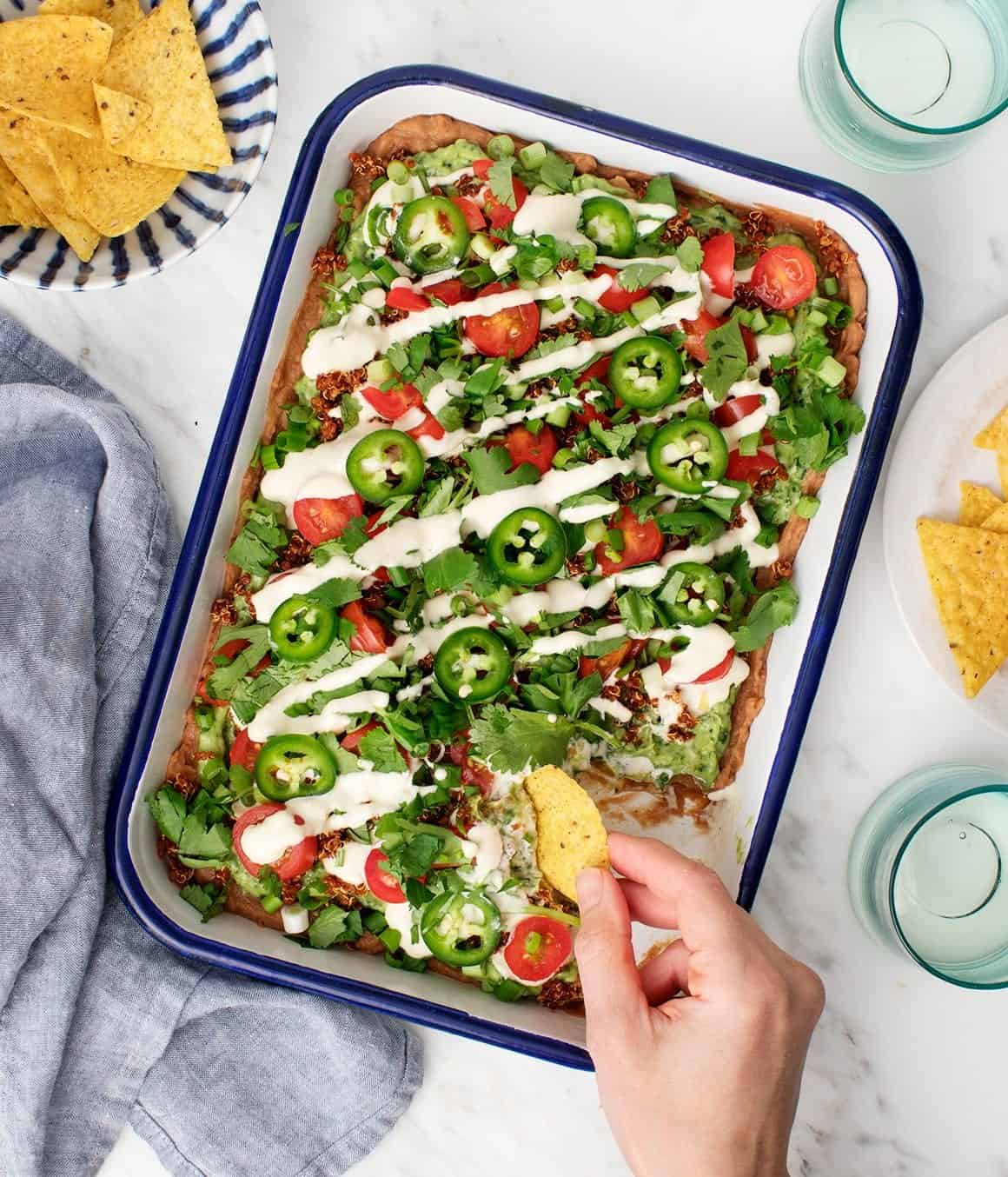 Recipe type:
Appetizer, snack
1 (14-ounce) can refried beans, or 1¾ cups homemade
1 recipe Kale Guacamole or classic guacamole, pulsed in a food processor
1 cup halved cherry tomatoes
½ bunch scallions, diced
½ cup cilantro, chopped
1 jalapeño, thinly sliced or diced, optional
Tortilla Chips
1 cup raw cashews
½ cup water
2 tablespoons extra-virgin olive oil
2 tablespoons lemon juice
½ teaspoon sea salt
1½ cups cooked red quinoa
1 garlic clove, minced
1 teaspoon chili powder
1 teaspoon smoked paprika
½ teaspoon cumin
½ tablespoon fresh lime juice
1 teaspoons extra-virgin olive oil
½ teaspoon sea salt
¼ teaspoon maple syrup
Make the Cashew Cream: In a blender, combine the cashews, water, olive oil, lemon juice and sea salt and blend until creamy. Chill until ready to use.
Make the Spiced Quinoa: In a medium bowl, mix together the quinoa, garlic, chili powder, smoked paprika, cumin, lime juice, olive oil, sea salt, and maple syrup. Chill until ready to use.
In a serving tray that's 8x12 (or similar), layer the refried beans, kale guacamole, cashew cream, and spiced quinoa. Top with the tomatoes, scallions, cilantro, more cashew cream and the jalapeños, if using. Serve with chips.