Curry Spiced Stuffed Sweet Potatoes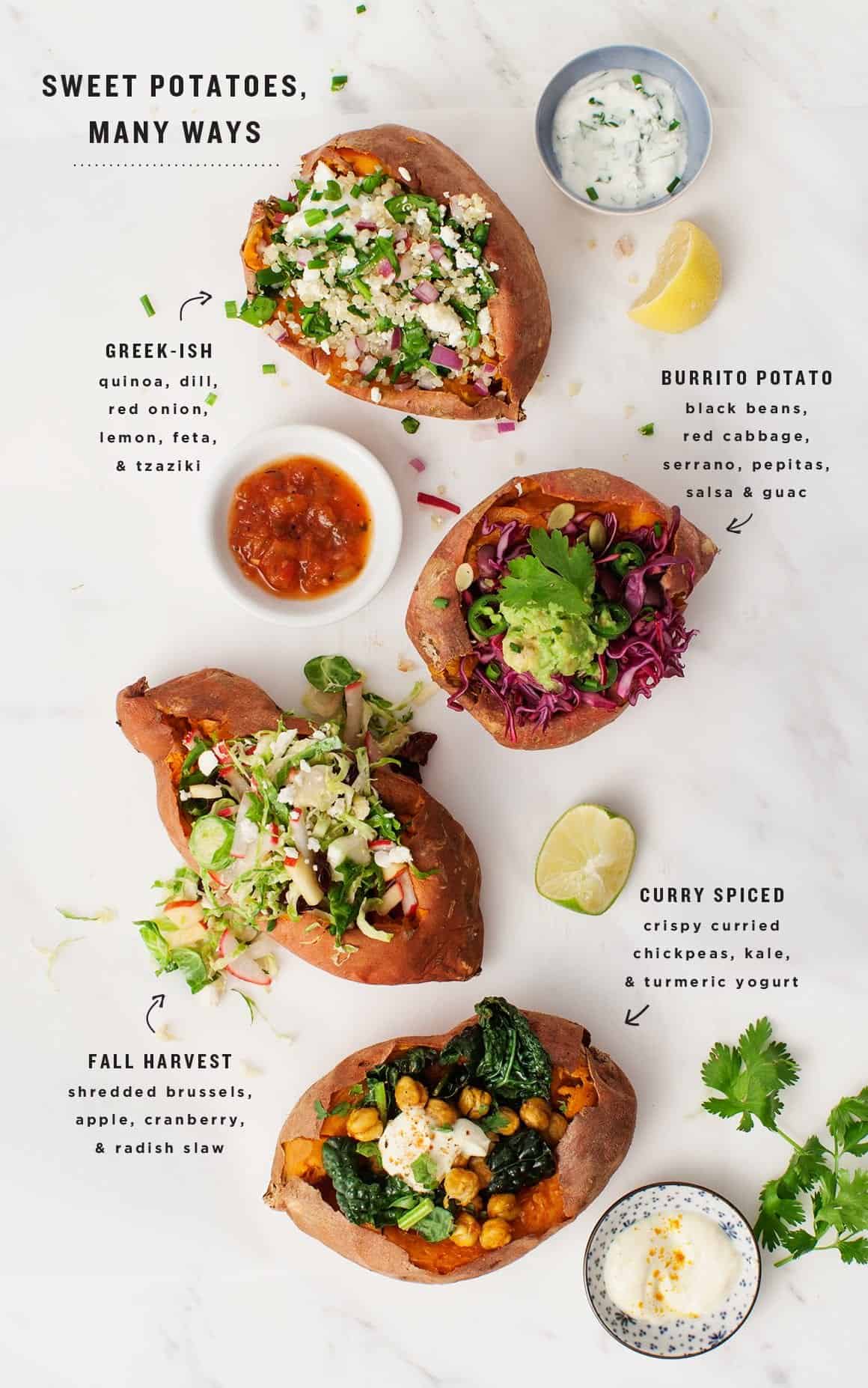 Serves:
filling for 2 sweet potatoes
1½ cups cooked chickpeas, drained and rinsed (makes extra)
extra-virgin olive oil, for drizzling
sea salt and freshly ground black pepper
½ teaspoon curry powder
4 large kale leaves
¼ cup chopped cilantro
3.5 ounces Greek yogurt
1 teaspoon fresh lemon juice
½ teaspoon extra-virgin olive oil
½ clove minced garlic
¼ teaspoon turmeric or curry powder
¼ teaspoon sea salt
Make the filling: While the sweet potatoes bake, spread the chickpeas on a separate baking sheet, drizzle them with olive oil and pinches of salt and pepper, and roast for 25 minutes or until golden brown and crispy around the edges. Remove the chickpeas from the oven and while they are still hot, toss them with the curry powder. Set aside until ready to use.
Make the sauce: In a small bowl, combine the yogurt, lemon juice, olive oil, garlic, turmeric, and salt. Chill until ready to use.
Just before the sweet potatoes are done, place the kale leaves into the oven on the same baking sheet and cook for 2 to 3 minutes, or until wilted. Remove, chop, and set aside.
Remove the sweet potatoes from the oven and let cool slightly. Slice a wedge lengthwise in each potato and remove to make space for the filling. Stuff with some of the chickpeas, the chopped kale, and the cilantro. Top with a scoop of sauce and serve with the remaining sauce on the side.
Save extra chickpeas for snacking.
Recipe by
Love and Lemons
at https://www.loveandlemons.com/stuffed-sweet-potatoes/