Zucchini Lemon Orzo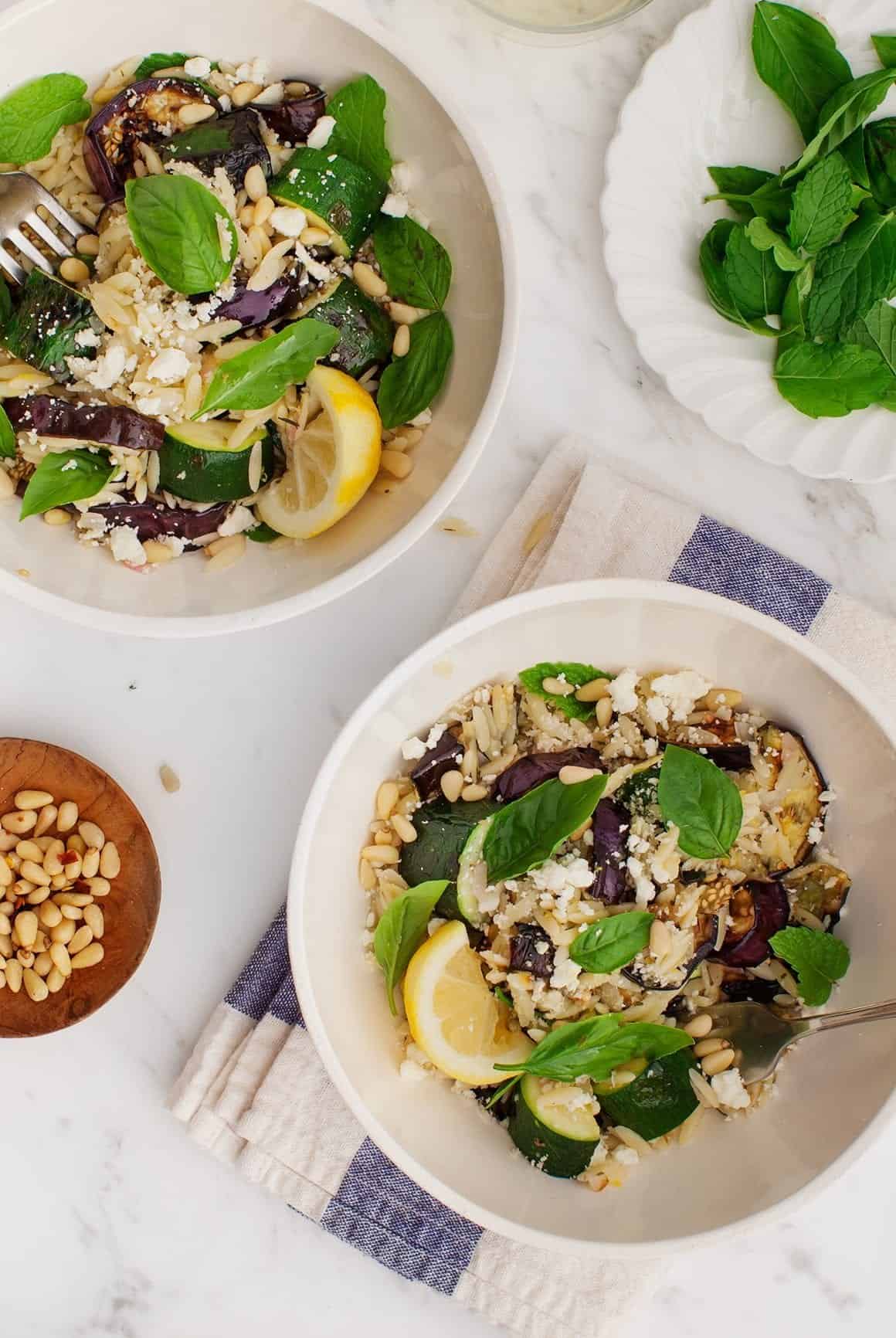 ½ cup dry uncooked orzo
½ cup finely diced scallions or 1 small shallot (1/4 cup)
3 garlic cloves, minced
½ tablespoon extra-virgin olive oil, more for drizzling
1 teaspoon sherry vinegar
1 teaspoon herbs de Provence
Juice and zest of 1 lemon, plus 4 small wedges for serving
2 medium Italian eggplants, sliced into ½-inch rounds
2 small zucchini, sliced in half lengthwise
½ cup crumbled feta cheese
2 cups loose-packed fresh herbs - basil & mint, torn if leaves are big
¼ cup pine nuts, toasted
2 tablespoons panko bread crumbs
½ teaspoon sea salt, divided, plus more to taste
Freshly ground black pepper
In the bottom of a large bowl, combine the scallions, garlic, olive oil, sherry vinegar, herbs de Provence and ¼ teaspoon of salt.
Bring a medium pot of salted water to a boil. Prepare the pasta according to the instructions on the package, cooking until al dente. Drain and immediately add the hot orzo to the bowl. Stir in the lemon zest and set aside.
Preheat a grill to high heat.
Drizzle the eggplant and zucchini with olive oil on all sides, and sprinkle with ¼ teaspoon of salt and a few grinds of pepper.
Grill the eggplant for 4 to 5 minutes per side, or until tender and charred, and the zucchini for 4 minutes per side, or until nice char marks form. Let cool slightly, then chop and add to the large bowl. Add the lemon juice and toss. Stir in the feta, herbs, and pine nuts, reserving a bit of each for garnish. Taste and adjust seasonings.
Portion into 4 serving bowls and top with the breadcrumbs and remaining feta, herbs and pine nuts. Serve with lemon wedges on the side.