Farmers Market Potato & Asparagus Pizza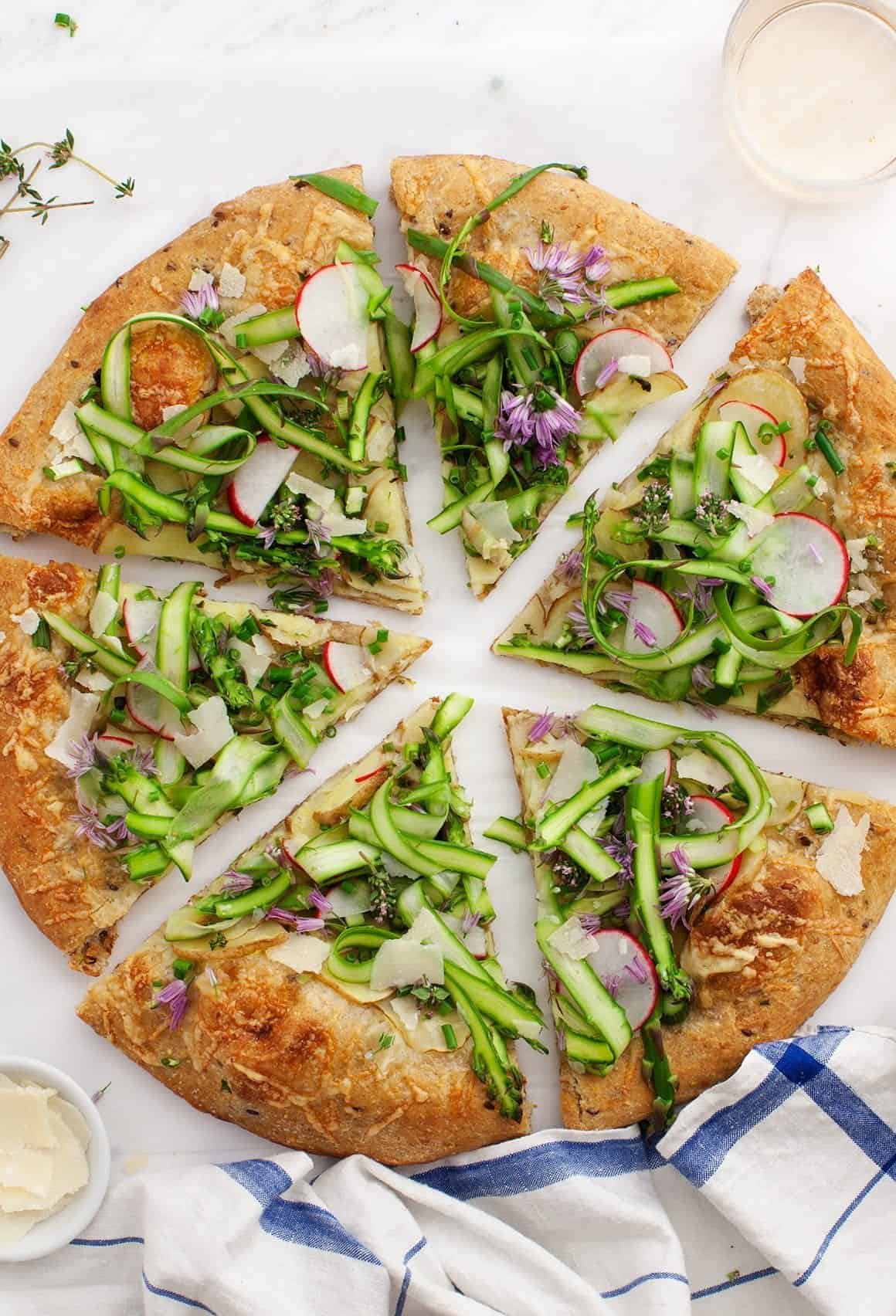 6 to 8 thick asparagus spears
3 to 4 small Yukon gold potatoes
1 recipe pizza dough
Extra-virgin olive oil, for drizzling
1 garlic clove, minced
1½ cups gruyere or white cheddar cheese
2 tablespoons chopped chives
2 radishes, thinly sliced, optional
Squeezes of fresh lemon juice
5 chive blossom flowers, optional
1 tablespoon thyme flowers or fresh thyme leaves
⅓ cup shaved fresh Parmesan cheese
sea salt and freshly ground black pepper
Preheat the oven to 450°F.
Use a vegetable peeler to peel the asparagus vertically into ribbons. Set the ribbons aside and finely chop any leftover bits of the tender parts of the asparagus, avoiding the fibrous inch or so on the ends.
Use a mandoline or a sharp knife to slice the potatoes paper thin.
Stretch the pizza dough to fit a large pizza stone or pan. Brush the dough with olive oil and sprinkle with the minced garlic. Top the dough with three-fourths of the gruyere cheese, and then layer the potatoes in circles, starting from the outside of the pizza working in. Let them overlap just slightly. Sprinkle on the remaining gruyere cheese and half of the chives and bake for 12 to 14 minutes or until the dough is cooked through and the potatoes are tender.
Remove the pizza from the oven and top with the radish slices, if using, and the asparagus ribbons. Squeeze lemon over the asparagus and sprinkle with a few pinches of salt and pepper. Break apart the chive blossoms and sprinkle on top along with the thyme flowers and/or leaves. Return the pizza for the oven for 3 minutes to lightly warm the toppings.
Remove from the oven and top with the Parmesan cheese and freshly cracked black pepper.
Recipe by
Love and Lemons
at https://www.loveandlemons.com/farmers-market-asparagus-potato-pizza/