PB Cookie Dough Vegan Milkshake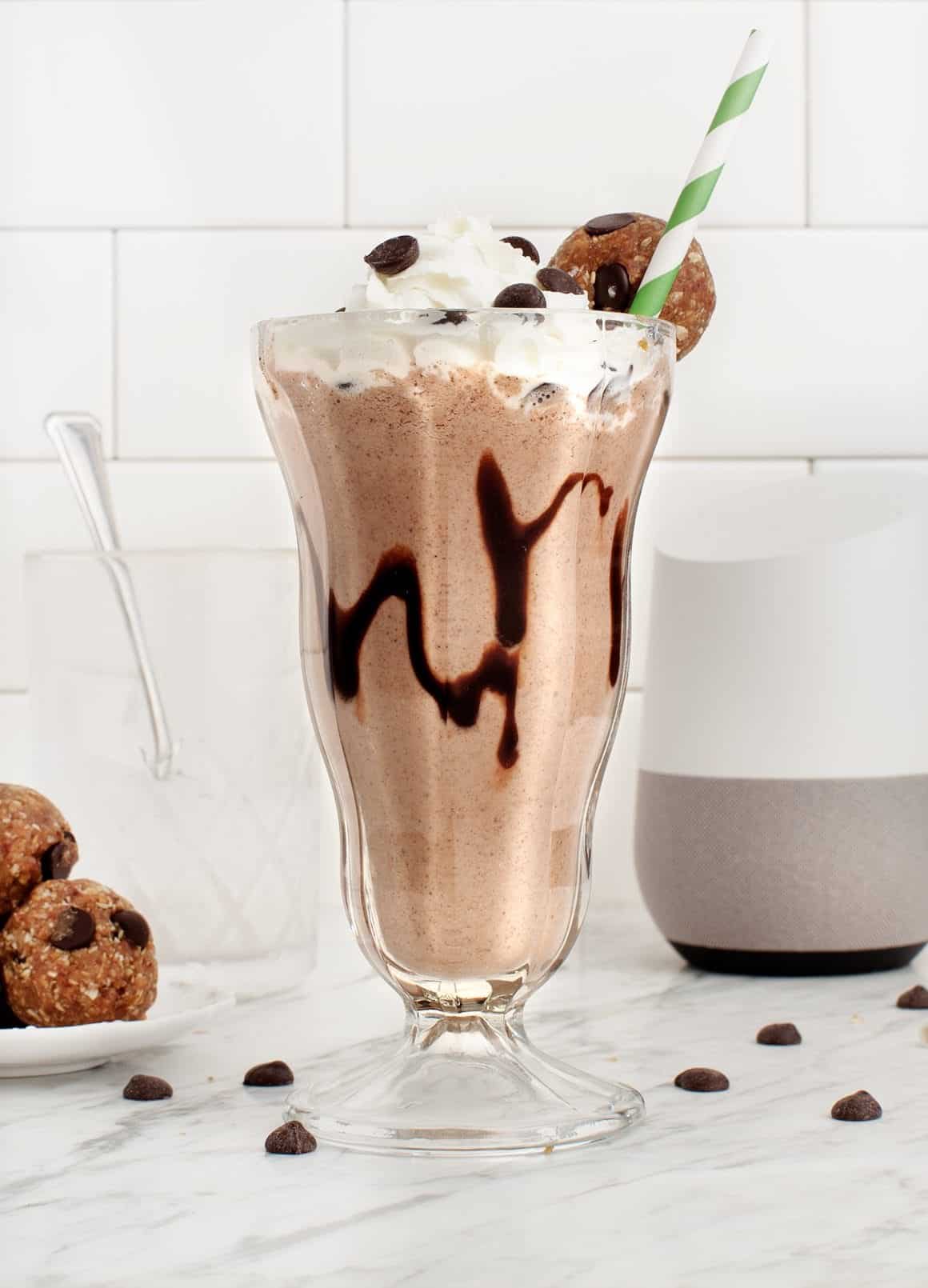 Serves:
16 cookie balls, 2 milkshakes
1½ cups whole rolled oats
¼ cup chopped walnuts
8 soft Medjool dates, pitted
1 tablespoon ground flaxseed
½ teaspoon pure vanilla extract
¼ teaspoon sea salt
½ cup creamy natural peanut butter
3 tablespoons warm water
⅓ cup chocolate chips
6 peanut butter oat cookie dough balls + 2 for garnish
1 cup almond milk
Big handful of ice
2 big scoops of vanilla ice cream*
Chocolate sauce, optional*
Whip cream, optional*
Chocolate chips, optional*
Make the Peanut butter oat cookie dough balls: In a food processor, pulse together the oats, walnuts, dates, flaxseed, vanilla and sea salt until well combined. Add the peanut butter and warm water and pulse until the mixture sticks together when you pinch it between your fingers. Transfer the dough to a bowl and stir in the chocolate chips. Scoop 1 tablespoon of the mixture for each dough ball and use your hands to roll them into balls.
To make the milkshakes, combine 6 cookie dough balls with the almond milk and blend on high speed until smooth. Add a handful of ice and blend until combined. Add the ice cream and pulse 2 times just to combine. Don't melt the ice cream. Pour into two glasses and garnish each with a cookie dough ball and with desired toppings.
The remaining cookie dough balls can be stored in the fridge or freezer.
Makes 2 milkshakes.
To make these vegan, get vegan ice cream, vegan chocolate chips, vegan chocolate sauce, and vegan whipped cream.

To make these gluten free, be sure to use Certified Gluten Free Oats.
Recipe by
Love and Lemons
at https://www.loveandlemons.com/pb-cookie-dough-vegan-milkshake/