Sweet Potato Appetizer Bites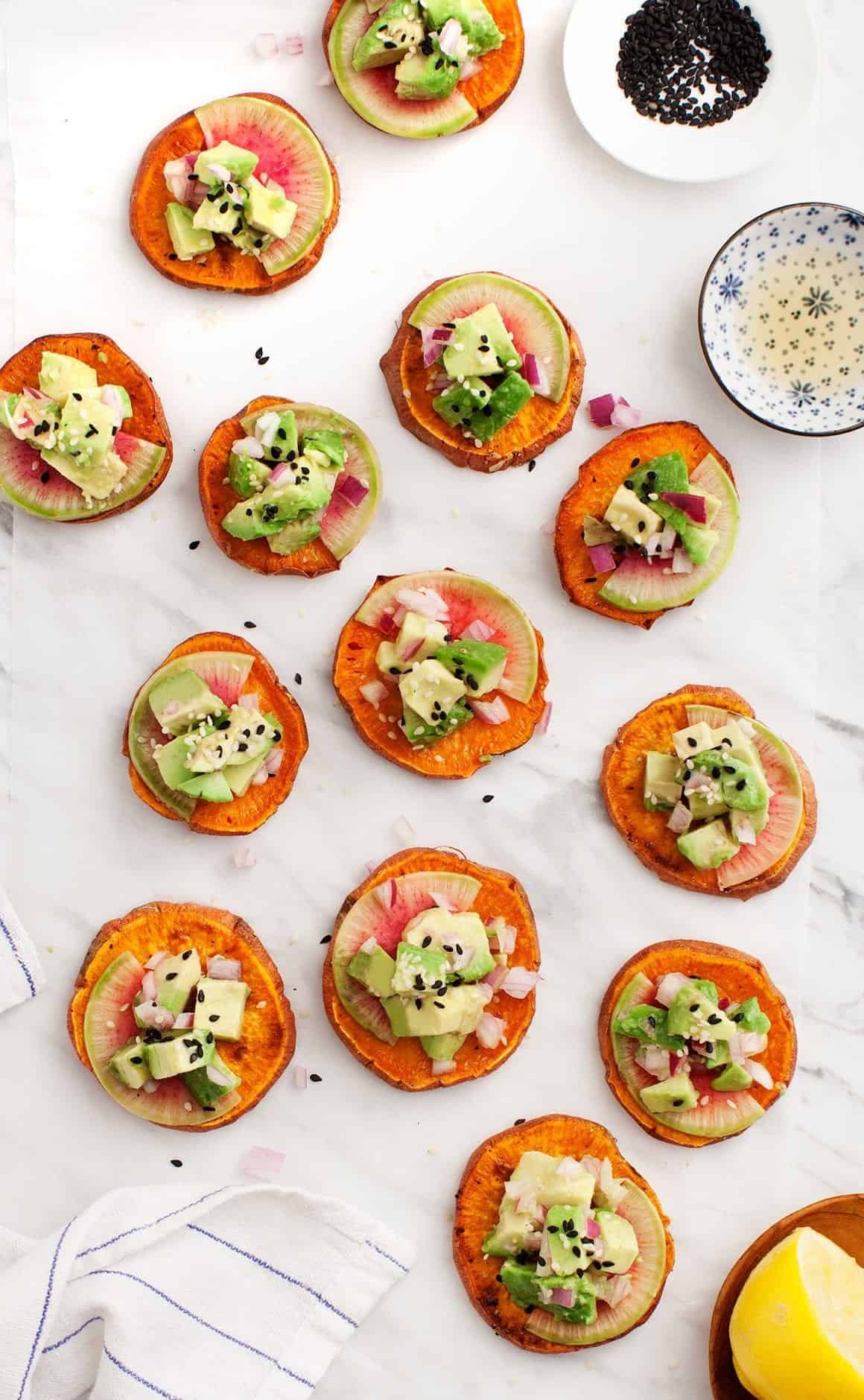 2 medium sweet potatoes
Extra virgin olive oil, for drizzling
Sea salt and freshly ground black pepper
1 watermelon radish, thinly sliced, cut into half moons
2 teaspoons sesame seeds, white or black
1 teaspoon sesame oil
2 teaspoons fresh lemon juice + more for squeezing
¼ teaspoon Dijon mustard
¼ cup diced red onion
1 medium-large ripe avocado
Sea salt
Preheat the oven to 425°F and line a large baking sheet with parchment paper.
Slice thin rounds (smaller than ¼ inch, not quite as thin as ⅛ inch) from the thick middle of the sweet potatoes. This should yield 14 to 16 rounds. (You can chop up the ends of the sweet potatoes into cubes and roast them for another use).
Place the sweet potatoes on the baking sheet in a single layer, drizzle with olive oil and pinches of salt and pepper, and roast for 20 minutes. Turn the slices and roast for 10 to 15 minutes more, or until tender.
Make the Avocado tartare: In a medium bowl, whisk together the sesame oil, lemon juice, mustard, and a few pinches of salt. Stir in the red onion and set aside.
When the sweet potatoes are almost done, dice the avocado and stir it into the tartare along with an extra squeeze of lemon. Season to taste.
Top the roasted sweet potato rounds with the watermelon radish slices and the avocado tartare. Sprinkle with sesame seeds and coarse salt.
Recipe by
Love and Lemons
at https://www.loveandlemons.com/sweet-potato-appetizer-bites/