Quinoa Risotto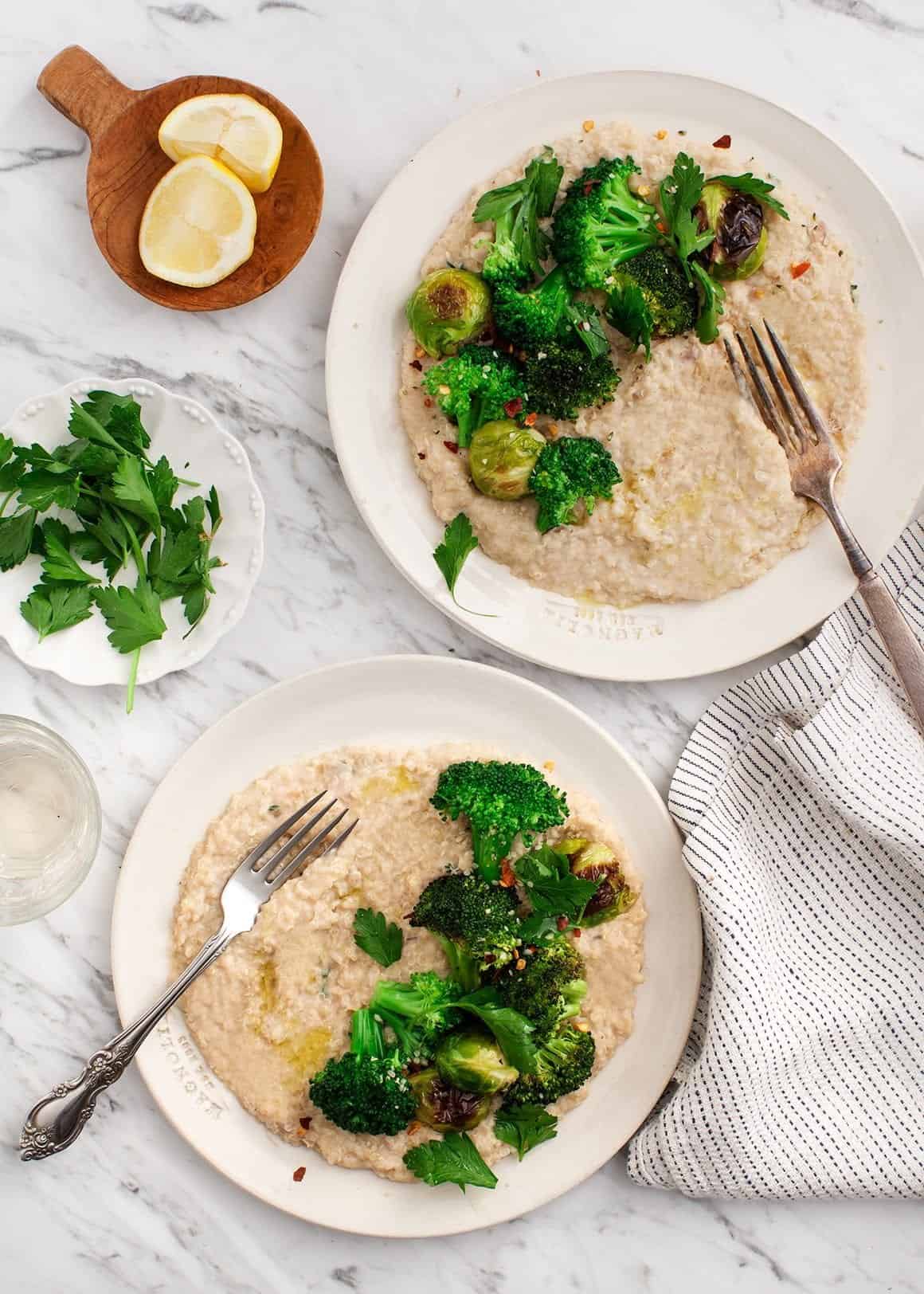 3 to 4 cups roasted broccoli and/or Brussels sprouts
2 cups cooked white beans
1 to 2 garlic cloves (my addition to Laura's recipe)
1 tablespoon fresh lemon juice (I used a bit more)
Pinch of nutritional yeast
1 tablespoon + 2 teaspoons extra virgin olive oil, divided
2½ cups vegetable stock, divided
4 to 5 shallots, fine dice (2/3 cup total)
2 teaspoons minced fresh thyme leaves
1 cup quinoa, rinsed
Salt and pepper, to taste
½ cup chopped fresh flat-leaf parsley, divided
Drizzle of extra-virgin olive oil, for serving (optional)
In a blender, purée the white beans with the garlic, lemon juice, nutritional yeast, 2 teaspoons of the olive oil and ⅓ cup of the vegetable stock. As soon as you have a smooth and creamy purée, stop the blender. Set the bean purée aside.
Heat the remaining 1 tablespoon of olive oil in a braiser or medium-sized soup pot over medium heat. Add the shallots, and sauté until transluscent, about 4 minutes. Add the fresh thyme and stir until fragrant, about 1 minute.
Add the rinsed quinoa to the pot and stir to coat in the oil, herbs, and shallots. Then, add the remaining 2 cups of vegetable stock to the pot and stir. Bring to a boil, then simmer until the quinoa has absorbed almost all of the liquid, about 13 to 15 minutes.
Scrape the white bean puree into the pot and stir to combine. The quinoa should have a creamy consistency without seeming dry. If it seems dry, add a good splash of vegetable stock.
Season the risotto with salt and pepper. Add half of the parsley to the pot and stir to mix throughout. Divide the quinoa risotto among 4 bowls. Top all portions of risotto with the roasted vegetables and remaining parsley. Drizzle a bit of olive oil over the top if you like. Serve hot.