Sweet Sesame Tahini Noodles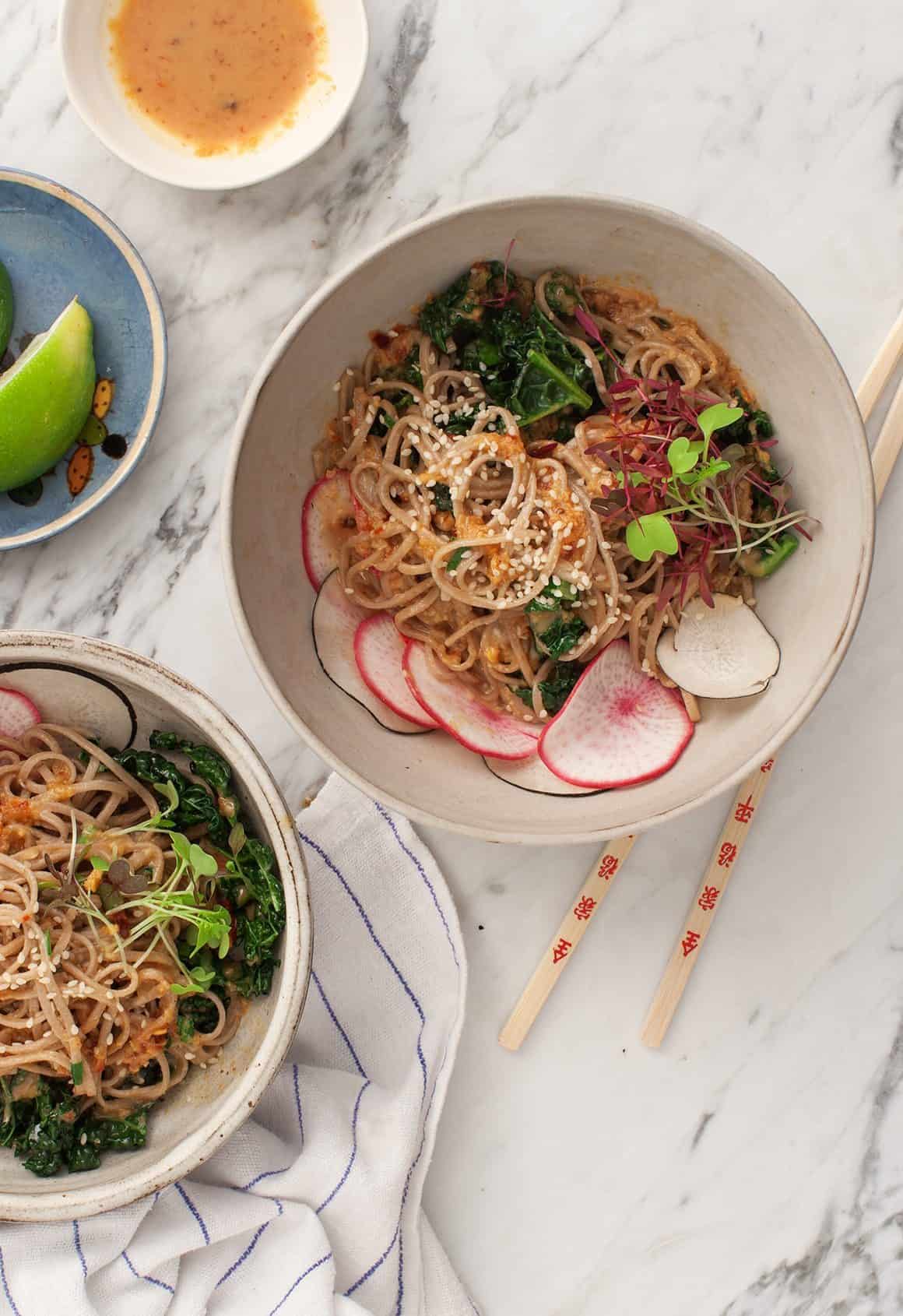 8 ounces soba noodles
1 bunch kale (about 8-10 large leaves), chopped
¼ cup chopped chives
1 black radish, thinly sliced*
1 scarlet turnip, thinly sliced*
½ cup microgreens, optional
2 tablespoons sesame seeds
Lime slices, for serving
Extra-virgin olive oil, for drizzling
3 tablespoons tamari
2 tablespoons sesame oil
2 tablespoons tahini
2 tablespoons fresh lime juice
1½ tablespoons Truvía Nectar
1 tablespoon almond butter
1 garlic clove, minced
1 tablespoon minced ginger
1 teaspoon chili-garlic paste, more as desired
Make the sesame sauce by whisking together the tamari, sesame oil, tahini, lime juice, Truvía Nectar, almond butter, garlic, ginger and chile-garlic paste in a small bowl. It should be a drizzable consistency. If it's too thick, add 1 to 2 tablespoons of water. Set aside.
Cook the soba noodles according to the package directions or until al dente. Drain and gently rinse under cold water. Toss with a drizzle of olive oil to keep them from clumping together. Set aside.
Heat a drizzle of olive oil in a medium skillet over medium heat. Add the kale and sauté until wilted, 1 to 2 minutes. Turn the heat off and stir in the chives. Add the soba noodles to the kale/chive mixture and toss. Drizzle with ¾ of the sesame sauce and toss again. Taste and add the remaining sauce as desired. Assemble four individual serving bowls with the soba/kale mixture, radish and turnip slices, microgreens, if using, and sesame seeds. Serve with lime slices and extra chile-garlic paste on the side.
*Feel free to sub with a handful of small red radishes, or 1 medium cucumber, thinly sliced.

This is a cold noodle recipe but feel free to heat your noodles up if you like.
Recipe by
Love and Lemons
at https://www.loveandlemons.com/sweet-sesame-tahini-noodles/