Buckwheat, Apple, Cranberry Avocado Salad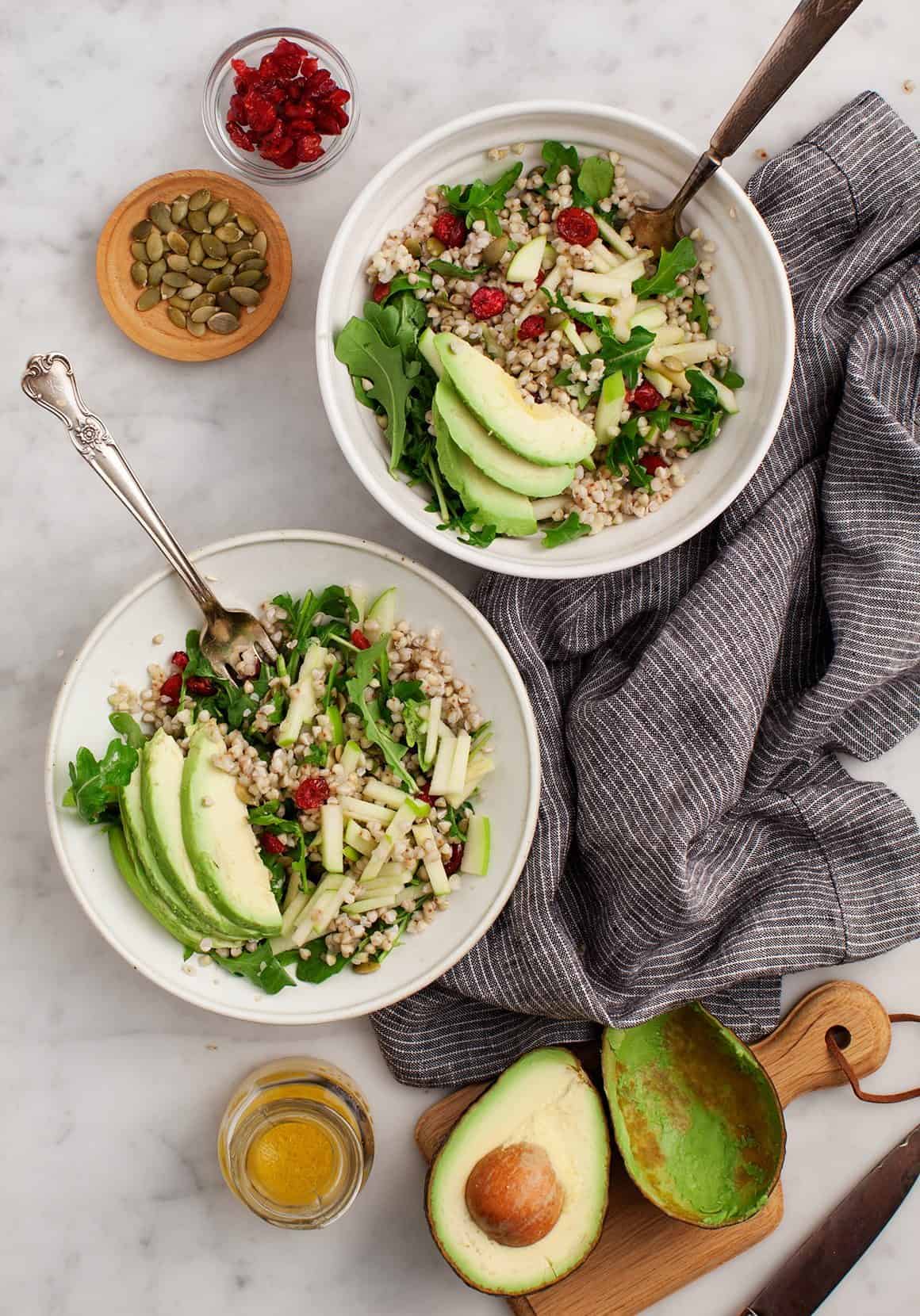 1 cup raw buckwheat groats
2 cups water
1 medium Granny Smith apple, cut into matchsticks
2 cups baby arugula
⅓ to ½ cup dried cranberries
¼ cup raw pepitas
1 ripe avocado, sliced
3 to 5 tablespoons fresh lemon juice, divided
2 tablespoons extra-virgin olive oil
1 to 2 teaspoons maple syrup
1 teaspoon dijon mustard
1 clove garlic, minced
¼ to ½ teaspoon sea salt
freshly ground black pepper
Add the buckwheat groats to a fine-mesh strainer and thoroughly rinse with cold water. Un a medium saucepan, combine the rinsed buckwheat and water. Bring to a boil, decrease the heat, and simmer, uncovered, for 10 minutes, or until tender, stirring occasionally to prevent burning. Stain and rinse with cold water until the water runs clear.
Transfer the cooked buckwheat to a large nonreactive serving bowl along with the apple, greens, cranberries, and pepitas.
Make the dressing: In a small bowl, vigorously whisk together 3 tablespoons of the lemon juice, olive oil, maple syrup, Dijon mustard, garlic, sea salt, and black pepper to taste.
To assemble: Pour the vinaigrette over the salad and toss to coat. If desired, add the remaining 2 tablespoons lemon juice to the salad to brighten the flavors, and liberally season with salt and pepper.
Divide among plates and top with the sliced avocado.
Recipe by
Love and Lemons
at https://www.loveandlemons.com/buckwheat-apple-cranberry-avocado-salad/