Quinoa Salad Stuffed Acorn Squash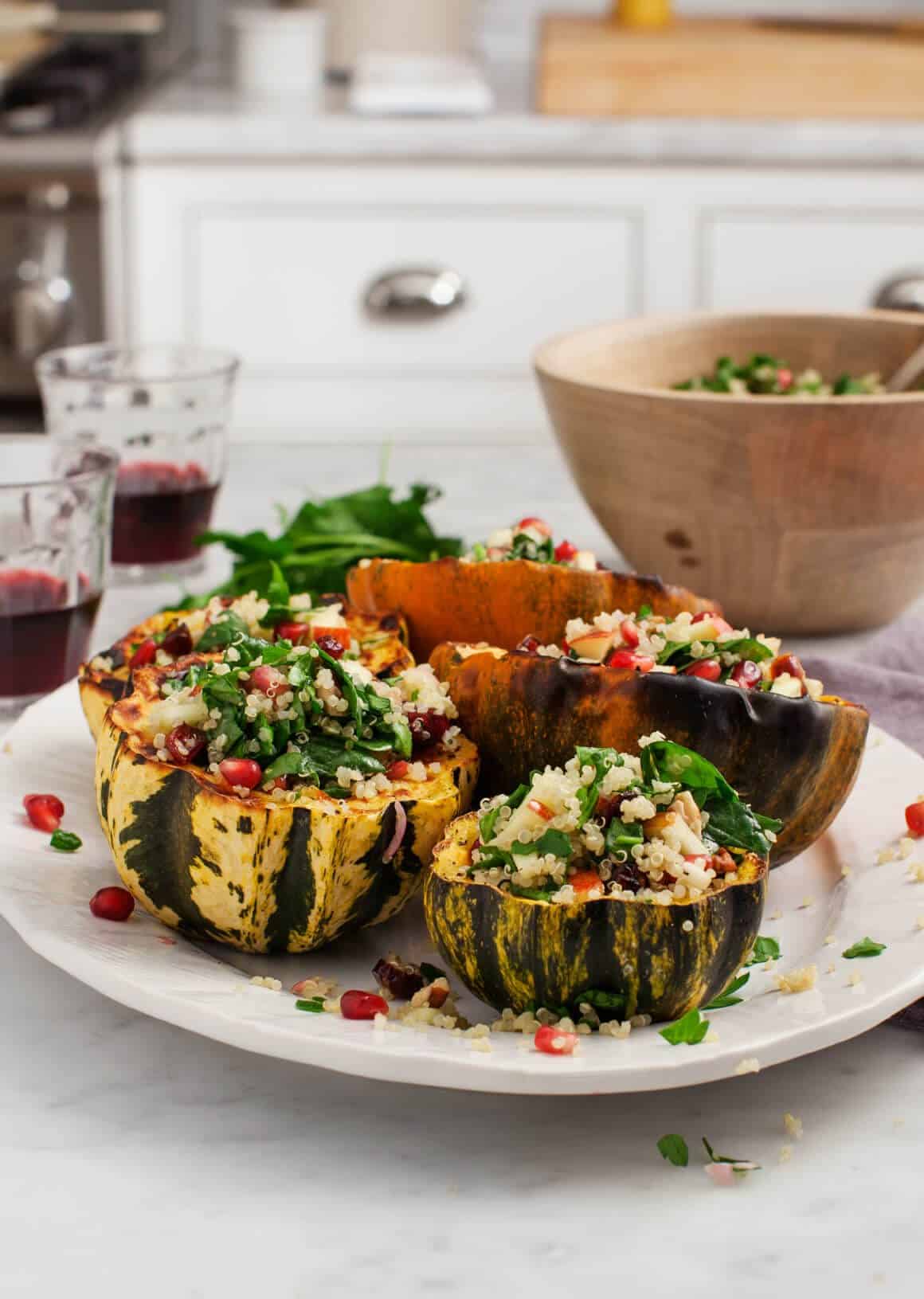 4 acorn squash
Drizzle of balsamic vinegar
2 tablespoons extra-virgin olive oil, more for drizzling
1 shallot, minced (about 3 tablespoons)
2 garlic cloves, minced
1 teaspoon Dijon mustard
3 tablespoons fresh lemon juice
2 cups cooked quinoa
4 cups chopped spinach
1 cup chopped parsley
1 apple, diced
¼ cups chopped toasted pecans
¼ cup cranberries and/or pomegranate seeds
Sea salt and freshly ground black pepper
optional: Maple Tahini Sauce from this recipe
Preheat the oven to 400°F and line a baking sheet with parchment paper. Slice each acorn squash in half and drizzle with olive oil, balsamic vinegar, and sprinkle with a few generous pinches of salt and pepper. Place the squash cut side down on the baking sheet. Roast until the squash is tender when pierced with a fork, about 40 minutes depending on the size of the squash. Halfway through, flip the squash so that it's facing cut side up.
In a large bowl, combine all the salad ingredients - the olive oil, shallot, garlic, mustard, lemon juice, quinoa, spinach, parsley, apple, pecans, and cranberries - and mix well. Season to taste.
Fill the acorn squash halves with the salad and drizzle each with olive oil, or serve with tahini sauce, if desired.
tip: whenever I make stuffed squash, I like to slightly over-season the filling so that it's still very flavorful when you eat it together with the squash.

Crumbled feta cheese would also be delicious here!
Recipe by
Love and Lemons
at https://www.loveandlemons.com/quinoa-salad-stuffed-acorn-squash/